Minivan; Built in Germany, USA
transverse front-engine/front-wheel drive
Good condition price range: $1,200 – $12,700*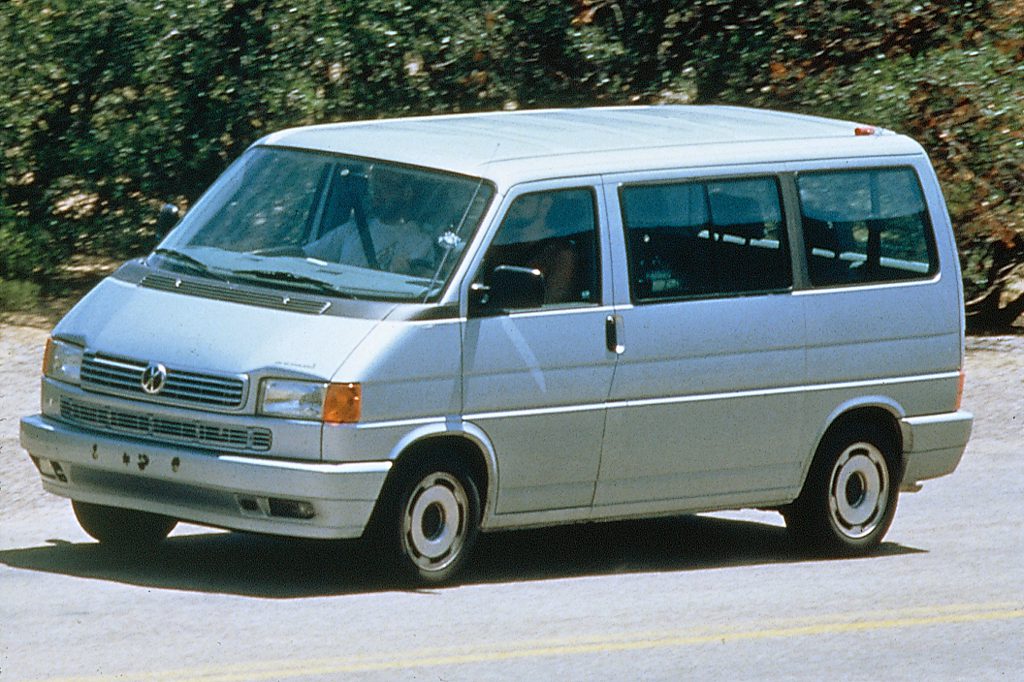 1996 Volkswagen EuroVan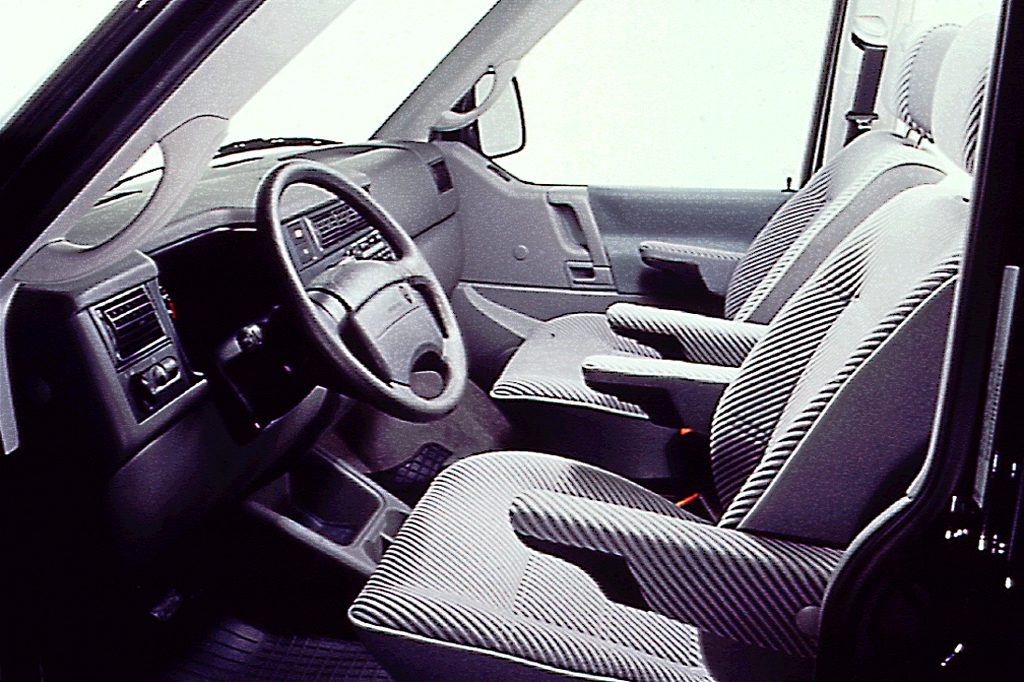 1999 Volkswagen EuroVan interior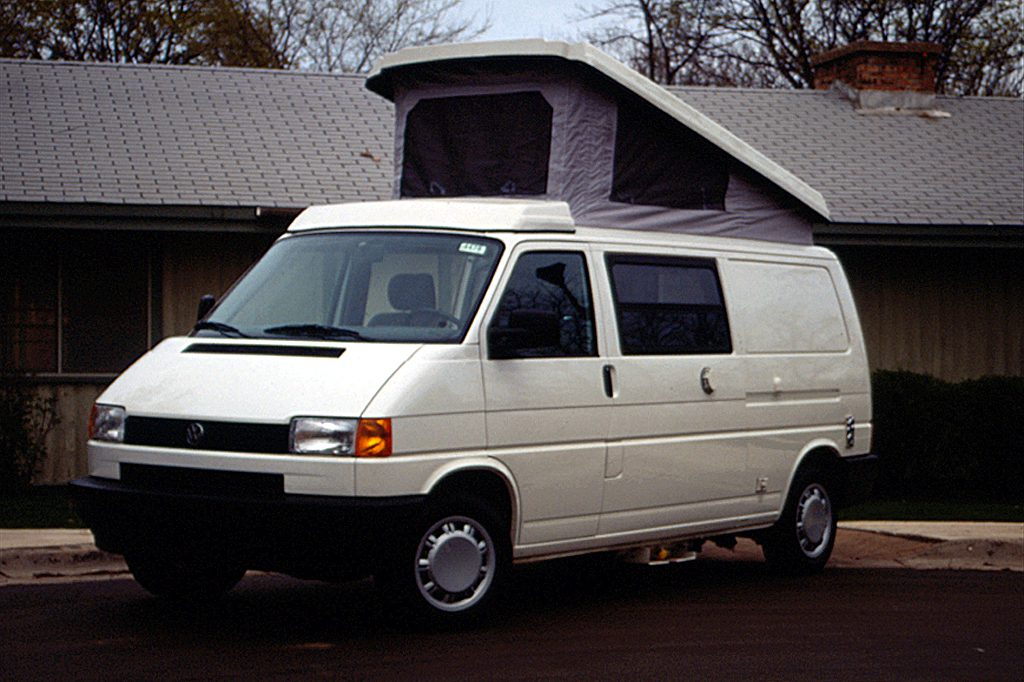 1995 Volkswagen EuroVan Camper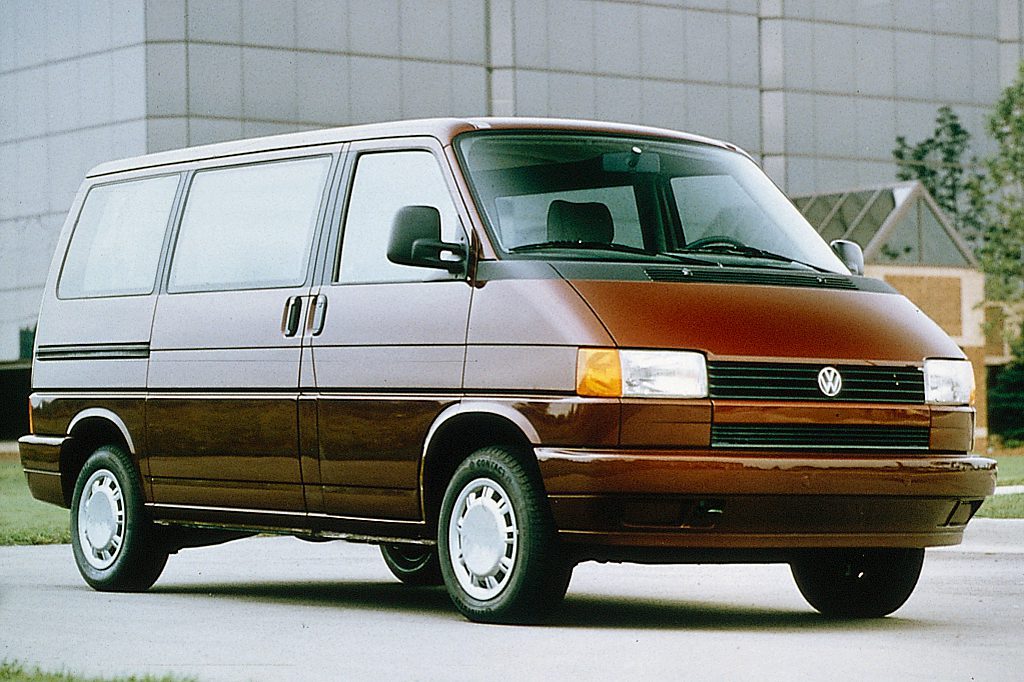 1993 Volkswagen EuroVan GL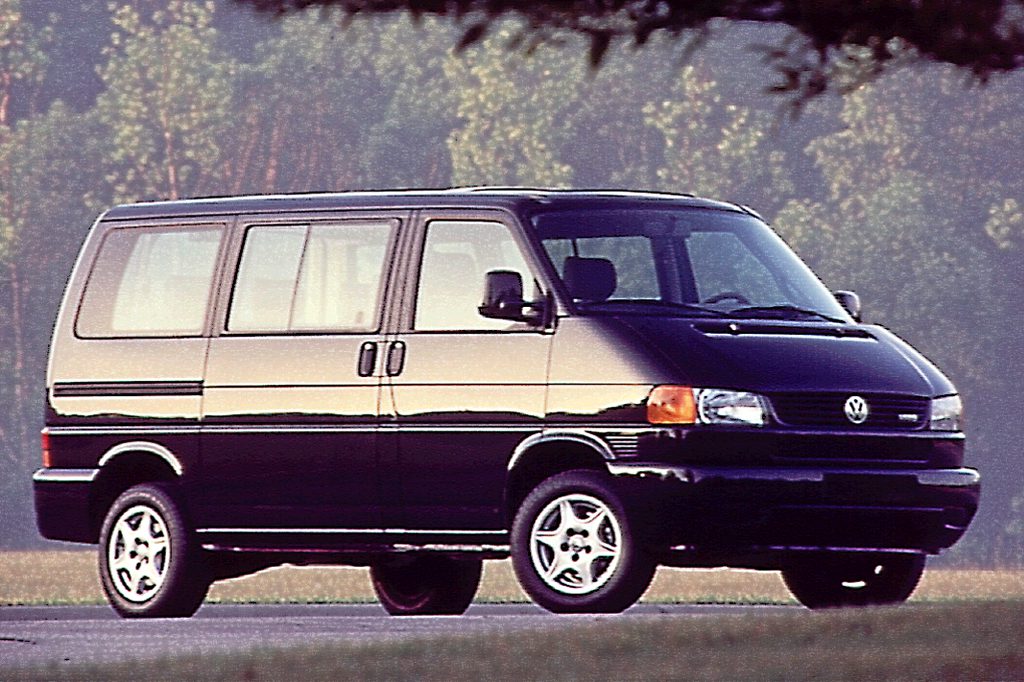 1999 Volkswagen EuroVan GLS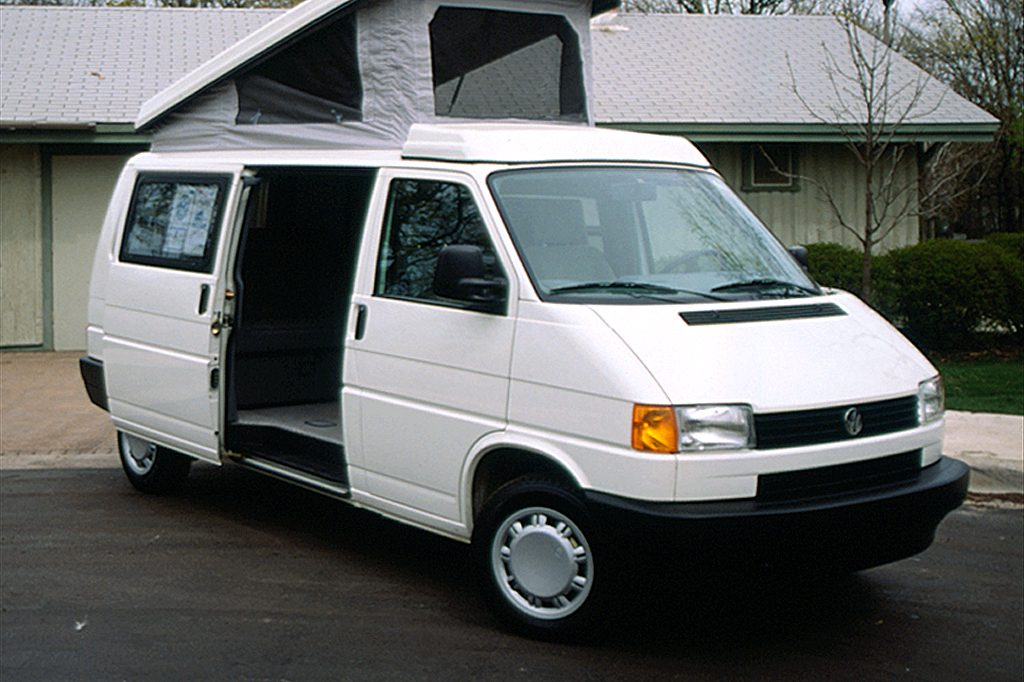 1995 Volkswagen EuroVan Camper
Pros:

Antilock brakes
Cargo room
Passenger room
Visibility

Cons:

Acceleration
Control layout
Entry/exit
Ride
Road noise
Steering/handling
For shoppers who favor strictly practical virtues, a EuroVan might be worth the price, though not many are on the used-car market. Those who seek stylishness, performance, or car-like comfort will have to look elsewhere.
Overview
Introduced in spring of 1992, as a 1993 model, Volkswagen's EuroVan replaced the rear-engined, rear-drive Vanagon, which left the lineup in fall 1991. EuroVan had its 109-horsepower, 2.5-liter 5-cylinder engine up front, driving the front wheels. A 5-speed manual transmission was standard, with 4-speed automatic optional.
EuroVan came in CL and GL trim, along with a camper-oriented MV model. All versions rode a 115.0-inch wheelbase and measured 186.6 inches long overall, compared to 97 and 180 inches for the Vanagon.
Base CL and midlevel GL models seated seven, with a 2-seat center bench and a 3-place rear bench. The MV also seated seven but had a pair of rear-facing middle buckets, a swing-up middle table, and a rear bench that folded into a bed. An optional Weekender Package for the MV included a pop-up roof with an integral double bed, plus a refrigerated cooler and screened, curtained windows.
Front and rear air conditioning were standard on GL and MV models, optional on CL. Antilock brakes were optional, but a driver's airbag was not available.
Yearly Updates
1994 EuroVan
No 1994 EuroVans were issued, as Volkswagen planned to launch a revised version in the spring of that year, as an early '95 model.
1995 EuroVan
Volkswagen had planned to introduce a revised EuroVan with dual airbags for 1995, but retreated from that intention. No regular 1995 EuroVans were marketed, but a small number of EuroVan Campers, built with the assistance of Winnebago Industries, went on sale through certain VW dealerships. Campers rode a stretched wheelbase, measuring 130.7 inches instead of the usual 115-inch. Seating for four was standard. An optional 2-place middle bench increased seating capacity to six. The middle and 2-place rear bench seats were removable, and the middle seat could also face rearward. Front bucket seats pivoted 360 degrees. A 2-person sleeping room popped out of the roof, and a wardrobe closet sat behind a sliding door. The built-in kitchen includes a 2-burner LP gas range, a refrigerator, stainless-steel sink, cabinets, and a 12-gallon water tank.
1996 EuroVan
Once again, Campers were the only EuroVans on the market.
1997 EuroVan
For the third year in a row, only Campers were marketed.
1998 EuroVan
Campers again were the only EuroVans to be found in the U.S. market.
1999 EuroVan
Volkswagen revived the regular EuroVan for 1999, modifying the basic 1993 design, freshening the interior and installing a V6 engine, as well as dual airbags. GLS and MV (Multivan) models went on sale. Rated at 140 horsepower, the 2.8-liter VR6 was modified to yield more torque in the EuroVan than it did in other Volkswagen models. A 4-speed automatic was the only transmission. A EuroVan could tow a 4400-pound trailer (if equipped with brakes), and had a cargo capacity of half a ton. Low-speed traction control was standard. EuroVans had fully independent suspension, rack-and-pinion steering, and antilock braking. The body was strengthened, with reinforced floor panels and stronger B/C pillars. Daytime running lights were installed, as well as a child safety lock for the sliding door. Standard GLS equipment included power windows, a pollen/dust filter, air conditioning, power locks, cruise control, 6-speaker cassette stereo, intermittent wipers, heated windshield-washer nozzles, rear wiper/washer, and power mirrors. Seating seven, the GLS had a forward-facing center bench and a 3-place rear bench. The MV also seated seven, but had two separate rear-facing seats and a triple rear bench. An optional Weekender Package for the MV included a pop-up roof with 2-person bed, full-swiveling captain's chairs, window screens for two side sliding windows, a second battery, and a fixed left rear-facing seat with a refrigerator stowed beneath its lift-up seat bottom. Extended-wheelbase Camper versions remained on sale.
2000 EuroVan
Second-row bucket seats became available for the GLS model this year. New features included rear-seat reading lights, tinted rear glass, and remote central locking.
2001 EuroVan
EuroVan's engine was substantially revised and gained 61 horsepower. Antiskid system and rear child-seat anchors were also added.
2002 EuroVan
There were no significant changes for 2002.
2003 EuroVan
Unchanged for the second straight year. Due to slow sales the EuroVan was dropped at the end of 2003.