Sporty/performance car; Built in USA
2-door convertible
2-door coupe
longitudinal front-engine/rear-wheel drive
Good condition price range: $1,700 – $17,000*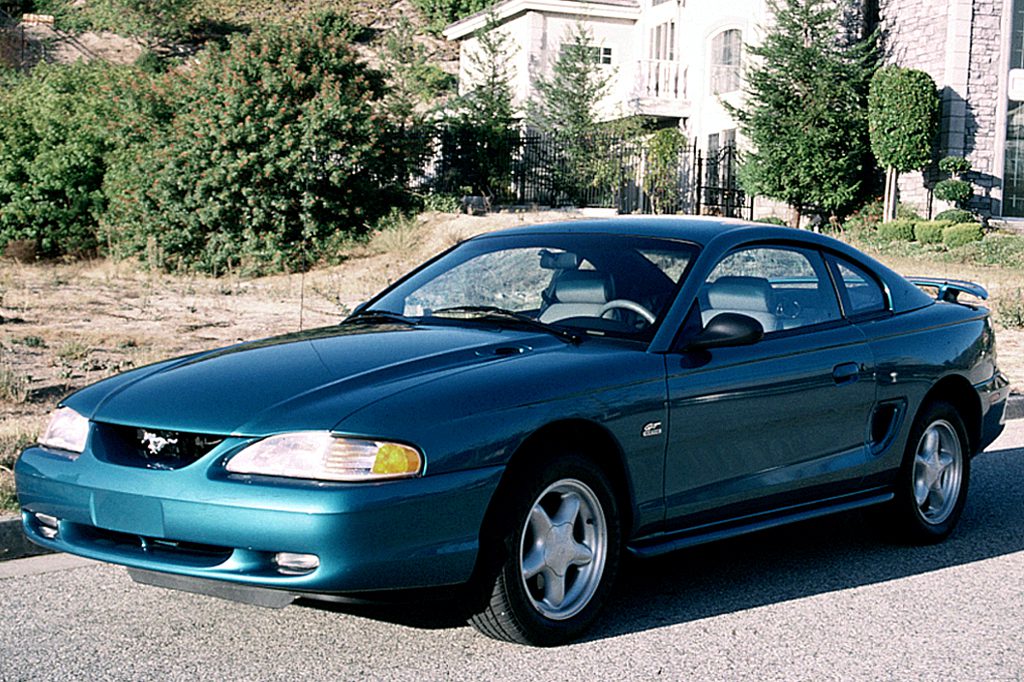 1994 Ford Mustang GT 2-door coupe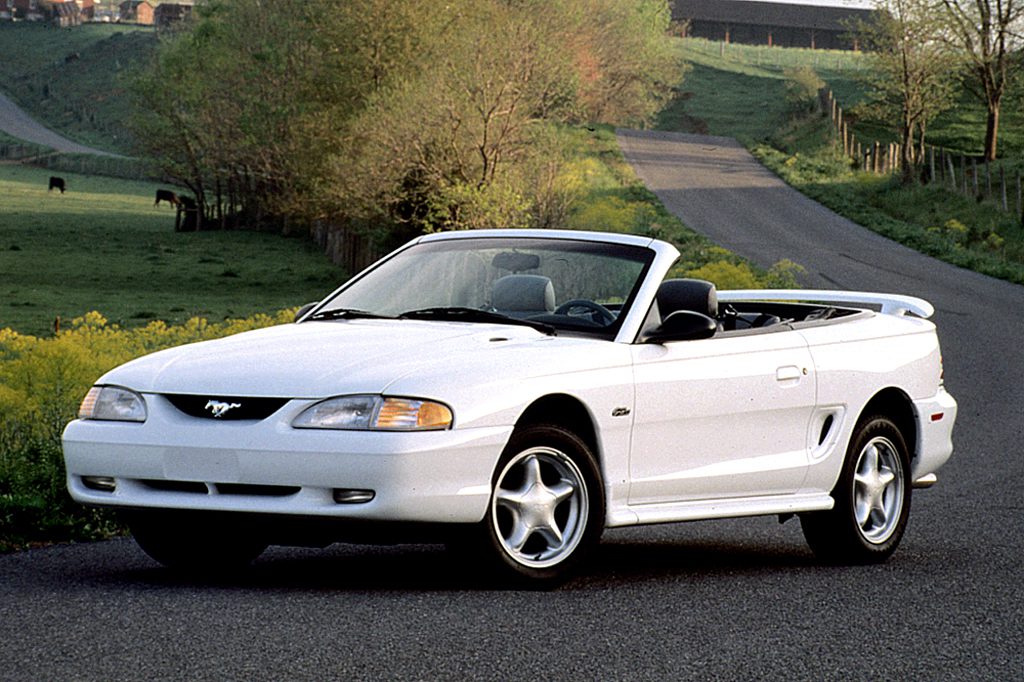 1996 Ford Mustang GT 2-door convertible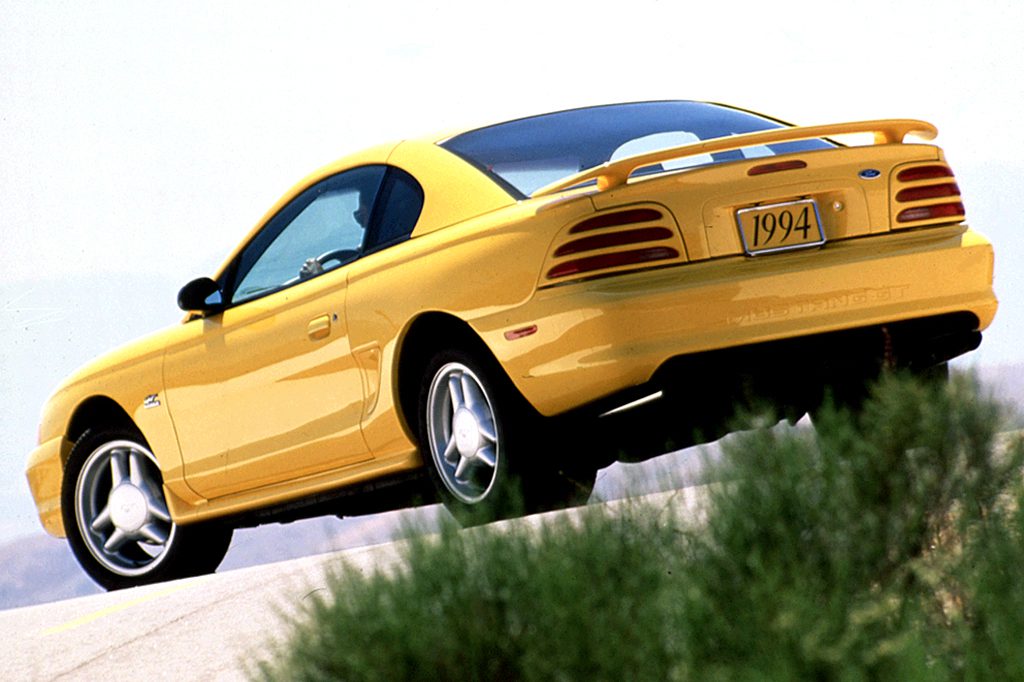 1994 Ford Mustang GT 2-door coupe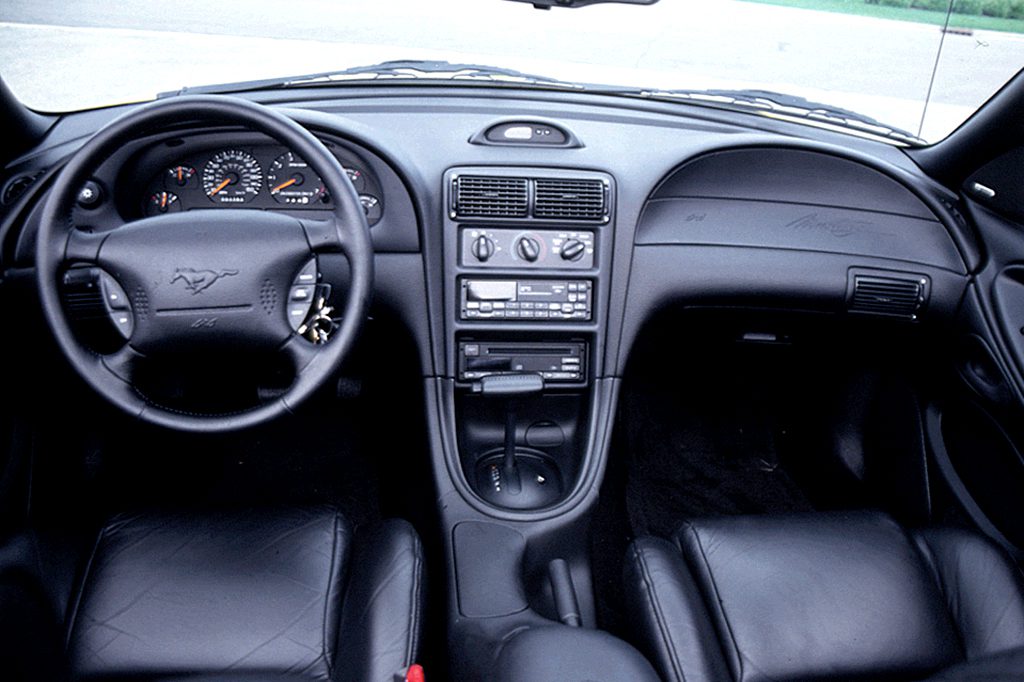 1994 Ford Mustang GT interior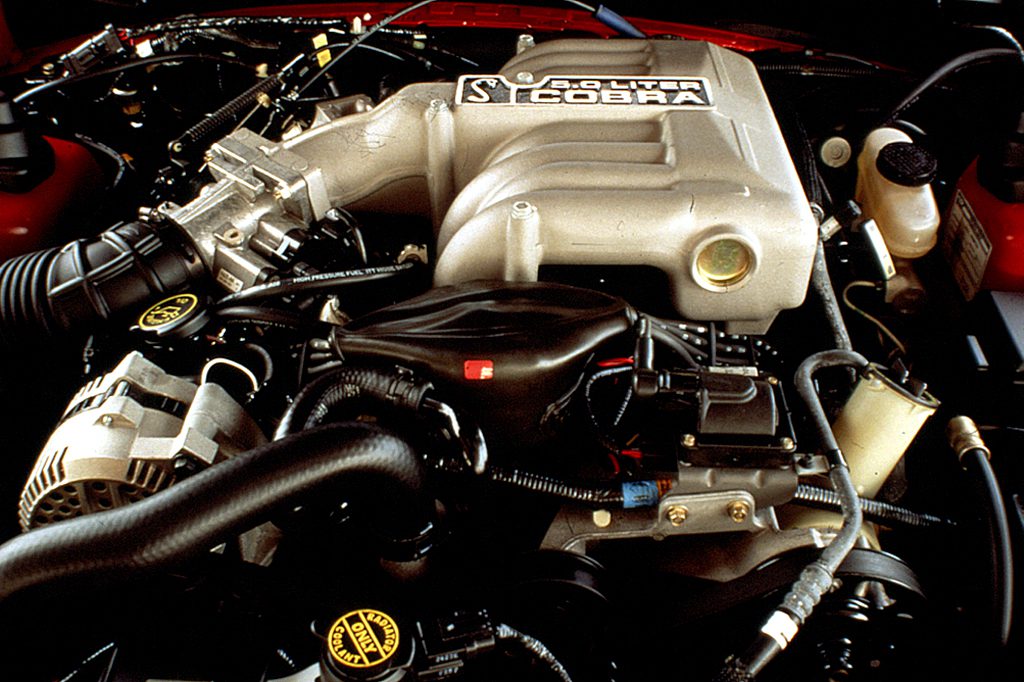 1994 Ford Mustang Cobra engine
Pros:

Acceleration (V8)
Antilock brakes (optional)
Handling/roadholding

Cons:

Fuel economy (V8)
Rear-seat room
Ride (GT)
Cobras can be pricey, and don't expect discounts on the limited-production Bullitt. Overall, though, Mustang delivers sporty performance at a reasonable price–especially in base and GT form. A major improvement over its predecessor, and more user-friendly for everyday driving than Chevy's Camaro, the current Mustang is well worth a test drive.
Overview
Still rear drive, Ford's popular ponycar gained new sheetmetal and dual airbags in its long-overdue redesign for 1994. Hatchbacks disappeared, but a notchback coupe and convertible remain. Exterior and interior dimensions changed only a little. Four-cylinder engines were gone. Base models got a V6 engine, while the GT held a 215-horsepower V8. Manual shift was standard; electronically controlled 4-speed automatic optional. All Mustangs now halted with all-disc brakes, with antilocking an option for the first time. Convertibles included a power top and glass rear window, with a rear defogger optional. Mustang Cobras with 240-horsepower V8s were sold only in limited quantity. Firmer suspended than ordinary Mustangs, Cobras came only with 5-speed manual shift and had all-disc antilock braking as well as a unique appearance.
Yearly Updates
1995 Mustang
No major changes hit the Mustang in its second season in mid-1990s form.
1996 Mustang
For 1996, a 4.6-liter overhead-cam V8 replaced the 5.0-liter. Special high-performance Cobras got a 305-horsepower dual-overhead-cam version. Cobra coupes arrived first, followed later by a convertible. Each engine gained platinum-tipped spark plugs, and the V6 added five horsepower.
1997 Mustang
Notable changes included the following: a monotone interior color scheme, "flecked" seat fabric pattern for the GT, optional gray leather interior for the convertible, and optional "diamond-cut" 17-inch alloy wheels for the GT.
1998 Mustang
Mustang returns virtually unchanged except for ten more horsepower in the GT.
1999 Mustang
Mustang got a major styling makeover for '99. Included were new front and rear clips with styling cues from the original 1965 model and a new rear suspension designed to improve handling. All models returned and the Cobra got an even more-impressive fully independent rear suspension.
2000 Mustang
Except for a new Sport appearance option for the V6 Mustang, changes were few this year. The Sport appearance group included a rear spoiler, bright alloy wheels, and body stripes. All models got two rear child safety-seat anchors and a tri-color-bar emblem on front fenders. Base models were available with new 6-spoke 15-inch alloy wheels and, for the first time, with the same 16-inch wheels and tire size used on the GT.
2001 Mustang
The high-performance Cobra model returned for 2001, and the limited-edition Bullitt GT joined the lineup. Linewide changes included a new floor console, repositioned front cupholder, added tissue holder, power point, and parking-brake boot. A rear defroster was now standard, the optional Mach 460 sound system was newly available with a 6-disc in-dash CD player, and GTs got standard 17-inch alloy wheels in place of 16s. Also, GTs and Cobras got new hood and side scoops.
2002 Mustang
For '02, major option packages were redesignated as submodels called Standard, Deluxe, and Premium. An MP3/CD radio was newly available, and Base Mustangs got 16-inch alloy wheels to replace 15s. The high-performance Cobra model sat out the first part of the 2002 model year.
2003 Mustang
Mach 1 and SVT Cobra editions were the big news for '03–the Cobra actually arrived in limited-availability for '02. Mach one got a 300-horse dual-cam V8 while the Cobra got a 390-horse supercharged V8. The Cobra also got independent rear suspension. V6 models could have the Pony Package which included sport graphics and a non-functional hood scoop.
2004 Mustang
All Mustangs wear commemorative badges to celebrate the car's 40th anniversary. Other changes were minor as Ford's ponycar would be completely redesigned for 2005.