Premium large car; Built in Germany
4-door sedan
4-door sedan
longitudinal front-engine/rear-wheel drive
Good condition price range: $2,800 – $9,500*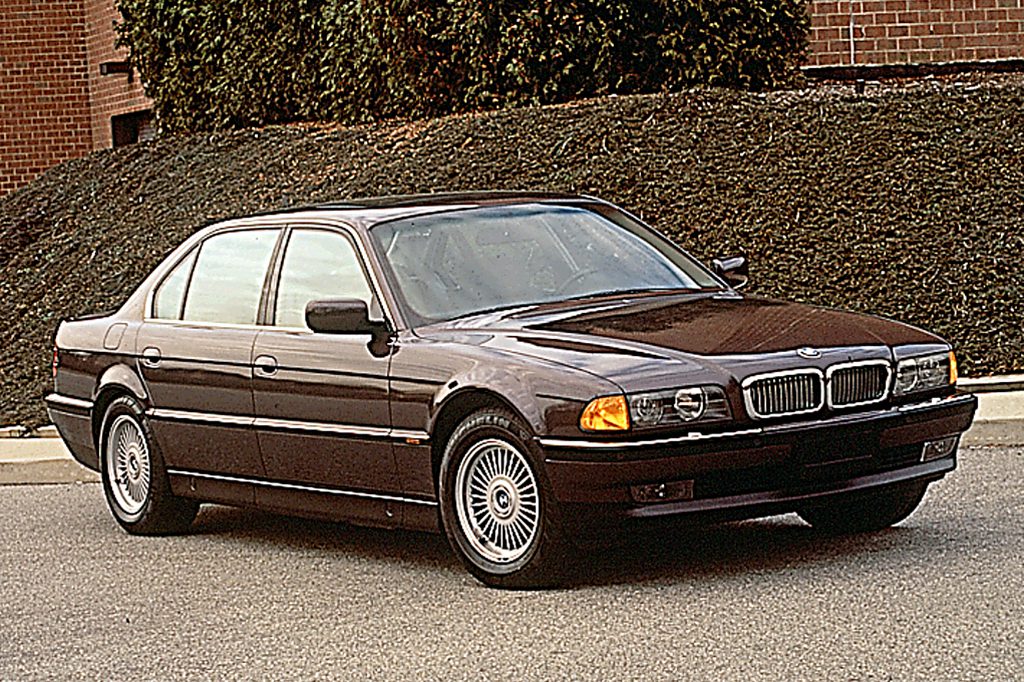 1996 BMW 750iL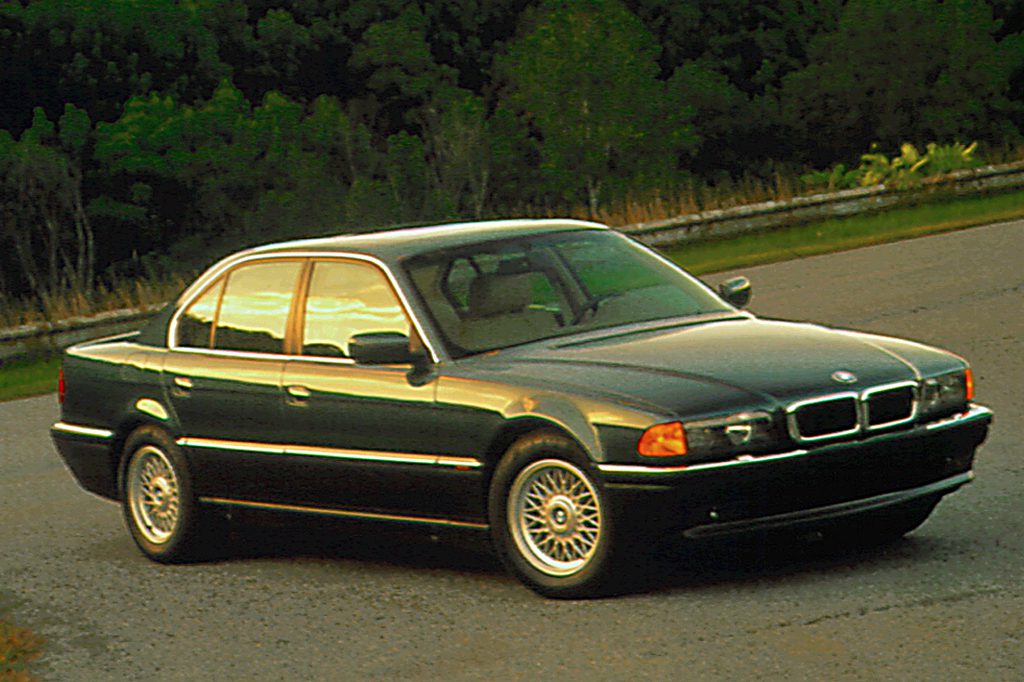 1997 BMW 740i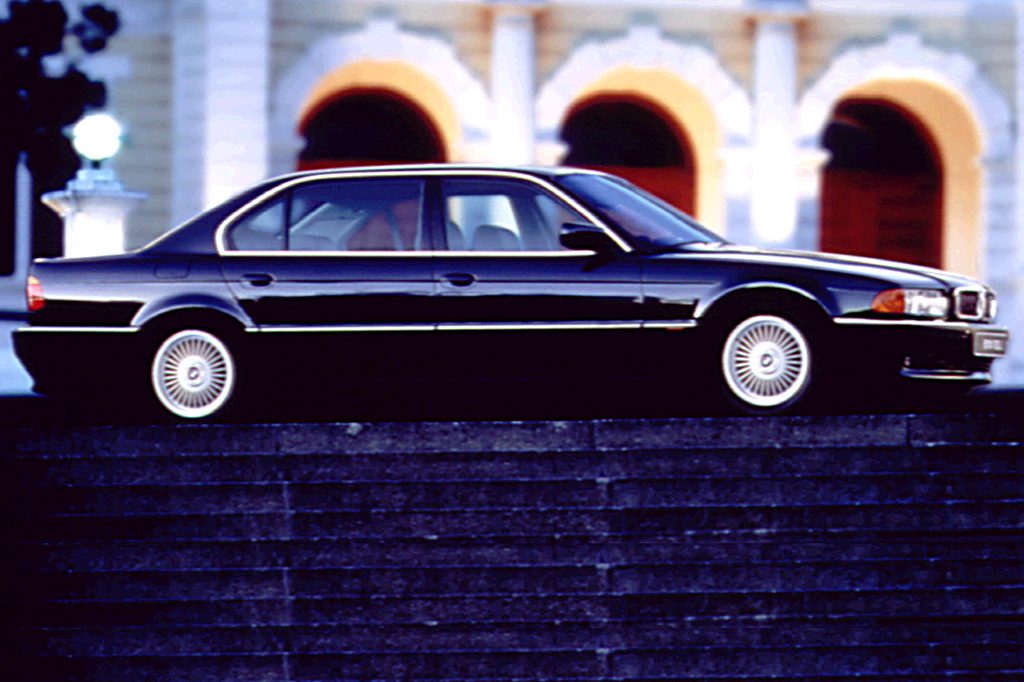 1998 BMW 750iL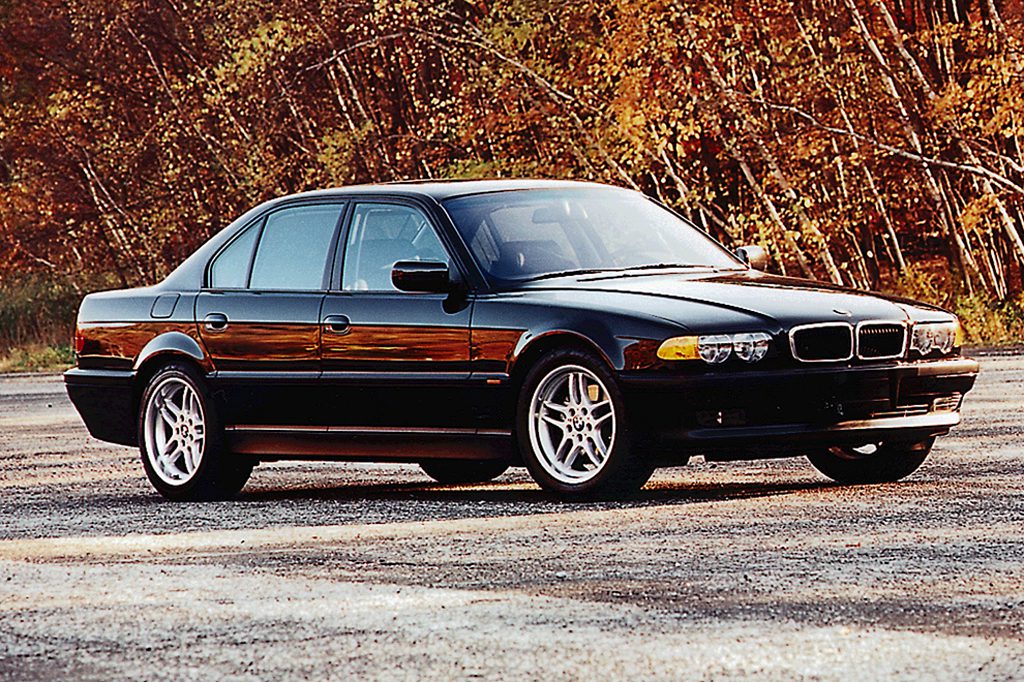 1999 BMW 740i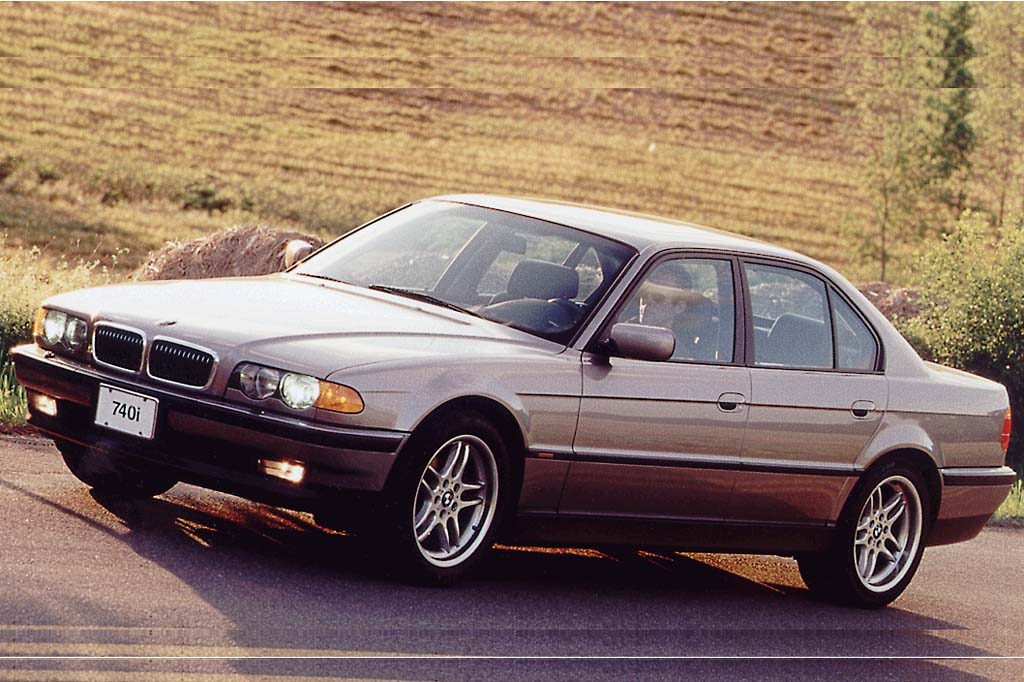 2000 BMW 740i w/Sport Package
Pros:

Acceleration
Build quality
Side airbags (later models)
Head-protection system (later models)
Exterior finish
Interior materials
Passenger room/comfort
Ride
Steering/handling

Cons:

Control layout
Fuel economy
BMW builds great automobiles, no doubt about it. Then again, so does Mercedes-Benz. Which is best for you if shopping in this stratospheric league? That's a toss-up, which should be a pleasure to ponder.
Overview
BMW's version of the big, luxurious German flagship sedan earned a sleek redesign for 1995, not unlike the midsize 5-Series. Still rear-wheel drive, it went against the cream of the competition: Infiniti Q45, Lexus LS 400, and Mercedes-Benz S-Class. Part "executive express" and part technical showcase, the 7-Series came with a choice of two engines: V8 for the 740i and long-wheelbase 740iL, or V12 for the long-wheelbase 750iL. Extended wheelbases were 5.5 inches longer than the standard 740i model.The 740i went on sale first, followed by the long-wheelbase editions. Longer than before, the new model was slightly wider and lower, and about 150 pounds heavier. Beneath the hood of the 740i/iL sat the same 282 horsepower, dual-cam 4.0-liter V8 engine as before, driving a 5-speed electronic automatic transmission. The 740iL gained adaptive shift control, which changes shifts points based on how the car was driven. Exchanging its previous 4-speed automatic transmission for a 5-speed unit, the 750iL also lost its 5.0-liter V12 engine in favor of a more potent 5.2 liter edition. Horsepower rose from 296 to 322. A new "door-anchoring system" was said to "hook" trailing edges of the doors into the main body structure, for greater rigidity in a crash. Doors would be released after the impact. A new "residual heat" feature could warm the interior for 16 minutes after the engine was shut off. New 14-way power front seats with 4-way lumbar adjustment were installed (8-way lumbar in the 750iL). A new 330-watt audio system was standard in the 750iL.
Yearly Updates
1996 7-Series
Only long-wheelbase (740iL and 750iL) sedans went on sale this year. The 740iL traded in its 4.0 liter V8 for a 4.4-liter engine, gaining some torque output but retaining the same horsepower rating. A glass moonroof replaced the steel sunroof as standard on both models. Traction control became standard (formerly an option) for the 740iL. Electronic Damping Control was a new option, automatically adjusting suspension firmness based on driving conditions. An electrically heated steering wheel became standard in the 750iL. That model also gained an antiskid system called Dynamic Stability Control, using sensors for the ABS and traction control systems to detect when any wheel was locking or slipping. If so, it would reduce engine power and apply individual brakes to maintain traction and steering control.
1997 7-Series
Side-impact airbags became standard this season, as the shorter-wheelbase 740i returned after a year's absence. Just three other notable changes marked the 1997 model year. The power-adjustable steering wheel now automatically lifted up upon opening a door, to ease entry/exit. An improved version of BMW's Dynamic Stability Control antiskid system became standard. Finally, to please certain high-end buyers, break-resistant security glass was a new option for the long-wheelbase models.
1998 7-Series
The '98 models debuted in June 1997, with two changes, both related to safety. Rear side airbags became optional. A new Head Protection System was installed, claimed to be a "first." A tubular airbag inflates during a side impact, popping out from just above the front door to protect occupant heads and shoulders.
1999 7-Series
Styling revisions front and rear were mild for 1999. A new Sport Package was optional for the 740i sedan, including a numerically higher axle ratio, 18-inch alloy wheels (instead of the usual 16-inchers), blackout trim, sport suspension and rear auto leveling, and a Steptronic transmission with separate manual-shift capability. Steptronic and the auto-leveling rear suspension were standard on the costly 750iL. Dynamic Stability Control, previously exclusive to the 750iL, now was standard in all models.
2000 7-Series
All models gained rain sensing wipers this year, and V8 sedans added an onboard navigation system as standard equipment. They also gained xenon headlights and premium audio with a 6-disc CD changer, to match the 750iL. Also new for the 740s was an optional Active Ride Package that borrowed the V12 sedan's Electronic Damping Control shock absorbers and self-leveling rear suspension. Newly standard on the 750iL and optional on its V8 mates was BMW's Active Comfort driver's seat, with rollers in the cushion that move periodically in an effort to minimize fatigue. Rear head-protection airbags were now part of the rear side airbag option.
2001 7-Series
For '01, minor styling changes were made, and all models gained optional rear torso side airbags that included head-protecting side airbags. Also, the handling-oriented Sport Package became available for the 740iL. An Adaptive Ride Package with electronically controlled shock absorbers and rear self-leveling was also new this year–standard on the 750iL, optional for 740s.