Compact SUV; Built in South Korea
2-door convertible
4-door wagon
longitudinal front-engine/rear- or 4-wheel drive
Good condition price range: $1,000 – $3,500*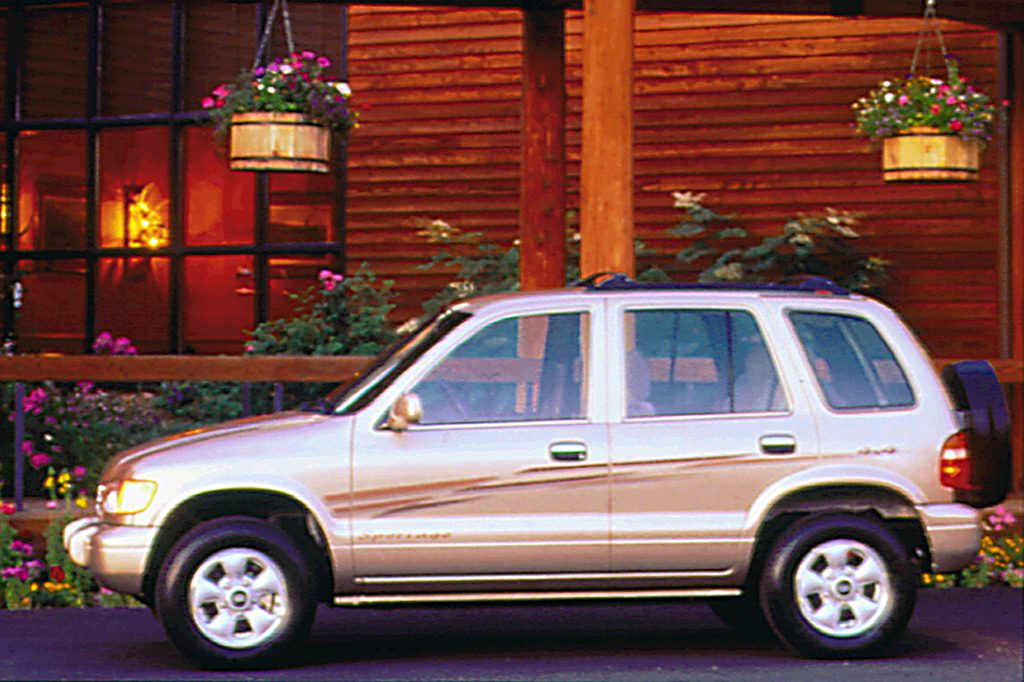 1997 Kia Sportage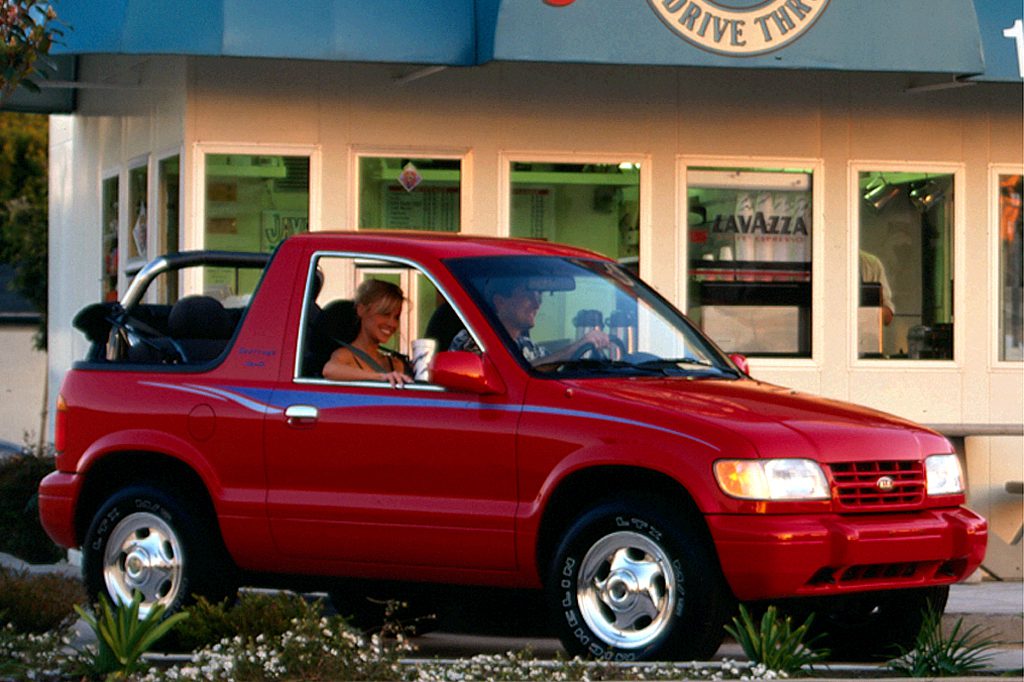 1998 Kia Sportage 2-door convertible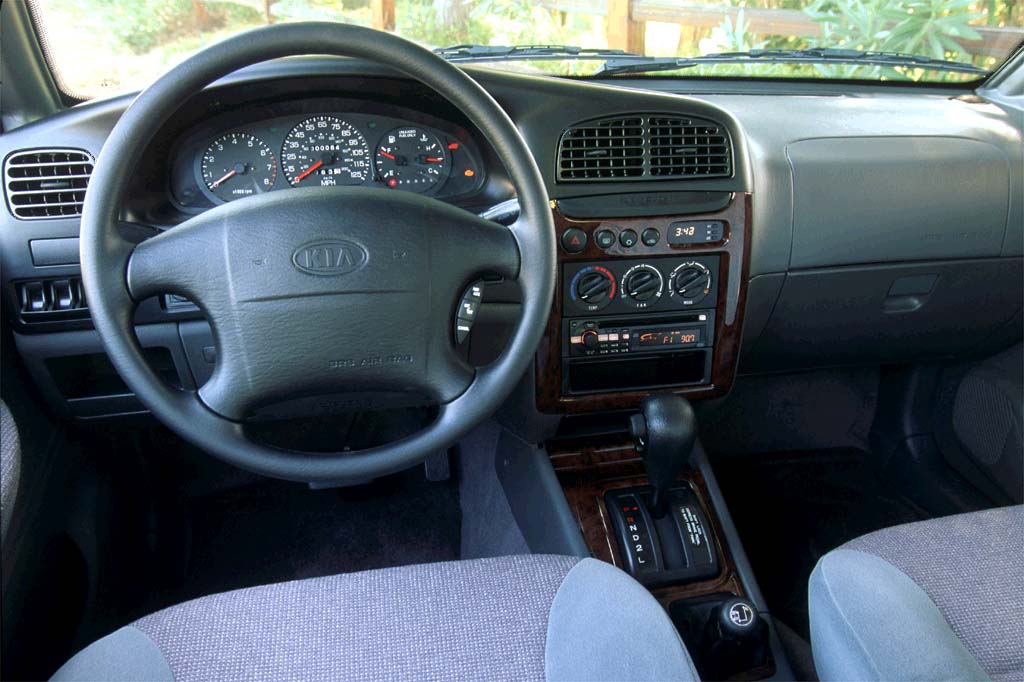 2000 Kia Sportage interior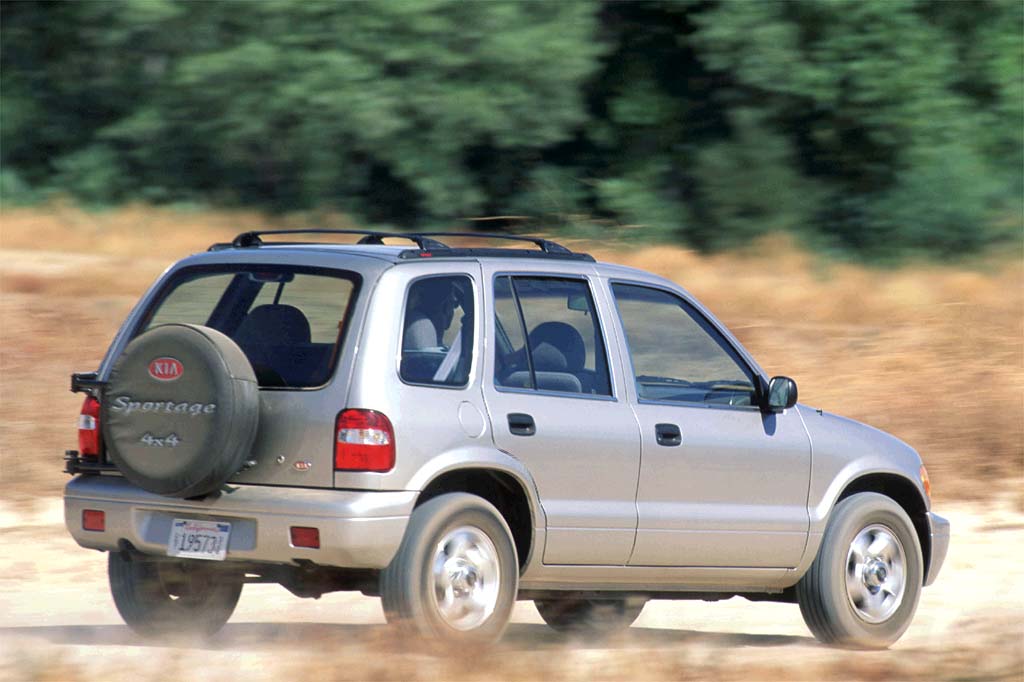 2000 Kia Sportage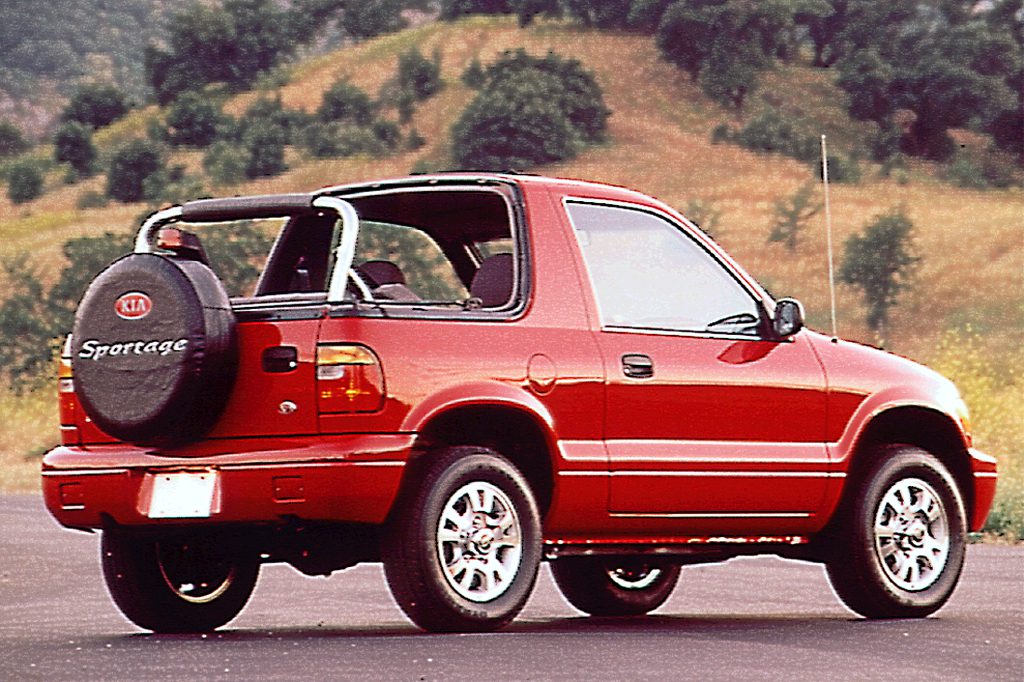 1999 Kia Sportage 2-door convertible
Pros:

Instruments/controls
Maneuverability
Visibility

Cons:

Acceleration (4-door)
Interior materials
Limited shift-on-the-fly 4WD
Noise
Ride
Looked at in terms of long-term value, a CR-V or RAV4 would be the better choice. Those two also are more pleasant to drive and better built. Worse yet, Kia has ranked near the bottom of the list in consumer surveys of reliability and customer satisfaction.
Overview
A compact sport-utility vehicle, the Sportage was the second product offered in the U.S. market by Kia, a Korean manufacturer. After Hyundai, Kia was South Korea's second-largest vehicle maker, and Sportage was the first South Korean SUV sold in the U.S. Designed as an enclosed passenger vehicle, not based on a pickup truck, Sportage aimed squarely at U.S. buyers who sought a roomy vehicle for their active lifestyles. The SUV went on sale in January 1995, only in Western and Southern states that had Kia dealerships. Four-wheel-drive Sportages used a 2.0-liter dual-overhead-cam engine, which produced 130 horsepower. Rear-drive models got a single-cam 2.0-liter engine, rated at 94 horsepower. Only a 5-speed manual transmission was available in the 2WD version, but 4WD Sportages could be equipped with an optional 4-speed automatic. The part-time 4-wheel-drive system was intended only for use on slick surfaces. Rear antilock brakes operated only in 2-wheel-drive mode. Power steering was standard. At first, the Sportage had little direct competition, apart from the Suzuki Sidekick and its Geo Tracker equivalent. Within a couple of years, Toyota and Honda would be giving Kia some serious competition.
Yearly Updates
1996 Sportage
A driver's airbag went into 1996 models at midseason, but little else was changed. In addition to the conventional airbag, mid-year models gained the industry's first knee airbag, which inflated simultaneously to keep the driver from sliding under the dashboard. Base and better-equipped EX models were available, the latter offered only with 4-wheel drive.
1997 Sportage
Not much was new for 1997, with the exception of a fresh grille. EX models could now have either 2-wheel drive or 4WD. All Sportages now had power door locks, a theft-deterrent system, and a full-size outside spare-tire carrier. Newly optional was an AM/FM stereo system with built-in CD player. A 4-speed automatic transmission could now be installed in 2WD models as well as 4x4s. All Sportages used a 130-horsepower, dual-overhead-cam engine.
1998 Sportage
Sportage wagons got a mild facelift, and a 2-door convertible model was added. Both were available with either rear-drive or on-demand 4-wheel drive. Wagons and convertibles shared front sheetmetal and the 2.0-liter engine, but the convertible was shorter both in wheelbase and overall. In addition, the soft-top Sportage seated four, to the wagon's five. Like Isuzu's larger Amigo (resurrected in 1998), the convertible had a manual-folding soft top over the back seat and a metal roof up front. Wagons came in either base or EX trim. By now, rivals included the Honda CR-V, Subaru Forester, and Toyota RAV4, as well as the Chevrolet Tracker.
1999 Sportage
No change was evident on Kia's best-selling product in the U.S. market.
2000 Sportage
Changes for 2000 were limited to a bolder-sounding horn, driver's left footrest, and newly optional remote keyless-entry system.
2001 Sportage
Changes for 2001 were limited to an added luxury trim option and longer warranties. EX wagons got an optional Limited trim/equipment package that included premium 6-speaker audio, remote keyless entry, unique alloy wheels, color-keyed bumpers and cladding, chrome roof rack, and hard-shell spare-tire cover. Basic warranty coverage was extended to 5 years/60,000 miles, powertrain coverage to 10 years/100,000 miles, and roadside assistance to 5 years/unlimited miles. Corrosion was warranted for 5 years/100,000 miles.
2002 Sportage
New for 2002 was an optional exterior-trim package that includes 2-tone body cladding and a hard-face spare-tire cover. Sportage discontinued at the end of the year.