Compact pickup truck; Built in USA, Japan
crew cab
ext. cab
reg. cab
longitudinal front-engine/rear- or 4-wheel drive
Good condition price range: $1,500 – $14,500*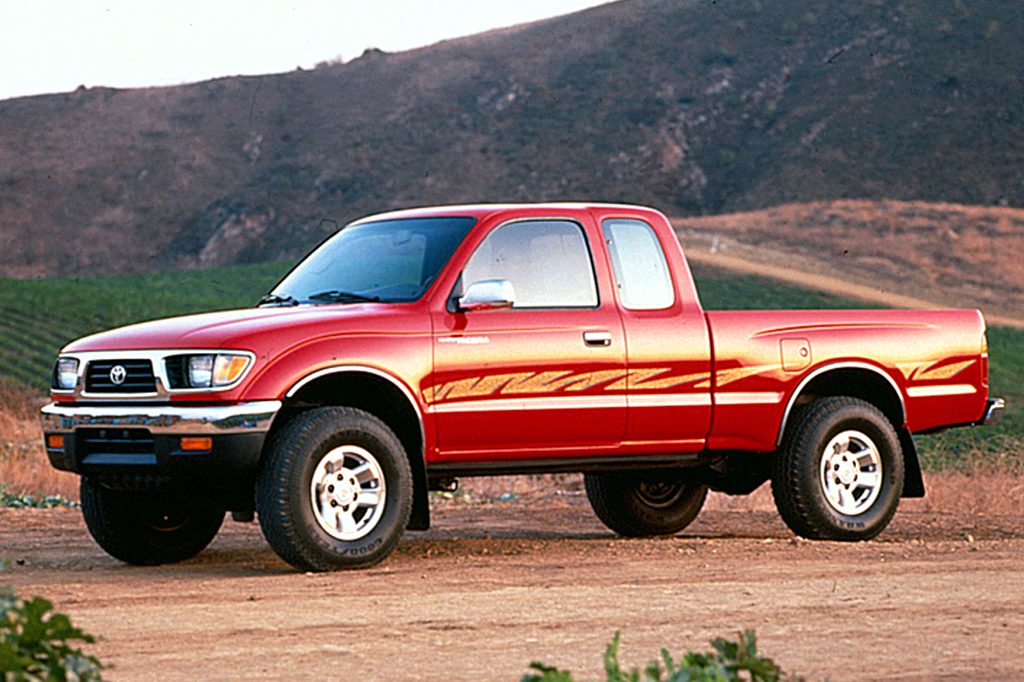 1995 Toyota Tacoma SR5 4WD Xtracab extended cab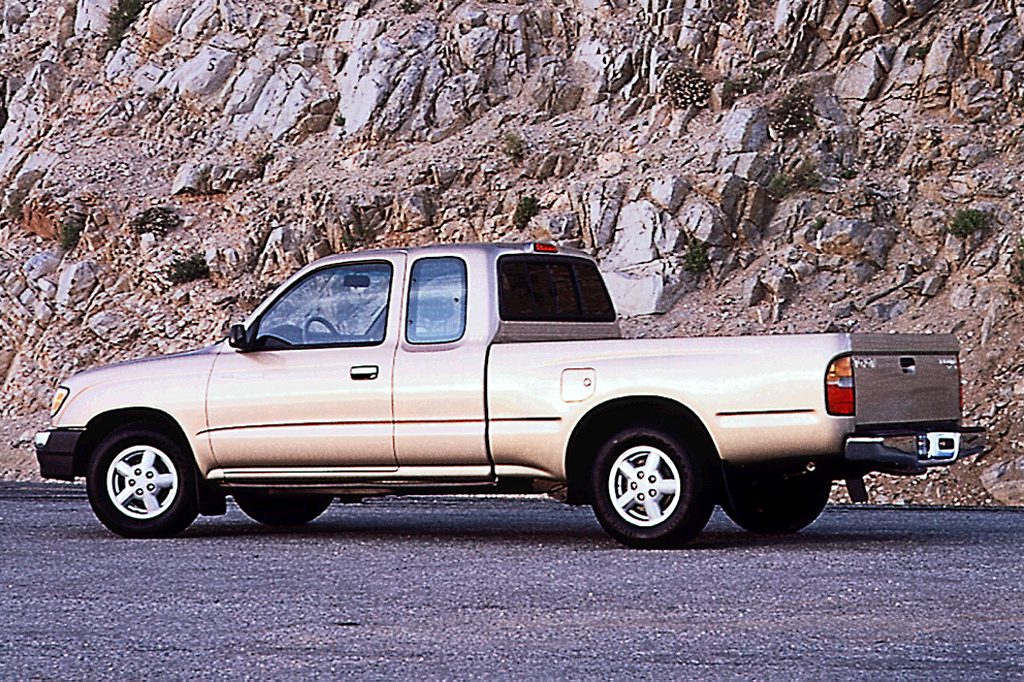 1998 Toyota Tacoma SR5 2WD Xtracab extended cab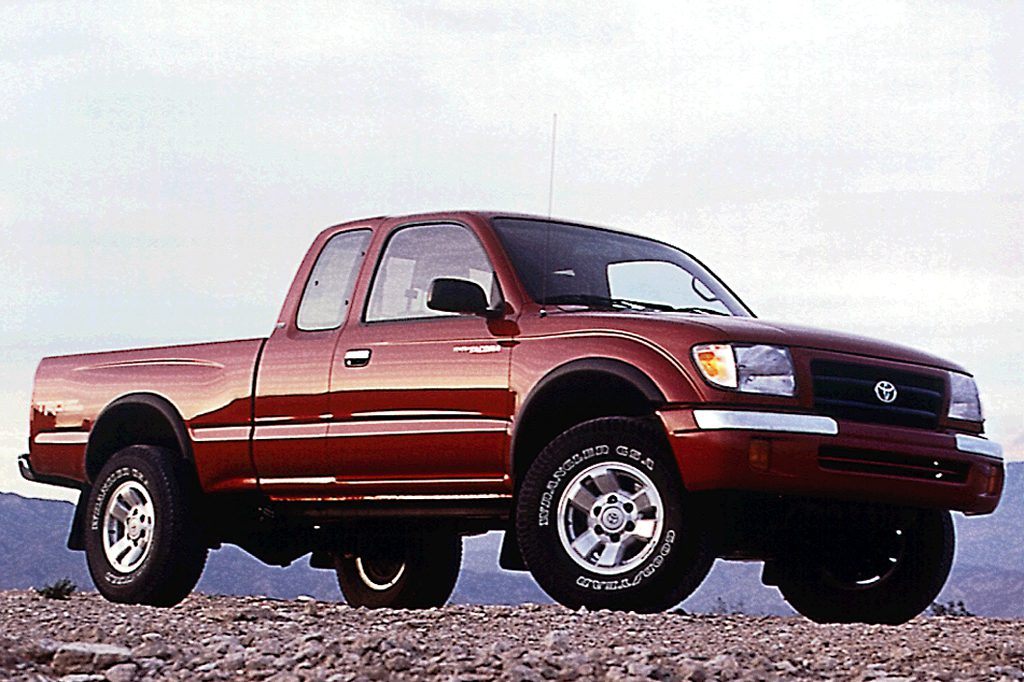 1998 Toyota Tacoma PreRunner Xtracab extended cab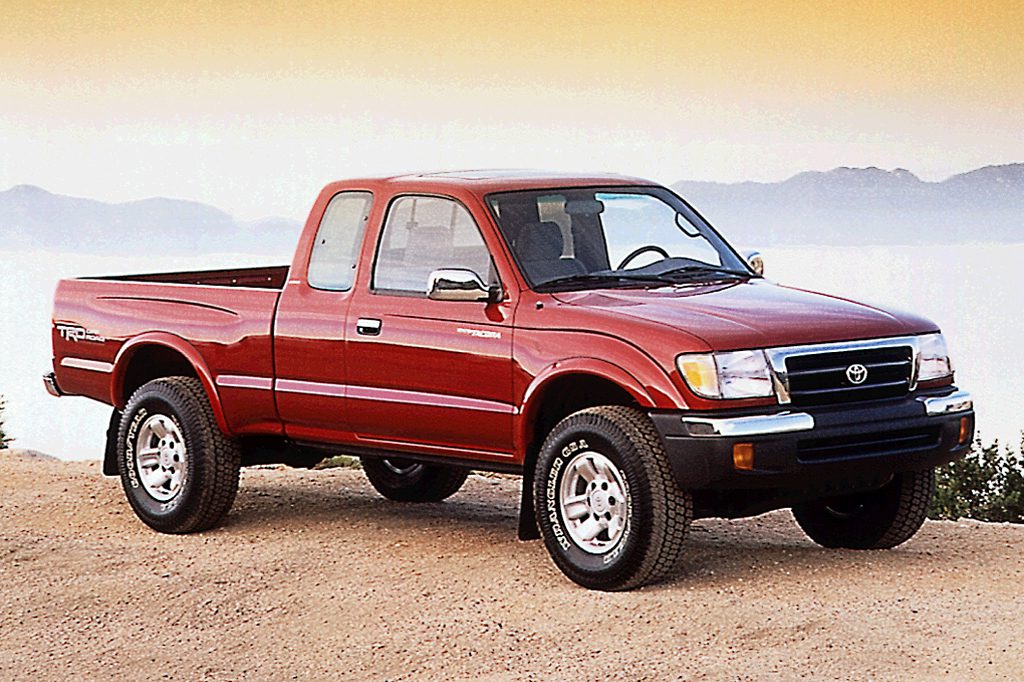 1998 Toyota Tacoma Limited 4WD Xtracab extended cab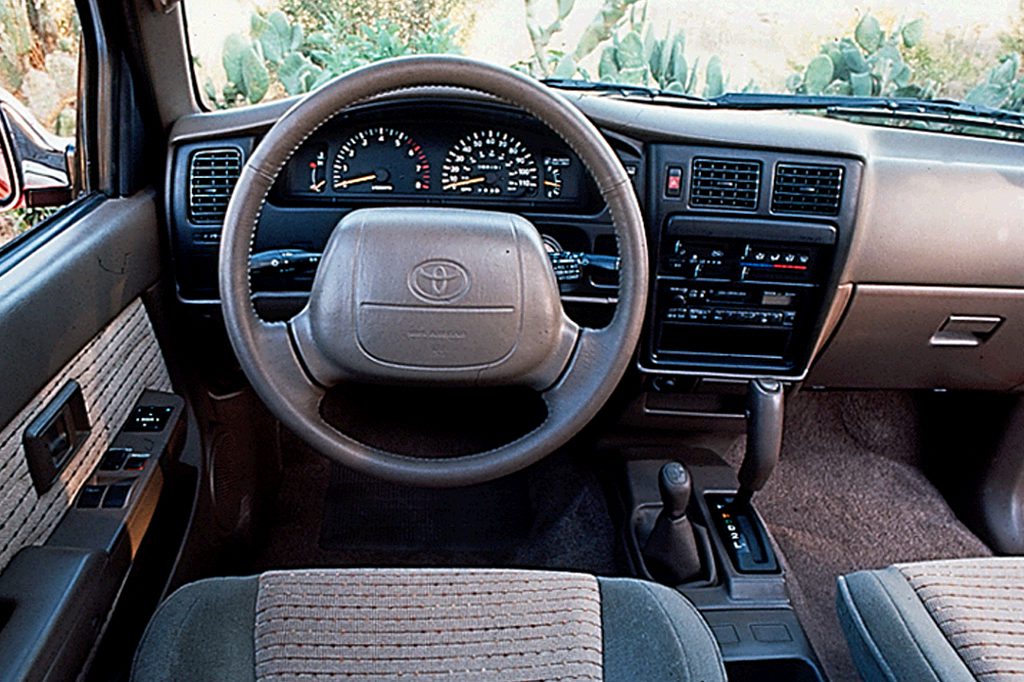 1995 Toyota Tacoma interior
Pros:

Acceleration (V6)
Reliability

Cons:

Engine noise
Step-in height (4WD)
Price
Ride
The only advantage a Tacoma might have over domestic compacts would be in reliability. This is one case where we would shop the competition despite Toyota's reputation.
Overview
Toyota's sixth-generation pickup finally got a proper name of its own–Tacoma. The all-new model ha a driver-side airbag, and featured aggressive new styling, both inside and out. Propelling the new Tacoma were three engines–two 4-cylinders and a V6. The new engines included a 142-horsepower dual-overhead-cam 2.4-liter, a 150-horsepower dual-overhead-cam 2.7-liter, and a 190-horsepower dual-overhead cam 3.4-liter V6. The Tacoma also rode on a redesigned chassis and suspension and came with rack-and-pinion steering in place of the previous recirculating ball system. Also, 4-wheel ABS was now optional on all Tacoma models. The 4WD models were visually differentiated from 2WD models by a distinct grille treatment and an elevated chassis.
Yearly Updates
1996 Tacoma Pickup
For '96, Toyota's Tacoma pickup is provided with a new off-road package that includes a locking rear differential. The new unit is available only on regular-cab 4WD models with a manual transmission. On 2WD models it includes a rear differential locking system, 31-inch tires on alloy wheels, and a tachometer. On 4WD models, Toyota charges a little more, but adds bucket seats, a center console, and 4WDemand, the more sophisticated of Toyota's two 4-wheel-drive systems.
1997 Tacoma Pickup
For 1997, 2WD models get a new grille and flush headlights. Also, the base 2.4-liter engine gains a new ignition system and a more sophisticated sequential multipoint fuel-injection system.
1998 Tacoma Pickup
Tacoma finally gets a passenger-side airbag, and the SR5 models get a new name–Limited.
1999 Tacoma Pickup
Seatbelt pretensioners topped the short list of changes for '99.
2000 Tacoma Pickup
Intermittent windshield wipers became standard, and models with ABS now had daytime running lights. Four-wheel-drive trucks got numerically higher axle ratios for quicker takeoffs.
2001 Tacoma
New for 2001 were 4-door Double Cabs with four front-opening doors and a 60/40 folding rear bench seat. All models got a restyled front end with a raised hood and prominent grille. Also added for 2001 was a new S-Runner model–a manual-transmission V6 PreRunner Xtracab with stiffer springs, premium shock absorbers, color-keyed exterior, and special interior appointments.
2002 Tacoma
There were no significant changes for 2002.
2003 Tacoma
Antilock brakes were made standard on all models for 2003.
2004 Tacoma
The Tacoma loses its optional flare-fender StepSide cargo box in 2004.