Premium compact car; Built in Germany
4-door sedan
4-door wagon
longitudinal front-engine/front- or all-wheel drive
Good condition price range: $1,500 – $6,600*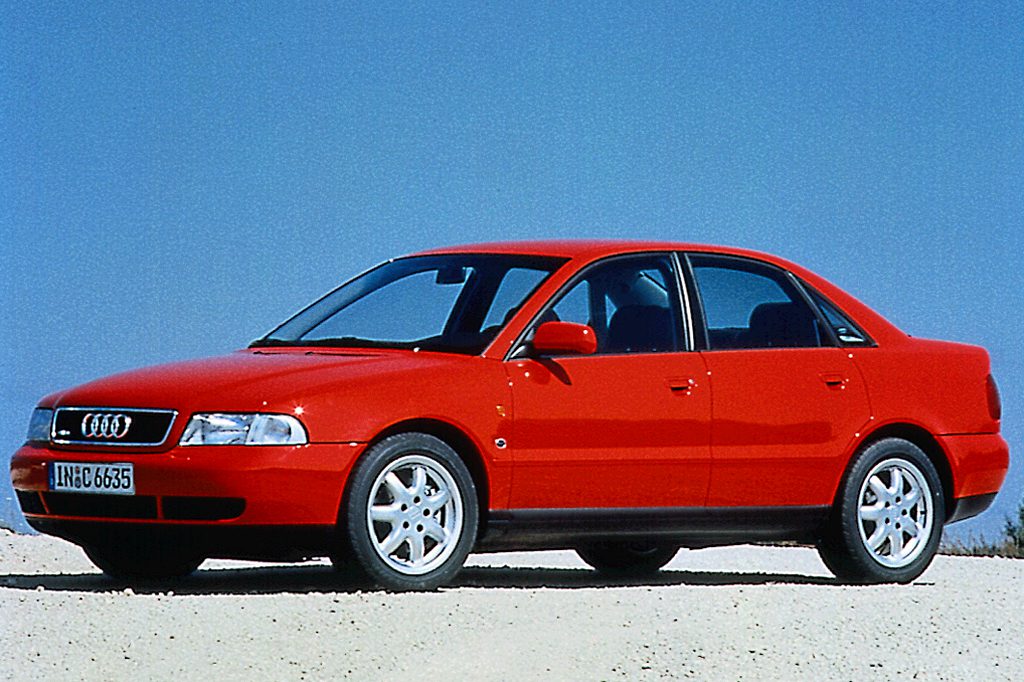 1998 Audi A4 2.8 4-door sedan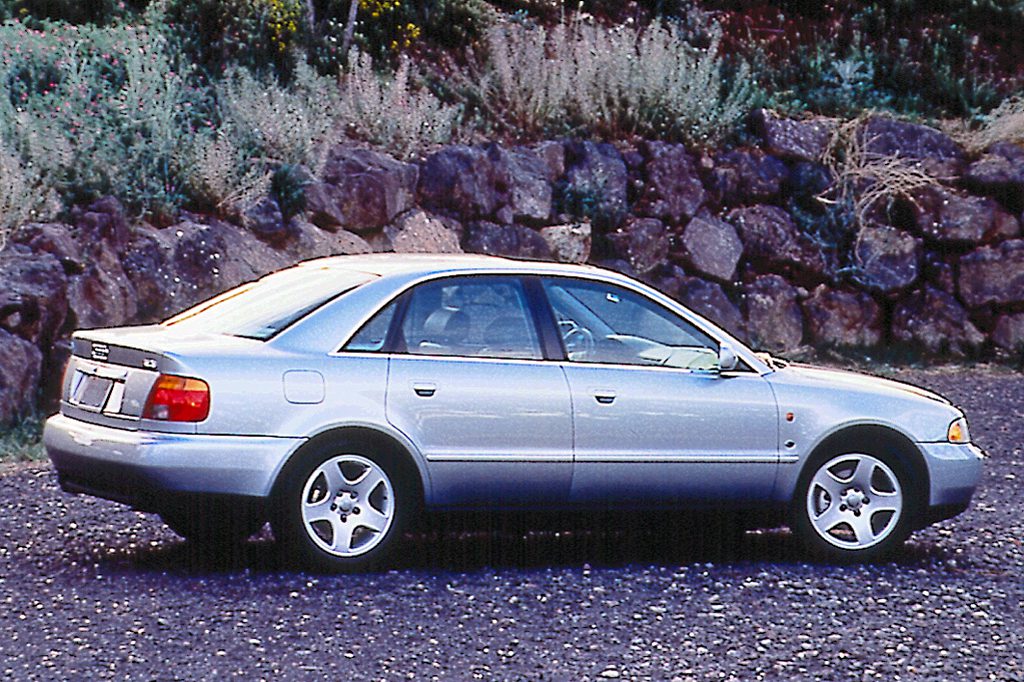 1997 Audi A4 4-door sedan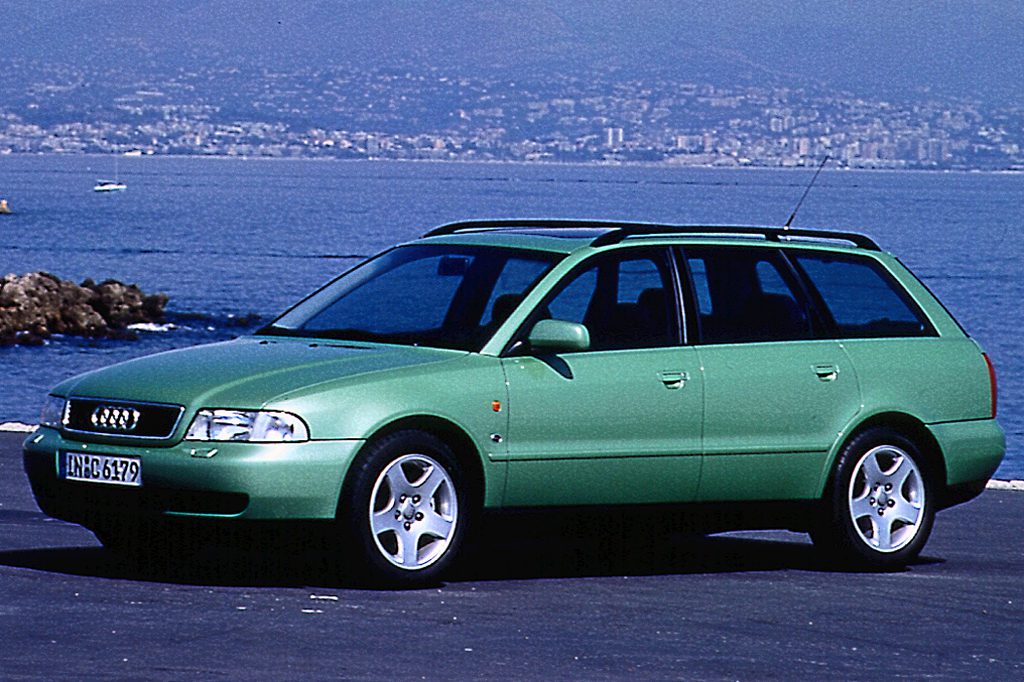 1998 Audi A4 Avant 4-door wagon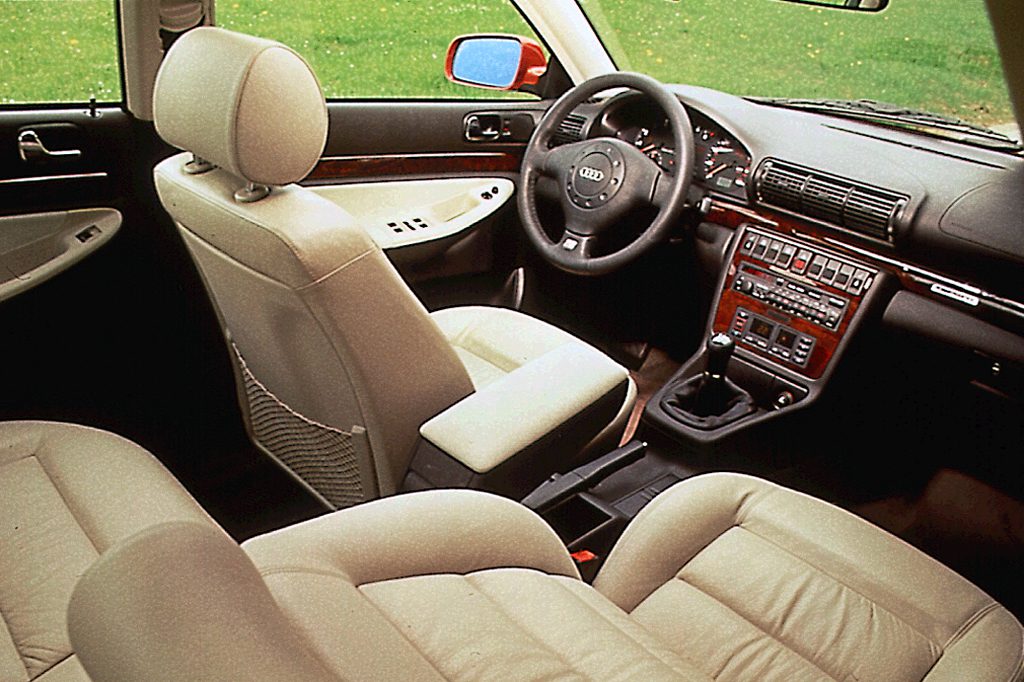 1996 Audi A4 interior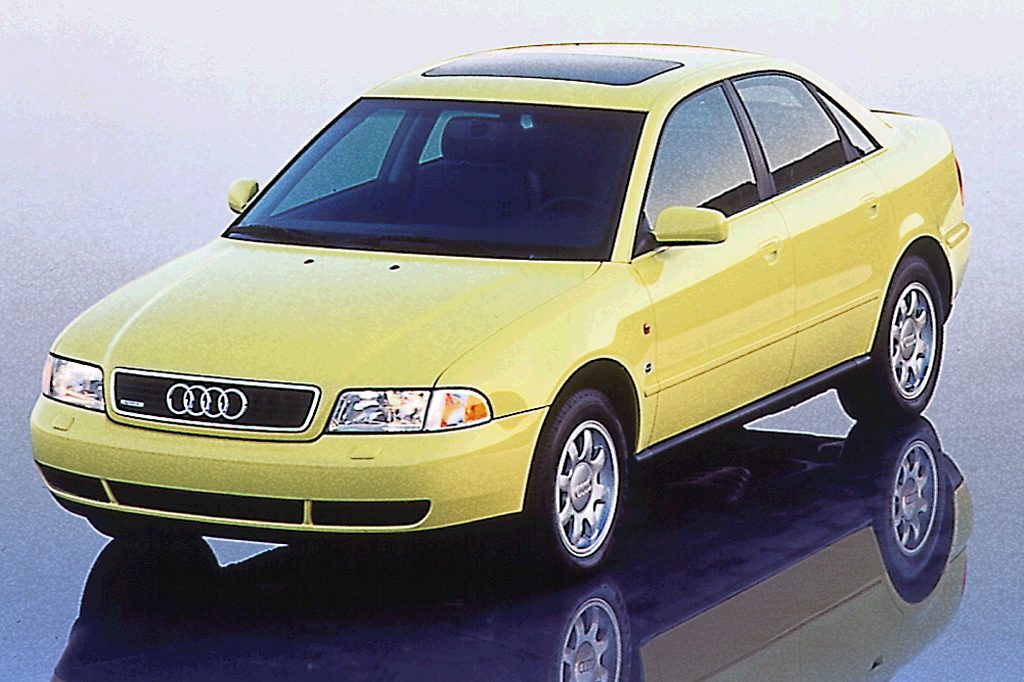 1997 Audi A4 1.8T 4-door sedan
Pros:

Optional all-wheel drive
Automatic-transmission performance
Build quality
Handling
Ride

Cons:

Rear-seat room
Steering feel
Audi's A4 has sufficient merits to withstand comparison with the BMW 3-Series, Lexus ES 300, and Mercedes-Benz C-Class, putting it in good company at the low end of the premium sedan market. As for build quality, there's no more solid small sedan on the market than an A4.
Overview
Compared to the 90 sedan it replaced, the new A4 featured a wedge-shaped profile, lower hood, slimmer headlamps, and an integrated rear spoiler. Wheelbase was slightly longer than the 90's, while overall length, at 178 inches, was a bit shorter. The A4 measured about two inches wider. Combined with a shorter engine bay, that meant more space in the passenger compartment. Beneath the hood once again was Audi's 2.8-liter V6, rated at 172 horsepower. A 5-speed manual gearbox was standard, and a new 5-speed automatic transmission optional. The A4 came with either front-wheel drive or Audi's permanently engaged 4-wheel drive Quattro system. Automatic transmissions were not available on initial models, but arrived during the 1996 season.Standard equipment included dual front airbags, antilock brakes, automatic climate control, and a tilt/telescopic steering wheel. Leather upholstery and a CD changer were optional.
Yearly Updates
1997 A4
Audi renamed its V6 sedan the A4 2.8, adding a new model called the A4 1.8T. As that nomenclature suggests, the lower-priced model used a new turbocharged 1.8-liter 4-cylinder engine. Rated at 150 horsepower, the turbo four had dual overhead camshafts and five valves per cylinder. After the start of the model year, Audi also launched an improved dual-cam V6 engine with five valves per cylinder (previously two) and a 190-horsepower rating. Both models had standard front-wheel drive, with Quattro all-wheel drive an option.
1998 A4
A V6 station wagon joined the lineup for 1998, dubbed the A4 2.8 Avant. Instead of the conventional 5-speed automatic transmission, the wagon got an adaptation of the Porsche-designed 5-speed Tiptronic unit. Tiptronic allows sequential manual gear selection via a special shift gate.
1999 A4
Audi added a 1.8T wagon to the A4 lineup for '99. It had the same turbocharged 4-cylinder engine as the 1.8T sedan. The V6 2.8 sedan and wagon continued as the top A4 models. All A4s received a larger right-door mirror, modified center-console cupholders, and first-aid kit for '99, and 1.8Ts got additional sound insulation.
2000 A4
A high-performance S4 model joined the A4 lineup, with a 250-horsepower twin-turbocharged 2.7-liter V6 and Quattro all-wheel drive. Either a 5-speed automatic or a 6-speed manual transmission might be installed. S4 sedans had a sport suspension, 17-inch performance tires, plus a unique grille, bumpers, and leather-upholstered interior. Sideguard airbags, designed to deploy from above the side windows as a head-protecting "curtain" against side impact, became optional in all models. Other new options included high-intensity headlamps and a satellite-based navigation system, with audio and visual direction prompts but no video-type display screen. Mild restyling this year was accompanied by a reworked center console and standard trip computer. A4 2.8 models added a standard power front passenger's seat.
2001 A4
Changes for 2001 include standard curtain side airbags and a newly available antiskid system. All automatic transmission A4s now had a three-spoke steering wheel with buttons for manual shifting. The navigation system was not available for 2001 1.8Ts and S4s. And basic warranty coverage was extended from 3 years/50,000 miles to 4/50,000.