Premium sporty/performance car; Built in USA
2-door convertible
2-door coupe
longitudinal front-engine/rear-wheel drive
Good condition price range: $3,800 – $14,300*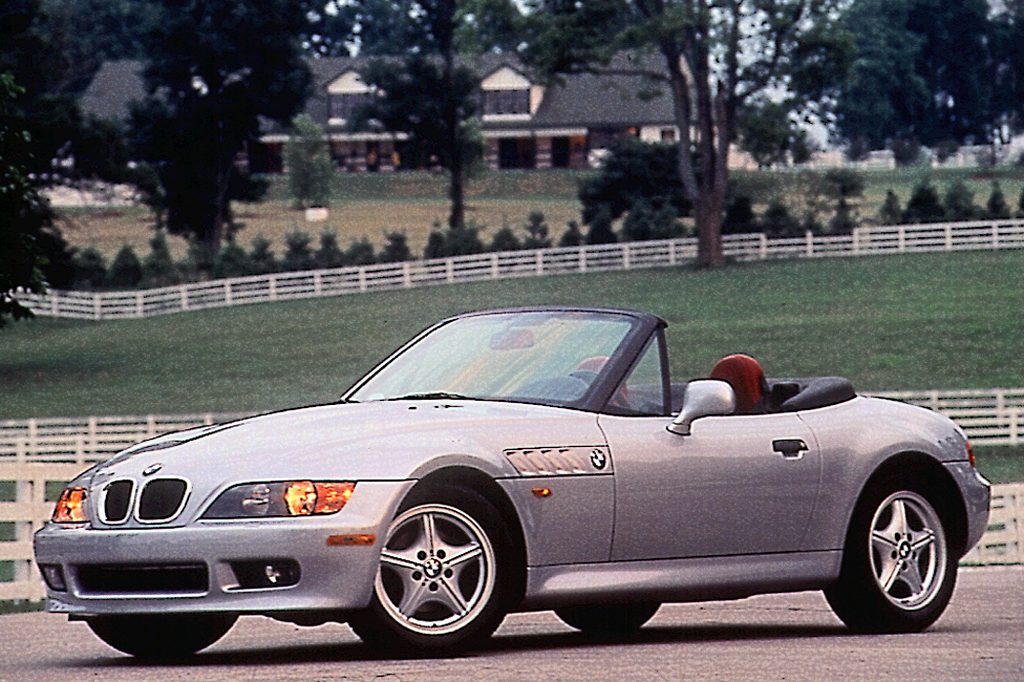 1997 BMW Z3 2-door convertible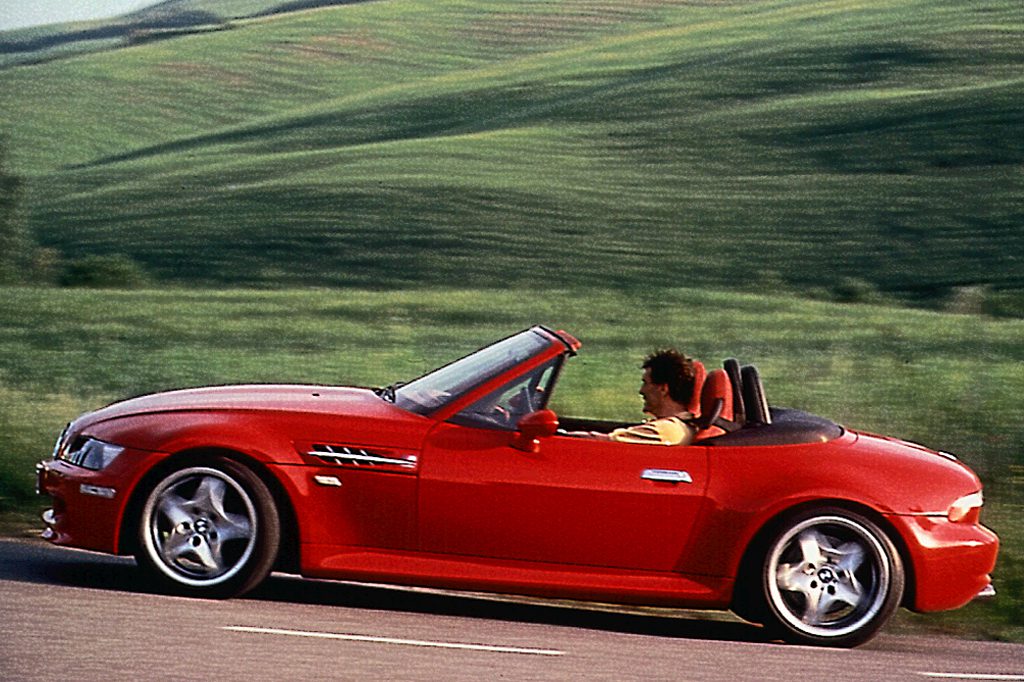 1997 BMW M 2-door convertible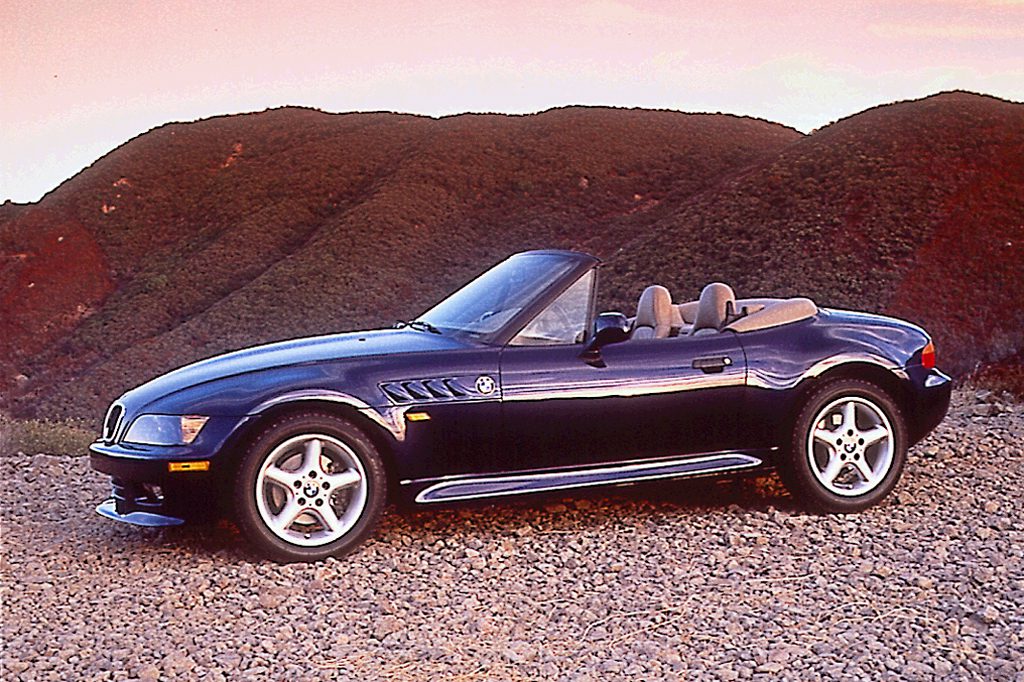 1997 BMW Z3 2-door convertible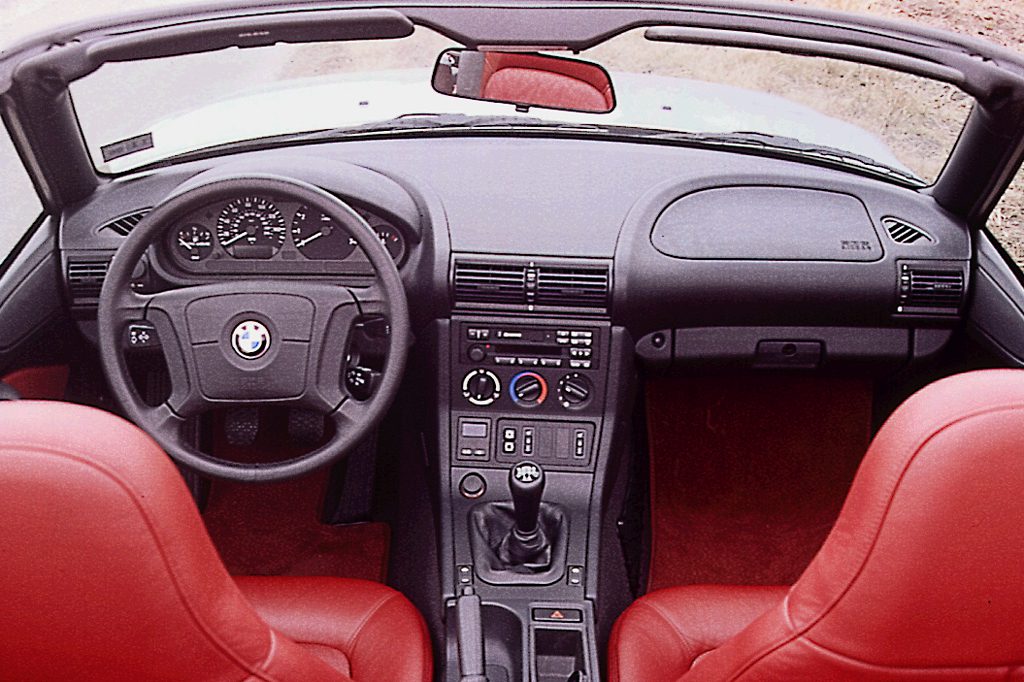 1996 BMW Z3 interior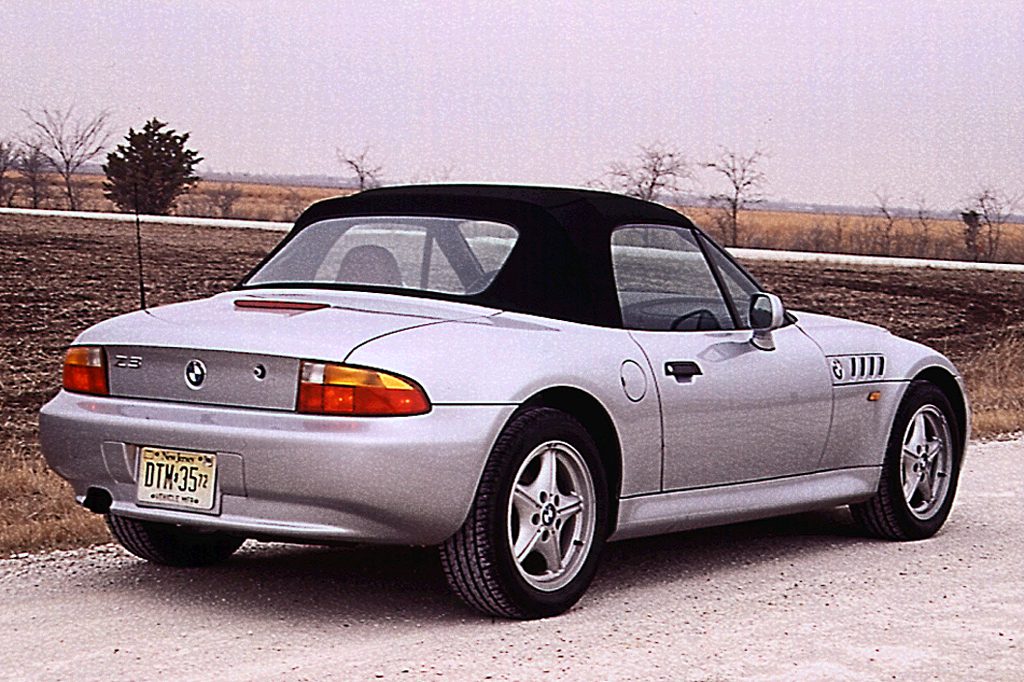 1996 BMW Z3 2-door convertible
Pros:

Acceleration (6-cylinder)
Steering/handling
Brake performance

Cons:

Acceleration (4-cylinder/auto)
Noise
Passenger and cargo room
Eye-catching appearance and BMW's reputation for handling prowess make the Z3 tempting. Still, based on performance or equipment, it's difficult to justify paying so much more for a Z3 than a Mazda Miata. M-Series models, on the other hand, perform as promised and just might be worth the extra dollars.
Overview
Launched in spring of 1996, this was BMW's first sports car in 40 years. Based on the 3-Series chassis, the racy-looking 2-seater Z3 was produced at BMW's plant in South Carolina. Wheelbase was shorter than the 3-Series, which lent many drivetrain and other components to the roadster. Only a 4-cylinder engine was available initially. The 1.9-liter dual-cam 4-cylinder engine produced 138 horsepower. A 5-speed manual transmission was standard, with 4-speed automatic and traction control optional. Standard equipment included dual airbags, antilock 4-wheel disc brakes, a limited-slip differential, and 16-inch tires on alloy wheels. The manually operated convertible top had a plastic back window.
Yearly Updates
1997 Z3
Traction control became standard. Later in the season, a more potent Z3 with a 2.8-liter, 6-cylinder dual-cam engine joined the original 4-cylinder Z3 1.9.
1998 Z3
Rollover bars became standard this year, and more heavily bolstered sport seats joined the option list. Wood trim and the power top also were available as separate options.A high-performance M roadster joined its Z3 mates in spring of 1998, packing a 3.2-liter 6-cylinder engine borrowed from the M3 sedan and coupe.
1999 Z3
A hatchback coupe joined the 2-seat convertible and the 4- cylinder engine was replaced by a 2.5-liter inline six for '99. The new hatchback came as the Z3 Coupe 2.8 and the M Coupe, powered by the 2.8- and 3.2-liter engines. Side airbags were now standard across the board and the 2.8-liter six gained four horsepower.
2000 Z3
Convertibles got revised tail styling and some new standard features, going on sale in spring 1999 as early 2000 models. Convertibles also gained an inner top liner and a new center console. All models got upgraded interior materials and a 3-spoke steering wheel.
2001 Z3
All models had more power for 2001. The Z3 2.5i convertible got a 184-hp 2.5 liter in place of a 170-hp 2.3. The 3.0i convertible and hatchback got a 225-hp 3.0 in place of a 193-hp 2.8. The high-performance M Series models' 315-hp 3.2 liter replaced a 240-hp 3.2. Optional on 2.5i and 3.0i models was a 5-speed automatic in place of a 4-speed. All Zs got redesigned wheels for 2001, plus BMW's Dynamic Brake Control. M models now included a low-tire-pressure warning system.
2002 Z3
An in-dash CD player was newly standard for 2002. BMW's Z4 would replace Z3 for 2003.