Compact car; Built in USA
transverse front-engine/front-wheel drive
Good condition price range: $1,400 – $3,300*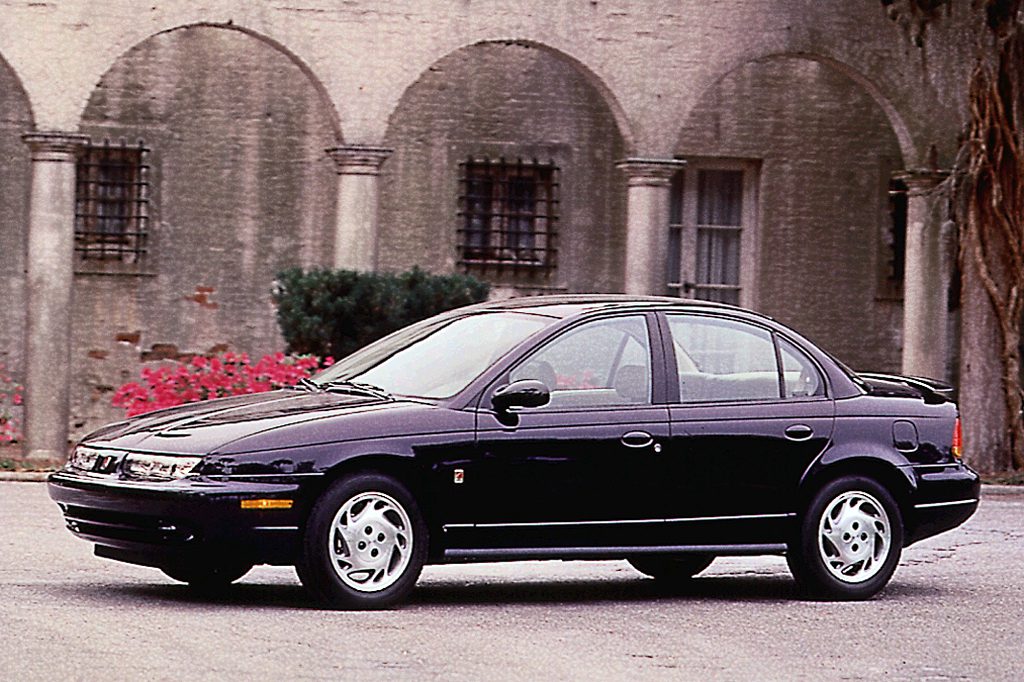 1996 Saturn SL2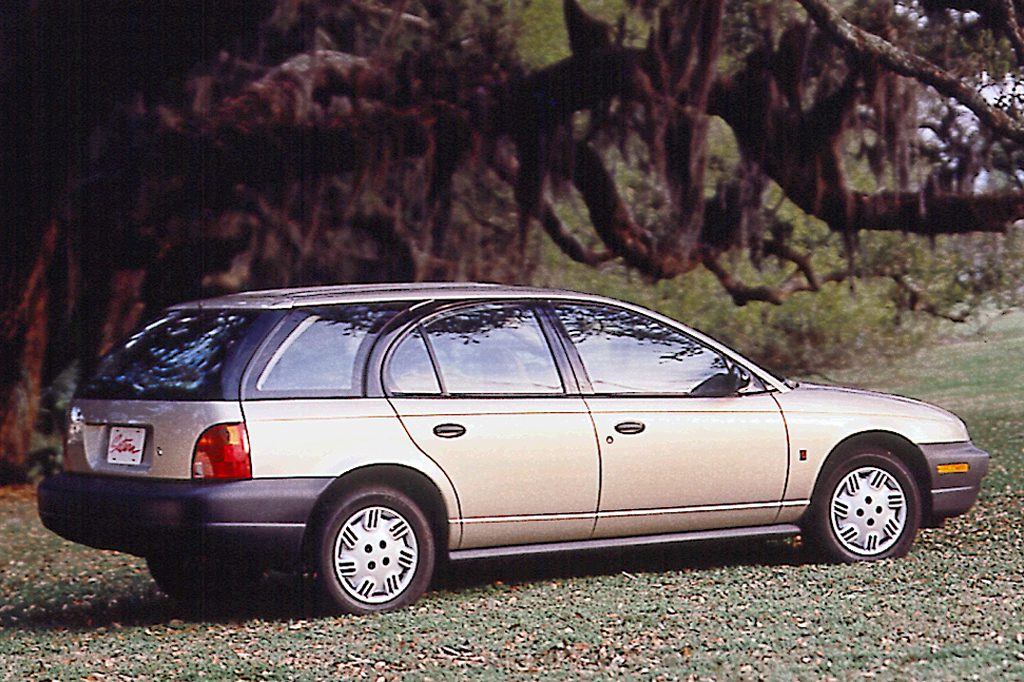 1996 Saturn SW1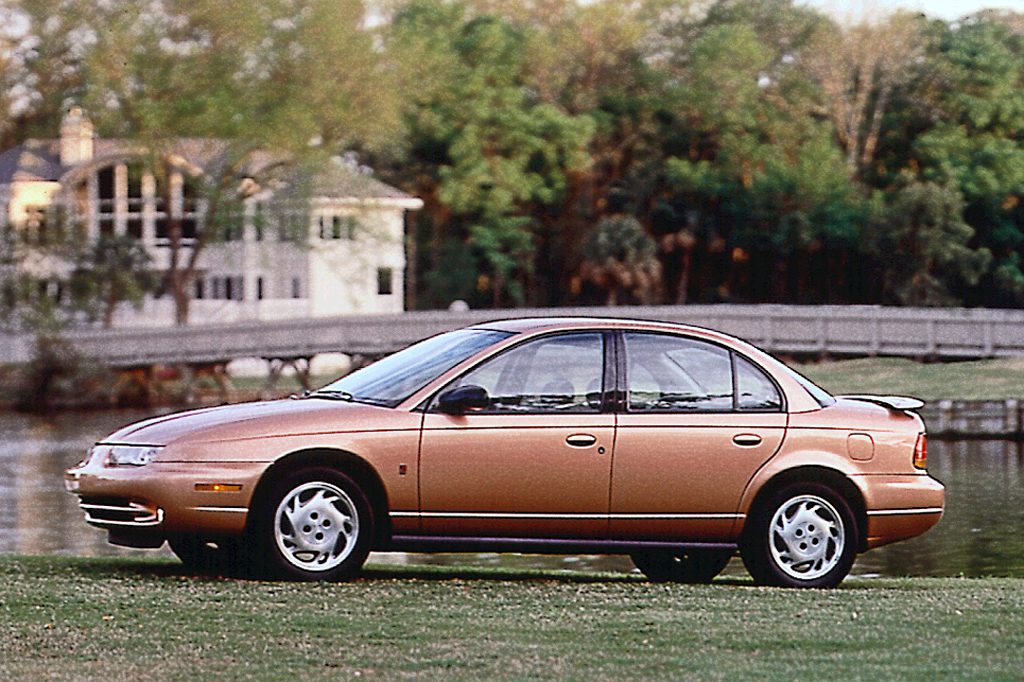 1997 Saturn SL2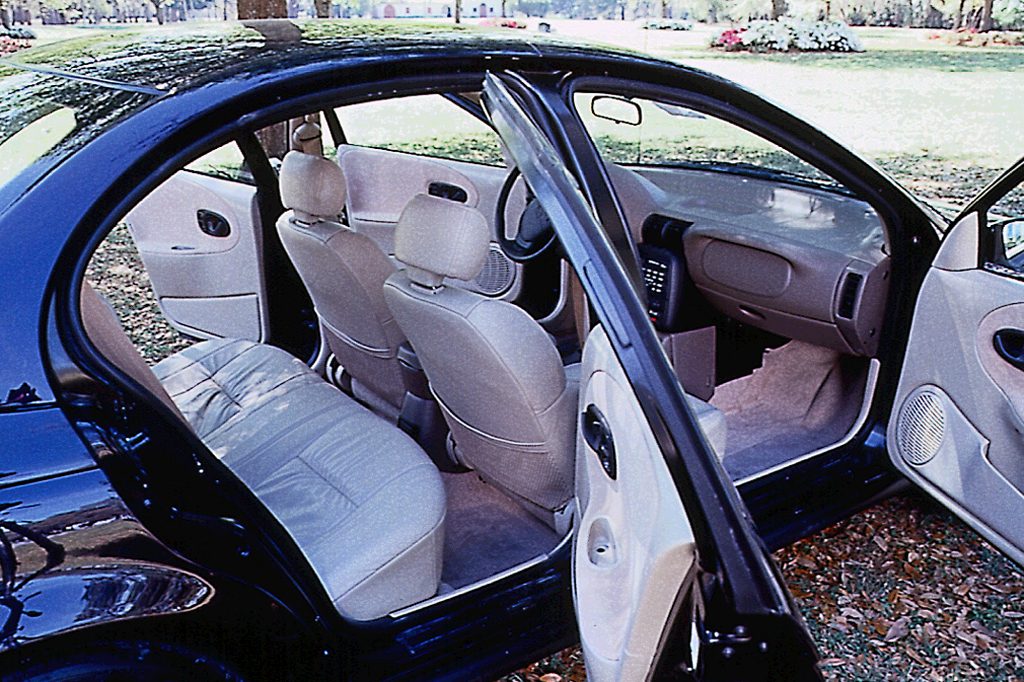 1996 Saturn SL2 interior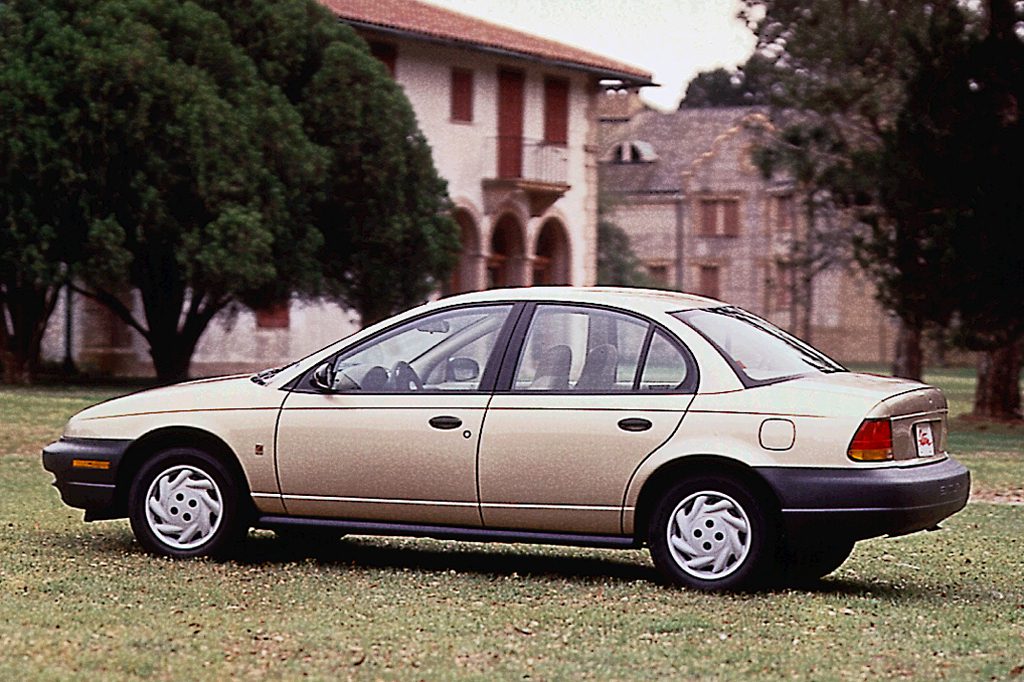 1996 Saturn SL1
Pros:

Acceleration (SL2/SW2)
Optional antilock brakes and traction control
Fuel economy

Cons:

Acceleration (SL/SL1/SW1 w/auto)
Noise
Rear-seat comfort
Despite some real improvements, these sedans and wagons still lag behind such rivals as the Civic and Corolla.
Overview
Saturn sedans and station wagons got a fresh look for 1996. Coupes took another year to get their equivalent redesign. Front and rear styling on the sedan echoed Saturn's initial themes, but the sedan got a more rounded roof, which created more head room for front and back seats. As before, all vertical panels (doors, fenders, and front/rear fascias) were made of plasticlike polymer material. The roof, hood, and trunk were made of steel. Lower-level models wore graphite-colored bumpers, whereas bumpers on upscale models were body-colored. Wheelbase of both the sedan and wagon was unchanged at 102.4 inches, but the new bodies were slightly longer and narrower. Doorways were enlarged. Dual airbags again were standard, and front seatbelts were now height-adjustable. Engines were carried over from the 1991-95 generation. A 100-horsepower, single-camshaft 1.9-liter 4-cylinder went into the SL and SL1 sedans and the SW1 wagon. A dual-overhead-cam version, rated at 124 horsepower, went into the SL2 sedan and SW2 wagon.Optional antilock brakes now included traction control, whether the car was equipped with a 5-speed manual transmission or the optional 4-speed automatic.
Yearly Updates
1997 Sedan/Wagon
Except for a few equipment changes, Saturn sedans and wagons were unchanged this season.
1998 Sedan/Wagon
Structural changes to engine blocks and transmission cases aimed to reduce noise and increase durability. Wheel covers were redesigned, and automatic-transmission settings revised.
1999 Sedan/Wagon
Rear drum brakes now went into SL2 models with antilock braking, rather than the prior disc units.
2000 Sedan/Wagon
Sedans and wagons earned a freshening, with new lower-body styling that added 1.2 inches to overall length. Inside was a new instrument cluster, and the console held redesigned cupholders. The horn now worked via the steering-wheel hub rather than spoke buttons, and cruise control relocated from the hub to the spokes. Front seats gained more travel, and rear child-safety seats got top-tether anchors.
2001 Sedan/Wagon
These models offered optional curtain side airbags for 2001. And base SL sedan added standard features such as body-colored bumpers, right-side rearview mirror, and power steering.
2002 Sedan
Saturn dropped the S-Series wagon body style for 2002. The S-Series would be replaced for 2003 by a redesigned model line called Ion.