Sporty/performance car; Built in USA
longitudinal front-engine/rear-wheel drive
Good condition price range: $8,300 – $15,000*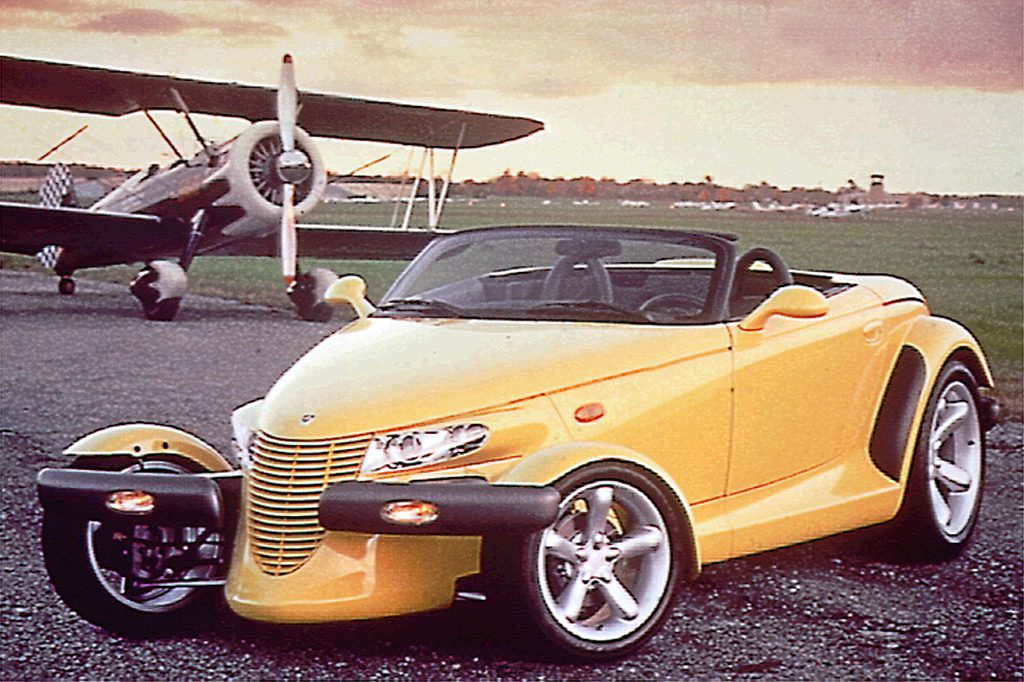 1999 Plymouth Prowler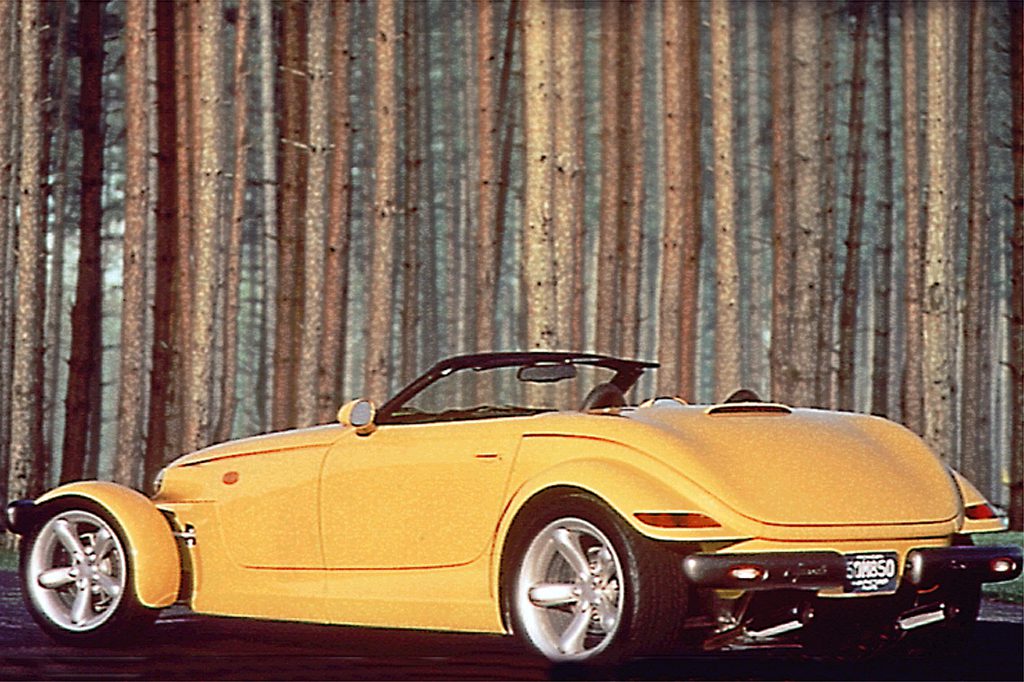 1999 Plymouth Prowler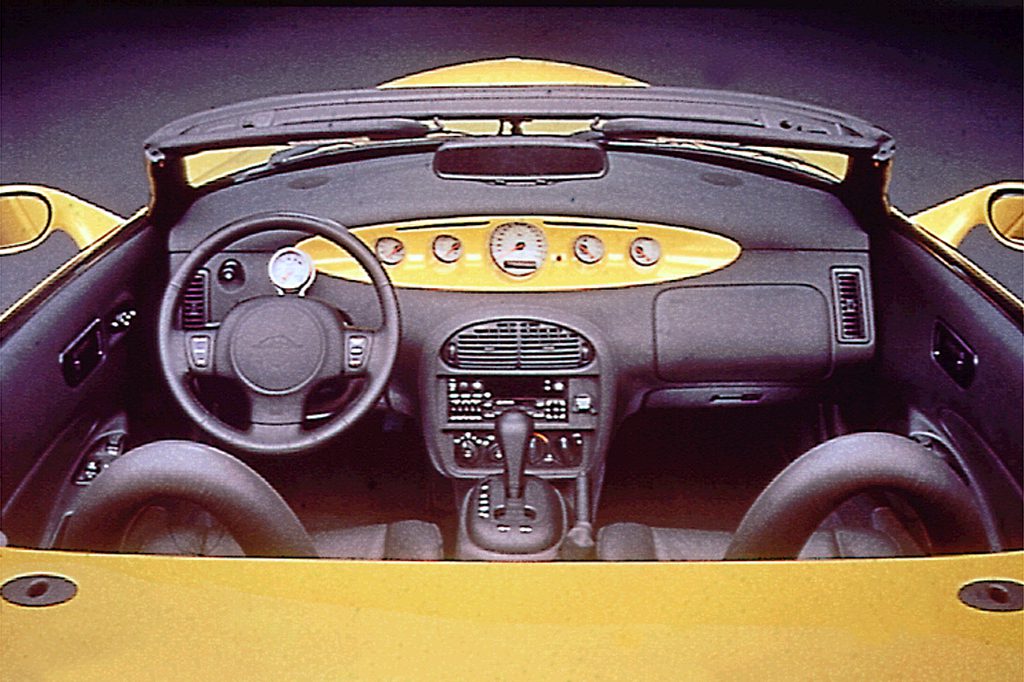 1999 Plymouth Prowler interior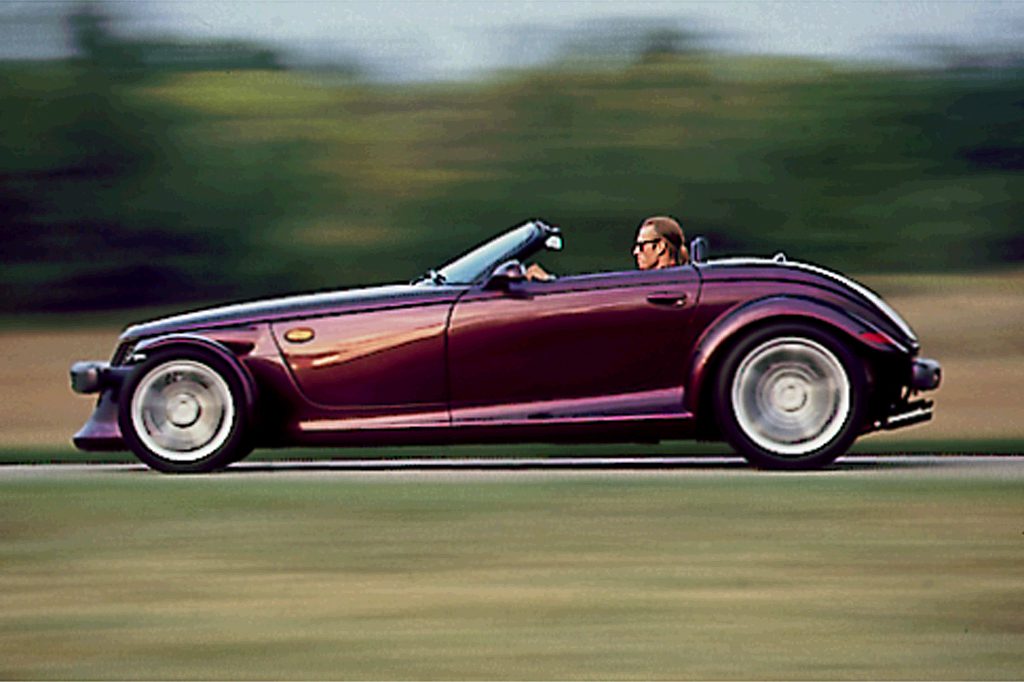 1997 Plymouth Prowler Roadster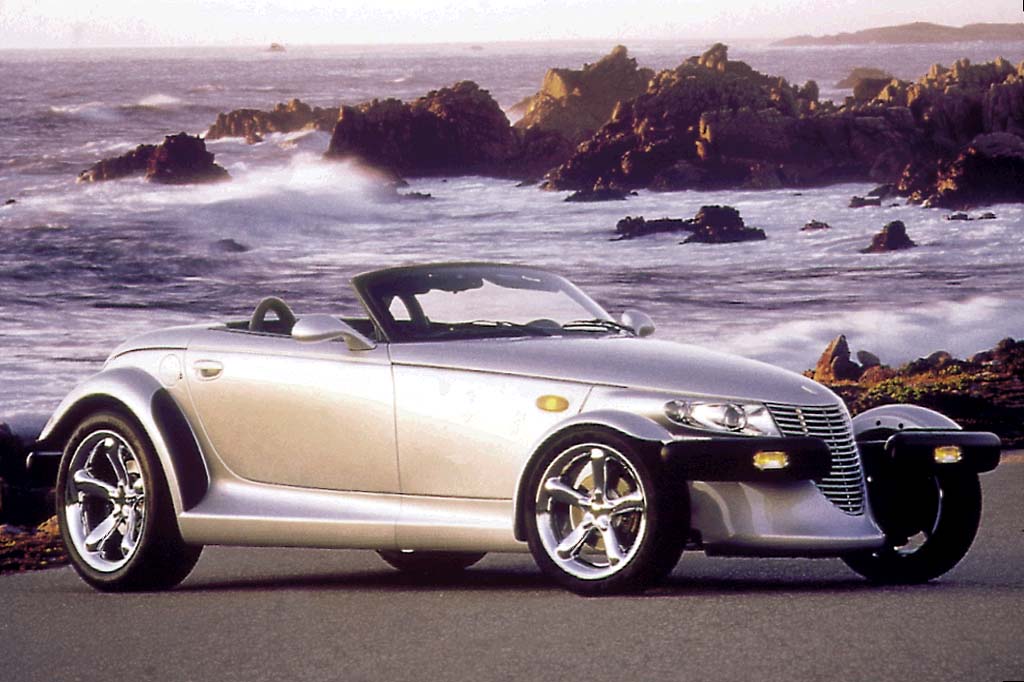 1999 Plymouth Prowler
Pros:

Acceleration
Steering/handling

Cons:

Antilock brakes not available
Cargo room
Entry/exit
Visibility
Simply put, Prowler is a sunny-day lifestyle statement, not a mere means of transportation. Once well-heeled buyers paying over list were sated, prices stabilized closer to sticker. Lack of cargo room excepted, Prowler is as practical as most any 2-seat roadster in its price class–which is to say, not very. Still, few cars generate more smiles per mile, and you don't even have to drive it to enjoy it.
Overview
Styled like a roadster of the 1930s, but redone in the mode of the '50s, the Prowler looked like no other modern car on the road. Motorcycle-type front fenders, for instance, moved along with the front wheels. Like the Viper before it, Prowler had been a show car–but one later made ready for the street. Appearances aside, the Prowler's technology was strictly up-to-date. About 900 pounds of aluminum were used–in the hood, front side panels, doors, rear deck, frame, bumpers, front-suspension wishbones, and seat frames. Plastic was used for rear body panels, rocker panels, and front fenders. Borrowed from Chrysler's LH sedans, the 3.5-liter V6 engine produced 214 horsepower. Rear-wheel drive helped impart a more traditional hot rod feel. Prowler's sole transmission was a rear-mounted automatic unit with Chrysler's Autostick manual-shift feature, which permitted manual gear selection when desired. Antilock brakes and traction control were not available, though brakes were all-disc. Front tires were 225/45VR17 size, while the back end held massive 295/40VR20 rubber. Both tires had run-flat capability–essential because there was no room for a spare tire. The retro theme continued into the interior, which featured a full complement of gauges at the center of the dashboard, in an elliptical pod. That pod matched the body color–which was purple-only in the Prowler's first season. A tachometer was mounted atop the steering column, simulating the look of aftermarket speed equipment. Standard equipment included air conditioning, a tilt steering wheel, cruise control, 6-disc CD changer, and a defroster for the convertible top's glass rear window. Power windows, locks, and mirrors also were standard.
Yearly Updates
1998 Prowler
No '98 models were issued, but Prowler would be back for 1999.
1999 Prowler
Reintroduced in spring of 1998 as a '99 model, Prowler had a new V6 engine that produced 253 horsepower–39 more than in 1997. That engine came from the Chrysler 300M and LHS. As before, the sole transmission was a rear-mounted automatic unit with Chrysler's Autostick manual-shift feature. Antilock brakes and traction control remained unavailable. In addition to the original purple body color, the revived Prowler came in yellow, black, or red. Chrome wheels were newly optional, too.
2000 Prowler
Suspension revisions were the major changes this year, along with new body colors. Springs were softened and shock absorbers recalibrated, in an attempt to improve ride and handling. Silver joined the body-color list, replacing yellow and purple. A new chrome bezel and leather boot went on the gearshift, and an automatic-dimming mirror contained an integral compass and trip computer.
2001 Prowler
Adjustable shock absorbers and new colors are the only changes for this limited production model. Production ceased at the end of the year.
2002 Prowler
Inca Gold replaced Mulholland Blue midyear as an option to orange or silver. The last Prowler was put together on February 15, 2002.