Sporty/performance car; Built in USA
transverse front-engine/front-wheel drive
Good condition price range: $1,800 – $3,800*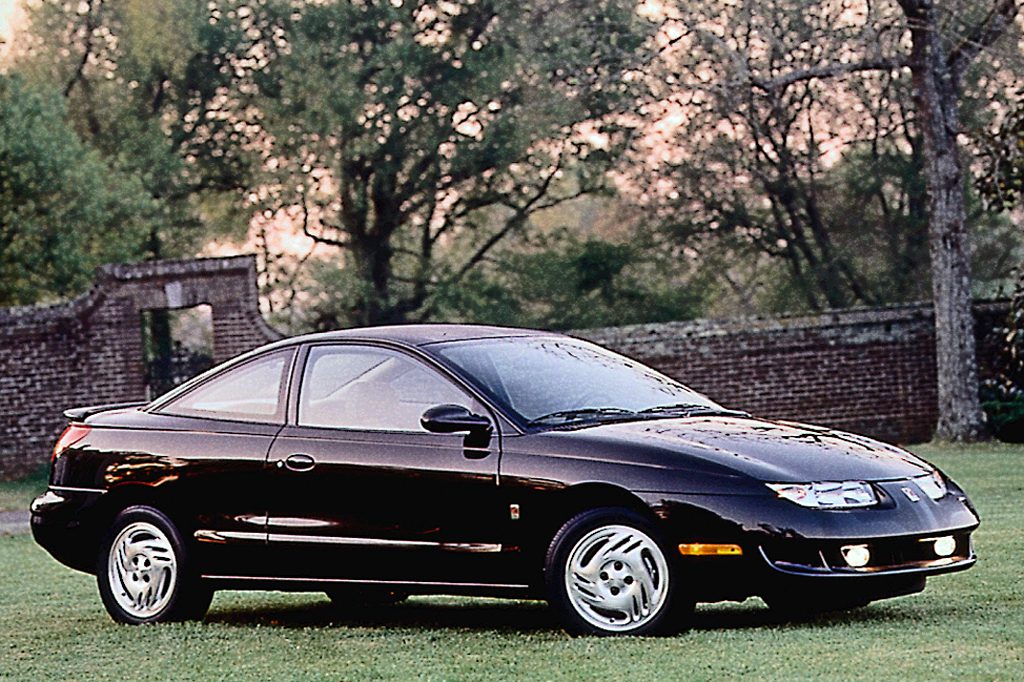 1998 Saturn SC2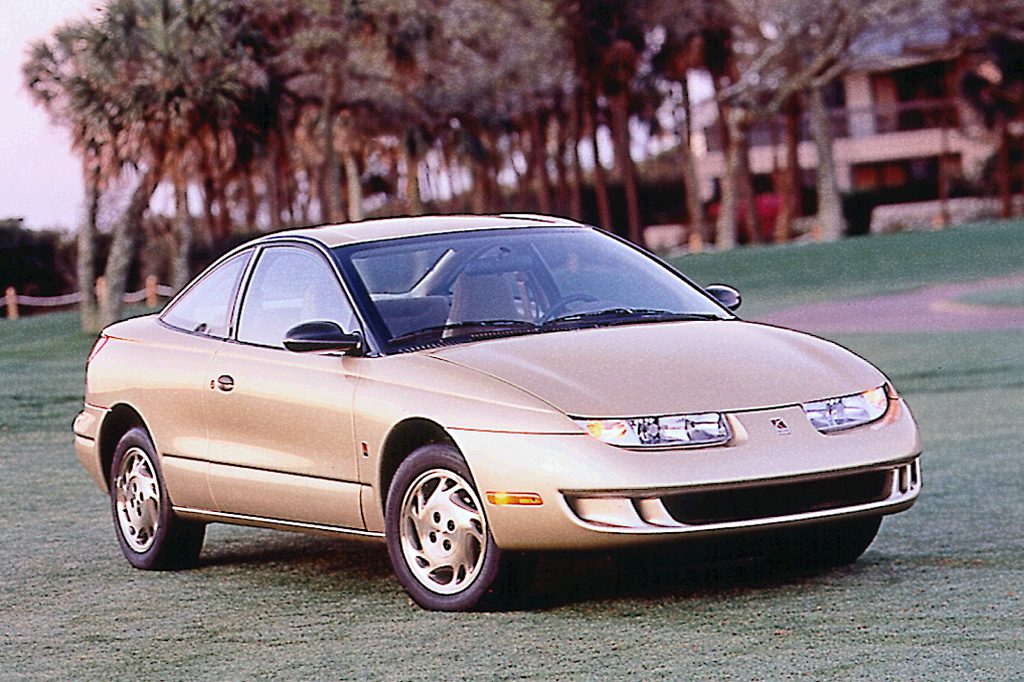 1997 Saturn SC1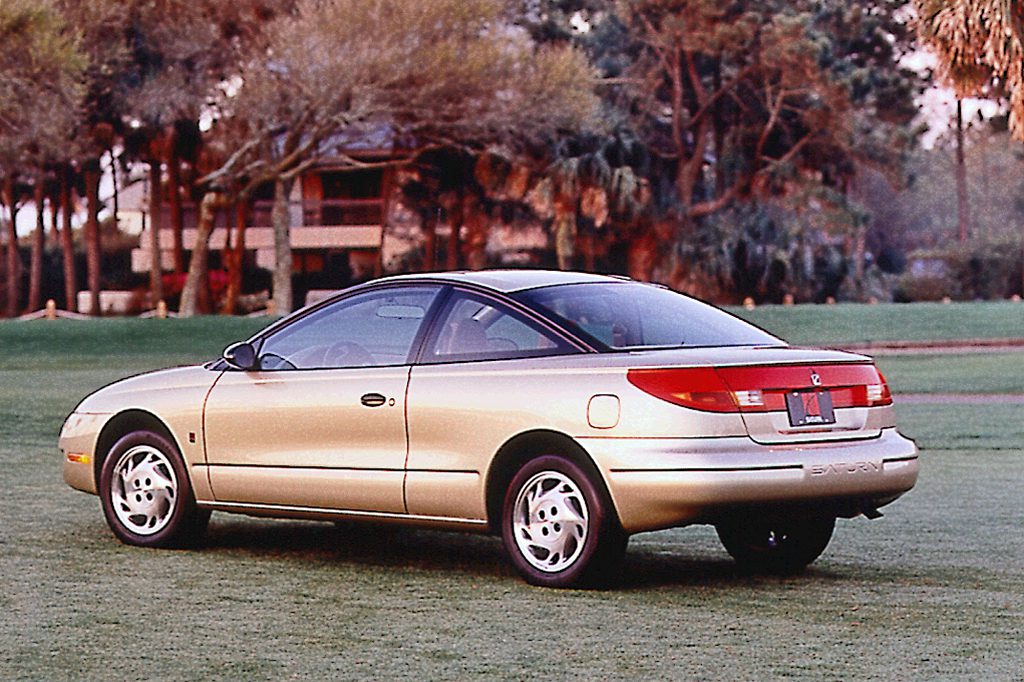 1997 Saturn SC1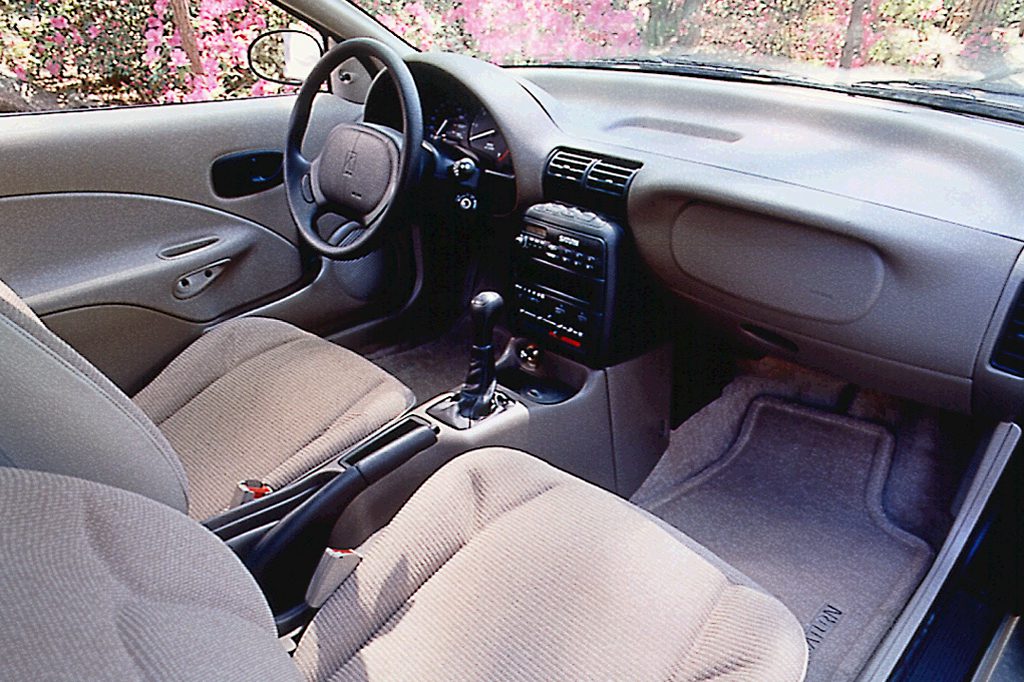 1997 Saturn SC1 interior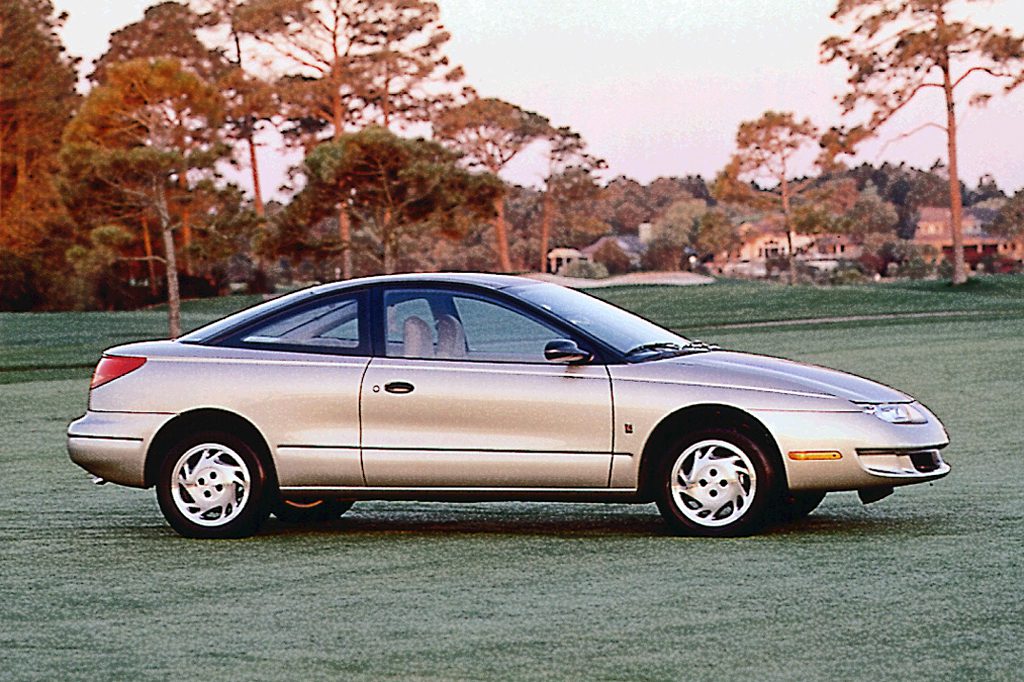 1997 Saturn SC1
Pros:

Acceleration (SC2)
Fuel economy

Cons:

Acceleration (SC1 w/auto)
Entry/exit
Noise
Rear-seat room
All told, Saturns lack the refinement of most Japanese sports coupes. They're also noisier, but boast an impressive reliability record. The side-curtain airbags added for 2001 are unique in this class.
Overview
Redesigned for 1997, the front-drive sports coupe featured new styling on a longer wheelbase. Basic construction continued as before, following Saturn's practice of installing dent- and rust-resistant polymer vertical body panels, mounted on a spaceframe. Two models again went on sale, but the SC1 and SC2 now displayed the same styling. Among the modest differences in this generation, the SC1 got black outside mirrors and door handles, whereas those items on the SC2 were body colored. Fog lamps were standard on the SC2 coupe. Both coupes had standard Daytime Running Lights. Wheelbase was now 102.4 inches, identical to the Saturn sedan and station wagon, which had been redesigned a year earlier. Prior coupes rode a 99.2-inch span. Rear leg room grew by a whopping 4.5 inches. Front and rear head room gained about an inch. Dashboard designs remained essentially as before. Powertrains also continued from the 1991-96 generation. The SC1 held a 100-horsepower, 1.9-liter 4-cylinder engine. A dual-overhead-cam version, rated 124 horsepower, went into the SC2 coupe. Both models had a standard 5-speed manual transmission, with 4-speed automatic optional. Antilock braking was optional, and included traction control.
Yearly Updates
1998 Coupe
Changes for 1998 were minor. Suspension settings were revised. Rear seats added child-seatbelt guides.
1999 Coupe
For the first few months of the 1999 model year, Saturns changed little. When equipped with antilock braking, the SC2 now got rear drum brakes instead of the prior discs. A Black Top option for the SC2 included a black roof panel and white-background gauges. At midseason, Saturn introduced an innovative third door (actually a half-door) on the driver's side. Rather than being intended to help passengers get into the back seat, it was primarily meant to make loading of parcels easier.
2000 Coupe
Saturn coupes continued without exterior change until midseason, when a redesigned 2001 coupe debuted. Interiors were updated for 2000, including a new instrument cluster and a console with redesigned cupholders. The horn now worked via the steering-wheel hub, and cruise control moved from the side of the hub to the spokes. Front seats gained more travel.
2001 Coupe
Redesigned in spring 2000, coupes now sported optional side-curtain airbags, body-color bumpers, and new styling. Powertrains and the 3-door design carried over.
2002 Coupe
A tilt steering wheel became standard on all models for 2002. The S-Series would be replaced for 2003 by a redesigned model line called Ion.