Premium midsize car; Built in Germany
4-door sedan
4-door wagon
longitudinal front-engine/rear-wheel drive
Good condition price range: $3,000 – $15,500*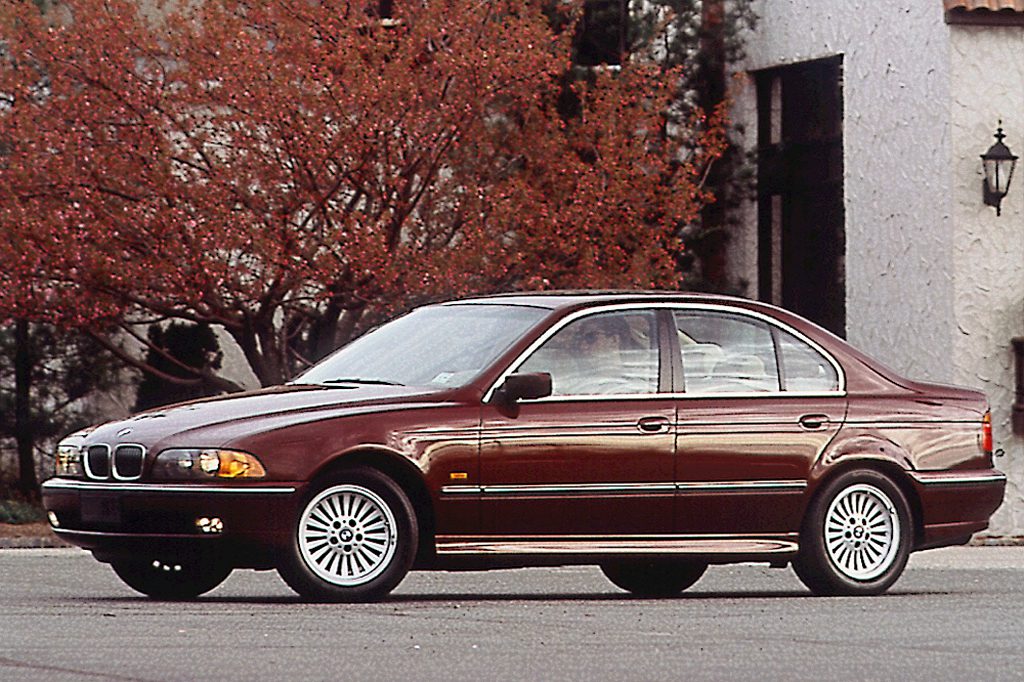 1998 BMW 540i 4-door sedan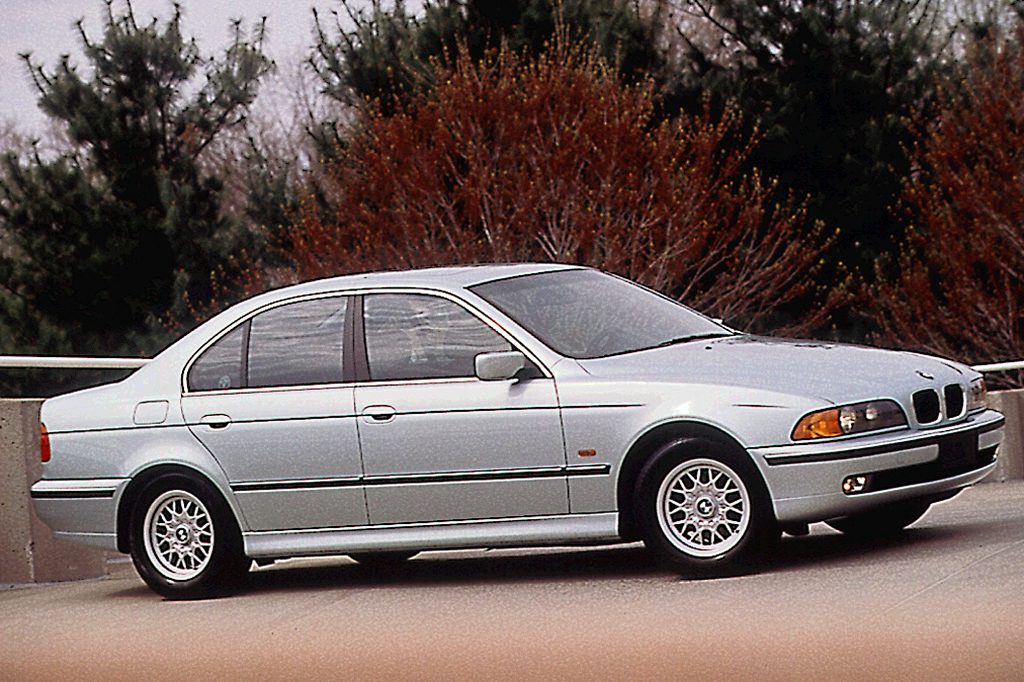 1998 BMW 528i 4-door sedan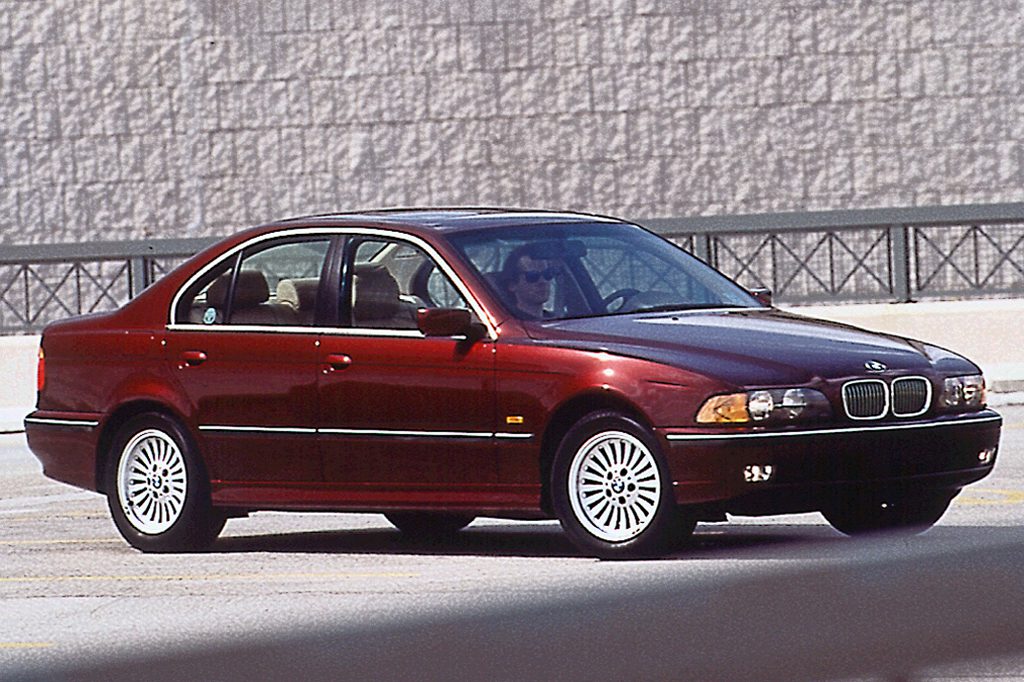 1997 BMW 540i 4-door sedan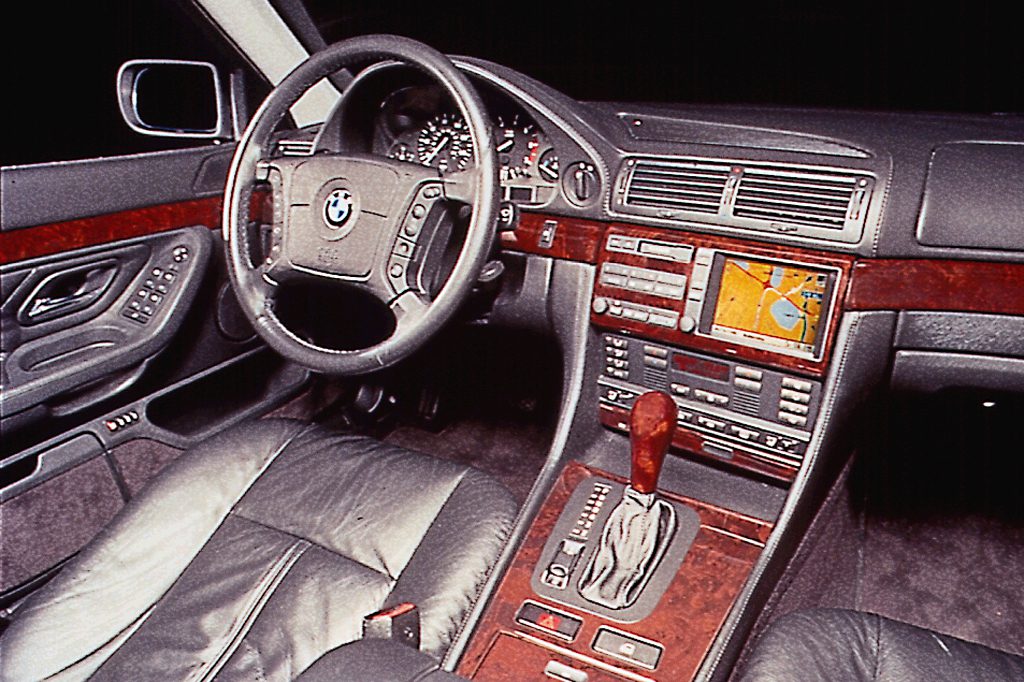 1997 BMW 5-Series interior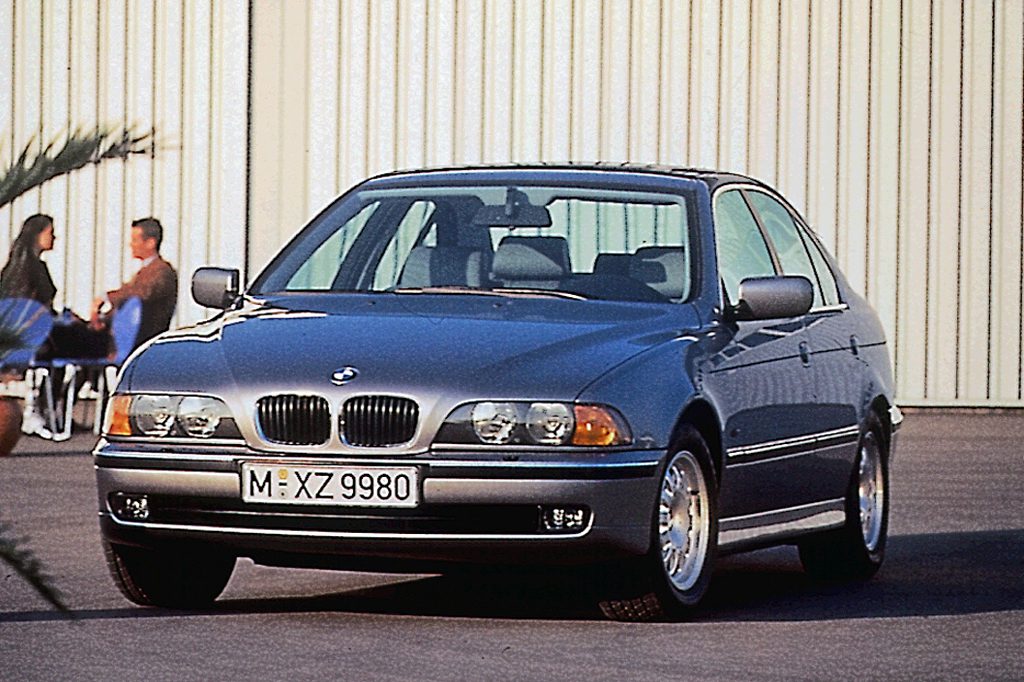 1997 BMW 5-Series 4-door sedan
Pros:

Acceleration (540i, M5)
Build quality
Cargo room (wagon)
Quietness
Ride
Steering/handling

Cons:

Acceleration (6-cylinder automatic)
Fuel economy (540i, M5)
Rear-seat comfort
Overall driving pleasure is a sure thing on either model, but especially the potent 540i. You get more space than a 3-Series, with almost as much agility. And the 5-Series is only a little less luxurious than the big 7-Series sedan.
Overview
Introduced in spring of 1996 as an early '97 model, the redesigned midlevel BMW sedan showed evolutionary styling changes rather than a dramatic difference. Offered only as a sedan, wheelbase grew by 2.7 inches and overall length by 2.2 inches.The new 5-Series came in two forms: with a 6-cylinder engine as the 528i, or powered by a V8 as the 540i. Both were enlargements of the engines used in the prior 5-Series generation. The 2.8-liter, dual-overhead-camshaft 6-cylinder engine made 190 horsepower, versus 282 horsepower for the 4.4-liter V8. A 5-speed manual transmission was standard on the 528i, with 4-speed automatic optional. The 540i, in contrast could have either a 6-speed manual or 5-speed automatic transmission. Standard equipment on both models included dual front and side airbags, antilock brakes, and traction control. Rivals include the Acura RL, Lexus GS 300, and Mercedes-Benz E-Class.
Yearly Updates
1998 5-Series
Optional rear side airbags became available this year, and both models also gained BMW's exclusive new Head Protection System, which consists of two tubular bags that inflate in a side impact, popping out just above each front door. A new Sport Package became optional for the 528i and the automatic-transmission 540i. The Sport Package included black body trim, a sport-tuned suspension, and 17-inch wheels and tires.
1999 5-Series
Station wagon body styles joined sedans in both 6-cylinder and V8 editions. Added as standard or optional for '99 were brighter xenon headlights, memory for power seats and mirrors, Park Distance Control that warns of obstacles when backing up, and self-leveling rear suspension for wagons. Standard on V8 models and newly optional for 528i versions was BMW's Dynamic Stability Control, designed to aid control in fast turns.
2000 5-Series
A high-performance M5 sedan returned to the BMW fold this year. Built in limited numbers, the M5 used a 400-horsepower V8 and came with a firmer suspension, 18-inch wheels, mandatory 6-speed manual transmission, and exclusive interior trim. Rain-sensing windshield wipers and xenon headlamps became standard (instead of optional) for the 540i, and were newly available for 528i models. The 528i versions also gained the 540i's standard antiskid system. All models now had daytime running lights, fog lamps, and a right outside mirror that tilts down when backing up. Lower-body rear side airbags were standard on the M5, remaining optional for other models.
2001 5-Series
Two new models, the 525i sedan and wagon, were added to the lineup. Both were powered by BMW's new-design 184-horsepower 2.5-liter inline 6-cylinder engine. The 528i wagon was dropped and the 528i sedan became a 530i with a new 3.0-liter six. Also for 2001, all models got minor cosmetic changes and a wider dashboard screen for the optional navigation system.
2002 5-Series
BMW's midrange line made few changes this year, pending release of redesigned models for 2004. The 540i's V8 gained 8 horsepower, bringing it up to 290 hp. All models got a standard in-dash CD player, 6-cyl models added a standard power passenger seat, and 525s replaced manual climate control with automatic.
2003 5-Series
All 6-cyl models add a standard sunroof. Standard on the manual-transmission 540i sedan and optional on other 540i models is a new Sport Package with 18-inch wheels, front spoiler, and sport suspension. 5-Series was redesigned with "different" styling and BMW's controversial I-Drive system for 2004.