Midsize car; Built in USA
transverse front-engine/front-wheel drive
Good condition price range: $1,400 – $3,800*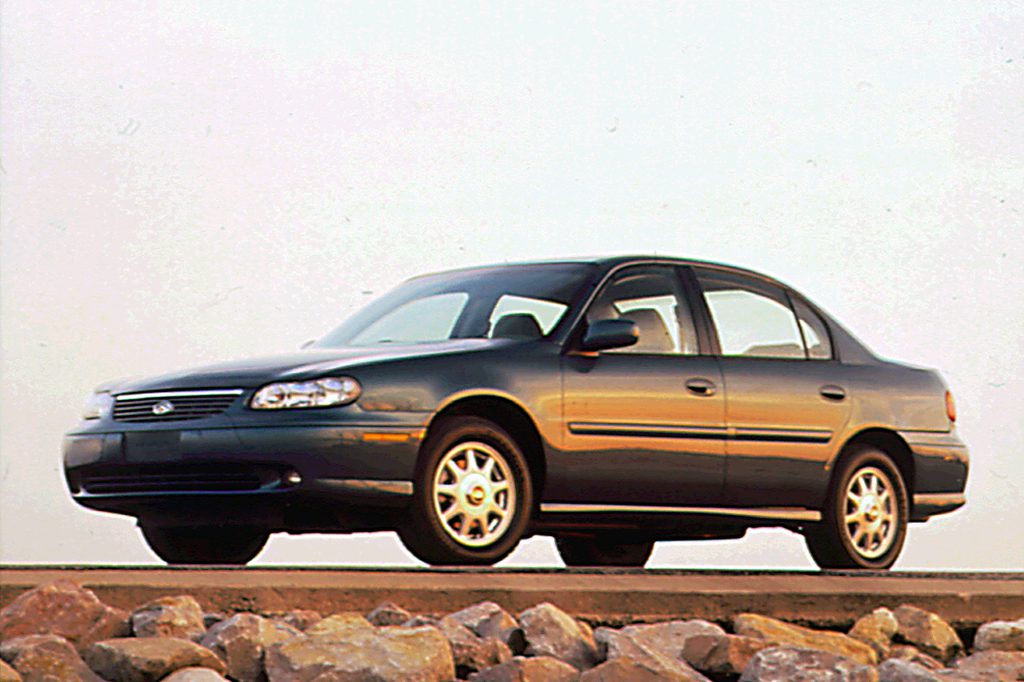 1997 Chevrolet Malibu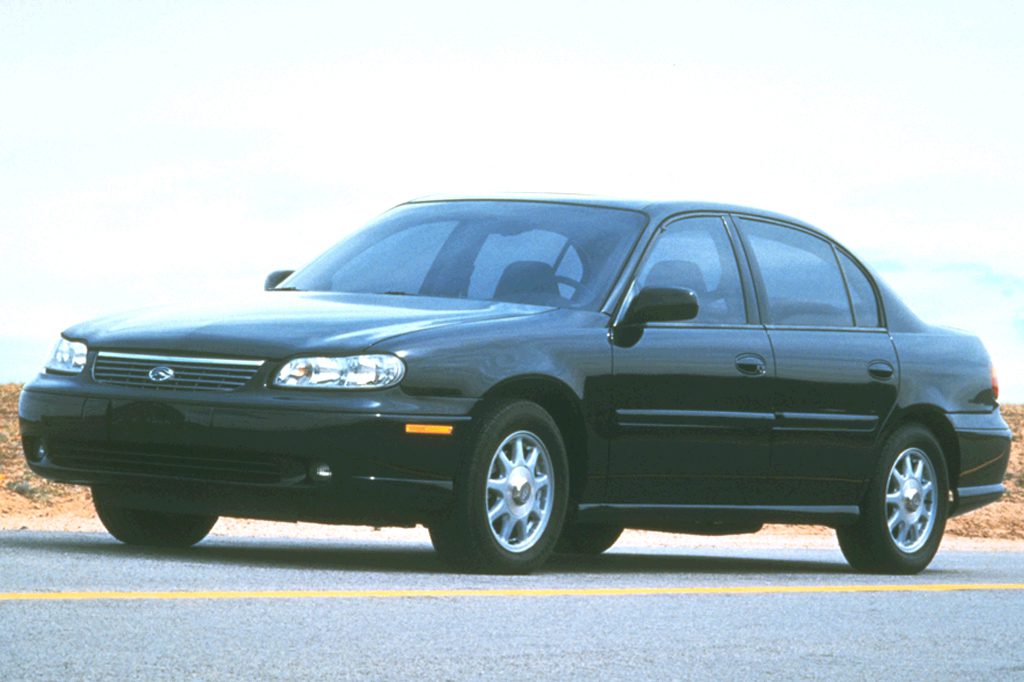 1998 Chevrolet Malibu LS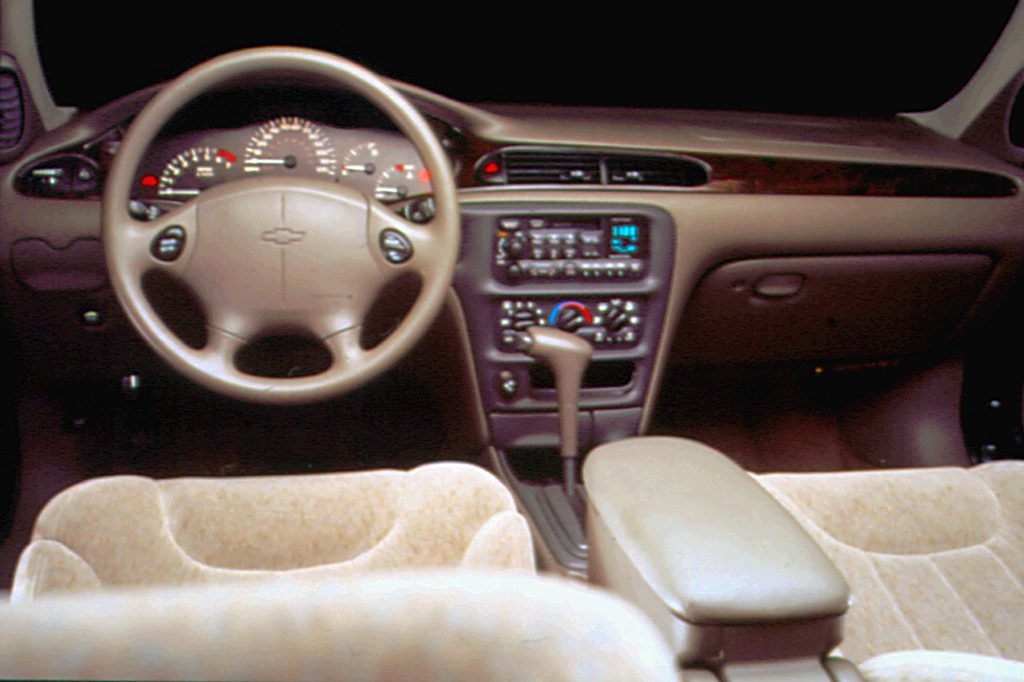 1997 Chevrolet Malibu interior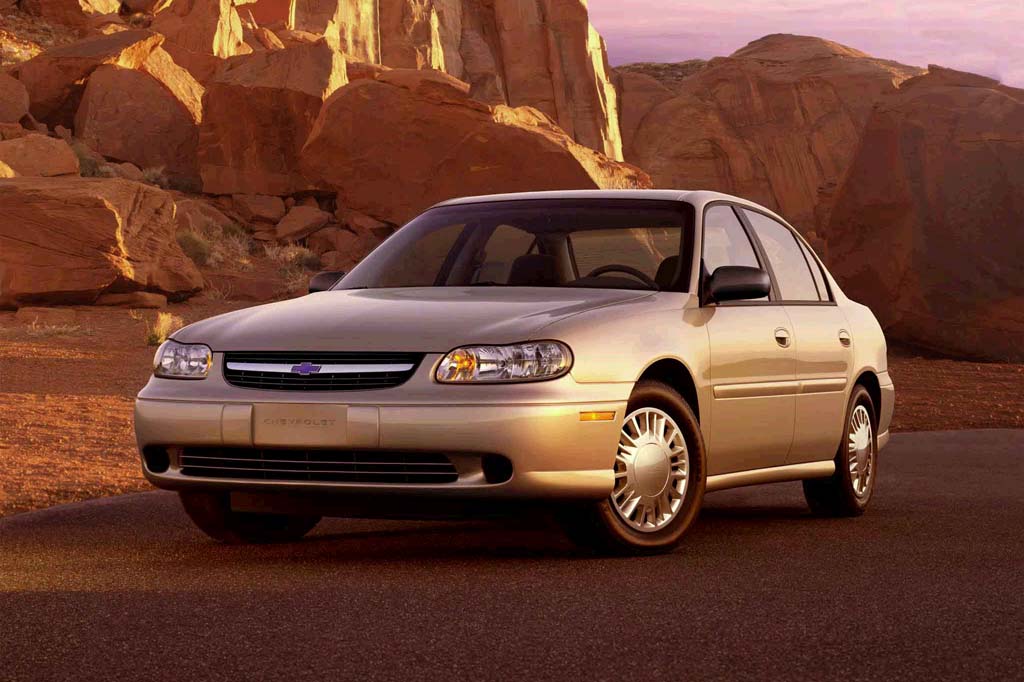 2000 Chevrolet Malibu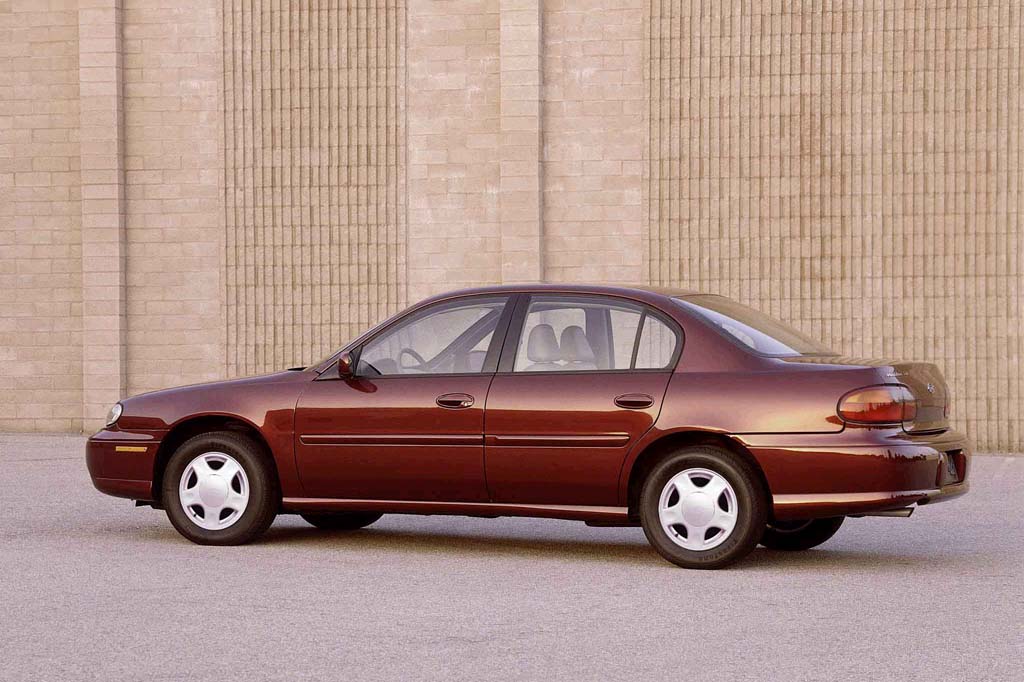 2000 Chevrolet Malibu
Pros:

Standard antilock braking
Build quality
Cargo room
Fuel economy (4-cylinder)
Passenger room
Ride

Cons:

Engine noise (4-cylinder)
Steering feel
Offering an admirable blend of utility, driving fun, and features, Malibu is an intermediate-sized sedan that warrants serious consideration.
Overview
Brand-new for 1997, Chevrolet's midsize Malibu shared its basic structure with the Oldsmobile Cutlass, which was redesigned that same year. Borrowing its breezy name for a Chevrolet model that finally faded away after 1983, roughly replacing the Corsica, Malibu fit between the subcompact Cavalier and the midsize Lumina in both dimensions and price. Wheelbase was nearly three inches longer than Cavalier's, and just a fraction shorter than the Lumina. Overall, the Malibu measured 10 inches longer than a Cavalier but 10.5 inches shorter than the Lumina. Inside, Malibu offered slightly more front head room than either of its Chevrolet mates. The biggest difference came in rear leg room, with Malibu delivering 3.5 inches more than Cavalier and nearly 1.5 inches more than the otherwise-larger Lumina. Base and LS trim levels went on sale, each seating five. Base Malibus got a standard 150-horsepower, dual-overhead-camshaft 2.4-liter 4-cylinder engine. A 155-horsepower, 3.1-liter V6 was optional in the base model and standard in the LS edition. Both got a 4-speed automatic transmission with a floor-mounted shift lever. Standard equipment included dual airbags, antilock brakes, air conditioning, power steering, a tilt steering wheel, tachometer, and daytime running lights.The LS sedan added cruise control, remote keyless entry, split folding rear seat, alloy wheels. Each of those items was optional on the base Malibu.Traction control was not available, but the transmission offered a second-gear-start feature for better traction on slippery surfaces. Rivals included the Honda Accord, Dodge Stratus, Toyota Camry, and Nissan Altima.
Yearly Updates
1998 Malibu
Changes were few for 1998, led by the addition of optional leather upholstery for the LS sedan. Base Malibus wore new aluminum wheels and could have an optional 6-way power seat.
1999 Malibu
Headlamps and taillamps now illuminated to full brightness automatically when sensors detected darkness for more than 20 seconds. A thicker windshield this year was said to cut down on road noise.
2000 Malibu
Malibu earned a modest facelift this season and lost its 4-cylinder engine. Both base and LS sedans now contained a V6, which gained 15 horsepower. A rear spoiler now was optional on the LS. So were gold exterior badges.
2001 Malibu
For 2001, power door locks and a rear defogger became standard on the base model as well as the LS. LS models gained seatback map pockets, while all Malibus added Radio Data System functions to cassette and CD audio systems. Remote keyless entry now remembered programmed audio selections for each keyfob.
2002 Malibu
A CD player and floormats are standard on the base model.
2003 Malibu
Antilock brakes moved to the option list on base models. Malibu was redesigned for 2004.