Minivan; Built in USA
transverse front-engine/front-wheel drive
Good condition price range: $1,900 – $6,500*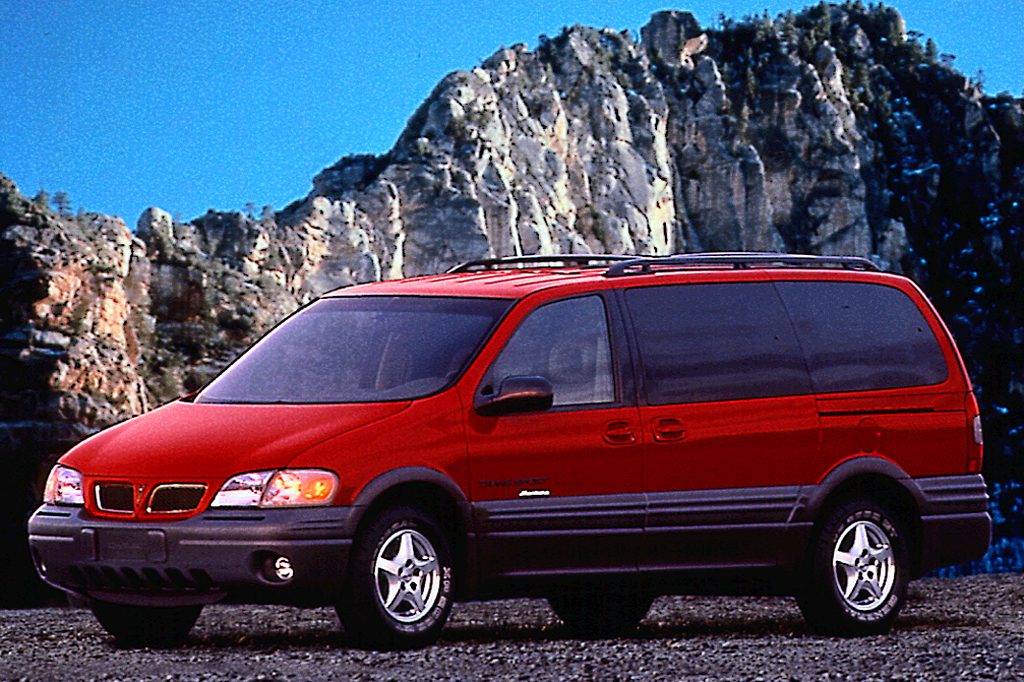 1998 Pontiac Trans Sport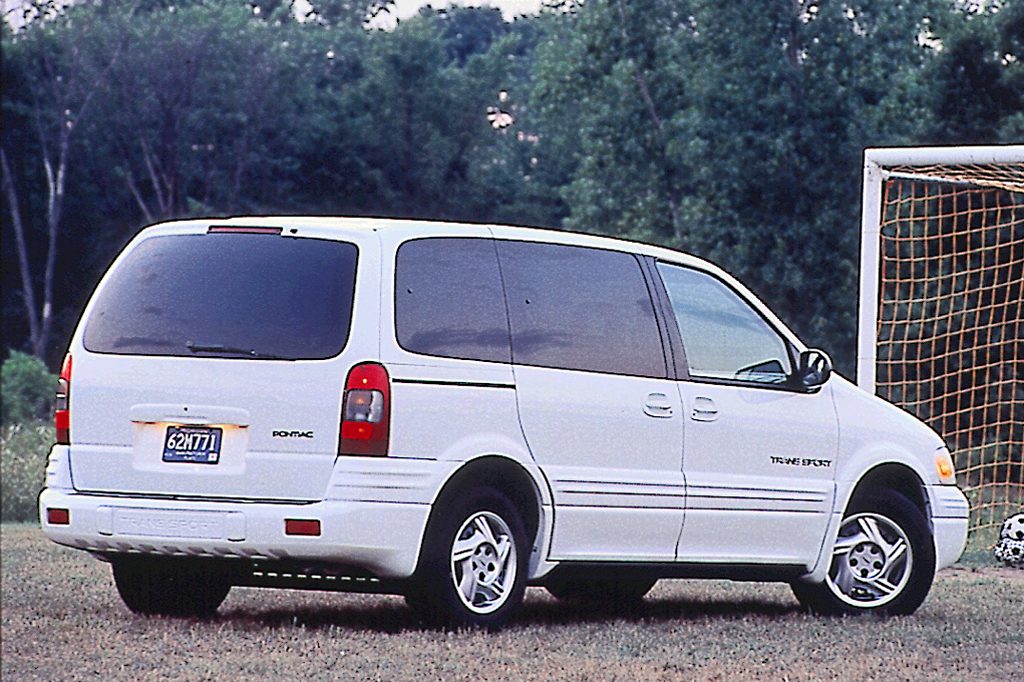 1997 Pontiac Trans Sport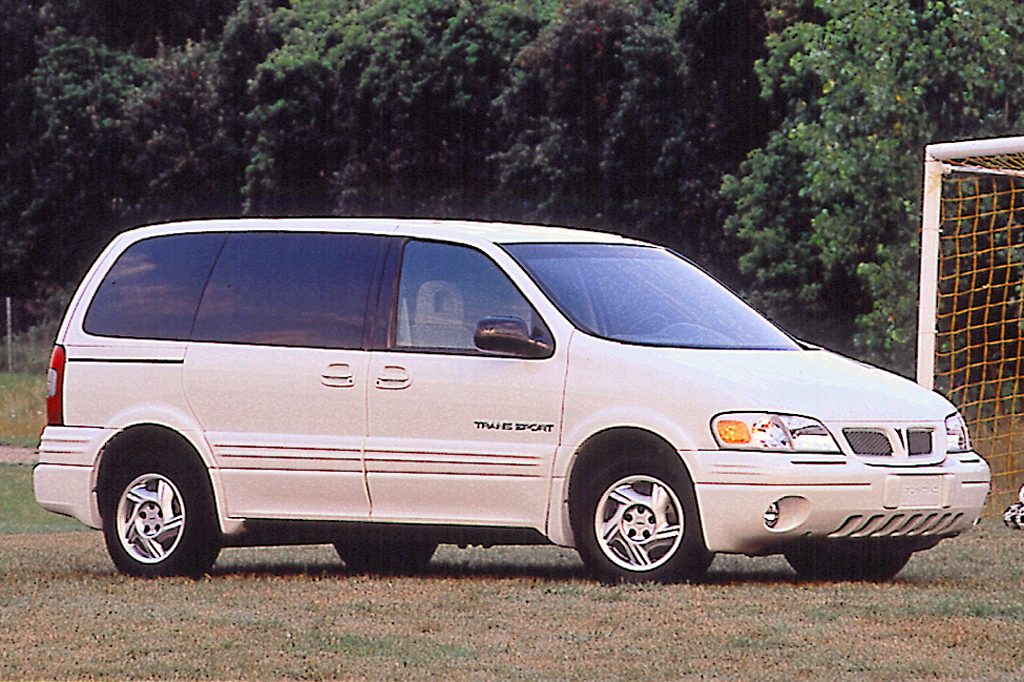 1997 Pontiac Trans Sport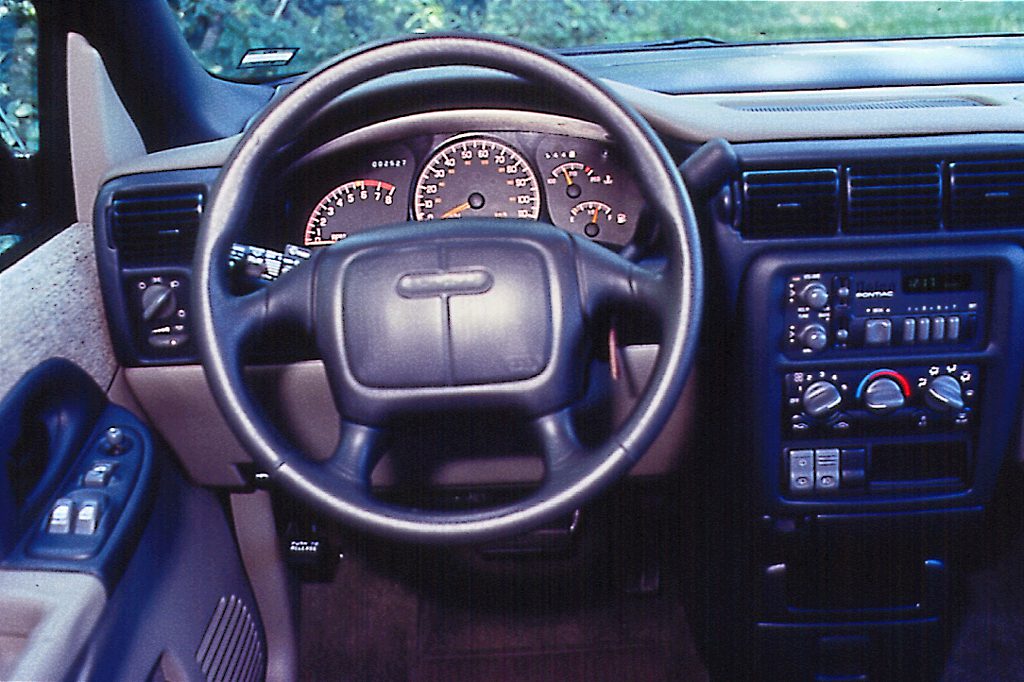 1997 Pontiac Trans Sport interior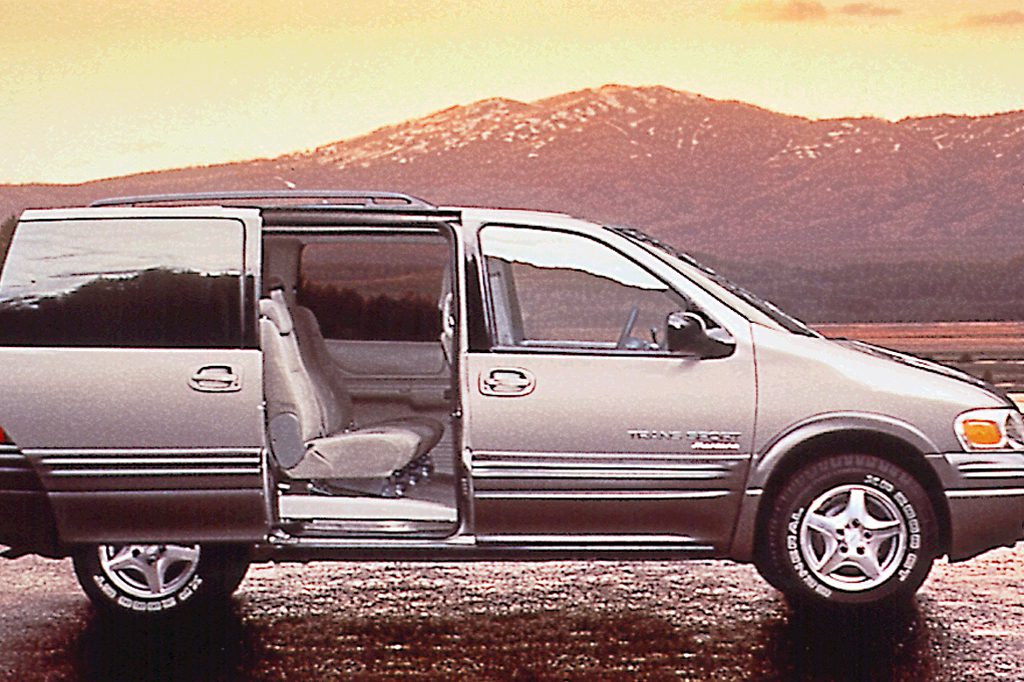 1997 Pontiac Trans Sport Montana
Pros:

Antilock brakes
Passenger and cargo room
Ride

Cons:

Fuel economy
Rear-seat comfort
Even though we still consider Chrysler's minivans the best around, we've been impressed by the Trans Sport as well as its Chevrolet and Oldsmobile cousins.
Overview
Like its two GM siblings, the Chevrolet Venture and Oldsmobile Silhouette, Pontiac's front-drive Trans Sport minivan was redesigned for 1997. Unlike the prior generation, the new one came in two sizes: standard-length and extended-length. The previous long-snout styling, dubbed the "dustbuster" look, was gone. Also gone were the plastic body panels that had characterized all three GM minivans from 1990-96.The shorter Trans Sport rode a 112-inch wheelbase, 2.2 inches longer than its predecessor. Extended-length models had a 120-inch wheelbase and were capable of holding a 4 x 8-foot sheet of plywood. Dual airbags and antilock brakes were standard. A driver-side sliding door was a new option on the longer version. Seating for seven was standard, and all Trans Sports got front bucket seats, and the driver's seat tilted forward to allow access to the middle row. Integrated child seats were optional. All doors held map pockets, and side panels and rear armrests contained covered bins. Another handy feature was a cargo net that could be strung between the front seats. Under the hood sat the same powertrain used in 1996: a 3.4-liter V6 engine, making 180 horsepower and driving a 4-speed automatic transmission. No optional engines or transmissions were offered.
Yearly Updates
1998 Trans Sport/Montana
Front side airbags were installed in '98 models. Regular-length models could now be ordered with dual sliding side doors (previously optional only on extended-length minivans). Either model could also have the power right-side sliding door.
1999 Trans Sport/Montana
Pontiac dropped the Trans Sport designation, naming all of its minivans Montana–the name of a popular option package in 1998.
2000 Trans Sport/Montana
All Montana minivans now had dual sliding doors. The instrument cluster was revised, and all rear seats got child-seat tether anchors.
2001 Montana
Montana got a stowable third-row bench seat, power left-side rear door, standard OnStar assistance system, and a minor front and rear facelift for 2001.
2002 Montana
Pontiac's minivan got optional rear-obstacle detection, available all-wheel drive, and a DVD player for '02.
2003 Montana
Antilock brakes and front side airbags are now an option on the entry-level regular-length 1SV model; they remain standard on other Montanas.
2004 Montana
The Montan's 1SV model did not return in 2004. Also new this year is an optional MP3 player upgrade package.
2005 Montana
Pontiac's minivan drops regular-length and all-wheel-drive models for 2005. Montana will be reborn later in the model year as the Montana SV6, with SUV-inspired styling and a different V6. Montana shares its design with the Chevrolet Venture, which will be similarly recast as the 2005 Uplander.