Premium large SUV; Built in USA
longitudinal front-engine/rear- or 4-wheel drive
Good condition price range: $3,000 – $7,000*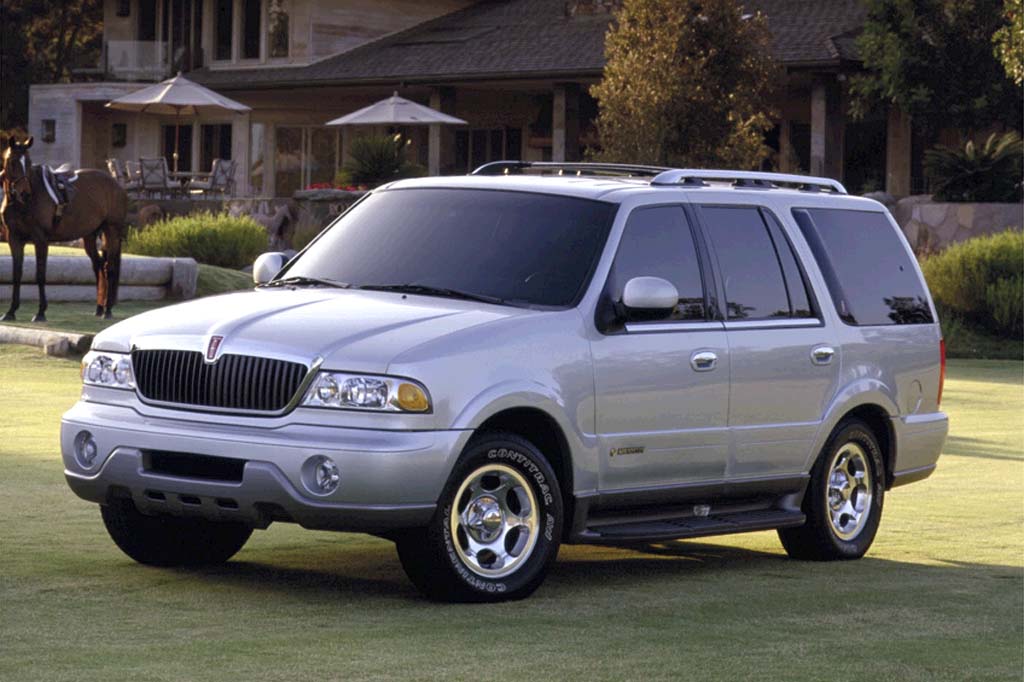 2000 Lincoln Navigator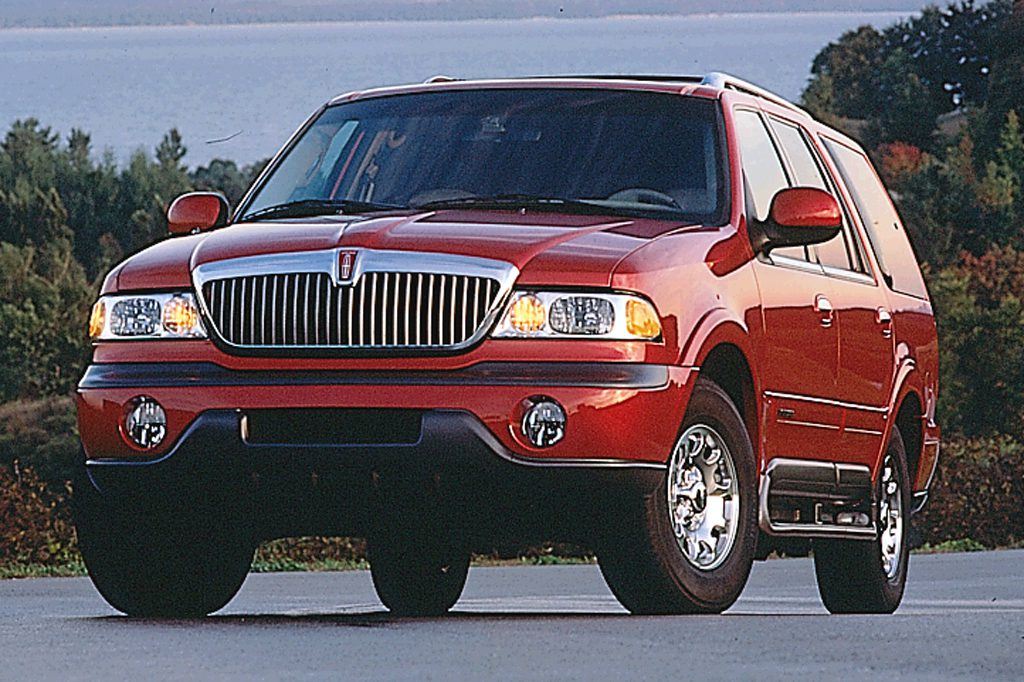 1998 Lincoln Navigator 4-door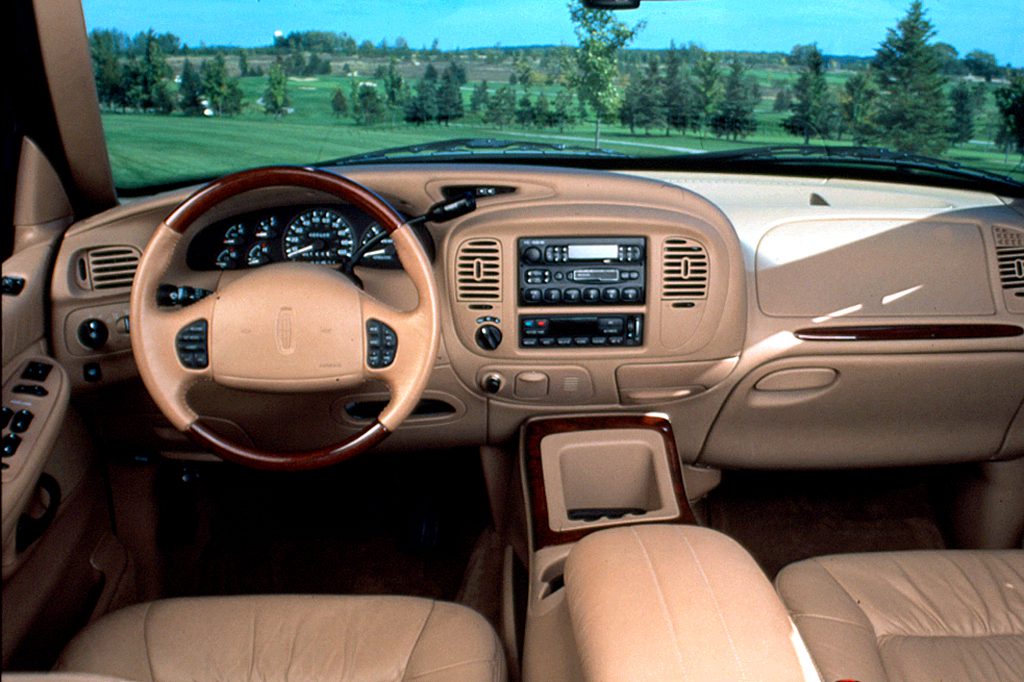 1998 Lincoln Navigator interior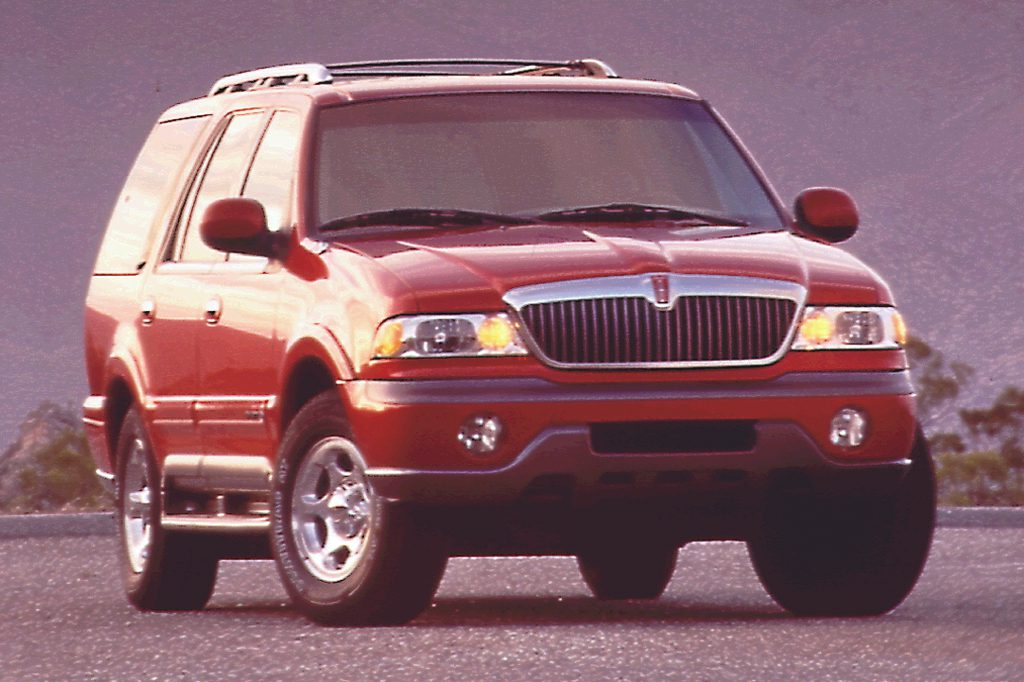 1998 Lincoln Navigator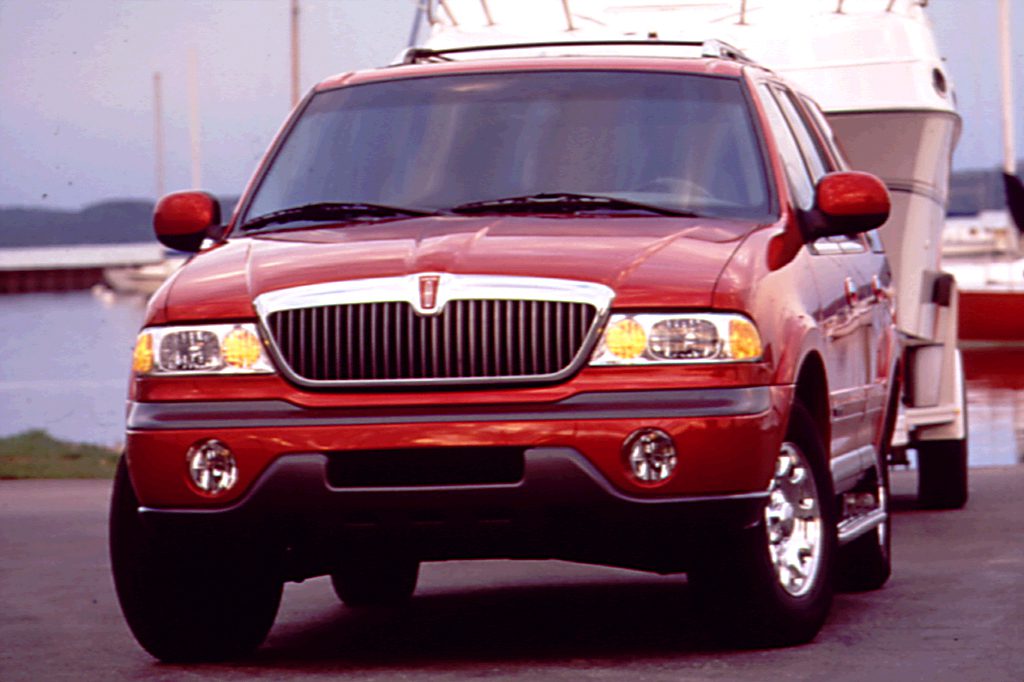 1998 Lincoln Navigator
Pros:

Standard antilock braking
Cargo room
Instruments/controls
Passenger room

Cons:

Entry/exit
Fuel economy
Maneuverability
A hot seller from the start, Navigator drew buyers in their 40s–markedly younger than usual for Lincoln. Some observers derided the Navigator's blatantly excessive body trim, but plenty of shoppers loved it. All told, Navigator might be a good buy–not much more costly than the highly rated Expedition, and loaded with amenities. A Navigator contains every luxury a semireasonable hedonist could covet–as well as real stretch-out space, in both front and rear.
Overview
Few observers ever expected the Lincoln name to appear on a truck. But there it was in 1998: a full-size Lincoln sport-utility vehicle, similar to the Ford Expedition. Lincoln's SUV differed from the Expedition with unique front and rear styling, extra sound deadening, softer suspension tuning, plus standard leather upholstery and walnut trim. Lincoln also offered front and rear bucket seats with a center console. Even more noticeable than the luxury appointments was the extroverted exterior trim that was ladled onto what was essentially an Expedition underneath. Navigator was available either with rear-wheel drive or Ford's Control Trac 4-wheel-drive system, which could be left engaged on dry pavement. Automatic self-leveling air-ride shock absorbers went at front and rear on 4x4s, but rear-only on 2WD Navigators. Antilock 4-wheel disc brakes were standard either way. A 3-place, third-row bench seat was installed. A 3-place split middle bench was available at no cost, to expand seating capacity from seven to eight. Towing capacity was 8000 pounds–that's right, a hefty four tons. Sole engine was the larger of Expedition's two V8s: a 5.4-liter, rated at 230 horsepower. Navigators got a special post-assembly inspection, plus a 25-mile preshipment road test. Rivals included the GMC Yukon/Denali, Land Rover Range Rover, and Toyota Land Cruiser.
Yearly Updates
1999 Navigator
Like Ford's Expedition, the Navigator gained a new optional adjustable-pedal cluster that could move the accelerator and brake pedals fore and aft. Its setting could be hooked into the newly standard memory system for the driver's seat and door mirrors. Unlike the Expedition, Lincoln's SUV got a power boost as its V8 engine gained 30 horsepower and 20 pound-feet of torque. Early in 1999, that Triton engine gave way to a Lincoln-exclusive "InTech" 5.4-liter V8 with dual overhead cams and four valves per cylinder, producing 300 horsepower and 360 pound-feet of torque. That engine came with electronic shift control for the automatic transmission. Navigator's third-row seat gained built-in rollers to ease removal and installation.
2000 Navigator
Front side airbags were installed this year as standard equipment. "Climate-controlled" front seats, with a small fan and heat pump to circulate air, and an onboard navigation system joined the options list. So did Ford's Reverse Sensing System, which used rear-bumper sensors to provide an audible warning as the vehicle approached an obstacle while backing up. Door mirrors were revised, with built-in turn indicators and an available power-fold mechanism. Previously optional, 17-inch wheels became standard. Interiors sported additional wood trim, softer "Nudo" leather upholstery, a redesigned center console with more cupholders, and child-seat anchors for the second and third rows. An automatic parking-brake release and front-seat power lumbar adjustment became standard.
2001 Navigator
All Lincolns got free regularly scheduled maintenance for the first three years/36,000 miles starting in 2001. Navigator gained a rear-seat video entertainment package and standard auxiliary rear climate controls.
2002 Navigator
There were no significant changes for 2002.