Compact SUV; Built in Japan
2-door convertible
2-door wagon
longitudinal front-engine/rear- or 4-wheel drive
Good condition price range: $1,600 – $4,800*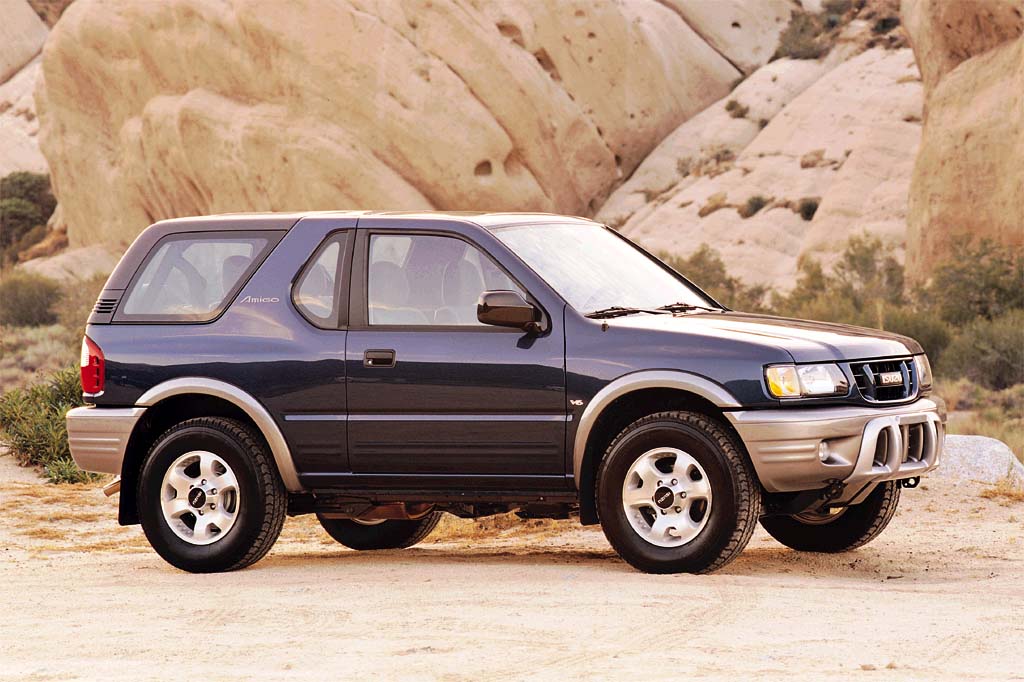 2000 Isuzu Amigo 2-door wagon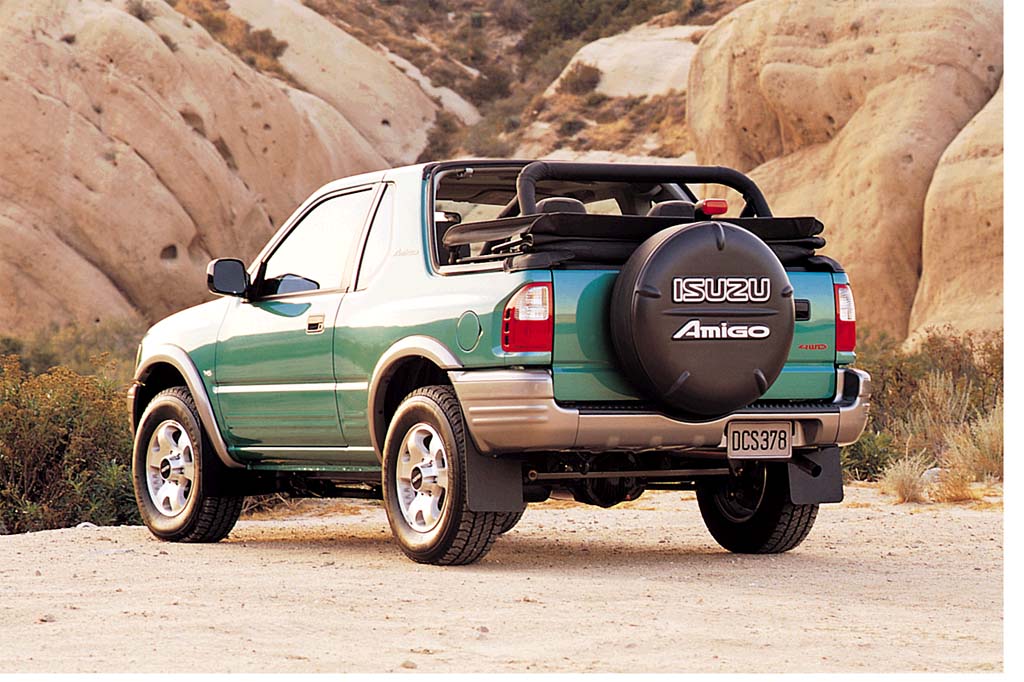 2000 Isuzu Amigo 2-door convertible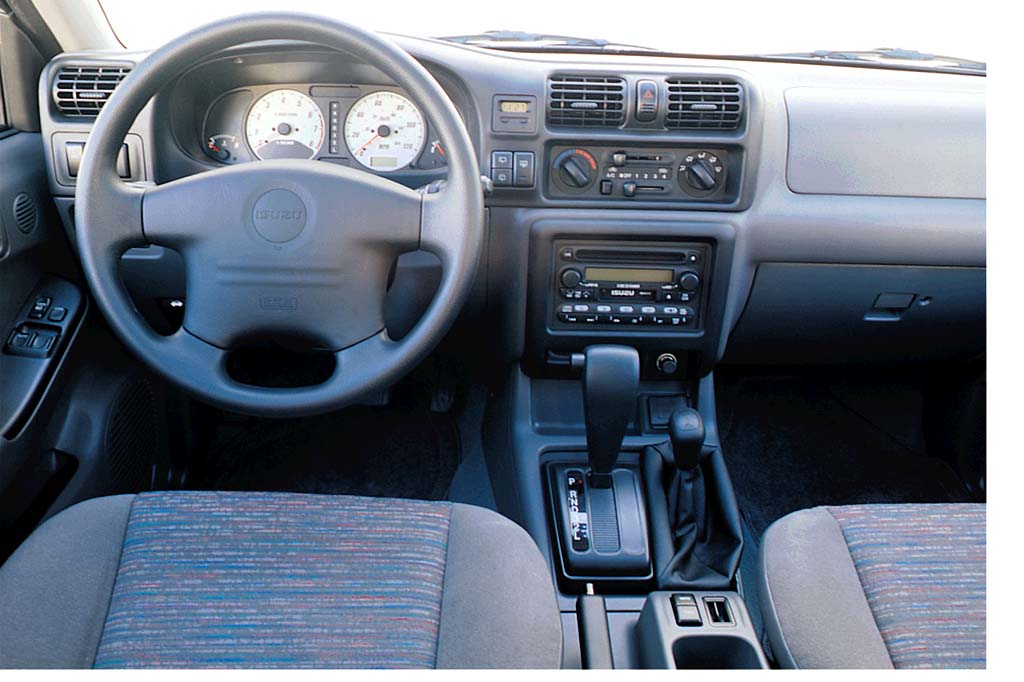 2000 Isuzu Amigo interior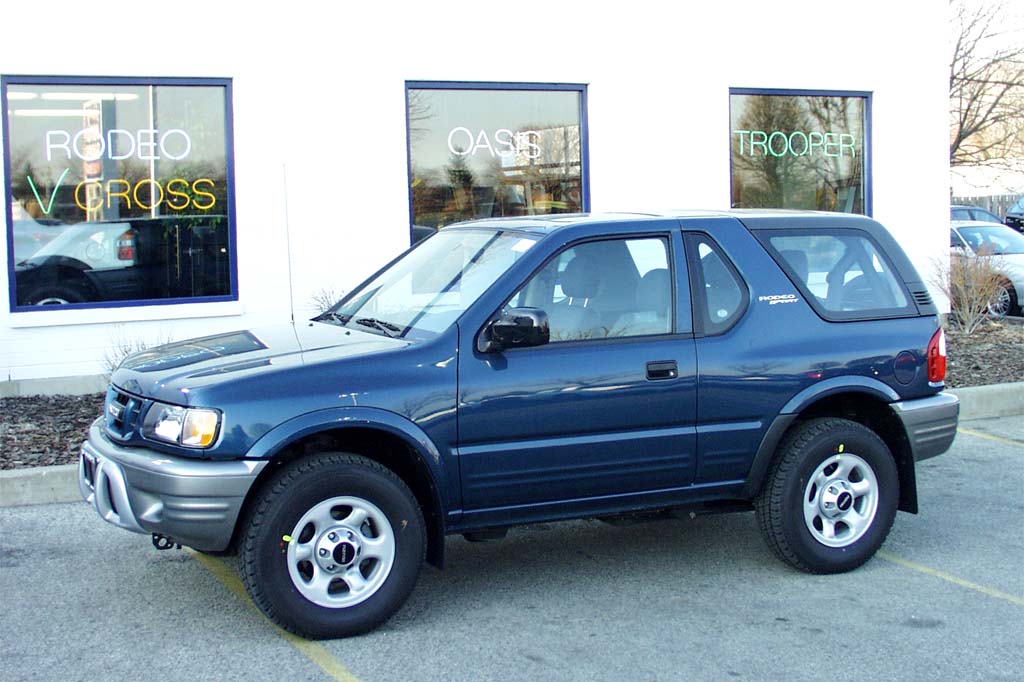 2001 Isuzu Rodeo Sport 2-door wagon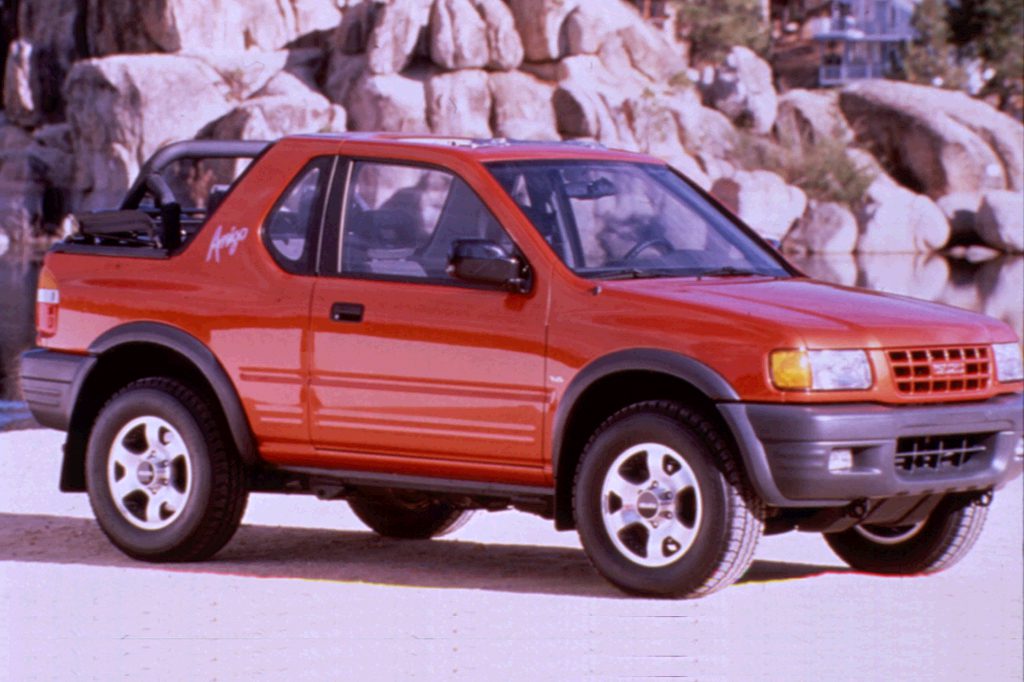 1998 Isuzu Amigo 2-door convertible
Pros:

Acceleration (V6)
Cargo room

Cons:

Acceleration (4-cyl)
Entry/exit
Noise
Ride
Though far from perfect, the Amigo is more substantial than some small SUVs and more refined than a Wrangler. Otherwise, a moderate price might be its biggest advantage.
Overview
Isuzu revived the compact Amigo, last seen in 1994, in a fresh form for the 1998 model year. Available with either rear-drive or 4-wheel drive, Amigo shared its basic design with the larger Isuzu Rodeo 4-door sport utility wagon, but wore a shorter 2-door body. The semi-convertible body had a folding soft top over the back seat, as well as a pop-up sunroof. Two engines were available: a 4-cylinder and a V6. The 2.2-liter dual-overhead-cam 4-cylinder produced 130 horsepower, versus 205 hp for the twin-cam 3.2-liter V6. Five-speed manual shift was standard, with a 4-speed automatic transmission optional for Amigos with the V6 engine. Like Rodeo's 4WD system, the Amigo's setup was not intended for use on dry pavement, but it included pushbutton shift-on-the-fly between 2WD and 4WD, along with separate low-range gearing. Four-wheel antilock braking was standard.
Yearly Updates
1999 Amigo
A new hardtop wagon with a pop-up sunroof over the rear seat and a heated rear window joined the original semi-convertible. Cruise control was no longer available.
2000 Amigo
A restyled nose and tail appeared on 2000 Amigos, and V6 models came with standard cruise control. Adjustable shock absorbers became optional, and the 4WD 4-cylinder manual-shift soft-top model was dropped.
A new Ironman package, named for Isuzu's sponsorship of the Ironman triathlon competition, became available for V6 models with the Preferred Equipment package. Intelligent Suspension Control was optional on V6 Ironman Amigos, allowing the driver to choose sport or normal shock damping via a dashboard switch.
Previously optional, 16-inch wheels replaced the original 15-inchers as standard equipment. Fender flares were a new option, and the spare tire now wore a standard plastic/vinyl cover.
2001 Rodeo Sport
Isuzu renamed its Amigo the Rodeo Sport for 2001, intending to reposition the compact model as a sportier, off-road-oriented version of its larger–and more popular–4-door Rodeo. Both engines now were available with either a manual or automatic transmission. The Preferred Equipment package added a rear cargo tray, and V6 models gained 2-speed variable intermittent wipers.
2002 Rodeo Sport
For 2002, the Ironman and SE packages are dropped along with their adjustable shock absorbers.
2003 Rodeo Sport
No changes were evident for '03.