Midsize SUV; Built in USA
longitudinal front-engine/rear- or 4-wheel drive
Good condition price range: $1,800 – $5,600*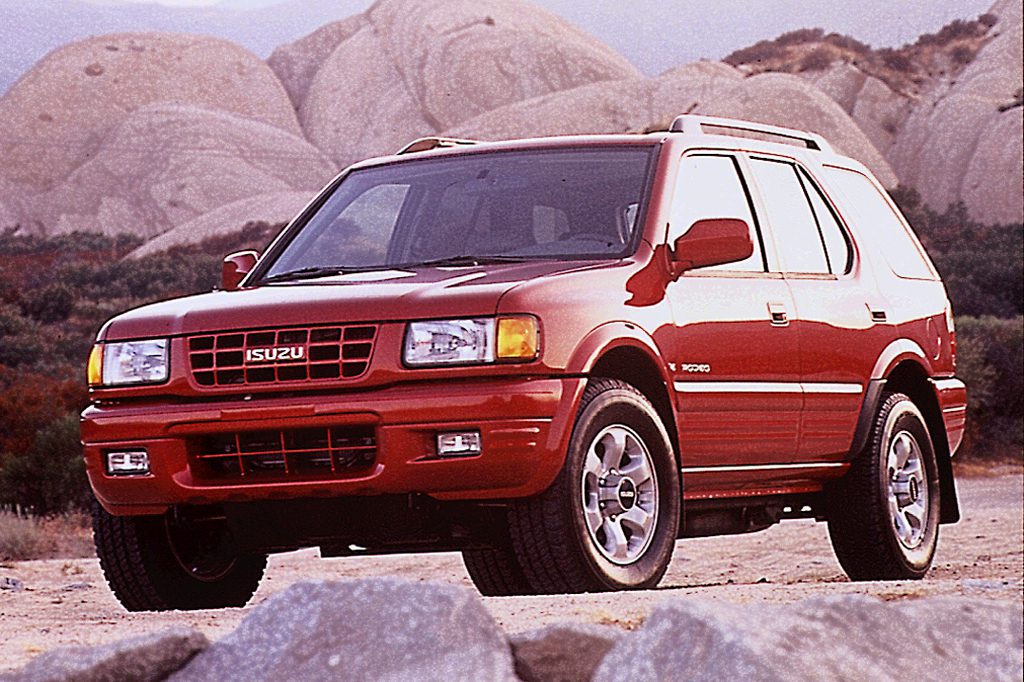 1999 Isuzu Rodeo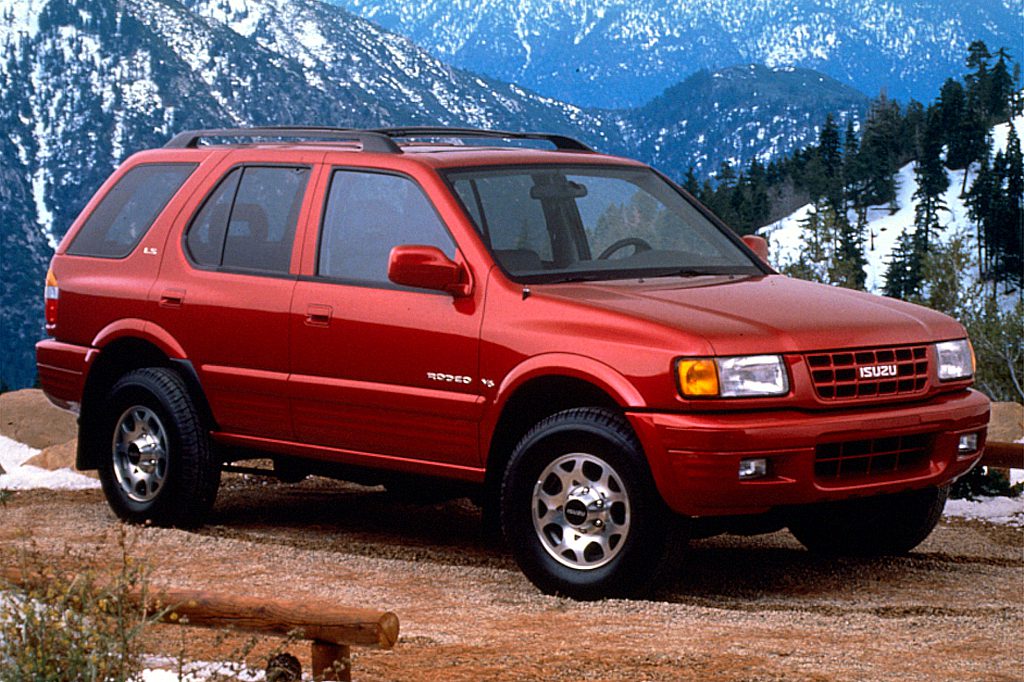 1998 Isuzu Rodeo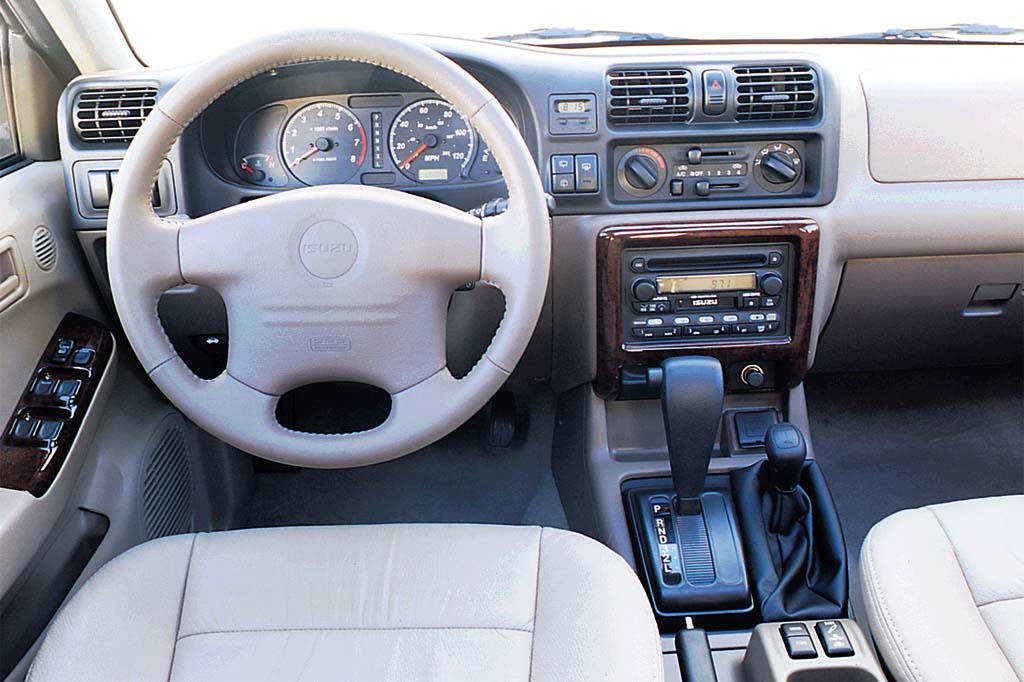 2000 Isuzu Rodeo interior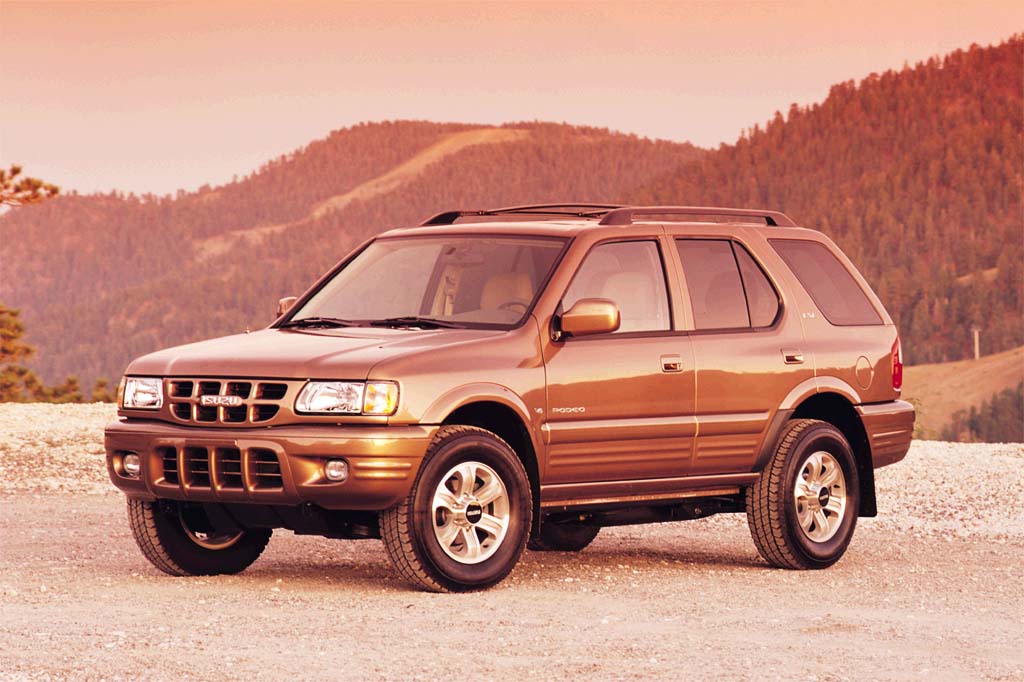 2000 Isuzu Rodeo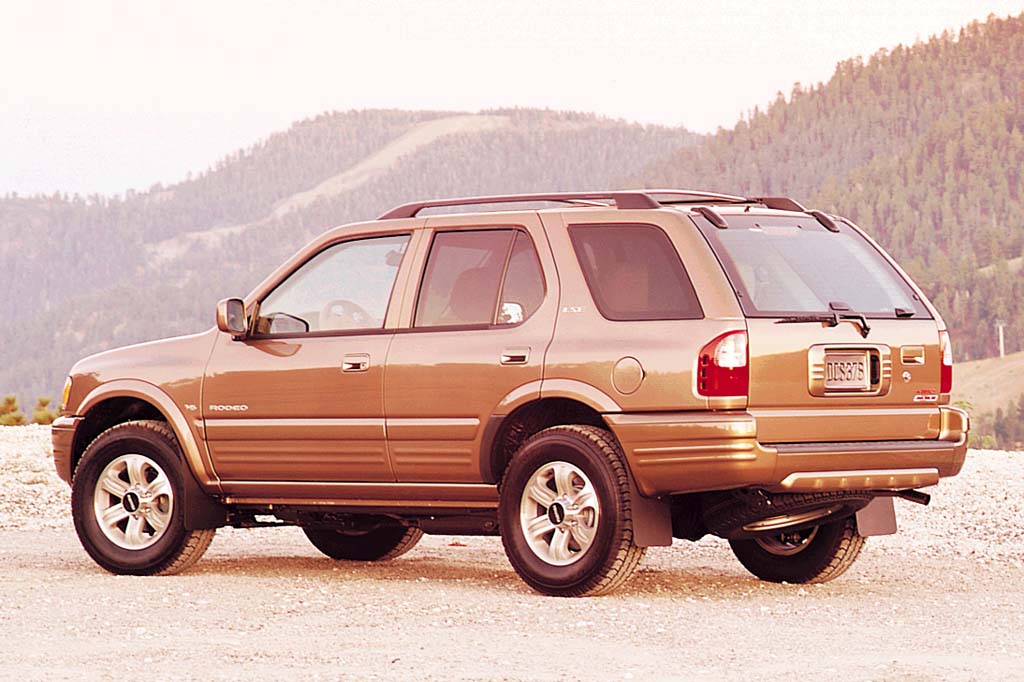 2000 Isuzu Rodeo
Pros:

Acceleration (V6)
Standard antilock braking
Passenger and cargo room

Cons:

Engine noise
Fuel economy
Road noise
With the V6, a Rodeo accelerates better than most Japanese rivals, leaning toward the "sport" side of sport utility. Prices are not cheap, however, and Rodeo has no standout features that put it above the competition. That makes it an acceptable choice, but not a compelling one.
Overview
Redesigning of Isuzu's U.S.-built midsize sport-utility vehicle gave it rounded styling and extra power. Honda again marketed a retrimmed Rodeo as the Passport. Both were built from an Isuzu design at the Subaru-Isuzu assembly plant in Indiana. Just slightly longer than its predecessor, the revised Rodeo measured four inches wider. Shortening the wheelbase by 2.3 inches helped reduce curb weight by 285 pounds. A flip-up rear window was retained from the prior generation, but a side-hinged tailgate replaced the former drop-down gate. Ordinarily, the spare tire sat under the cargo area, but an externally mounted spare tire was a no-charge option. Two Rodeo versions were offered: S and better-equipped LS, with either 2-wheel drive or part-time 4-wheel drive, the latter for use on slippery surfaces only. A dashboard switch replaced a floor lever to activate the 4WD shift-on-the-fly transfer case. A 4-cylinder engine was standard on the 2-wheel-drive Rodeo S, while a 205-horsepower, 3.2-liter V6 was standard on the LS and available on the S. A manual transmission was standard with either engine, but automatic came only with the V6. A Rodeo could tow as much as 4500 pounds. Dual airbags were installed in a redesigned dashboard. Four-wheel antilock braking was standard, not optional as before. Rivals included the Chevrolet Blazer, Jeep Grand Cherokee, Ford Explorer, and Toyota 4Runner.
Yearly Updates
1999 Rodeo
A new top-of-the-line LSE model joined the lineup for 1999, featuring leather upholstery and a power moonroof. Otherwise, only minor equipment changes were evident. An outside-mounted spare tire was installed on 4WD LSE models, and offered as a no-charge option on others. A tilt steering wheel now was standard in all Rodeos with the V6 engine.
2000 Rodeo
Adjustable shock absorbers were new this year and 16-inch tires replaced all 15-inchers, as Isuzu redesigned the front and rear fascias of this midsize SUV. Standard on the LSE and optional on LS, the new Intelligent Suspension Control featured a dashboard button to adjust shock damping between Sport and Normal settings. Honda Passports did not get the adjustable-shock system. A new Ironman package debuted for the LS, marking Isuzu's sponsorship of the Ironman triathlon competition. The package included white or black paint over grey lower body panels, crossbars for the roof rack, and special graphics. Cruise control now was standard on V6 Rodeos, and an automatic transmission became standard on the LSE edition.
2001 Rodeo
In celebration of Isuzu's 85th year, an Anniversary Edition was added, along with a revised Ironman Package for 2001.
2002 Rodeo
There were no significant changes for 2002.
2003 Rodeo
There were no significant changes for 2003.
2004 Rodeo
The Rodeo looses its 2-dr model and 4-cyl engine for '04, but gains a new optional 3.5-liter 250-hp engine. Added midyear was a standard tire-pressure monitor.