Premium sporty/performance car; Built in Germany
longitudinal front-engine/rear-wheel drive
Good condition price range: $4,900 – $13,900*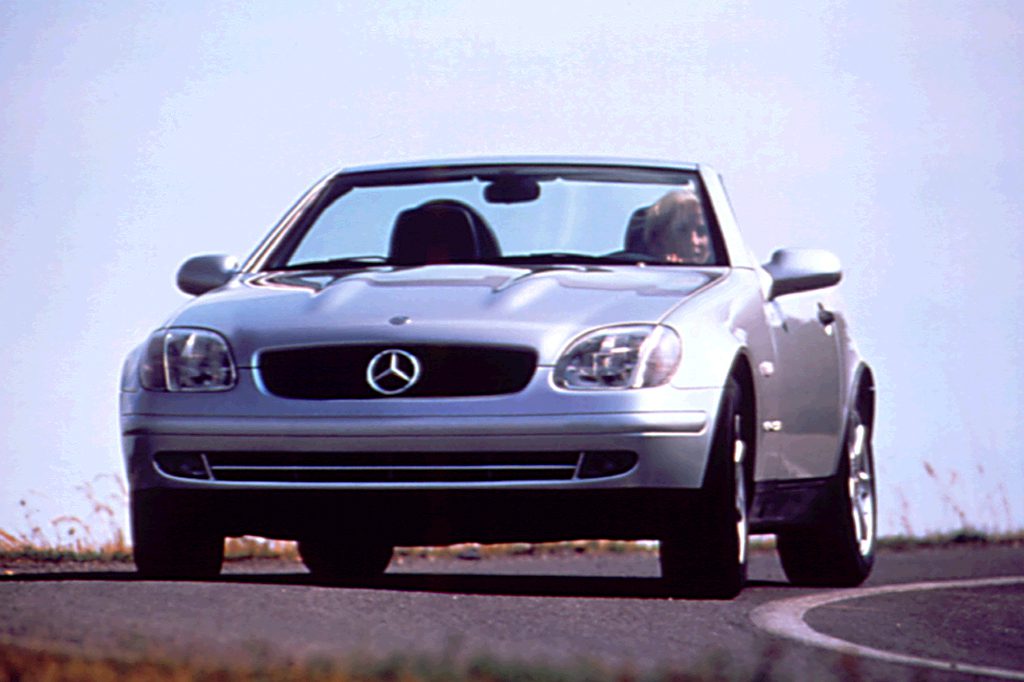 1998 Mercedes-Benz SLK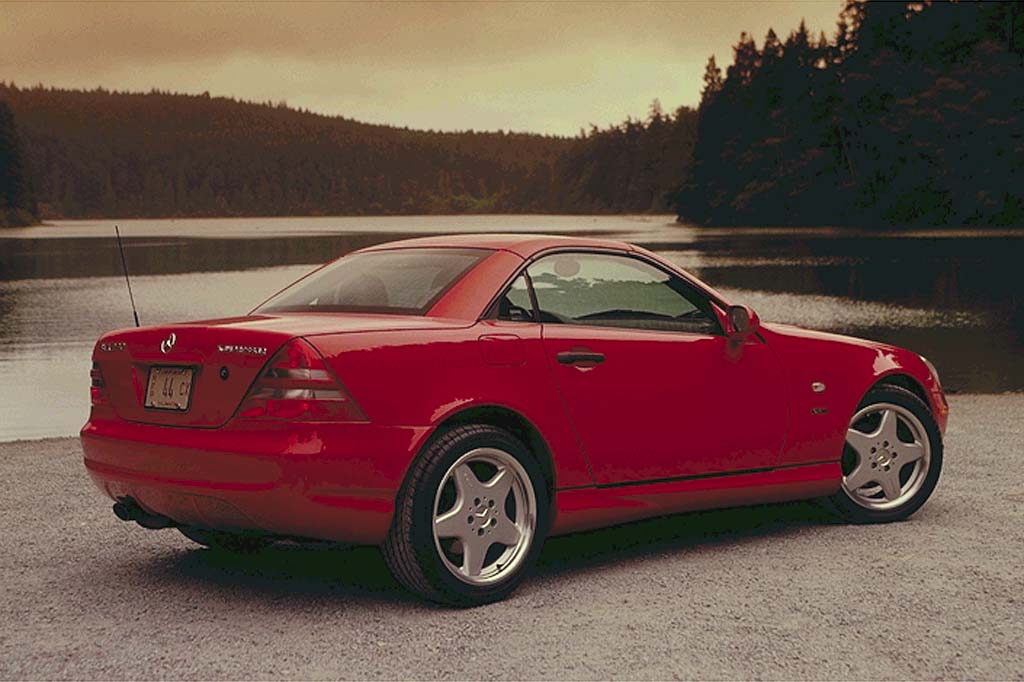 2000 Mercedes-Benz SLK sport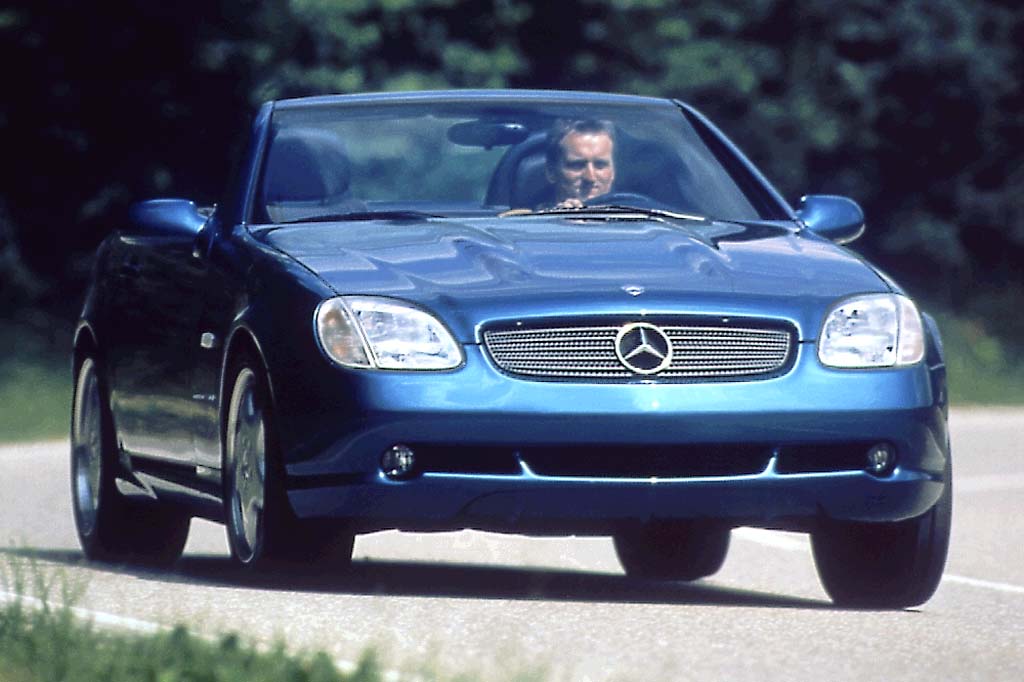 2000 Mercedes-Benz SLK sport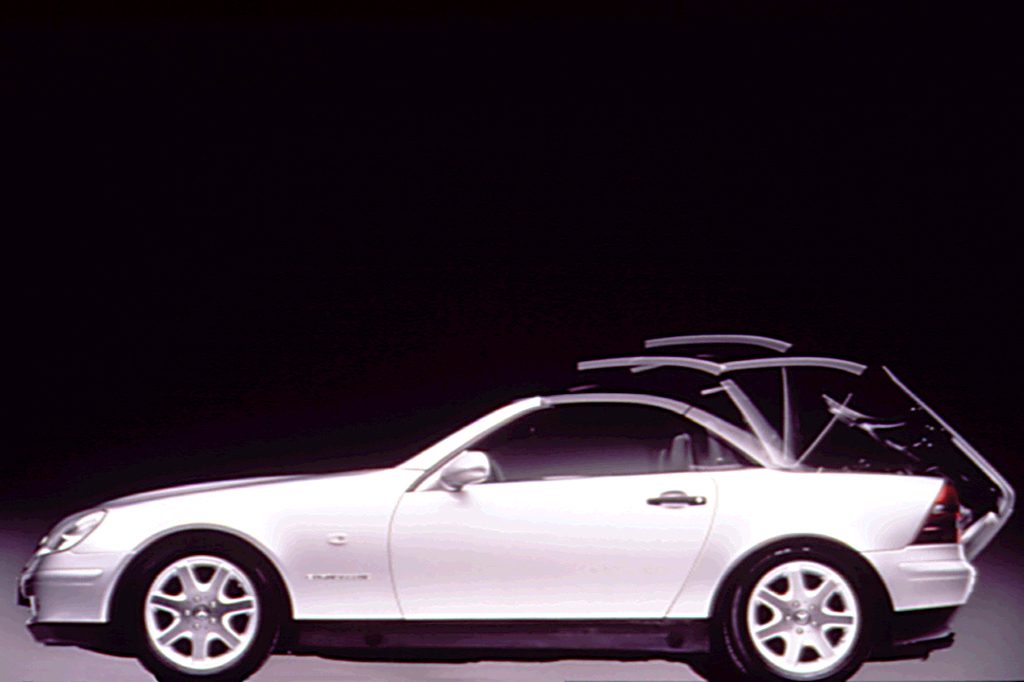 1998 Mercedes-Benz SLK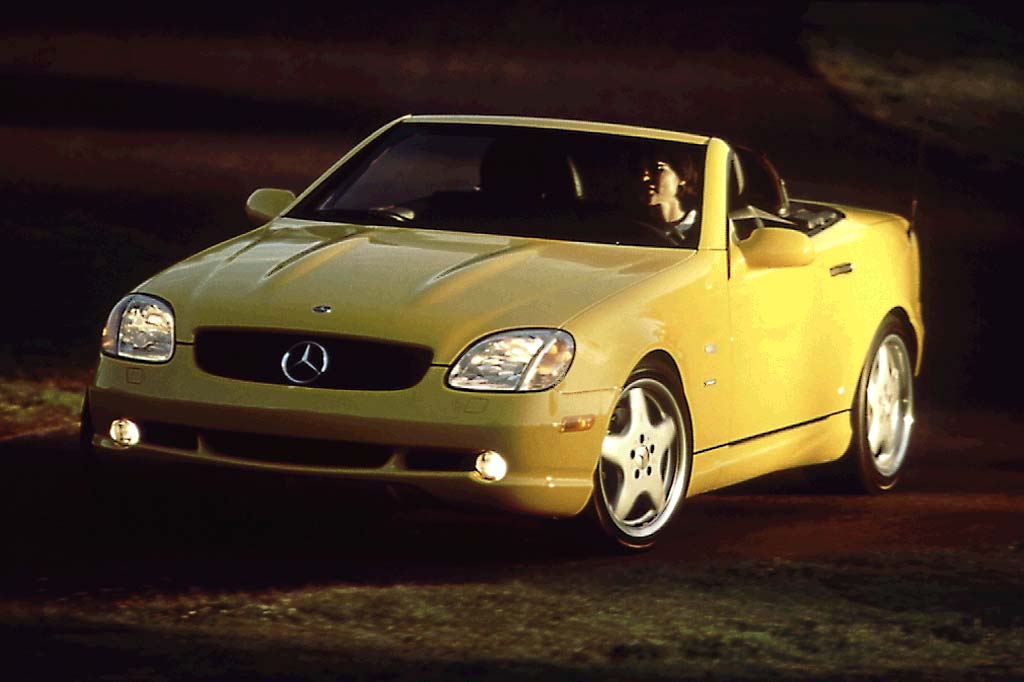 2000 Mercedes-Benz SLK sport
Pros:

Acceleration
Build quality
Side airbags
Steering/handling

Cons:
Early buyers had to put their names on a waiting list, due to the SLK's popularity. Mercedes' coupe/roadster isn't cheap, but there's nothing else quite like the SLK on any road.
Overview
Mercedes-Benz had something different on tap for 1998: a 2-passenger sports car with a supercharged 2.3-liter 4-cylinder engine. Instead of a soft top, however, the SLK230 had a metal roof that powered down into the trunk for stowage, at the touch of a button. The trunklid opened forward for cargo, and tilted from the rear to raise or lower the top–a task that took about 25 seconds. This was Mercedes's answer to the "retro roadster" craze that began with the Mazda Miata and was later picked up by the BMW Z3 and Porsche Boxster. In German, SLK stands for sporty, light, and compact. Surprisingly, design work on the SLK stemmed from the compact C-Class sedan. A "Kompressor" badge on the front fenders indicated the presence of the supercharged engine. Only a 5-speed automatic transmission was offered. Standard features included door-mounted side airbags, antilock brakes, and traction control. A "BabySmart" feature automatically deactivated the right-side airbags when a special Mercedes child seat was installed. Rivals included the BMW Z3, Chevrolet Corvette, and Porsche Boxster.
Yearly Updates
1999 SLK
A 5-speed manual transmission became standard this year, and the previously standard automatic transmission was now an option. A Sport package also joined the options list, including "aero" lower-body cladding and performance tires on 17-inch wheels instead of the usual 16-inchers. Mercedes' "Brake Assist" feature became standard, automatically providing full braking force in emergency stops.
2000 SLK
Except for the addition of free scheduled maintenance to the SLK's warranty coverage, nothing was new this year.
2001 SLK
The SLK320 with a 215-hp V6 engine was added to the lineup in 2001. The SLK230 gained 5 horsepower and standard 6-speed manual transmission this year.
2002 SLK
A new SLK32 AMG had a supercharged version of the V6, plus modifications to suspension, transmission, bodywork, and interior by Mercedes' AMG performance team. The Sport package option for the SLK230 and 320 now mimicked the SLK32's lower-body aero trim, wheels, and projector-beam fog lamps.
2003 SLK
Unchanged for 2003.
2004 SLK
A special-edition package was made available in 2004 for the SLK230 and the SLK320. It includes 17-inch wheels, Nappa leather sport seats and roll bar, exterior chrome accents, and a body-colored grille.