Sporty/performance car; Built in Mexico
transverse front-engine/front-wheel drive
Good condition price range: $2,200 – $8,800*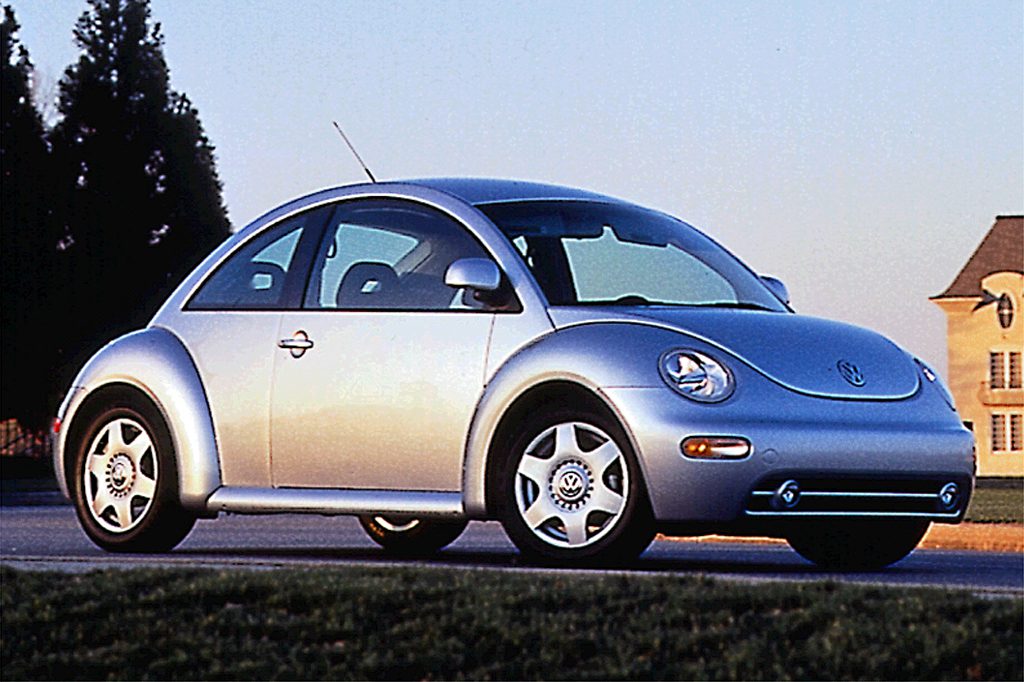 1999 Volkswagen New Beetle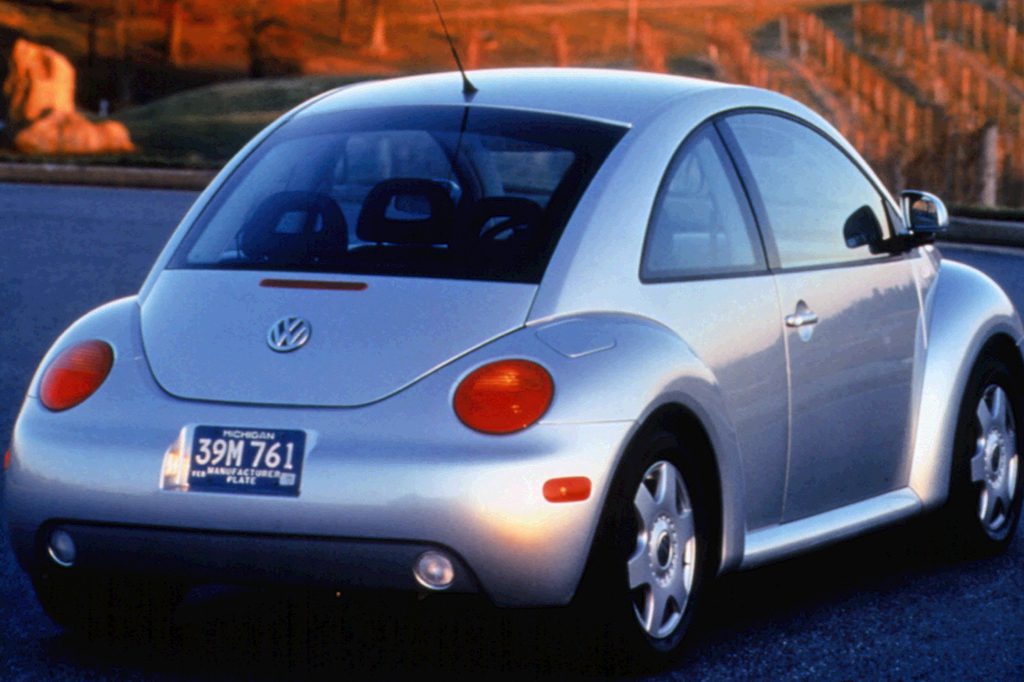 1999 Volkswagen New Beetle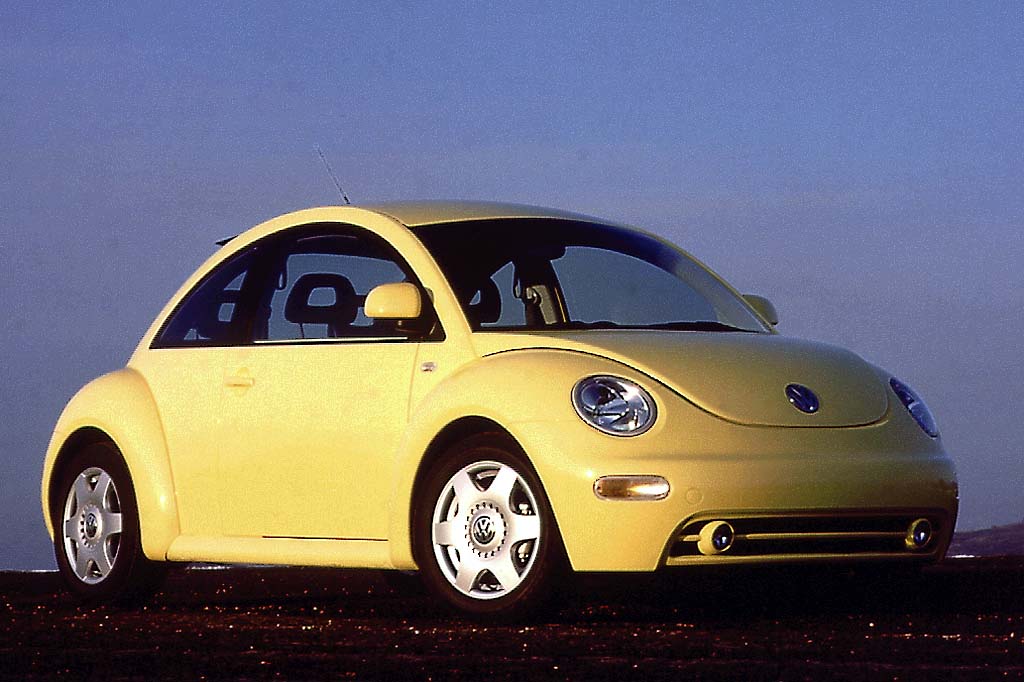 2000 Volkswagen New Beetle 1.8T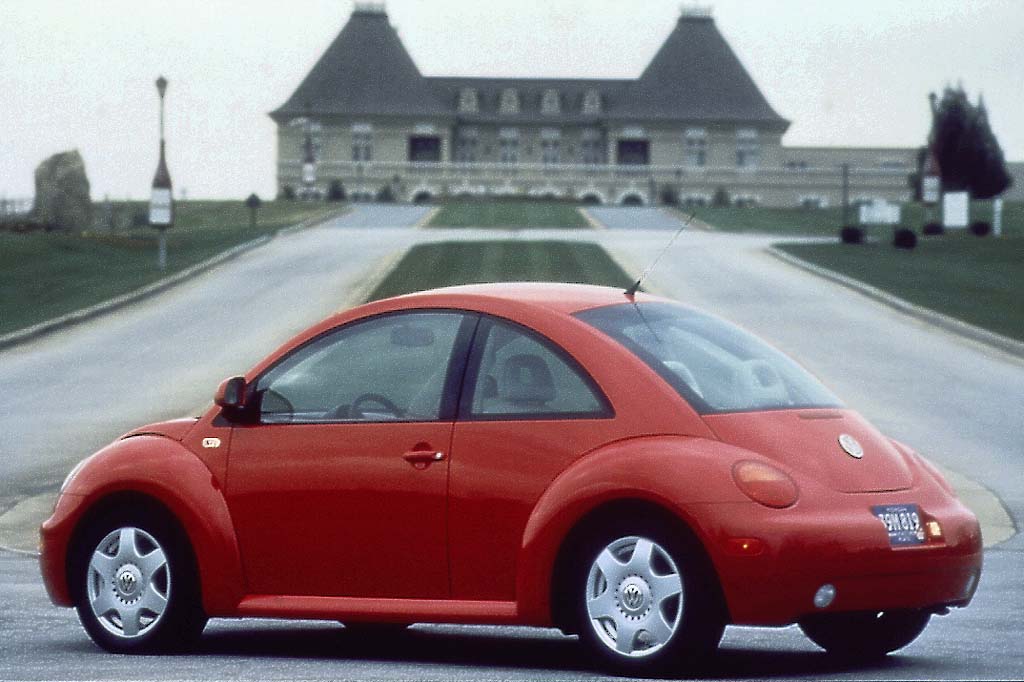 2000 Volkswagen New Beetle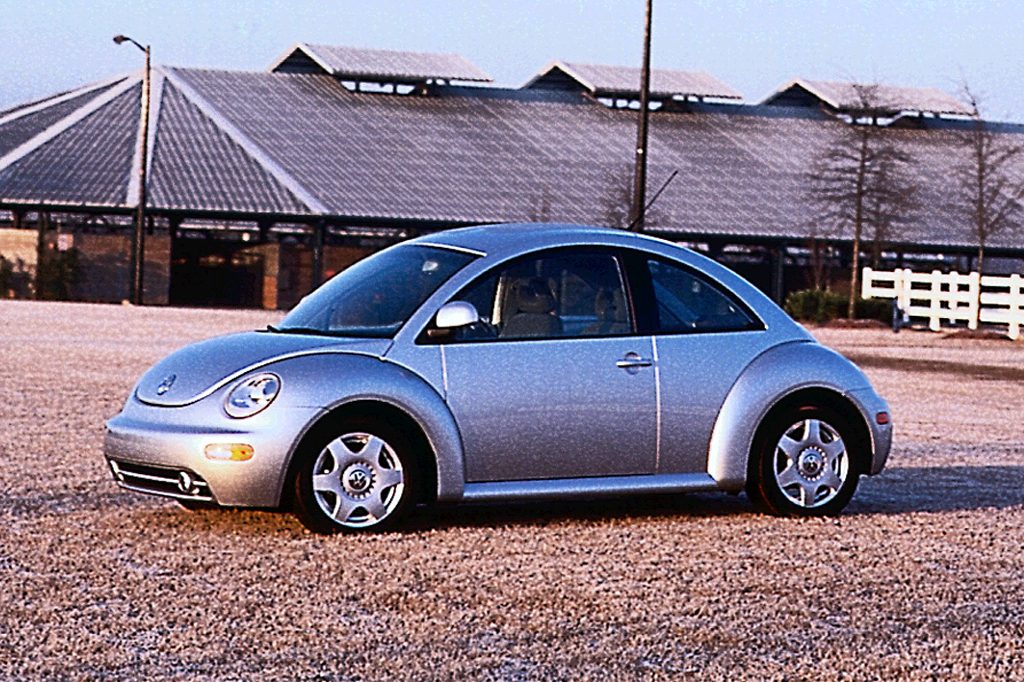 1999 Volkswagen New Beetle
Pros:

Acceleration (Turbo)
Standard antilock brakes
Build quality
Fuel economy
Side airbags

Cons:

Rear-seat room
Visibility
As sport coupes go, this one is actually quite practical. The New Beetle's driving and emotional appeal are strong enough too, to overcome its skimpy rear seat and visibility blind spots. New Beetles were in short supply and shockingly high demand at first, but that began to taper off somewhat, so more are likely to be available on used-car lots.
Overview
Not many people had ever expected to see one on the street when Volkswagen showed a modern-day Beetle at Detroit's auto show in 1994, as a concept vehicle. Yet here it was, in 1998: a contemporary rendition of the old Beetle, similar in basic shape but bigger and with a conventional powertrain underneath. No one really expected a rear-mounted or air-cooled engine, after all–two distinctive traits of the original Beetle. The New Beetle, then, revived the general profile and character of the famous original VW Bug in a modern, better-equipped automobile. Essentially, it put a Bug-like body over the chassis and running gear of the fourth-generation Golf hatchback (coming for 1999). All New Beetles had 4-cylinder engines. The base model's engine was rated at 115 horsepower, and the TDI model used a 90-horsepower turbocharged diesel four. All Beetles had a standard 5-speed manual transmission or optional 4-speed automatic. Front side airbags were standard. So were 4-wheel disc brakes, with antilocking optional.
Yearly Updates
1999 New Beetle
Antilock braking became standard in the New Beetle's second season. Even more notable was the new turbocharged GLX edition, which boasted 150 horsepower. The GLX got wider alloy wheels than its mates, plus a speed-activated rear spoiler, leather seating, and a glass power sunroof. All models got new "ring" type headrests for front and rear occupants, larger cupholders, and an optional power glass sunroof.
2000 New Beetle
A new Cold Weather option package included heated front seats. New Beetles added antitheft-coded ignition keys and a dashboard light that illuminated when the brakes might need servicing.
2001 New Beetle
17-inch wheels and tires and a new Sport Luxury package were the main additions for 2001.
2002 New Beetle
The new Turbo S model had 180 hp and introduced to the line a 6-speed manual transmission for this model year. The Turbo S had slightly different front and rear trim and a stiffer suspension. VW's bumper-to-bumper warranty was now 4 years/50,000 mi. instead of 2/24,000, and the powertrain warranty was 5/60,000 instead of 10/100,000.
2003 New Beetle
A convertible model was added for 2003. The GL convertible has a manual folding top, other convertibles a power top; all include a heated glass rear window and rollover bars that deploy if sensors detect an imminent tip. Other changes for '03 included standard power windows and cruise control and optional heated seats on GL models. GLS models added alloy wheels and sunroof.
2004 New Beetle
Available in '04 is Volkswagen's Telematics emergency and concierge system. Other additions to the New Beetle this year include restyled wheels, available xenon headlights, and a CD-player that reads MP3-formatted discs.
2005 New Beetle
Optional satellite radio and linewide availability of a 6-speed automatic transmission lead changes for Volkswagen's 2005 retro-styled cars. Also new for '05, factory audio systems add a jack for connecting digital music players, and satellite radio is available for all models.