Midsize car; Built in Germany
4-door sedan
4-door wagon
transverse front-engine/front-wheel drive
Good condition price range: $1,900 – $9,200*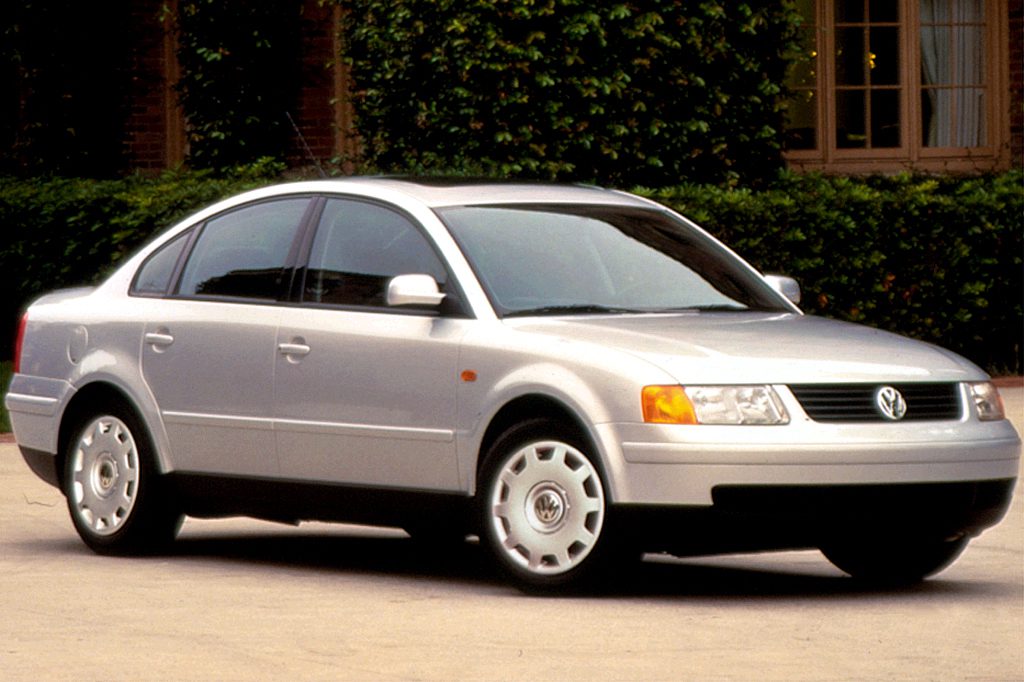 1998 Volkswagen Passat GLS sedan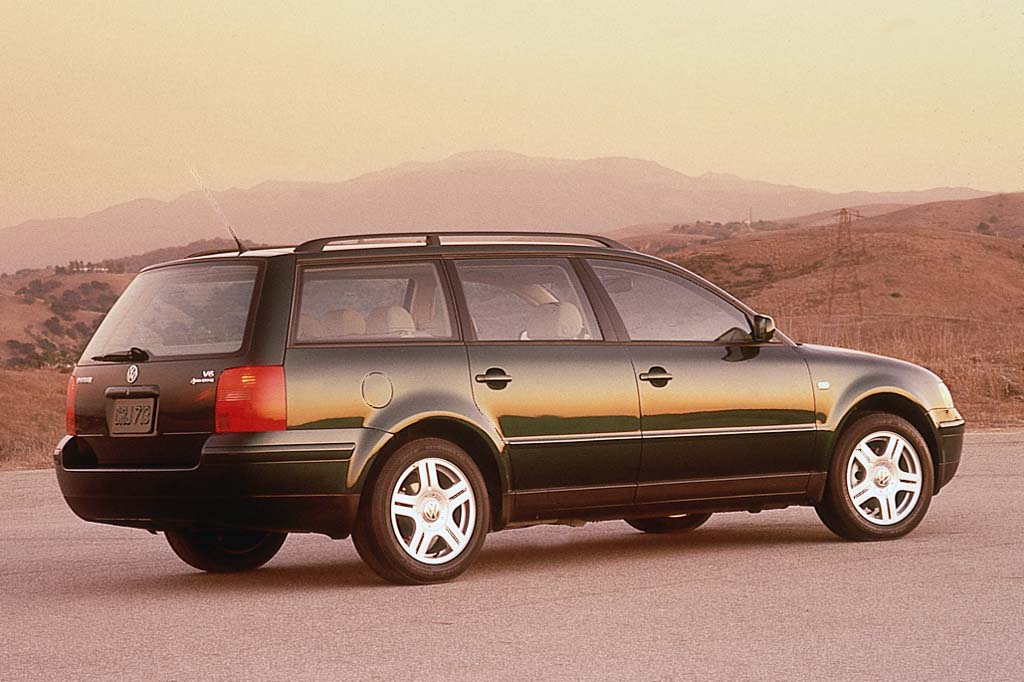 2000 Volkswagen Passat GLX wagon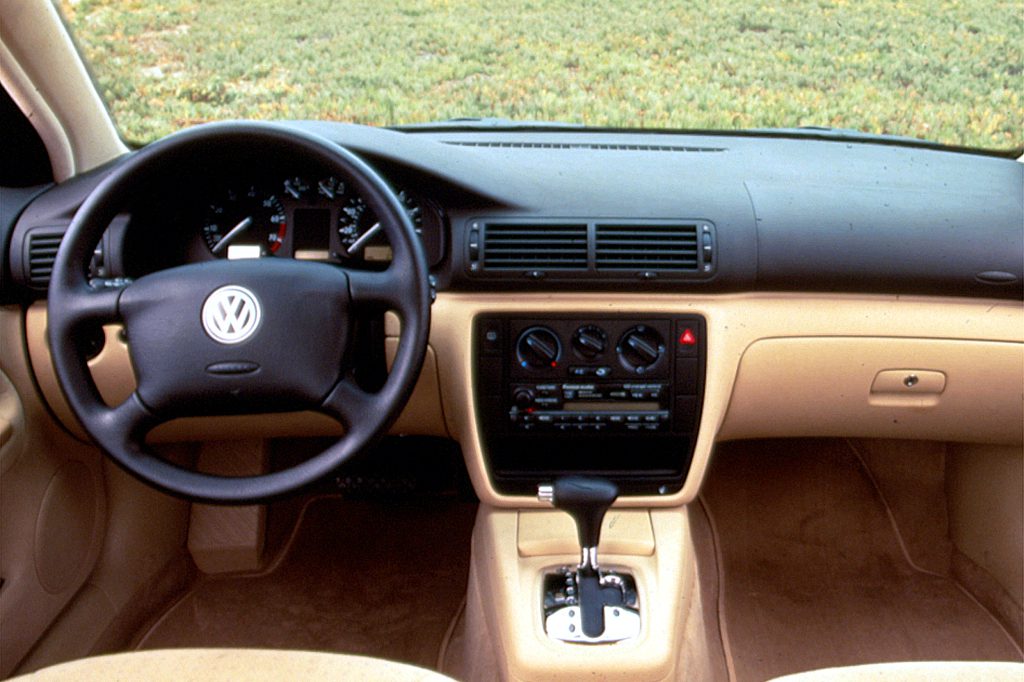 1998 Volkswagen Passat GLS sedan interior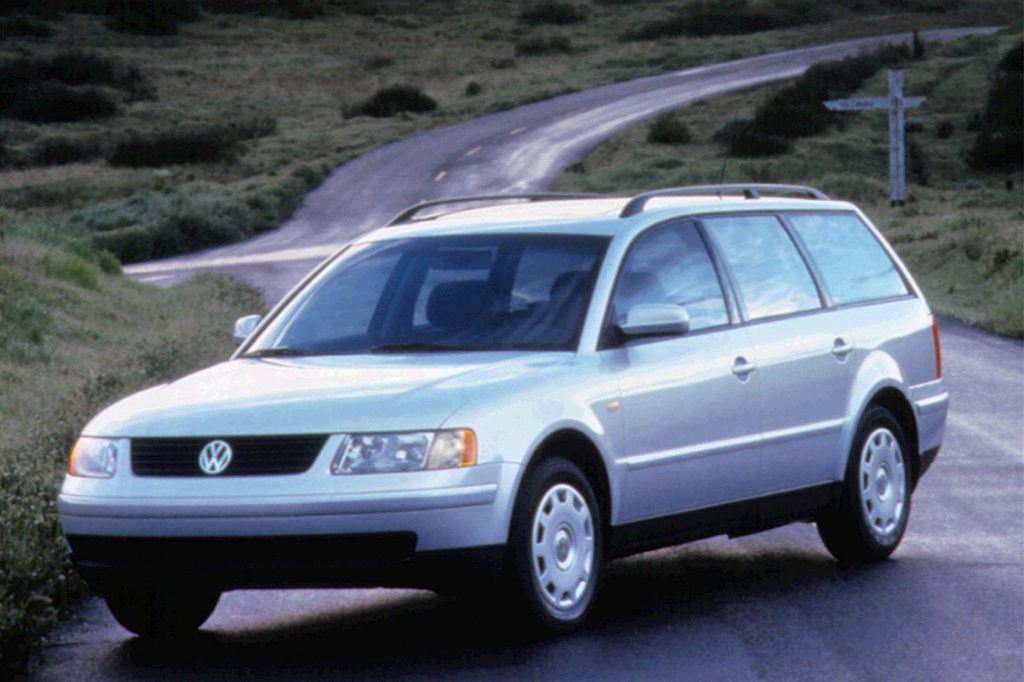 1999 Volkswagen Passat wagon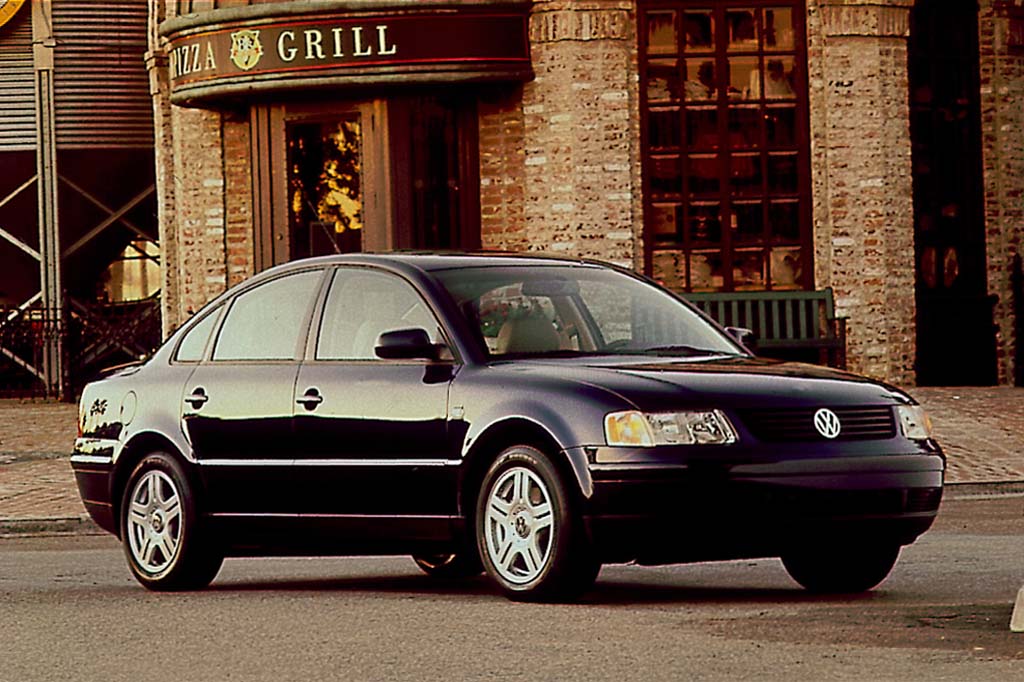 2000Volkswagen Passat GLX 4-Motion sedan
Pros:

Standard antilock braking
Build quality
Cargo room
Side airbags
Passenger room
Ride

Cons:

Acceleration (Turbo w/automatic)
Tire noise
Turbo fours with automatic don't have much strength for a modern family 4 door. If possible, try the different engine/transmission combinations to see which one fits your needs. Otherwise, VW's largest car is suave, sporty, spacious, and solid. It's also strong on features per dollar and "European" personality. We'd give it a good long look. Recent reliability gremlins make us hesitant to recommend this vehicle to value-conscious shoppers.
Overview
Volkswagen borrowed some elements from A4 and A6 models issued by Audi, its sister-company, to give the redesigned Passat family sedan a touch of sportiness. Passat had been around since 1990, as Volkswagen's biggest automobile. Compared to the previous Passat, the new model was about 3 inches longer in wheelbase, 4 inches longer overall, and about an inch wider and taller. The new look reflected the crescent-form styling that had first been seen in sedans from Audi (which was owned by VW).Passat came in 4-door sedan and station wagon body styles. Introduced first was a GLS with Audi's 1.8-liter turbocharged 4-cylinder engine. Later came a GLS V6 and a top-line GLX sedan, powered by Audi's 2.8-liter V6 engine. Wagons came only with the 4-cylinder this year. A 5-speed manual transmission was standard on GLS models. Optional on the GLS and standard on GLX was a Porsche-designed 5-speed Tiptronic automatic transmission, with manual-shift mode. Antilock braking, seat-mounted front side airbags, and low-speed traction control were standard in all Passats. The GLX added leather upholstery, a Monsoon sound system, and (on sedans) a rear-window sunshade. Rivals included the Ford Contour, Mazda 626, and Subaru Legacy.
Yearly Updates
1999 Passat
Volkswagen planned an all-wheel-drive system and a V6 engine for the wagon, but both changes were delayed.
2000 Passat
Base-model GLS Passats gained standard heated front seats and windshield-washer nozzles (which previously were optional). A wood gearshift knob went into the GLX, and all models added an antitheft-coded ignition key and a brake-wear indicator. Dealers could install a dashboard CD player. During 2000, Volkswagen's 4Motion all-wheel-drive system became available.
2001 Passat
No significant changes were made for 2001. Significant changes were made midyear to a "2001.5" model (see below).
2001.5 Passat
The 2001.5 sedans and wagons added a new nose with chrome accents, transparent taillamp elements, chassis revisions, and altered gauge appearance. Base GLS models had a 1.8-liter turbo 4-cyl, now with 170 hp, up 20.
2002 Passat
The W8 sedan and wagon, named for their innovative 270-hp 8-cyl engine made up of two V4 modules, were new for 2002. A 5-speed automatic transmission with manual shift gate replaced the 5-speed manual. Introduced later in the year was a W8 Sport Package with a 6-speed manual, plus firmer suspension and 17-inch tires instead of 16s. VW's bumper-to-bumper warranty increased to 4 years/50,000 mi. from 2/24,000, with powertrains covered for 5/60,000 instead of 10/100,000.
2003 Passat
A base GL model was added and a 6-speed manual transmission became available on the W8.
2004 Passat
VW made AWD available on more models and added a diesel engine to the lineup for 2004.
2005 Passat
Passat sheds its unpopular W8 models, but makes few other changes for this final year of its current design. For '05, GL models are available only with the turbodiesel engine. Also for 2005, GLS models exchange 15-inch alloy wheels for standard 16s, while GLX models swap 16s for standard 17-inch alloy wheels. The discontinued W8 had a 270-hp 8-cyl engine. VW says redesigned 2006 Passats begin sale in late 2005.