Midsize car; Built in South Korea
transverse front-engine/front-wheel drive
Good condition price range: $1,000 – $2,600*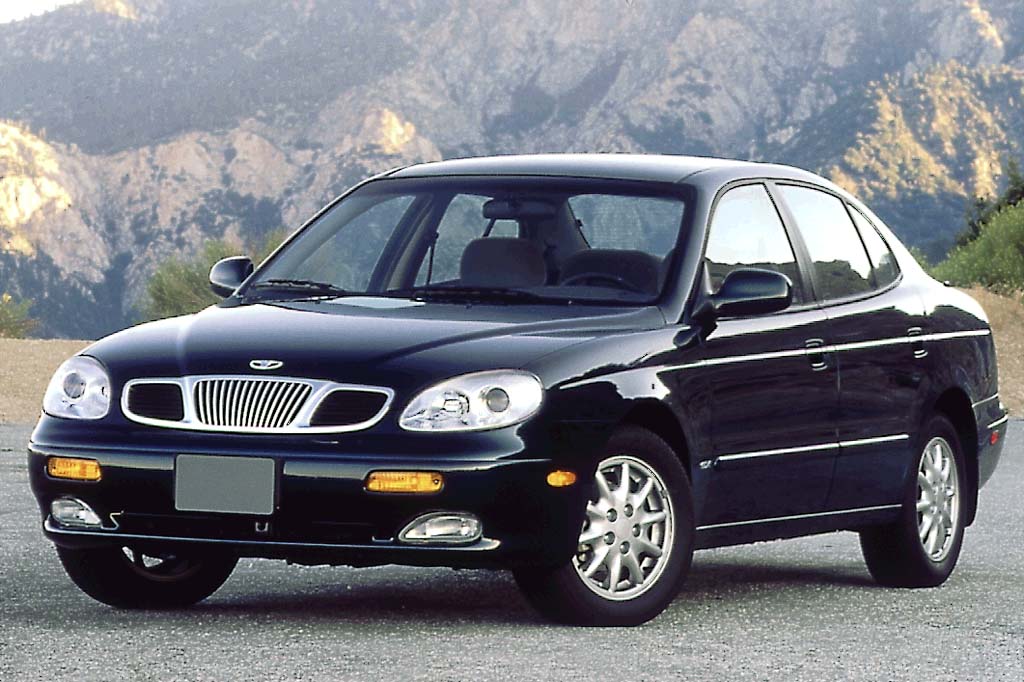 2000 Daewoo Leganza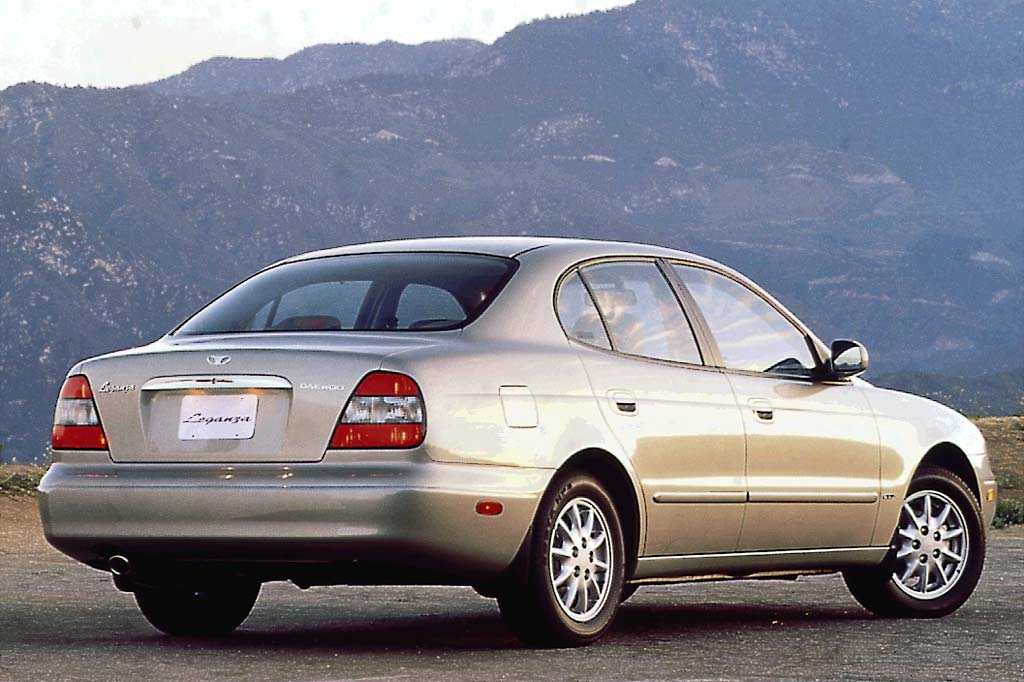 2000 Daewoo Leganza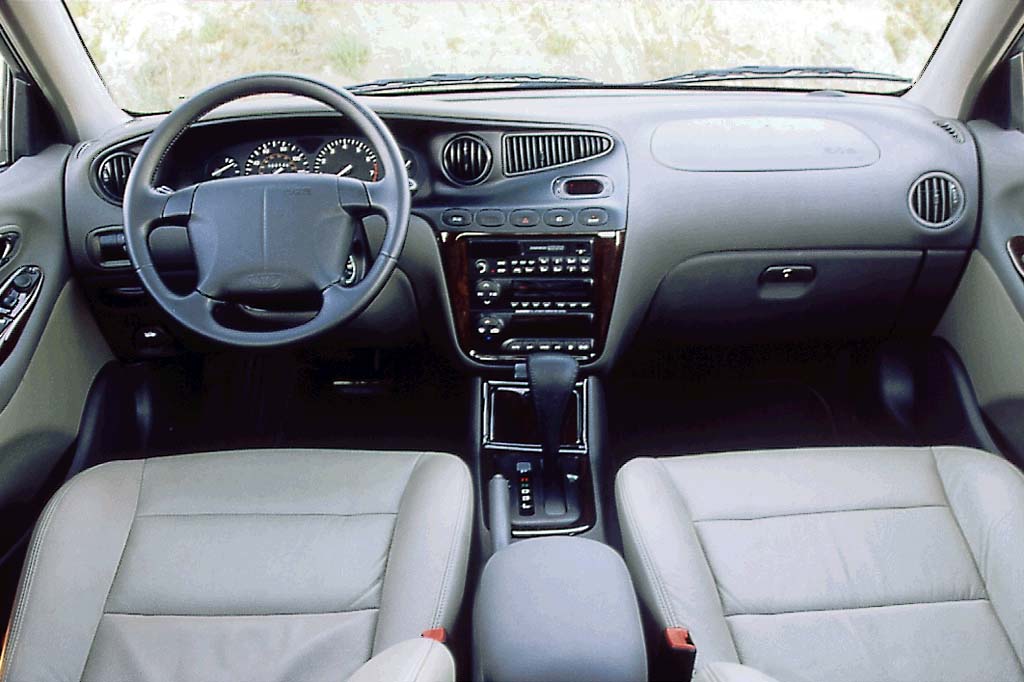 2000 Daewoo Leganza interior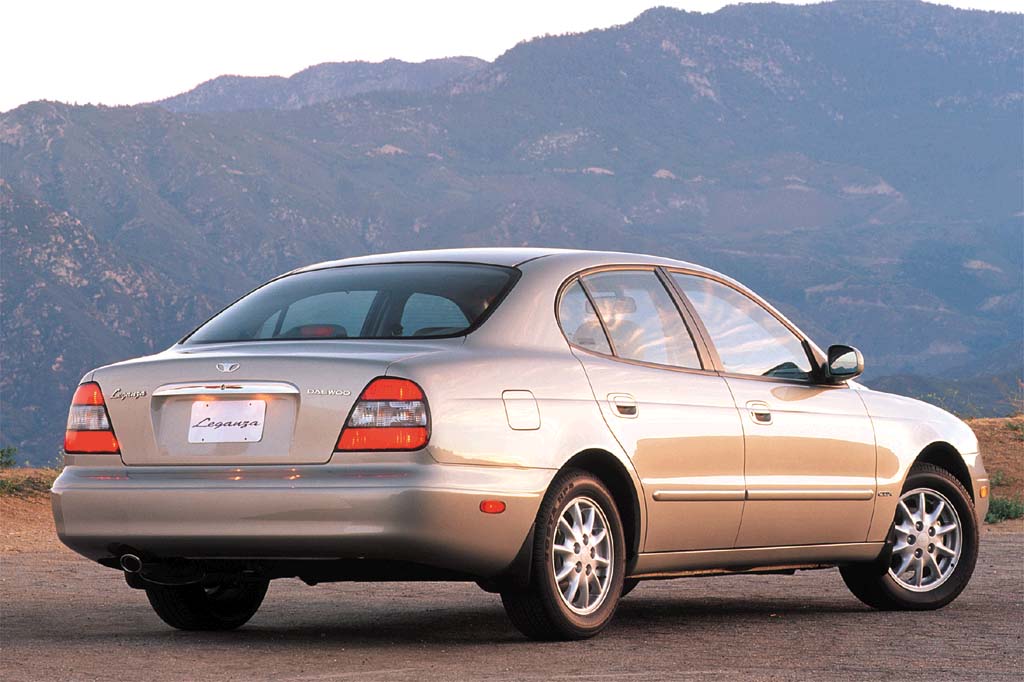 2001 Daewoo Leganza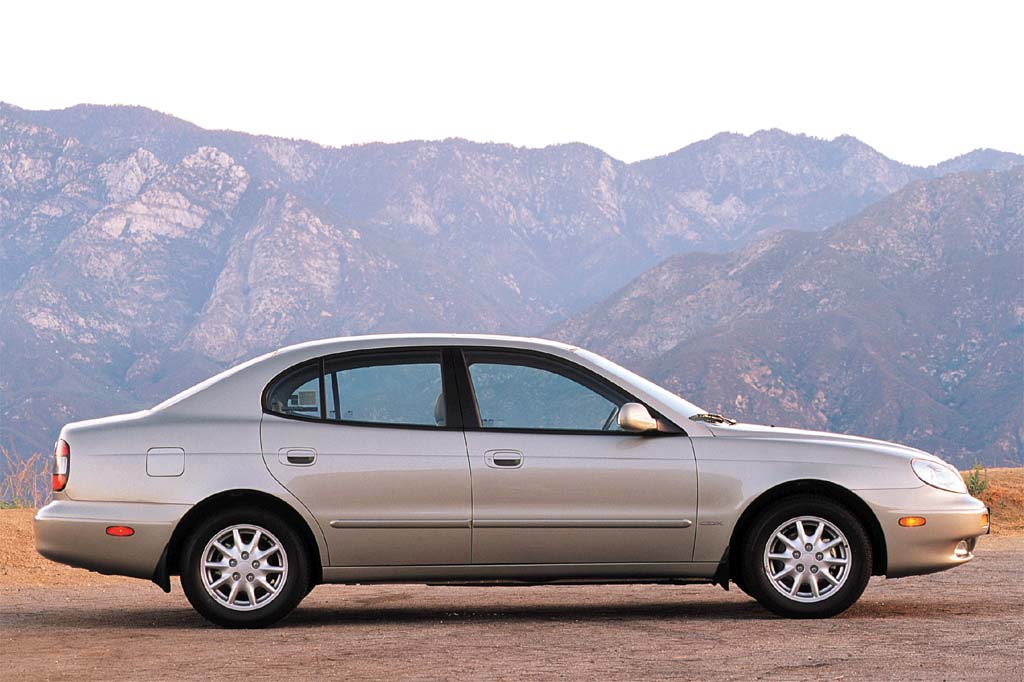 2001 Daewoo Leganza
Pros:
Cons:

Acceleration (w/automatic transmission)
Automatic-transmission performance
Low resale value might make the Leganza tempting on a strictly dollar basis, but one of the reasons for rapid depreciation has been the unstable state of the company. Even before the financial concerns mounted, Daewoo ranked as a "dark horse," with no track record in the U.S. for quality and service. Kia and Hyundai competitors, also from South Korea, have come with much longer and more comprehensive warranties, as well as better reputations. As of mid-2002, the future is uncertain both for Daewoo dealers and all the car owners in the U.S.
Overview
Largest and most costly of the three Daewoo models that entered the U.S. market in 1999, the Leganza was priced and sized as a front-drive compact sedan, but billed as a "luxury midsize" model. Leganza served as the "flagship" for the South Korean automaker's foray into the U.S. sales race. Rivals included the Mazda 626, Mitsubishi Galant, Nissan Altima, Subaru Outback/Legacy, Ford Contour, and perhaps the Volkswagen Passat.
SE, SX, and top-of-the-line CDX editions all had standard all-disc antilock braking, air conditioning, a cassette stereo system, heated power mirrors, and other features that would ordinarily be optional on cars in this league. A Daewoo-built 2.2-liter four-cylinder engine powered all Leganza models, SE models came with a standard five-speed manual transmission or optional four-speed automatic. The automatic unit was standard in SX and CDX sedans.
Standard equipment included a tilt steering wheel, split folding rear seat, power locks and windows, remote keyless entry, a theft-deterrent system, rear defogger, and foglights. Tires were 205/60R15 size, and a full-size spare was included. The SX sedan added variable-assist power steering, cruise control, leather upholstery, a six-way power driver's seat, and cassette/CD player. Topping the line, the CDX sedan had automatic climate control, a power sunroof, alloy wheels, and traction control.
Daewoo was the third South Korean company to market passenger cars in the U.S., following the lead of Hyundai and Kia. Initially, Daewoo recruited teams of students to promote the car on college campuses. Before long, though, conventional dealerships began to spring up around the country. Buyers got a roadside assistance program as part of the purchase.
Yearly Updates
2000 Leganza
Little was new in the Leganza's second year on the U.S. market. On the plus side, more Daewoo dealerships were appearing. At the same time, the South Korean company was facing serious financial troubles, prompting consideration of a possible takeover by one of the Big Three automakers.
2001 Leganza
Changes were few for what Daewoo called its "affordable luxury" compact sedan. Antilock braking remained standard in the midrange SX and top-of-the-line CDX, but was unavailable for the SE sedan. Higher-powered audio systems were installed this year. A new upgrade package for the SE included a CD/cassette stereo, remote keyless entry/alarm system, cruise control, and foglamps.
Although the increasingly embattled Daewoo company continued to send cars to the U.S. market, financial woes were mounting rapidly back home in South Korea. Prospective purchasers emerged, then backed away, and Daewoo's fate was increasingly uncertain.
2002 Leganza
Leganza sedans lost some standard equipment for 2002. The midrange SX edition was gone, leaving only the base SE and upscale CDX. The CDX price was cut by $600, but it lost traction control, antilock braking, leather upholstery, and the sunroof–though all of those items remained optional. Automatic climate control no longer was available.
In spring 2002, General Motors bought a sizable share of the assets of the Daewoo organization–but not its sales arm in the U.S. That move left dealers hanging, selling only leftover cars, and owners unsure how their vehicles would be repaired under warranty.