Minivan; Built in Canada
transverse front-engine/front-wheel drive
Good condition price range: $1,700 – $5,000*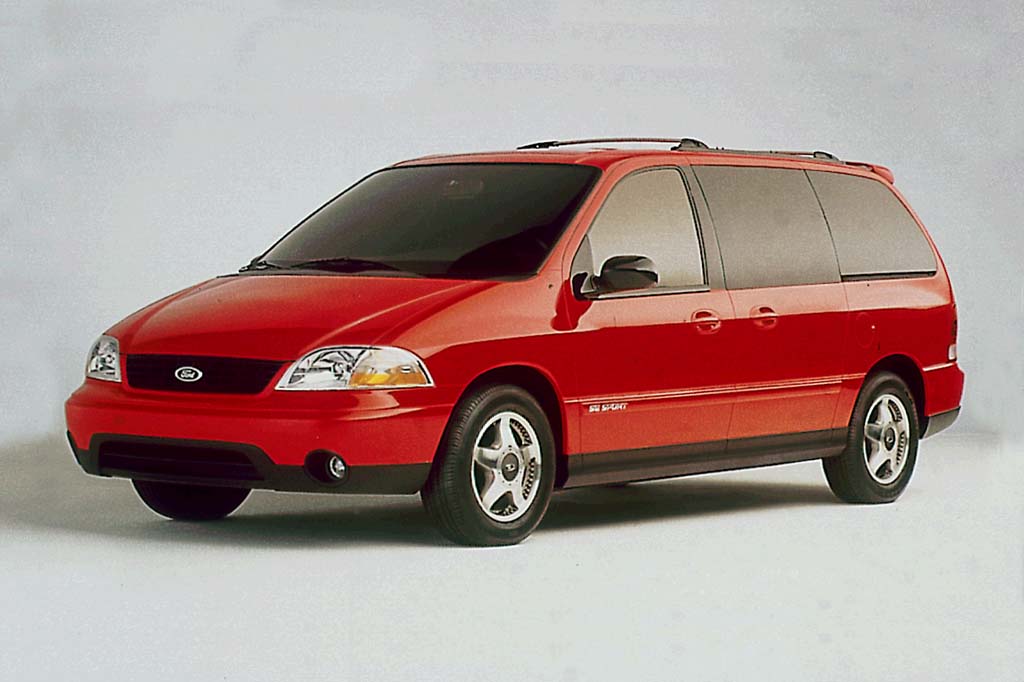 2001 Ford Windstar SE Sport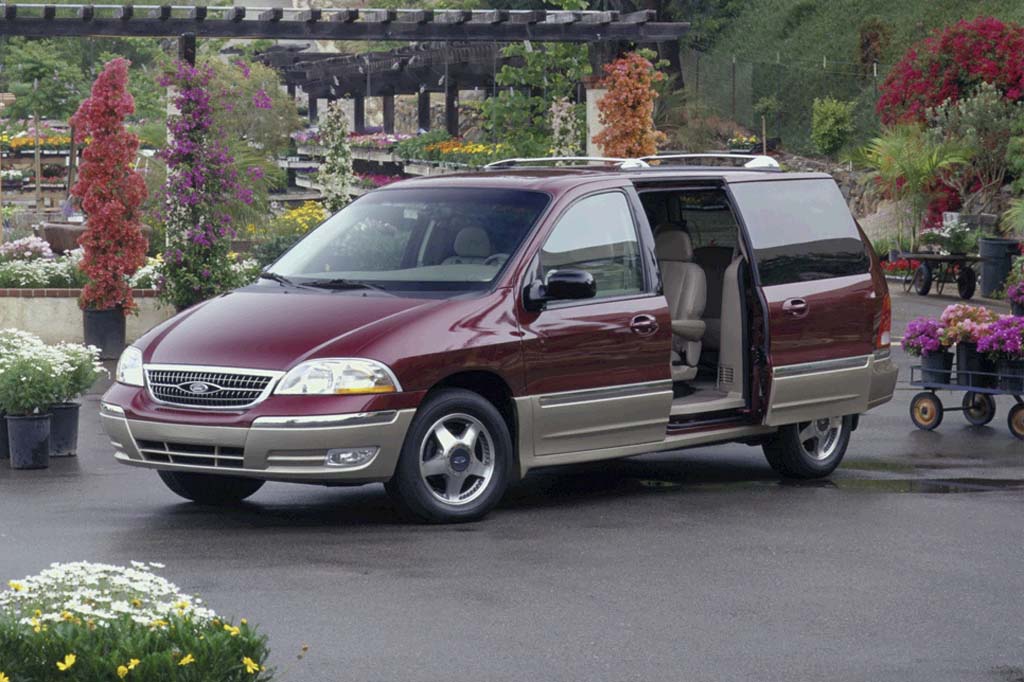 2000 Ford Windstar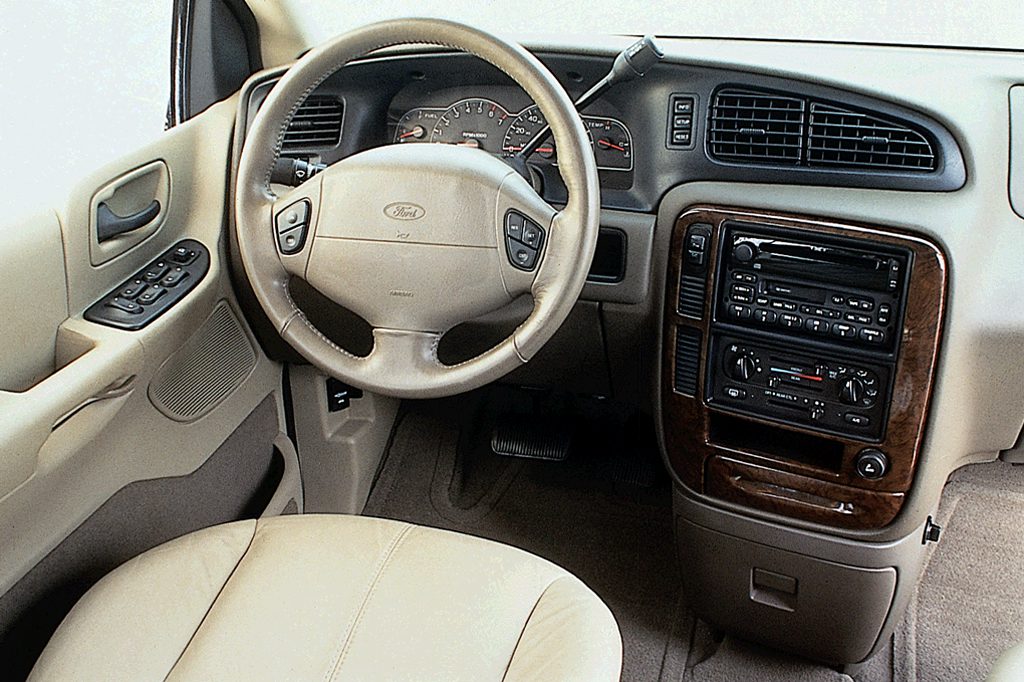 1999 Ford Windstar interior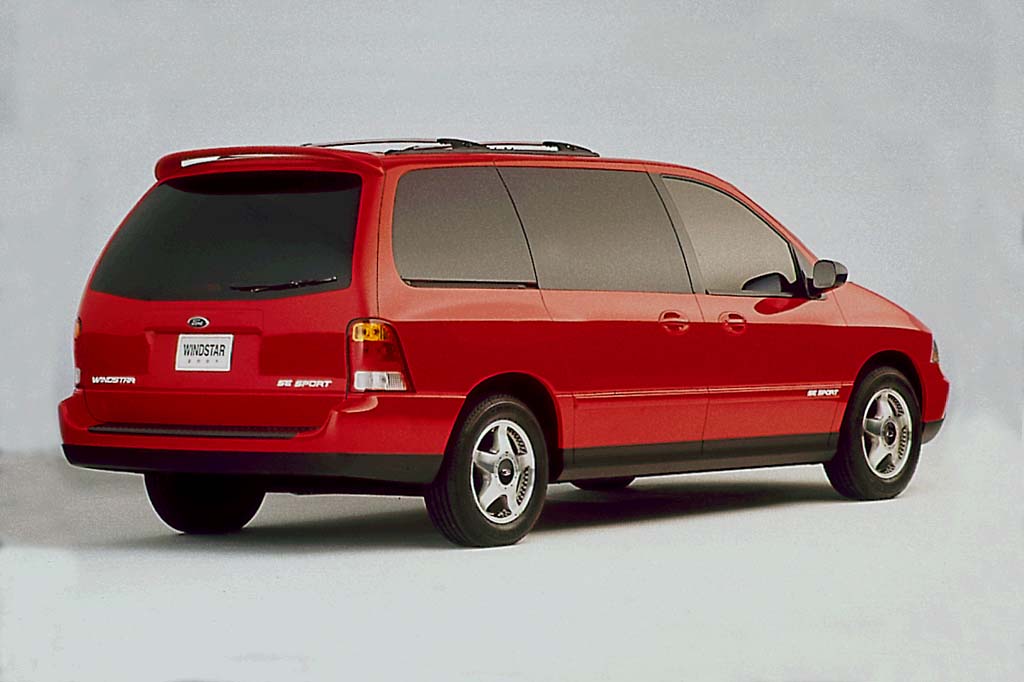 2001 Ford Windstar SE Sport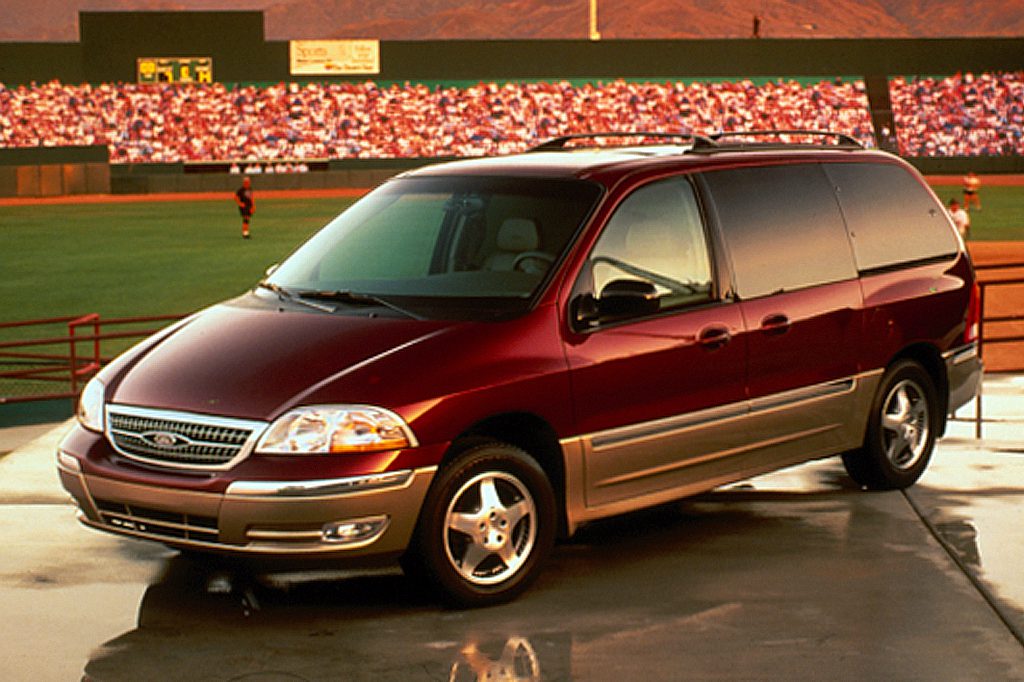 1999 Ford Windstar SEL
Chrysler, Honda, and Toyota minivans have been ranked Best Buys, but the solid, easy-driving Windstar also is a fine choice, boasting some significant new safety and convenience features.
Overview
Dual sliding doors as well as some minivan "firsts" were part of a comprehensive 1999 makeover for the Ford Windstar. Wheelbase was unchanged, but interior dimensions grew slightly and styling was fresh. Windstars came in a single body length with a standard right-side sliding door. All Windstars had a V6 engine and 4-speed automatic transmission. The Cargo and base 3.0L passenger models used a 3.0-liter V6. LX, SE and luxury SEL editions got a 3.8-liter engine. A left-side sliding door was standard on SE and SEL minivans, optional on the others. Power operation for both sliding doors was standard on the SEL and optional for the SE. All except the 3.0L could have a power-operated right-hand sliding door. Front seat-mounted side airbags were optional, designed to protect both the head and chest in a side impact. Antilock brakes were standard, though rear brakes were now drums rather than discs. Traction control was an option. Windstars seated up to seven, in a 2-2-3 format. Base and LX models had a middle bench that could be positioned to either the left or the right side of the vehicle, while SE and SEL models came with second-row bucket seats. The 3-passenger third-row bench got built-in rollers to ease removal/installation. Another minivan "first" was the Reverse Sensing System option for 4-door models. It sounded a warning if the vehicle came within six feet of an obstacle, while backing up.
Yearly Updates
2000 Windstar
Adjustable gas and brake pedals became optional for 2000 for LX, SE, and SEL models. Also newly optional on models with second-row bucket seats was a rear-seat video entertainment system, including a VCR and flip-down 6.4-inch LCD screen. Seatback grocery hooks were added to the rear bench this year. Base and LX models had a standard 3.0-liter V6 this year, with the option of a 3.8-liter. A top-of-the-line Limited minivan joined the lineup during the model year.
2001 Windstar
New safety features included an antiskid system–a minivan "first." Available later in the model year, it applied a rear brake and reduced engine power to enhance control in turns. A low-tire-pressure warning system was now standard in passenger models.
New sensors deployed the dashboard airbags according to crash severity and the positions of front occupants. A strobe light in the driver's outside mirror now warned approaching traffic that the left-side sliding door was open.
The base 3.0-liter V6 was gone, making the 3.8-liter standard for all models. Both the nose and tail were slightly restyled this season. The 2001 lineup consisted of LX, SE, SE Sport, SEL, and Limited minivans, the latter fitted with a wood/leather steering wheel. SE, SE Sport, SEL, and Limited models had 16-inch tires. A new model this year, the SE Sport featured a black grille.
Dual sliding side doors were standard, except on the base LX. Head/chest side airbags were standard in the Limited, optional in other Windstars. A center console now was included with the available second-row bucket seats. The available back-seat video entertainment system now included a removable VCR.
2002 Windstar
Former option packages became separate trim levels on the 2002 Windstar. SE, SEL, and Limited models returned, while LX models offered new Base, Standard, and Deluxe versions. Dual sliding doors were now standard.
2003 Windstar
An available anti-skid system was added as an option midyear. Windstar was replaced in 2004 by the Freestar.