Compact car; Built in Japan
transverse front-engine/front-wheel drive
Good condition price range: $1,800 – $5,900*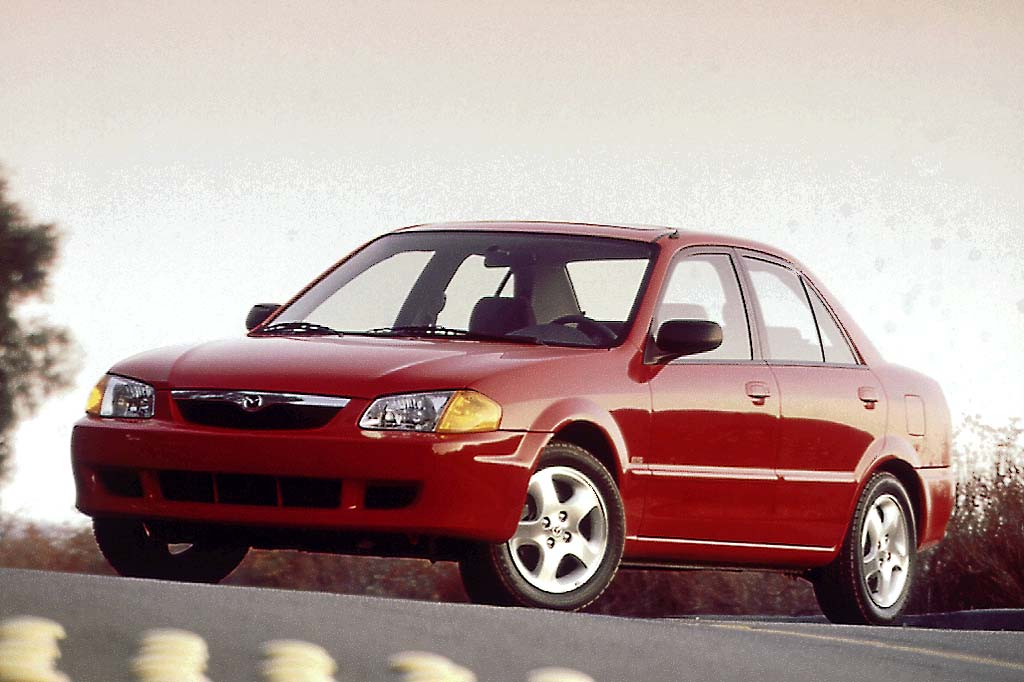 2000 Mazda Protege ES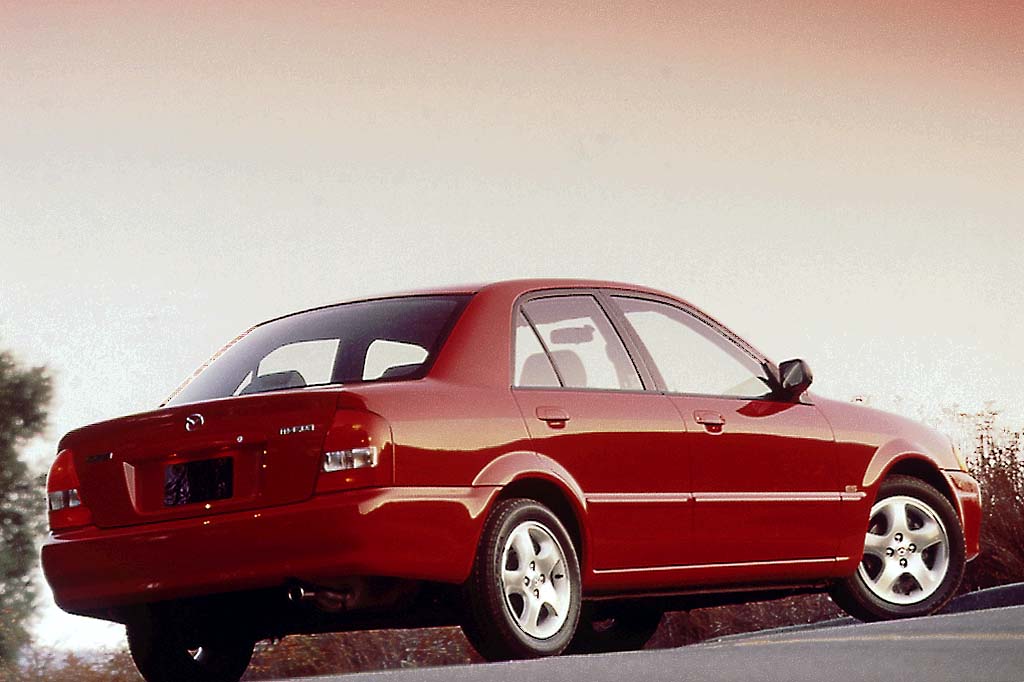 2000 Mazda Protege ES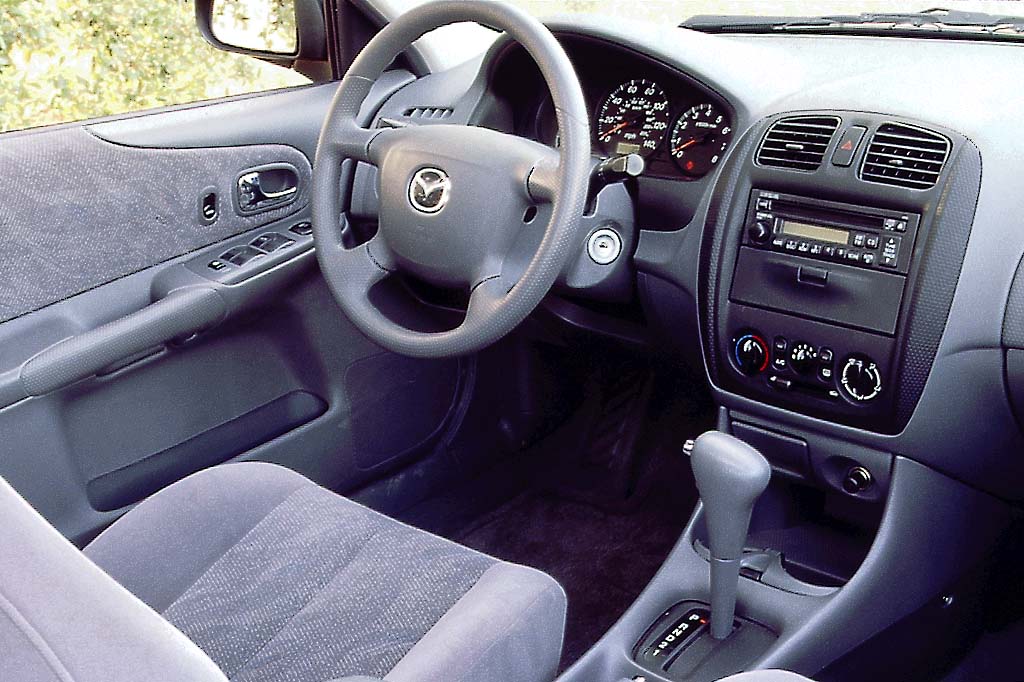 2000 Mazda Protege interior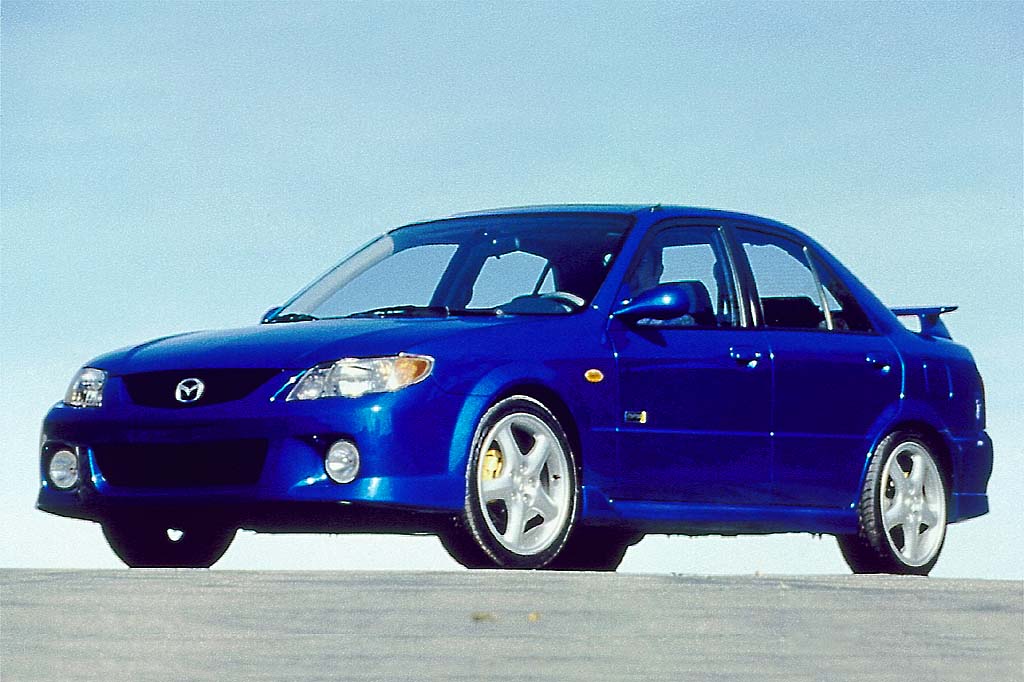 2001 Mazda Protege MP3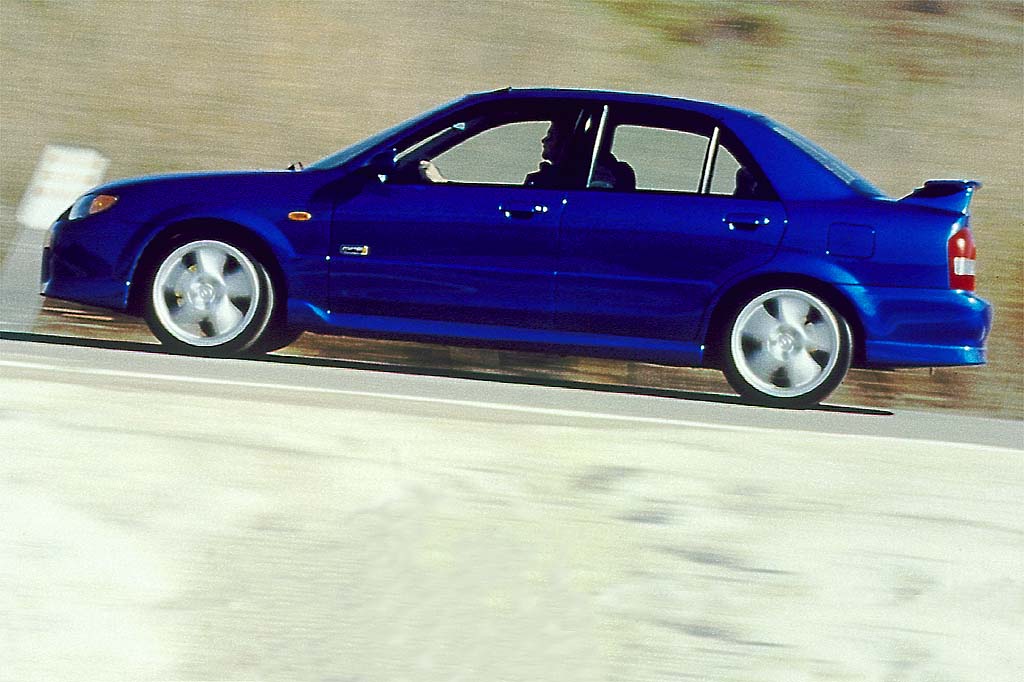 2001 Mazda Protege MP3
| | |
| --- | --- |
| Pros: | |
| Cons: | Acceleration (w/automatic transmission) |
Proteges often are overlooked by subcompact buyers. Too bad, because their roominess and driving pleasure equal–and even exceed–a Civic, Corolla, or Chevrolet Prizm. DX sedans, in particular, are a cut above most base-model subcompacts, with rich-looking plastic surfaces and appealing fabrics inside. Limited-edition MazdaSpeed models sell for considerably more than other models and really appeal only to enthusiasts.
Overview
Mazda redesigned its front-drive subcompact sedan for 1999, with "European-inspired styling." Considered all-new, the "entry-level" 4-door also got more power, but interior and exterior dimensions changed only slightly.
Three versions again went on sale: base DX, well-equipped LX, and sporty ES. DX and LX models got a new 1.6-liter 4-cylinder engine, rated at 105 horsepower (13 more than the prior 1.5-liter). A new 1.8-liter 4-cylinder, developing 122 horsepower, went into the ES sedan. A 5-speed manual transmission was standard with both engines, with 4-speed automatic optional. Antilock braking was optional for the LX and ES, but side-impact airbags were not available. The ES sedan now had rear drum brakes, though all-disc braking had previously been installed.
Yearly Updates
2000 Protege
Front side airbags became available this year, as part of a Premium Package for the LX and ES. Interiors added some chrome trim, but other changes were minimal.
2001 Protege
Proteges earned a front-end facelift for 2001, along with available 4-wheel disc brakes. A 130-horsepower 2.0-liter 4-cylinder engine became available, too. Otherwise, the Protege was essentially a carryover. During the 2001 model year, Mazda launched a special MP3 edition of the Protege. Not only did it feature a Kenwood MP3-capable audio system, but it included a higher-output (140-horsepower) engine and a host of performance components from racing suppliers. The extras included low-profile tires on 17-inch Racing Hart wheels, a large front air dam with integrated driving lights, side sill extension, and a big rear spoiler. Only about 1500 were built, painted either Laser Blue or Vivid Yellow.
2002 Protege
A wagon called the Protege5 joined the lineup in 2002. It used the standard 4-cyl engine and an optional automatic transmission with manual-shift feature.
2003 Protege
The MP3 version was dropped, but added was the MazdaSpeed Protege sedan with a 170-hp turbocharged 4-cyl engine. MazdaSpeed sedans had a special sport suspension with 17-inch wheels, standard ABS, and unique exterior and interior trim. A "2003.5" version of the MazdaSpeed sedan appeared midyear with slightly altered exterior appearance, including dark silver wheels. ES and Protege5 get new alloy wheels and silver gauge faces for '03.