Large pickup truck; Built in Canada
ext. cab long bed
ext. cab short bed
reg. cab long bed
reg. cab short bed
longitudinal front-engine/rear- or 4-wheel drive
Good condition price range: $3,000 – $23,000*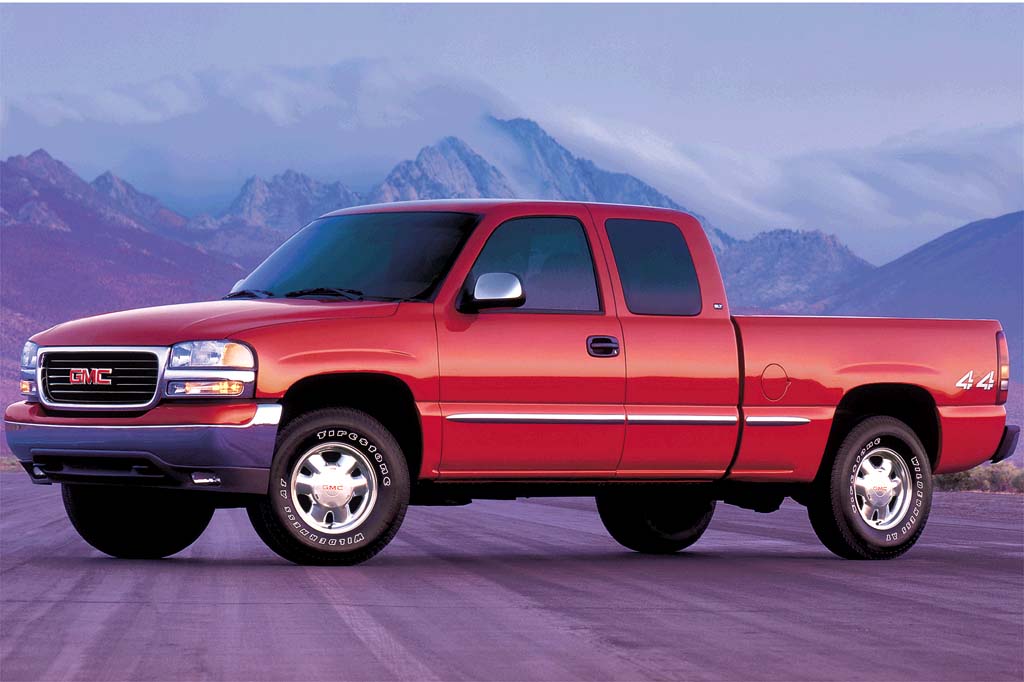 2001 GMC Sierra 1500 SLT extended cab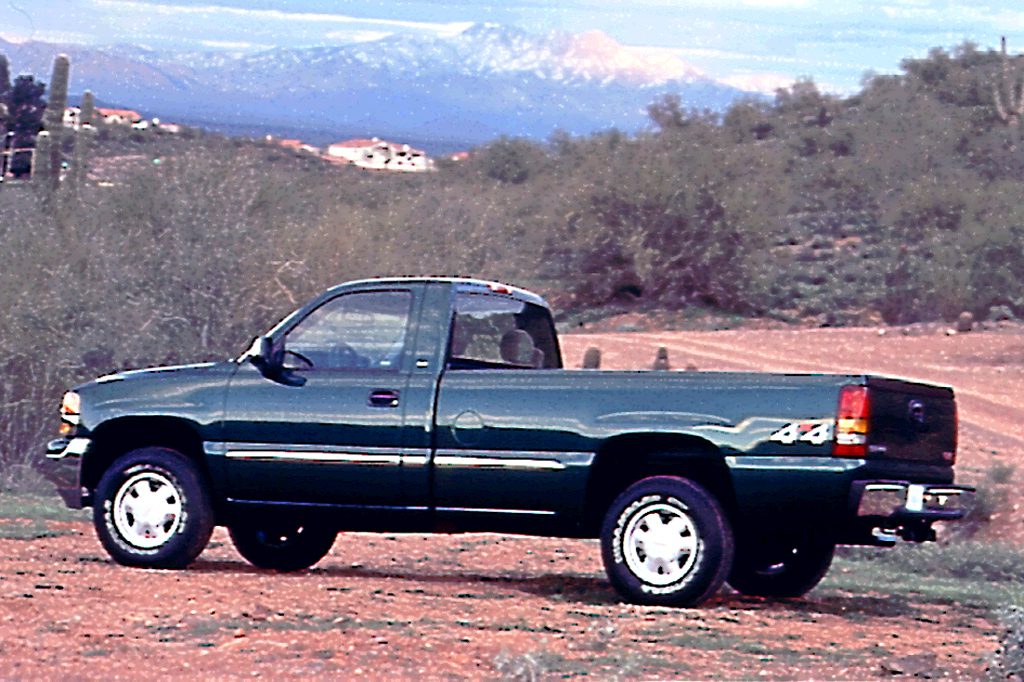 1999 GMC Sierra 1500 regular cab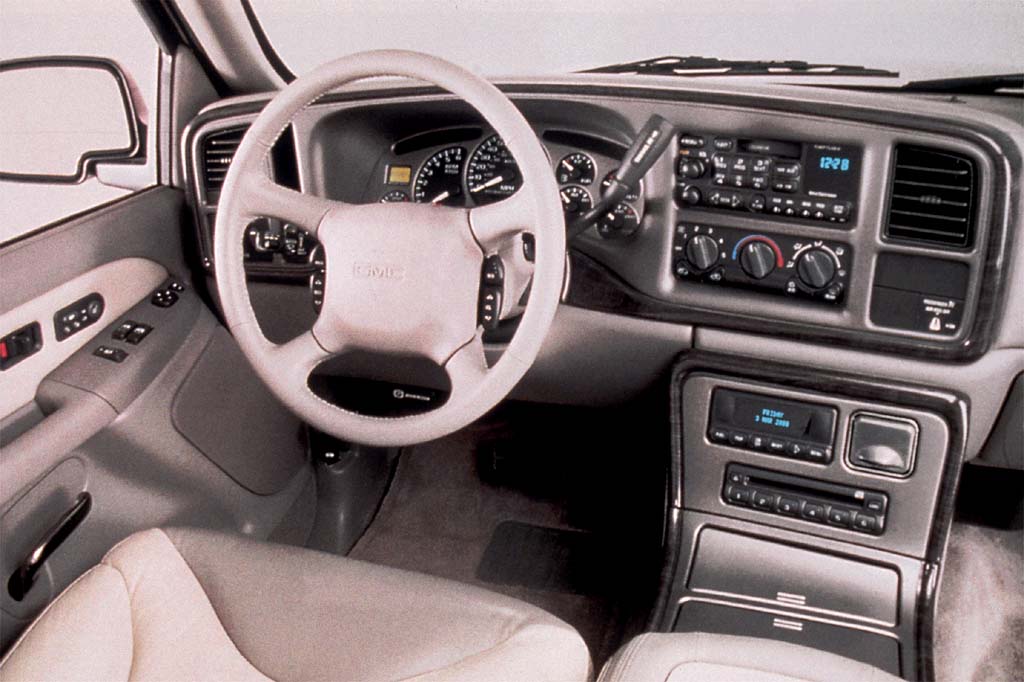 G2001 MC Sierra 1500 C3 interior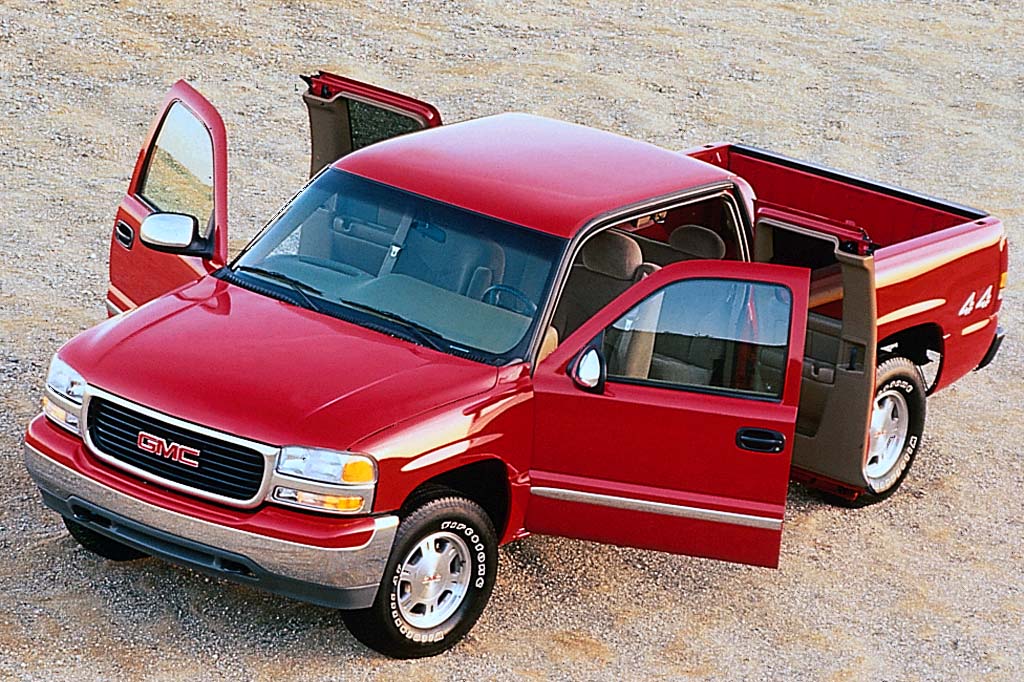 2000 GMC Sierra 1500 extended cab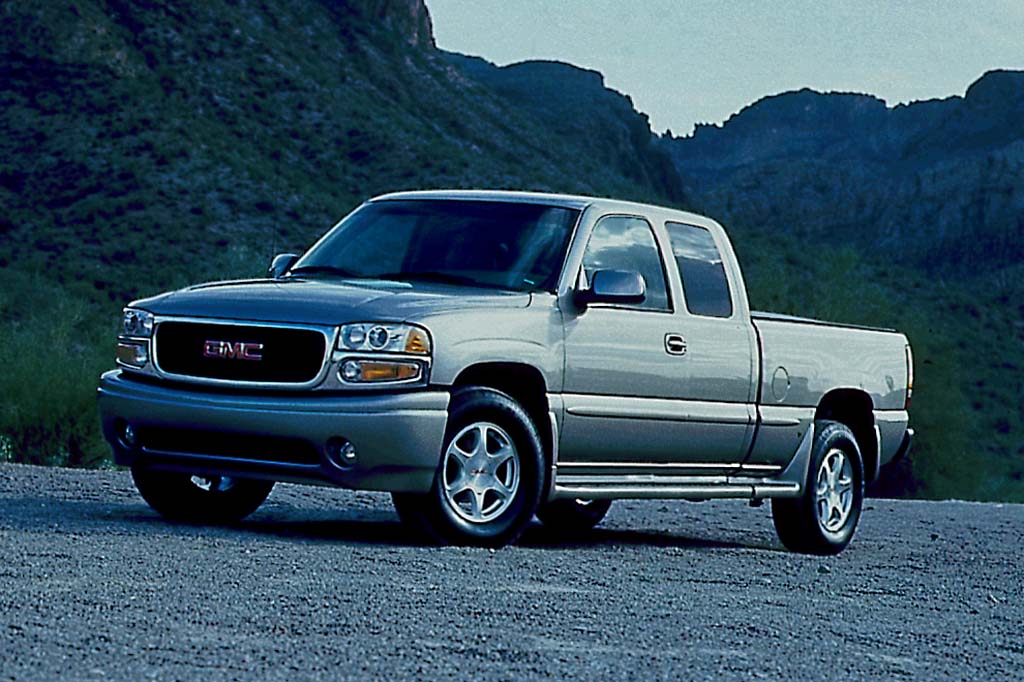 2001 GMC Sierra C-Series extended cab
Pros:

Acceleration (V8)
Instruments/controls

Cons:
General Motors refined its big pickups capably, while introducing plenty of worthy improvements. No extended-cabs are more comfortable. Both makes deliver high value for performance, comfort, and design, and beat Ford in 4WD convenience. GMC models tend to cost just a tad more then Silverados. Few C3 models are likely to be found, and they'll be expensive.
Overview
Both GMC and Chevrolet redesigned their full-size pickups for 1999. Sierras came in half-ton 1500 (listed here) and light-duty 3/4-ton 2500 form. GMC dealers also kept selling pickups from the old design, right alongside the new ones. GMC models now had their own front-end sheetmetal. Wheelbases increased by 1.5 inches for regular-cab models, and 2 inches for extended-cabs. Body lengths grew by about 9 inches. A right-side third door, which opened only after the front door was unlatched, was standard on extended-cab pickups. Both body styles came with a 6.5- or 8.1-foot Wideside cargo bed, or a 6.5-foot flare-fender Sportside box. Antilock braking again was standard, but 4-wheel disc brakes were new. Also new was an adjustable ride control option that allowed the driver to switch between two levels of shock-absorber firmness.
A 4.3-liter V6 again served as base engine, but 4.8- and 5.3-liter V8s replaced the previous 5.0- and 5.7-liter engines, offering 25 and 15 more horsepower, respectively. Manual and 4-speed automatic transmissions were available. The automatic gained a Tow/Haul mode, which reduced the amount of shifting under heavy loads. New optional Autotrac 4-wheel drive could be left engaged on dry pavement, automatically engaging the front axle when rear-wheel slippage was detected. It could also be locked in 4WD High or Low range.
Yearly Updates
2000 Sierra
A new 4-door extended-cab body replaced the 3-door setup after the 2000 model year began. Both rear doors were hinged at the back, and could not be opened or closed independently of the front doors.
Sierras came in SL, SLE, and top-of-the-line SLT trim. Heavy-duty models based on the previous design remained on sale, named the Sierra Classic.
Both V8 engines gained 15 horsepower this year, and peak towing capacity (when properly equipped) grew by 700 to 11,200 pounds. A factory-installed tonneau cover was newly optional for Wideside cargo beds.
2001 Sierra
Traction control became an option for 2WD Sierras with an automatic transmission. Early in 2001, a new Crew Cab body style arrived, with four front-opening side doors, matching the similar body offered by Ford.
GMC added a new performance-oriented C3 model to its lineup, equipped with a 6.0-liter V8 that delivered 325 horsepower. Chevrolet did not get a comparable model for its Silverado series. The C3 had unique front-end styling and exterior trim, as well as a sport suspension with 17-inch tires, bigger brakes, a heavy-duty towing package, tubular side steps, and extra amenities including a leather interior. GM's OnStar emergency/communications system was standard on the C3, and optional on SLT pickups. The C3 had a new permanently engaged 4WD system, which lacked low-range gearing.
2002 Sierra
In 2002, Sierra Denali introduced GM's Quadrasteer 4-wheel steering system, which was designed to decrease the turning radius at low speed and to aid stability at higher speeds. The Quadrasteer option at midyear was extended to Silverado as well as to mainline extended-cab 2WD and 4WD Sierras; it included a special 6.5-ft box with flared fenders.
Also new for Sierra was a Professional Package option that included exclusive interior storage features, such as a refrigerated console compartment and room for hanging files, plus specific exterior trim.
2003 Sierra
All models got minor exterior styling changes and revamped dashboard and seats. Among new options were premium Bose audio and XM satellite radio. Rear-seat DVD entertainment is a new Crew Cab option.
2004 Sierra
A new light-duty crew cab was added midyear, which has a shorter bed than the previous 1500 Heavy Duty Crew Cab. Also, base models got standard chrome exterior trim and cruise control in 2004 and SLEs got standard fog lamps.
2005 Sierra
A new flagship body style, more available V8 power, and limited-edition gas-electric hybrid version highlight 2005 for Sierra. For '05, Denali is a Crew Cab instead of an extended cab. Joining the 295-hp 5.3 for '05 is a high-output version with 310 hp; it's available for short-bed 4WD extendeds. Denali uses a 6.0 with 345 hp, a 20 hp increase from 2004. Midyear, a Performance Edition package became available for short-bed 2WD LS/LT extended-cab models. The option includes the Heavy-Duty Trailering package, the Denali 6.0 V8, and 20-inch wheels and tires.
2006 Sierra
No major changes for the 2006 Sierra.