Midsize car; Built in USA
4-door sedan
4-door sedan
4-door wagon
4-door wagon
transverse front-engine/all-wheel drive
Good condition price range: $2,100 – $8,500*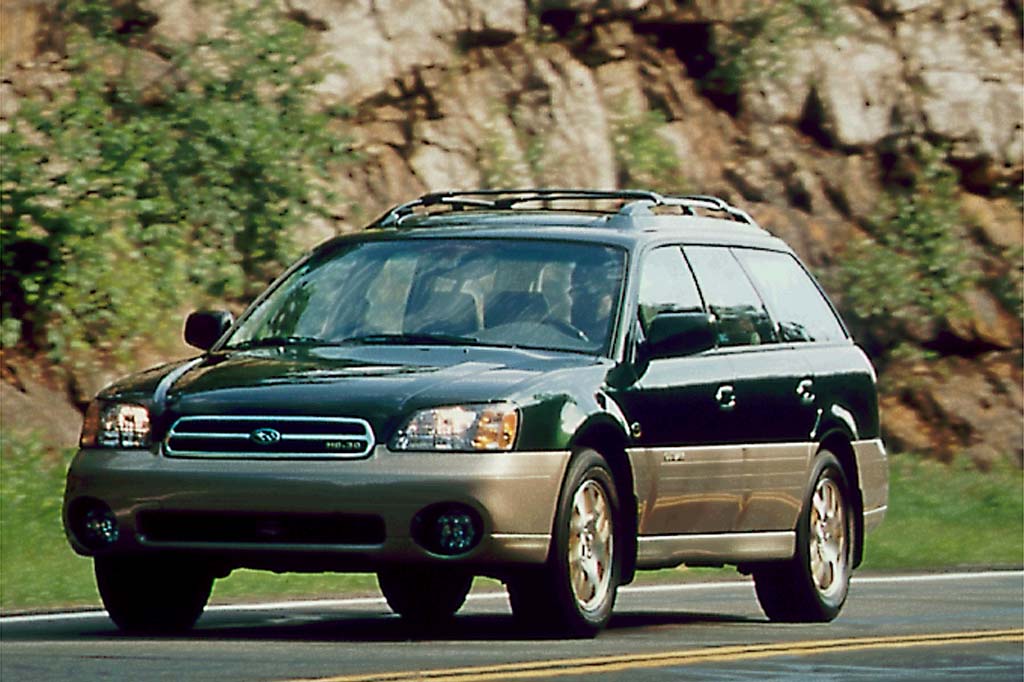 2001 Subaru Outback LL Bean Edition 4-door wagon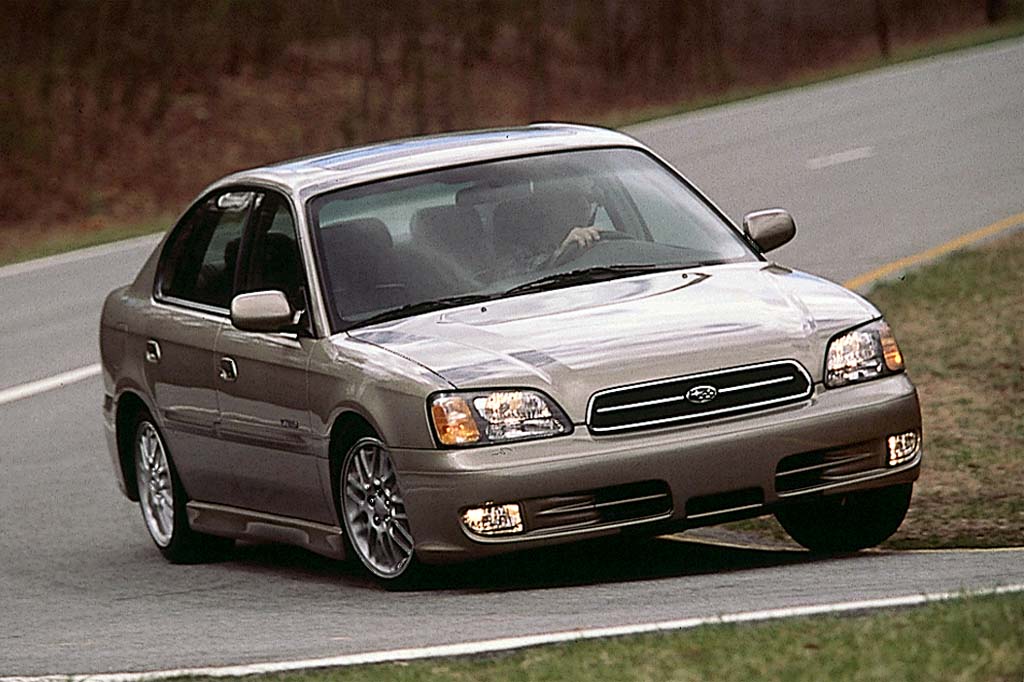 2000 Subaru Legacy GT 4-door sedan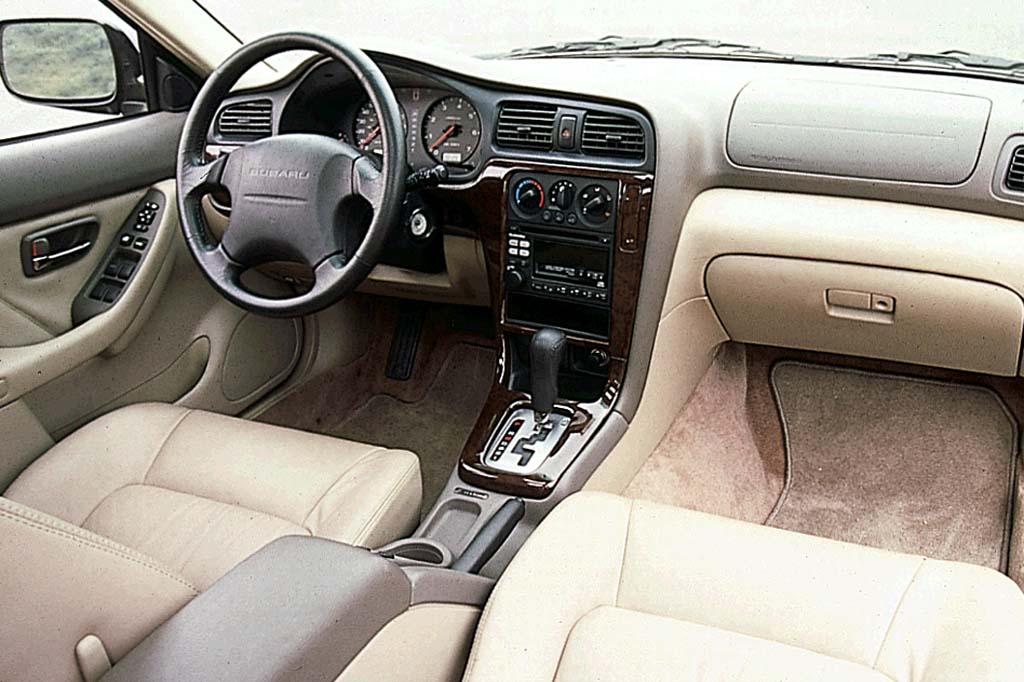 2000 Subaru Legacy interior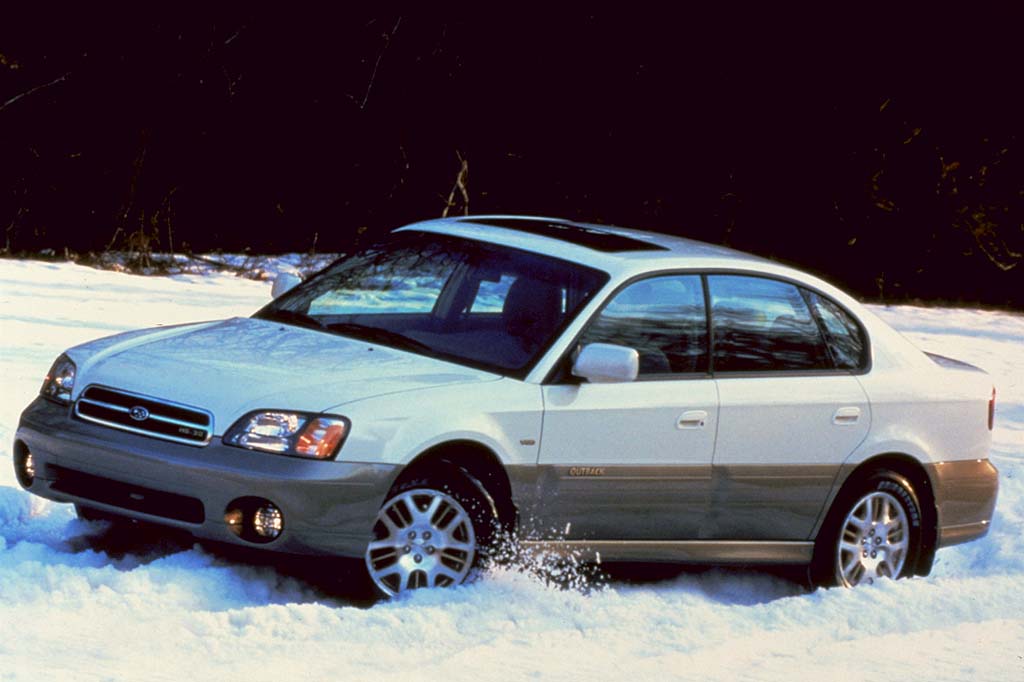 2002 Subaru Outback 4-door sedan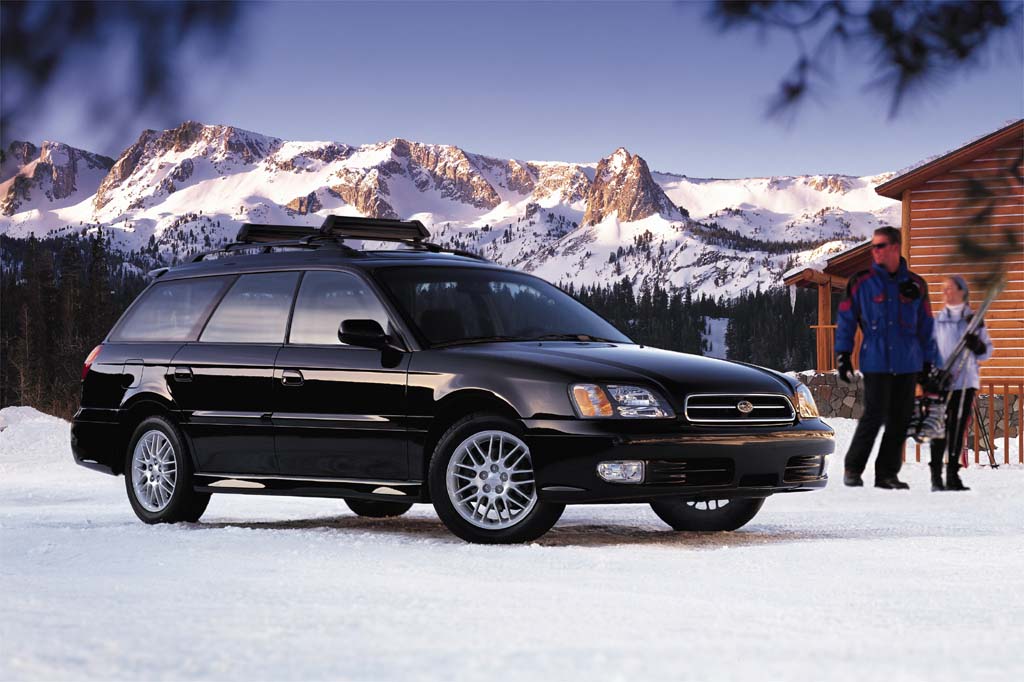 2002 Subaru Legacy GT 4-door wagon
Pros:

All-wheel drive
Cargo room (wagon)

Cons:

Automatic-transmission performance
Seat comfort (Legacy)
Considerably better than its predecessor, the Legacy isn't an attractive value apart from its AWD system. A six-cylinder Outback wagon stands out for SUV looks and all-wheel-drive traction, without the thirst and clumsiness of a truck-based vehicle.
Overview
Subaru's largest all-wheel-drive sedans and wagons were redesigned for 2000. New styling added six inches to length and one inch to width, on a wheelbase about an inch longer than before.
SUV-flavored Outback wagons, which had accounted for 65 percent of recent sales, became a separate model line, but shared the basic Legacy design. Those wagons featured a raised roofline. Outback sedans also were offered. Both Outback models had an elevated suspension that provided 7.3 inches of ground clearance–an inch more than the Legacy.
Legacy sedans came in L, GT, and GT Limited form. Wagons were offered in Brighton, L, and GT trim. Outback wagons came in base and Limited form, while only an Outback Limited sedan was available.
All models retained Subaru's 2.5-liter horizontally opposed four-cylinder engine, which switched from dual-overhead cams to the less-costly single-cam format and received various internal modifications to produce more torque at lower engine speed. Horsepower was unchanged at 165.
A five-speed manual gearbox was standard, with a four-speed automatic transmission optional. Outback sedans came only with automatic. Legacy GT models got a limited-slip rear differential to enhance traction in very slippery conditions.
Front seatbelt pretensioners and antilock braking were standard. Side-impact airbags were standard in the GT Limited sedan and Outback Limited, but not available in other models.
Rivals to the compact Legacy included the Mazda 626, Mitsubishi Galant, and Volkswagen Passat. Outback went against the Audi A4, Saturn L-Series, and Volkswagen Passat.
Yearly Updates
2001 Legacy/Outback
Budget-priced Legacy models disappeared, but the remaining versions gained some standard equipment, including an outside-temperature gauge, variable-assist power steering, and automatic-off headlights. The Brighton wagon was gone, leaving L and GT sedans and wagons, and a GT Limited sedan. A new Outback VDC (Vehicle Dynamics Control) wagon and an L.L. Bean Edition both used a 3.0-liter horizontally opposed six-cylinder engine with an automatic transmission. The VDC wagon had Subaru's first antiskid system, plus Variable Torque Distribution four-wheel drive.
2002 Legacy/Outback
New H6 and VDC Outback sedans debuted this year, joining the six-cylinder Outback wagons. An All-weather Package with heated front seats and mirrors now was standard on Legacy GT models.
2003 Legacy/Outback/Baja
Joining Outback and Legacy sedans and wagons was the Baja, basically an Outback wagon with an open rear cargo bed. Baja was 6 inches longer overall than the Outback wagon, seated four instead of five, and came with 2-tone leather upholstery. Added midyear was a Baja Sport with cloth upholstery. The wall separating cargo bed from cabin has a panel that folds to create a pass-through beneath the fixed rear window. Roof lights and a bed-extender cage were options. All Legacys and Outbacks got revisions to suspension and front styling, and OnStar assistance is newly standard for H6 sedan, L.L. Bean, and VDC Outbacks. Also new for 2003 were Legacy L Special Edition models with upgraded features over the base L versions. In addition, the Legacy 2.5 GT replaced Legacy GT and GT Limited models and included a manual shift gate for the automatic transmission. Outback Limiteds, the H6 sedan, and the L.L. Bean wagon now came with an in-dash CD changer.
2004 Legacy/Outback/Baja
The Baja gets a new optional turbocharged 210-hp 4-cylinder engine in 2004, while siblings Legacy and Outback get special 35th Anniversary Editions this year, which included added standard features on each.