Premium midsize SUV; Built in USA
longitudinal front-engine/4-wheel drive
Good condition price range: $7,000 – $20,800*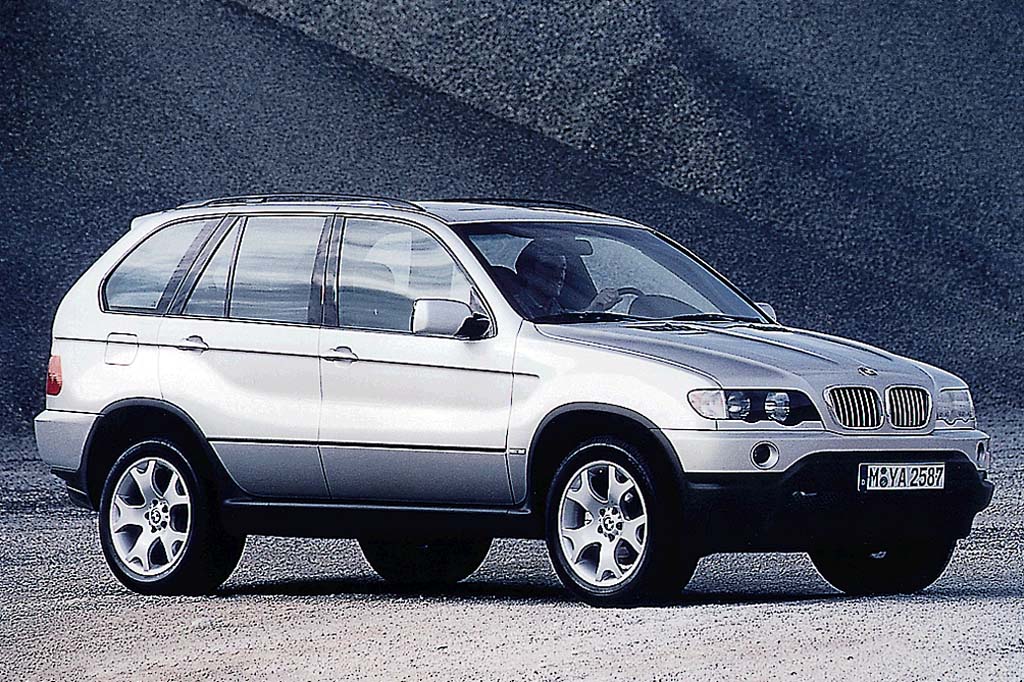 2000 BMW X5 4.4i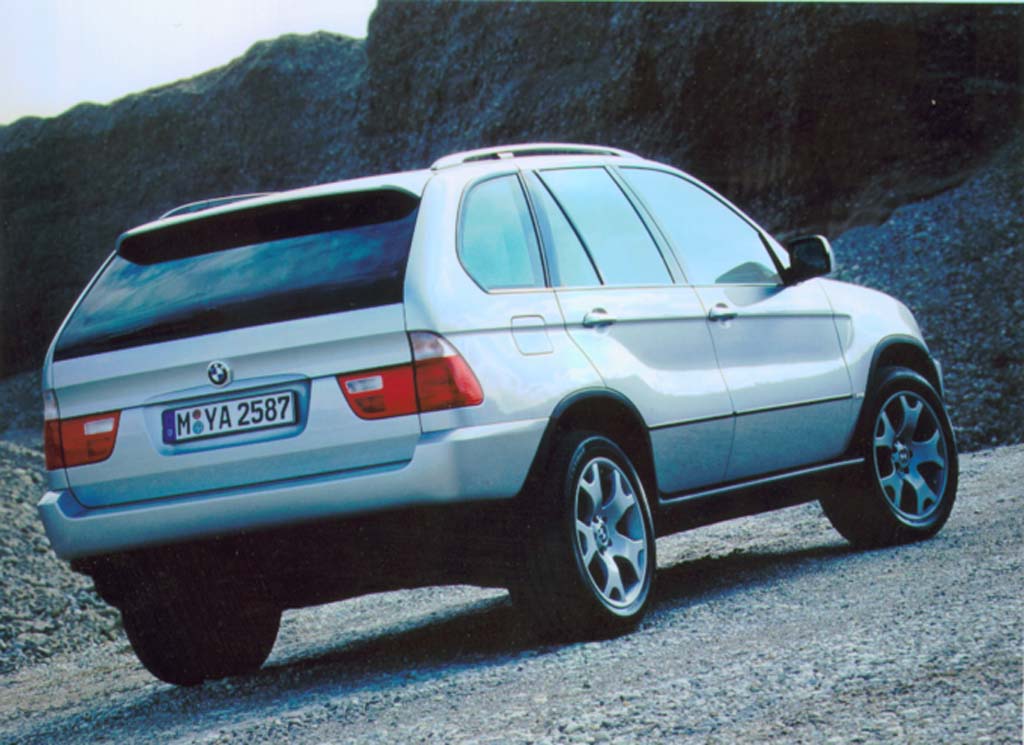 2000 BMW X5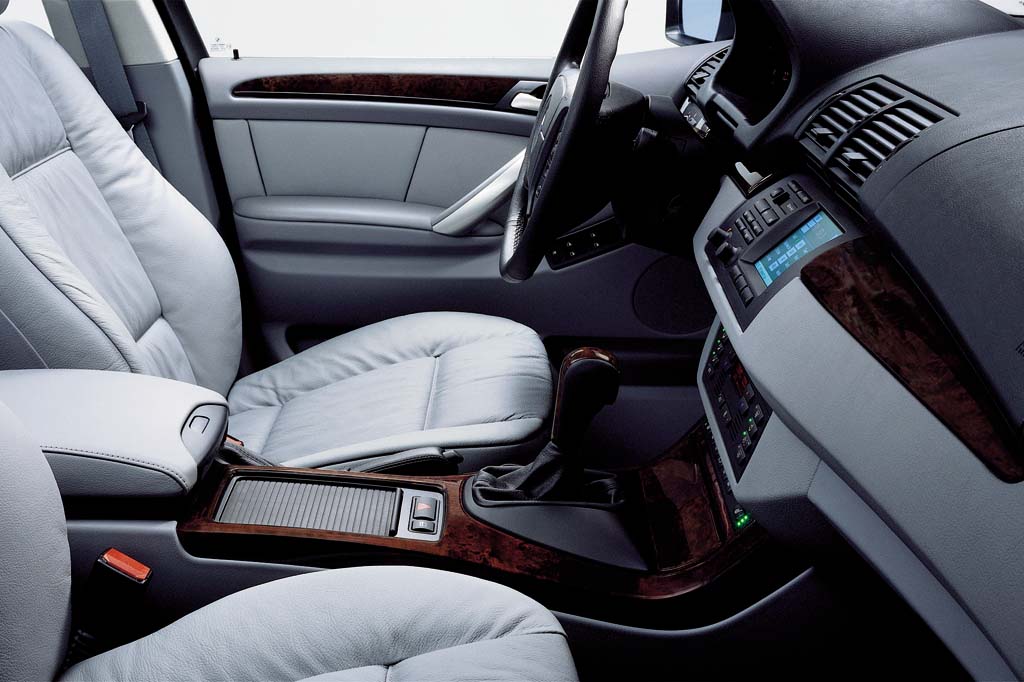 BMW X5 interior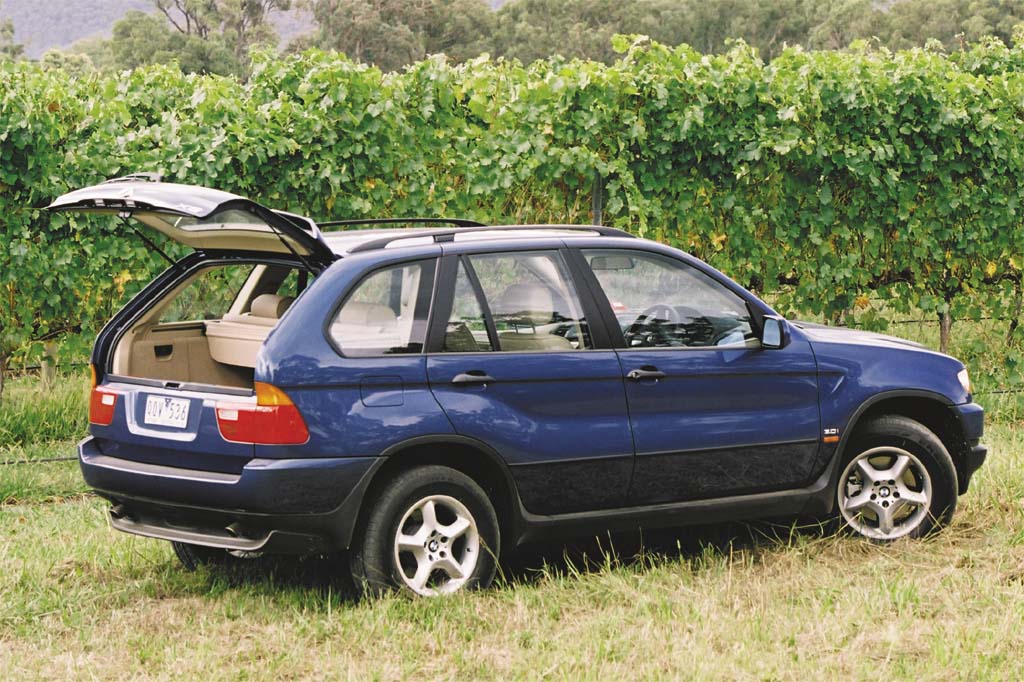 2002 BMW X5 3.0i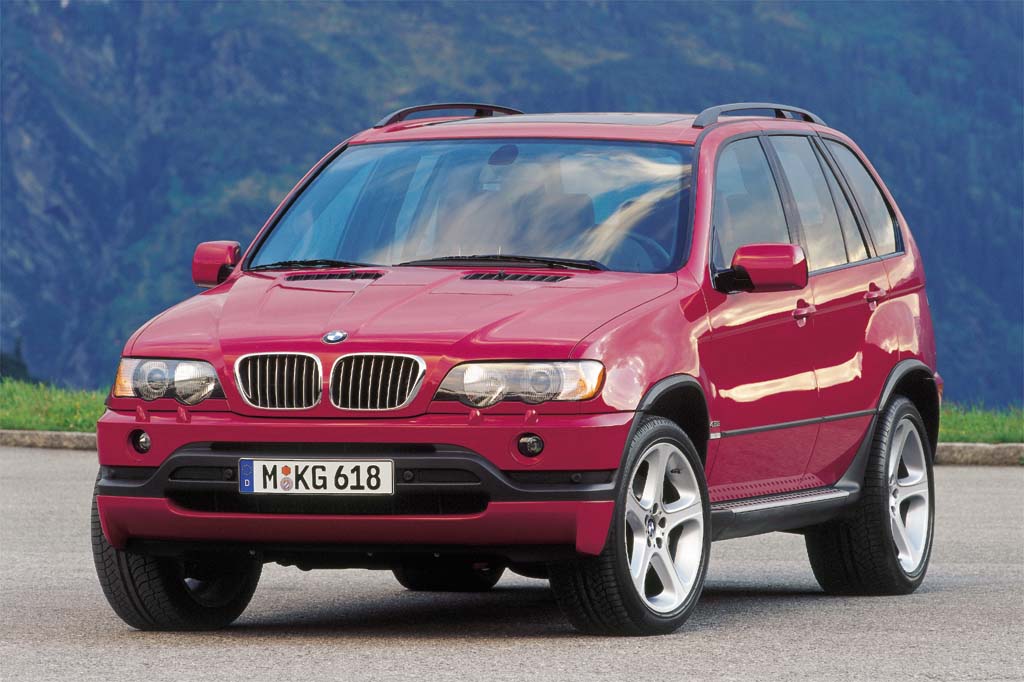 2002 BMW X5 4.6is
Pros:

Acceleration
Build quality
Cargo room
Exterior finish
Interior materials

Cons:

Fuel economy
Navigation-system controls
All told, the X5 is the sporty "driving machine" of SUVs, but not a serious off-roader. It's short on cargo space and costlier than rivals of similar size, power, and equipment. An RX 300 or MDX could be a better economic choice, partly because the BMW retains its value so well, making secondhand prices hefty.
Overview
BMW's all-wheel-drive midsize sport utility vehicle debuted in winter of 1999-2000 as the V8-powered X5 4.4i, with a manually shiftable five-speed automatic transmission. A lower-priced six-cylinder 3.0i edition arrived in spring 2000 with a standard five-speed manual transmission and optional four-speed automatic.
Both models have been built in South Carolina, on an exclusive unibodied platform. All X5s came with standard permanently engaged four-wheel drive, traction control, an antiskid system, all-disc antilock braking, and a tailgate with separate lift glass.
Lacking low-range gearing, the four-wheel-drive system is not intended for severe off-road use. Instead, it automatically brakes individual wheels to limit slippage in low-grip conditions. A standard hill descent control feature limits speed to 6 mph down steep slopes.
Standard equipment included a power tilt/telescopic steering wheel, 70/30 split folding rear seat, and front side-impact airbags. BMW's head-protecting tubular airbags deploy from above front door windows in a side impact. Rear lower-body side airbags were optional.
Included on the 4.4i and optional for the 3.0i were a load-leveling suspension, 18-inch wheels and tires, leather upholstery, and wood interior trim.
An available Sport Package consisted of black exterior trim, a sport suspension and, for the 4.4i, 19-inch tires. Either model could have an optional navigation system with dashboard-mounted video screen. Rivals include the Acura MDX, Lexus RX 300, and Mercedes-Benz M-Class.
Yearly Updates
2001 X5
No change was evident on 2001 models.
2002 X5
A high-performance 4.6is model debuted for 2002, packing a 340-horsepower V8 engine. This gave BMW a strong contender against the Mercedes-Benz ML 500/ML55 AMG. In addition to aero body add-ons, the new model got 20-inch wheels and a special sportier interior.
Option packages got some content revisions this year. The Premium group now included rain-sensing wipers, automatic climate control (for the 3.0i), and a sunroof for both the 3.0i and 4.4i. The 4.4i edition could also be equipped with a new Rear Climate Package, including privacy glass and rear window shades. Options included rear torso side-impact airbags.
2003 X5
X5 sees no change for '03 as a revised model appeared in '04.
2004 X5
The new X5 saw revamped styling, a new 6-speed manual transmission option, and a 315 hp V8 versus last year's 290 hp in '04.
2005 X5
Some optional features become standard for 2005 on BMW's American-built SUV. Newly standard for 4.4i is front and rear obstacle detection, which is optional on 3.0i. Xenon headlights, standard on V8s and optional on the 3.0i, are now steering linked.
2006 X5
No significant changes for 2006 X5.