Large SUV; Built in USA
4-door wagon
4-door wagon
longitudinal front-engine/rear- or 4-wheel drive
Good condition price range: $4,000 – $18,500*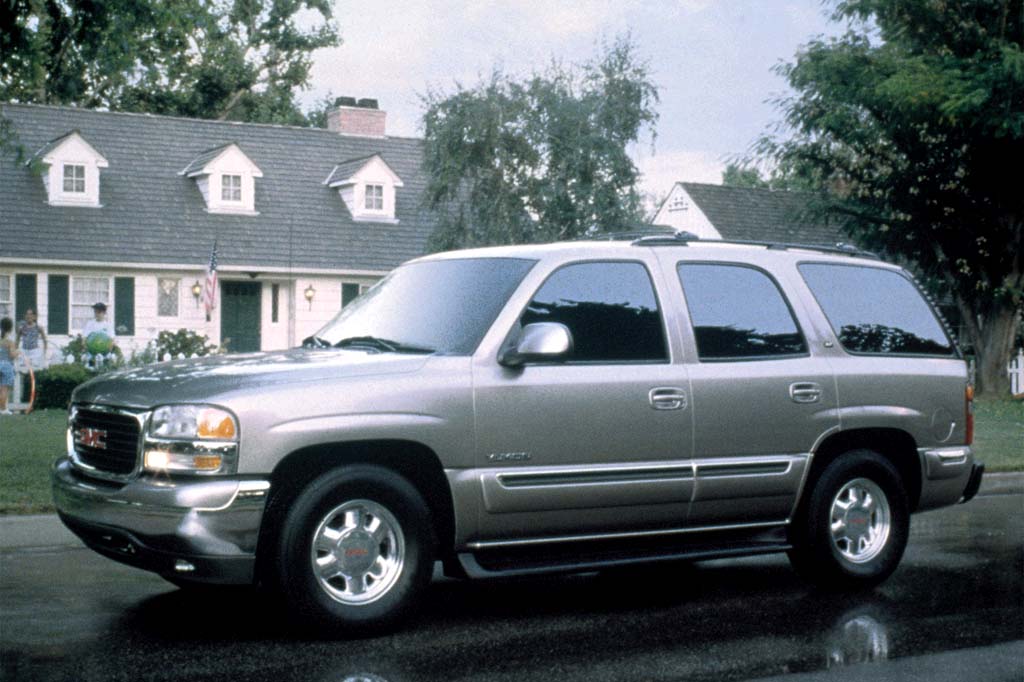 2001 GMC Yukon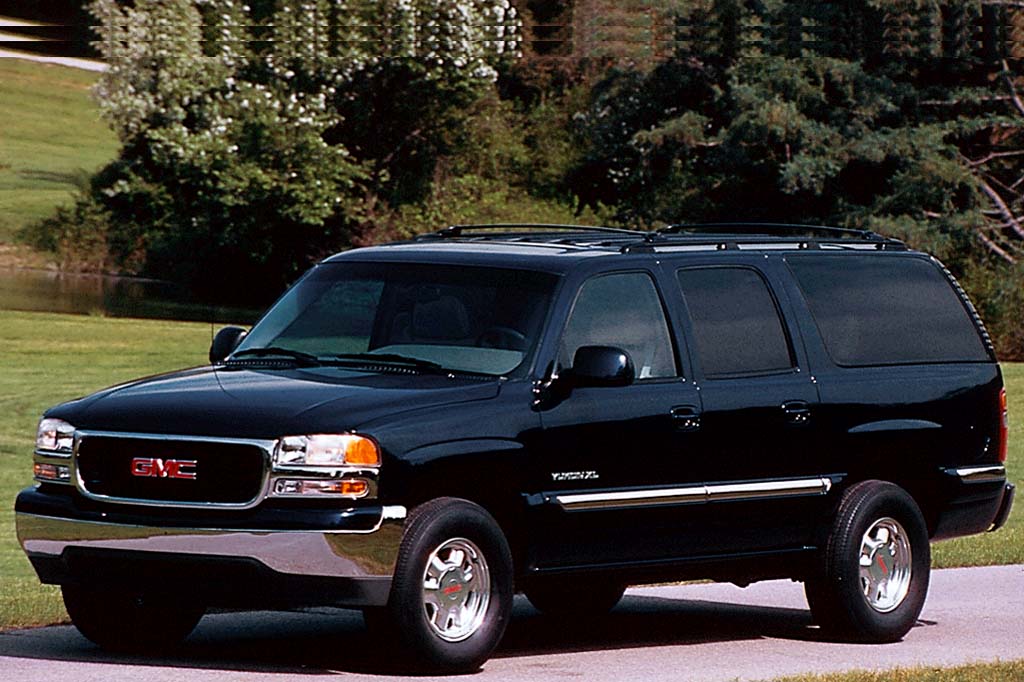 2000 GMC Yukon XL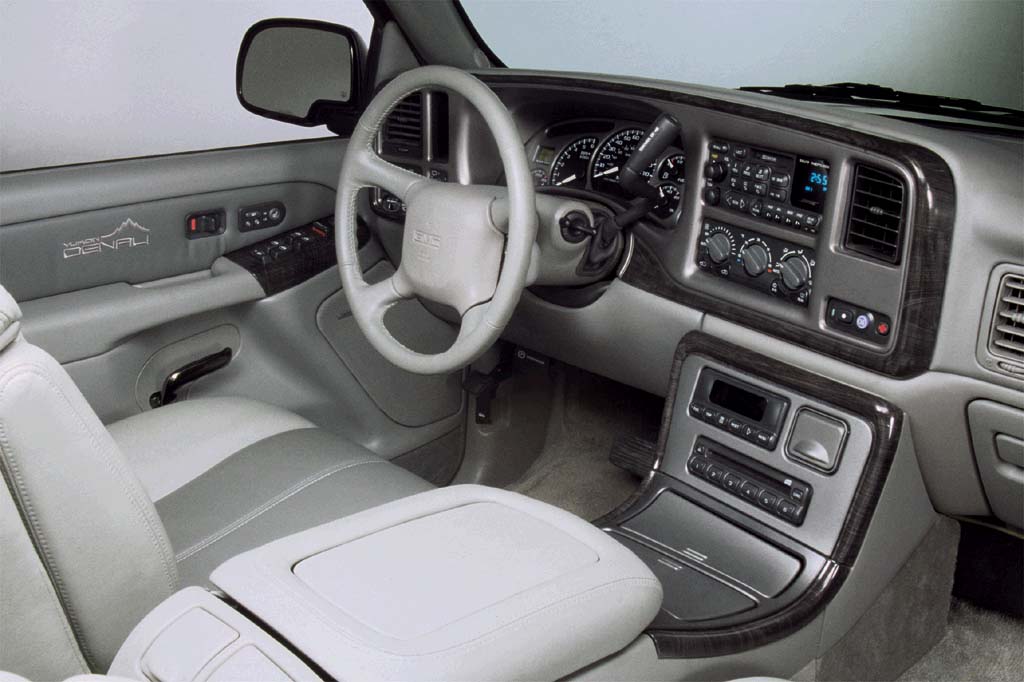 2001 GMC Yukon Denali interior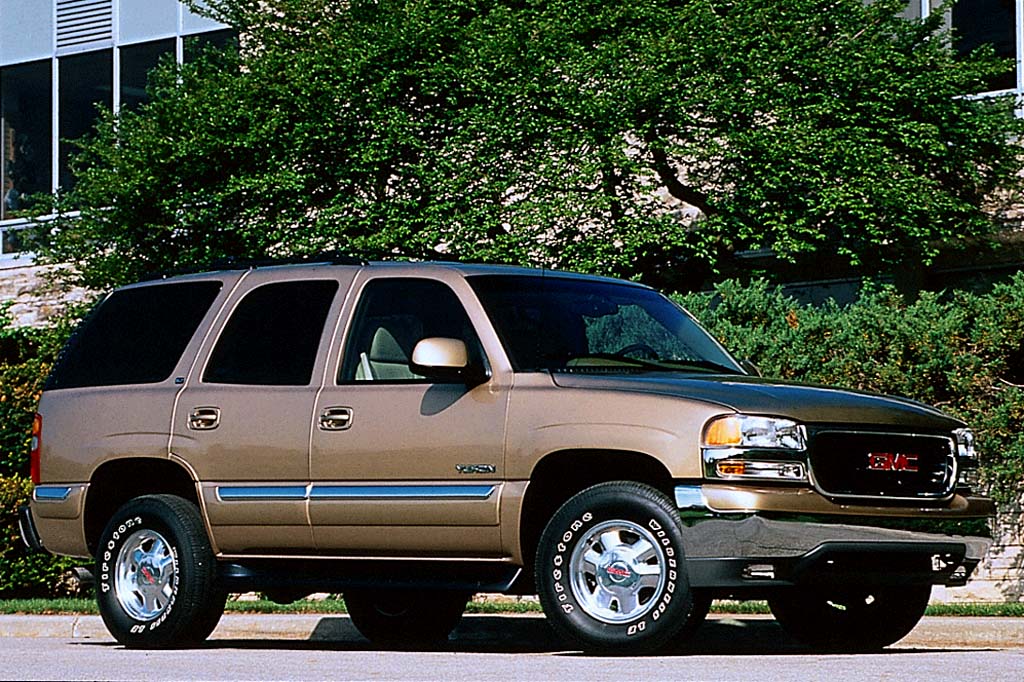 2000 GMC Yukon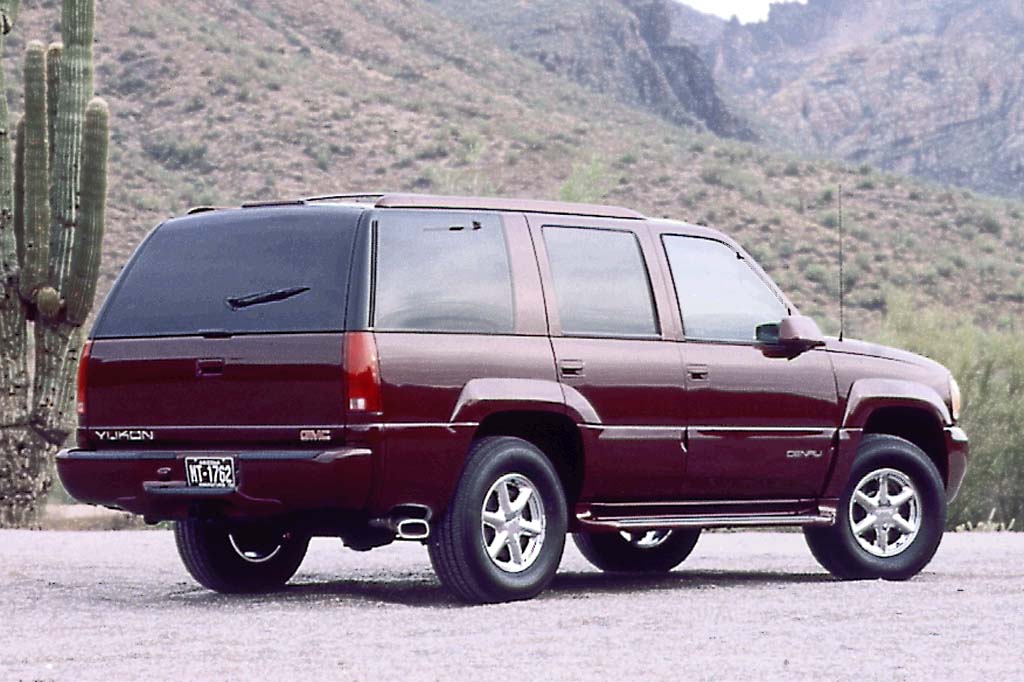 2000 GMC Yukon Denali
Pros:

Acceleration (Denali)
Passenger and cargo room
Trailer-towing capacity

Cons:

Entry/exit (Denali)
Fuel economy
Steering feel
GM's impressive new full-size SUVs are capable, comfortable, and easy to live with. Though too big for a lot of buyers, their size fits nicely into the gap between Ford's Expedition and Excursion. Don't buy a big SUV without trying a GMC or Chevrolet.
Overview
GMC's Yukon again was largely a retrimmed rendition of the Chevrolet Tahoe. Instead of calling its longer model the Suburban, as before–and as Chevrolet continued to do–GMC switched to the Yukon XL designation. All models were 4-door wagons, about an inch shorter in wheelbase and overall length than their predecessors, but 2 inches wider, 2 inches taller, and some 300 pounds lighter. Both came with either side-opening rear cargo doors or a new aluminum liftgate with an independent-opening glass hatch. Yukons came only in one capacity rating, but Yukon XLs were offered in half-ton 1500 and 3/4-ton 2500 versions. Front side airbags were newly standard. The previous 5.7-liter V8 gave way to a trio of V8s: 4.8, 5.3 and 6.0 liters in displacement. Yukons had the 4.8-liter as standard equipment, with the 5.3 V8 optional. The 5.3-liter V8 was standard in the Yukon XL, with the 6.0-liter as an option. That bigger engine went into all Yukon XL 2500 wagons. Each model had a 4-speed automatic transmission, with GM's Tow/Haul mode that adjusted shift points to accommodate heavy loads or pull a trailer. All came with either rear-drive or GM's Autotrac 4-wheel-drive system, with an "Auto 4WD" mode that could be used on dry pavement. All had 4-wheel antilock braking. Newly available features included traction control, automatic climate control, a power sunroof, rear audio controls, and a self-leveling rear suspension. Second-row reclining bucket seats and GM's OnStar emergency/communications system were offered for the Yukon XL.
Yearly Updates
2001 Yukon/Denali
Previously on the old platform, the upscale Denali wagon moved to the 2000 version and, for the first time came in an extended-length XL version. Offered only in half-ton capacity, Denalis had slightly different styling, 17-inch wheels (instead of 16-inch), an Autoride system with auto-adjusting shock absorbers, leather interior trim, and premium Bose stereo with 6-disc in-dash CD changer.
A third-row bench seat was standard in XLs and Denalis, optional for regular Yukons. Second-row reclining buckets were available for XLs, while heated front seats were standard in the Denali and optional elsewhere.
Both Denali wagons got the 6.0-liter V8, which gained 20 horsepower this year. A new 8.1-liter V8 was optional for the Yukon XL 2500. Denalis had a new permanent 4WD system that needed no driver intervention.
2002 Yukon/Denali
For 2002, front and rear automatic climate controls were newly standard on Yukons, and 2WD versions got standard limited-slip rear differential and traction control. Denalis for '02 added heated 2nd-row seats to the already-standard heated front seats, plus load-leveling rear suspension. All models had GM's Tow/Haul mode, which got revisions for 2002 designed to improve durability.
2003 Yukon/Denali
Front side airbags moved to the options list. GM's Quadrasteer 4-wheel steering was a new option for all XL 2500s. At low speeds, Quadrasteer turns the rear wheels opposite the fronts to reduce the turning radius. At higher speeds, all wheels turn in the same direction to enhance stability. Power-adjustable brake and accelerator pedals were newly standard for Denalis and optional for Yukons. A multizone automatic climate system with front/rear controls was newly standard on Denalis and optional on Yukons. Newly optional are rear-seat DVD entertainment and XM satellite-radio service with 100-channel digital receiver.
2004 Yukon/Denali
New for 2004 on the Yukon/Denali is a standard tire-pressure monitor.
2005 Yukon/Denali
All models have a rear liftgate for '05; side-opening cargo doors are no longer available. Denalis have a 6.0-liter V8 with 335 hp, up 10 hp for '05. GM's Stabilitrak antiskid system became standard for Yukon 1500 and Denali models during the '05 model year; it is not available for Yukon 2500. Yukons get standard 16-inch wheels or optional 17s. Chrome-finished 20-inch alloy wheels are newly available for Denalis.
2006 Yukon/Denali
No significant changes in '06.