Sporty/performance car; Built in Japan
transverse front-engine/front-wheel drive
Good condition price range: $3,200 – $8,800*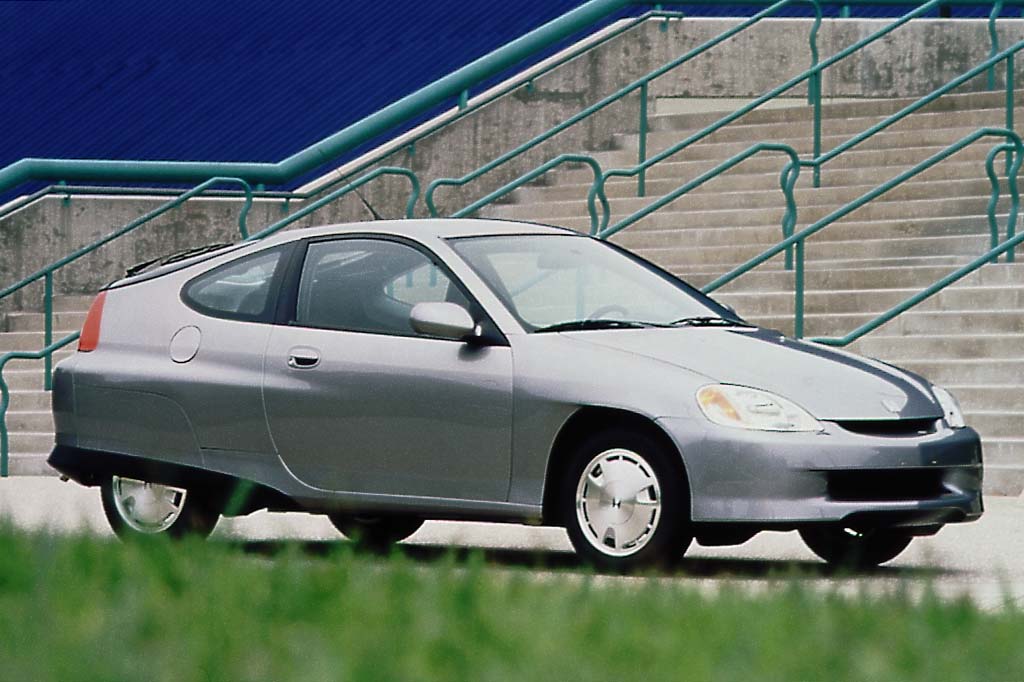 2000 Honda Insight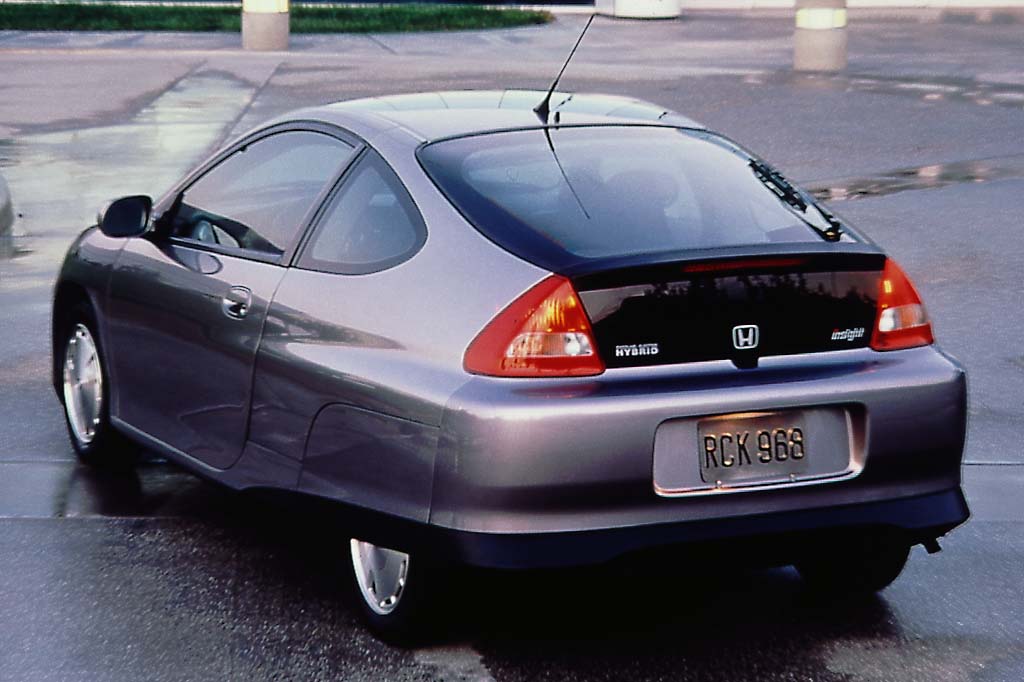 2000 Honda Insight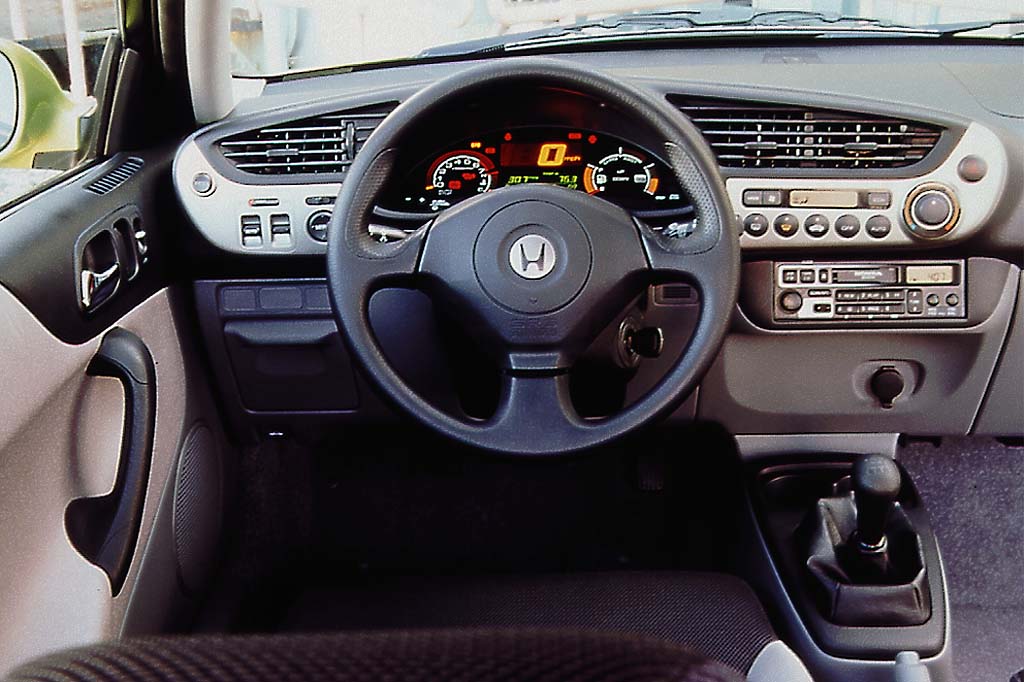 2000 Honda Insight interior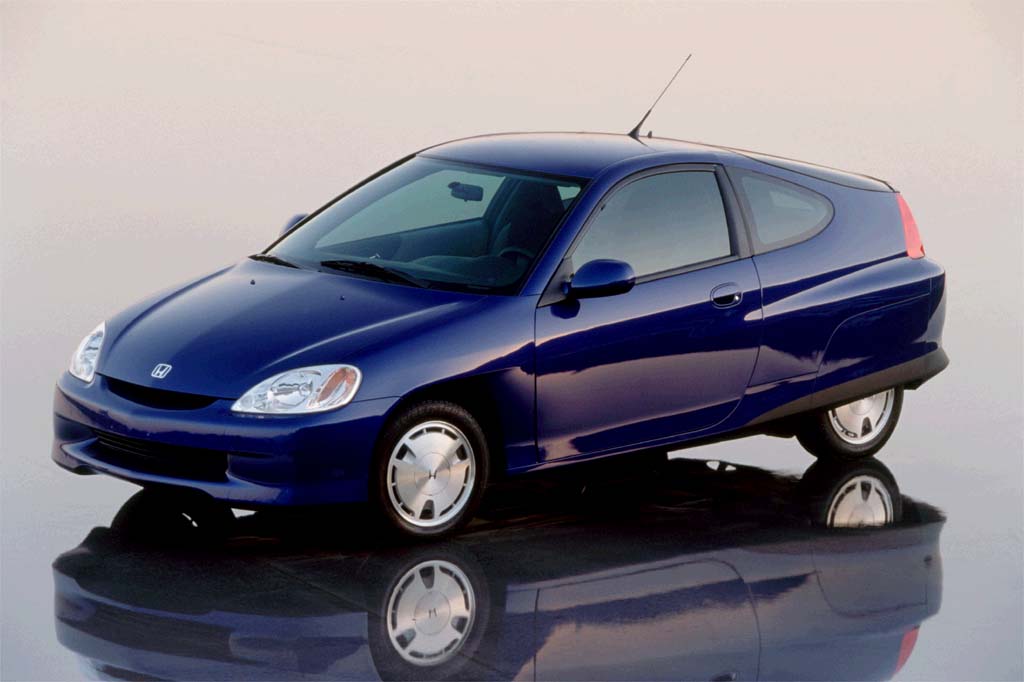 2001 Honda Insight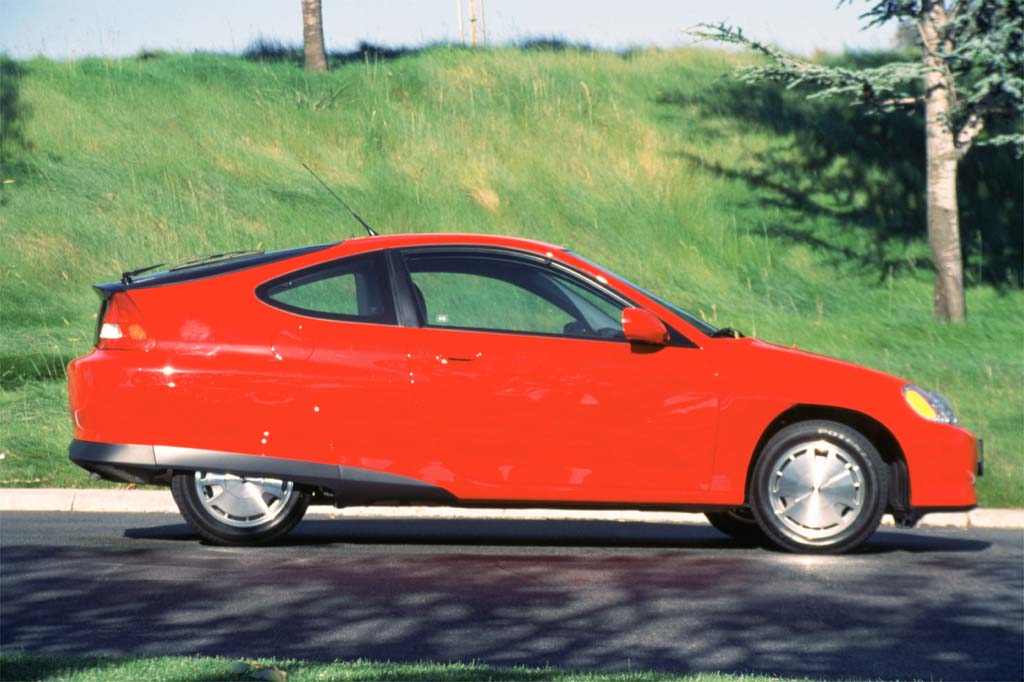 2002 Honda Insight
Pros:

Automatic-transmission performance
Fuel economy
Maneuverability
Steering/handling

Cons:

Acceleration
Interior storage space
Rear visibility
Ride
Road noise
Far more practical than any pure electric vehicle, the Insight is compromised in too many ways by its maximum-mpg design. Relatively costly for an "economy" car, seating only two, it cannot rank as a great value.
Overview
Advanced technology ruled when Honda introduced a new and completely different model for 2000. A hybrid gasoline/electric powertrain went into the Japanese automaker's sleek new two-passenger hatchback coupe. Not only did the front-drive subcompact function differently from any car on the road, it looked wholly different as well. Aerodynamic styling teamed with lightweight aluminum-intensive construction.
The Insight soon earned the Environmental Protection Agency's top fuel-economy ratings. In terms of the powertrain, the only competition came from Toyota's five-passenger hybrid Prius. Rivals in other respects might include the Ford Focus ZX3 and Toyota Celica.
The hybrid powertrain uses a small electric motor to assist the three-cylinder gasoline engine during hard acceleration. At other times, the gas engine is dominant and the electric motor is often idle. When coasting or braking, the engine recharges the nickel-metal-hydride battery pack. Therefore, unlike an electric vehicle, no external recharging ever is needed.
A fuel-saving "idle-stop" feature shuts off the engine when the car is stopped (provided that the engine is fully warmed up). Toyota's somewhat larger Prius uses a different type of hybrid system, in which the electric motor is dominant and any combination of gasoline and electric power might be employed, depending on driving conditions.
For the Insight's first year, the sole transmission was a five-speed manual. Air conditioning was the only option. Standard equipment includes variable-assist power steering, power mirrors, power windows and locks, remote keyless entry, a cassette stereo, intermittent wipers, and 165/65R14 tires on alloy wheels.
Yearly Updates
2001 Insight
Although the Insight was unchanged as the 2001 model year began, a new transmission became available the following spring. Functioning in a manner similar to an automatic, the Continuously Variable Transmission (CVT) furnishes variable drive ratios rather than conventional gear changes. Steering-wheel "D" and "S" buttons can select normal or higher-performance range.
2002 Insight
Still leading the league in EPA mileage estimates, the Insight had no significant change for 2002. Air conditioning remained optional, and antilock braking was standard. In spring 2002, Honda launched a brand-new Civic Hybrid with five-passenger seating, to compete more directly against Toyota's Prius.
2003 Insight
No changes for 2003.
2004 Insight
Minor changes for the 2004 Insight include a standard CD player and a beige interior, instead of last year's gray.
2005 Insight
The Insight is unchanged for 2005.
2006 Insight
There are no significant changes for 2006 Insight.