Minivan; Built in Japan
transverse front-engine/front-wheel drive
Good condition price range: $2,300 – $8,800*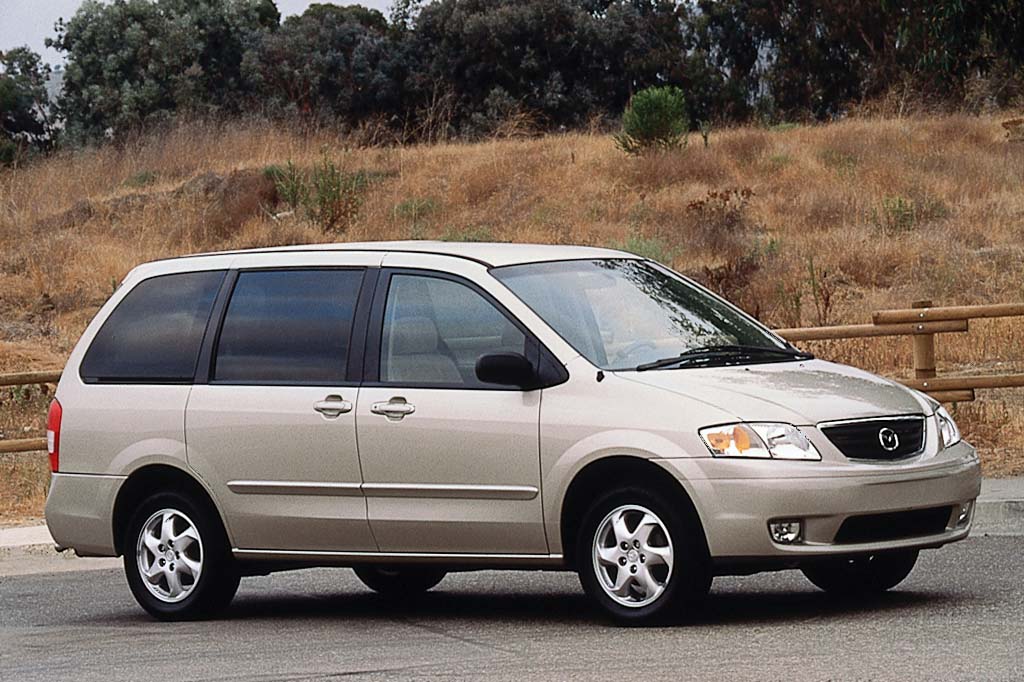 2000 Mazda MPV LX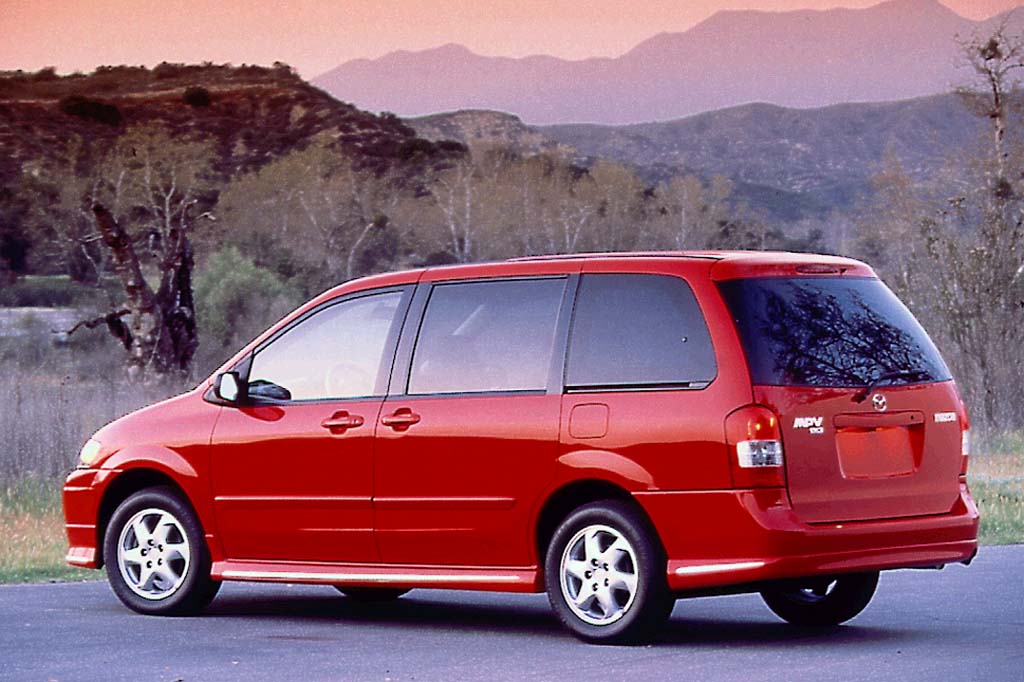 2000 Mazda MPV ES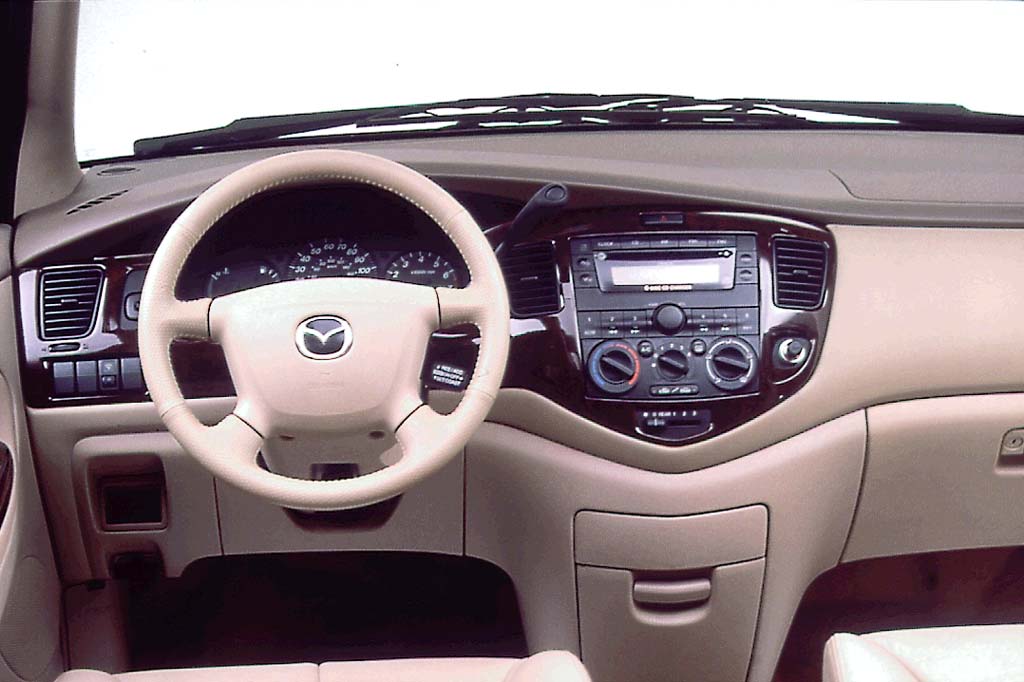 2000 Mazda MPV interior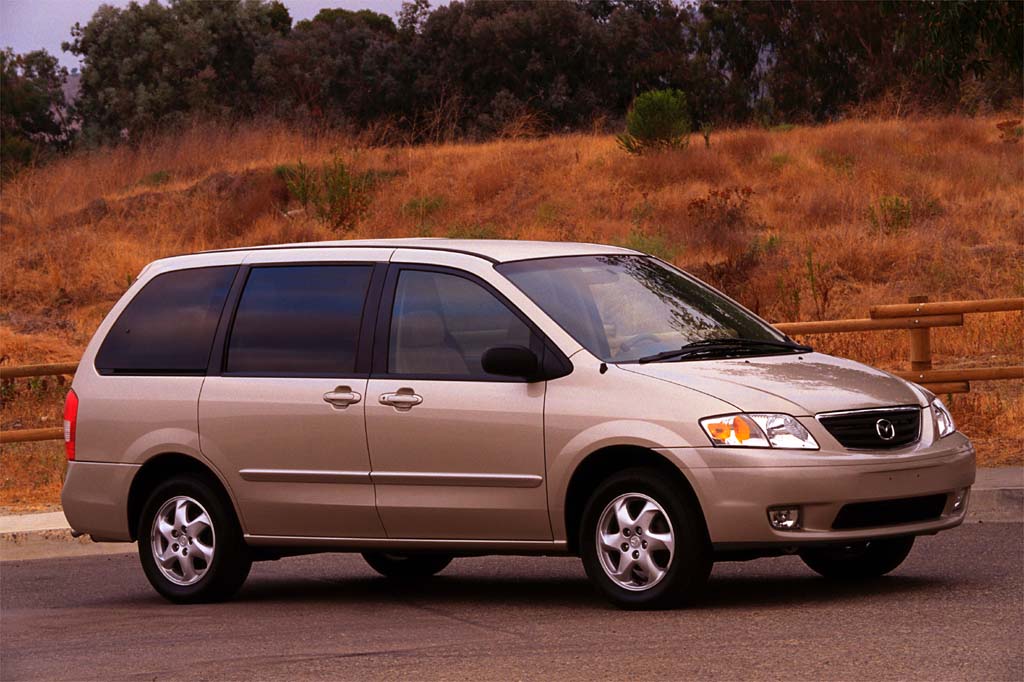 2001 Mazda MPV LS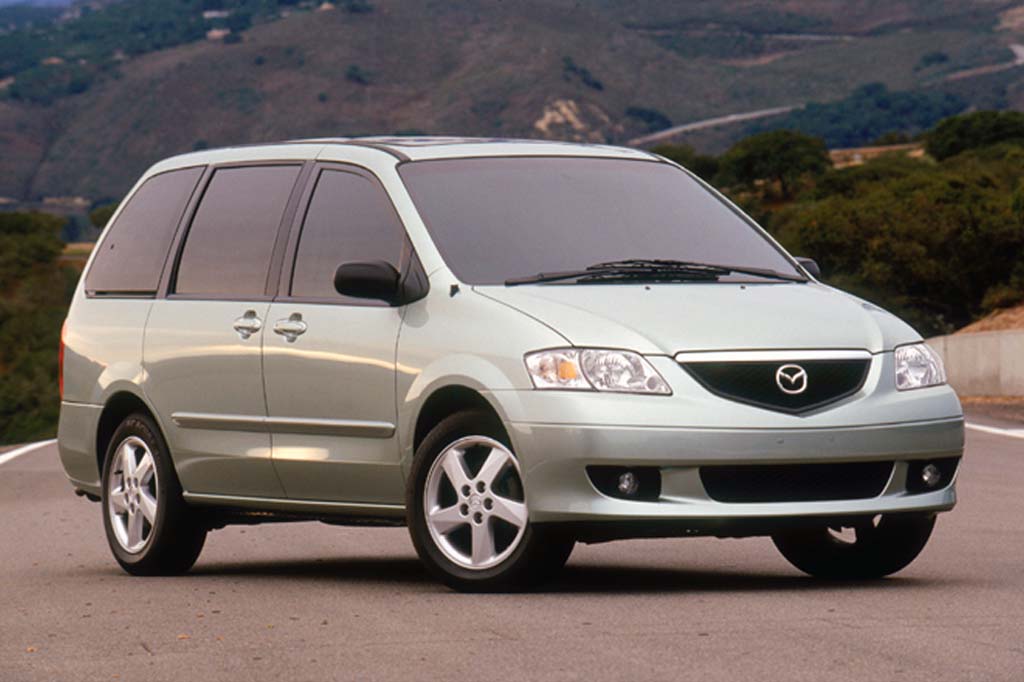 2002 Mazda MPV
Pros:

Cargo room
Handling/roadholding
Instruments/controls
Passenger room

Cons:

Acceleration (2000-01)
Automatic-transmission performance
Although the small 2000-01 engine is easily overtaxed, the MPV does an admirable job of packaging people and cargo, while delivering sporty handling. Still, a Caravan or Odyssey is roomier and more powerful.
Overview
Built in Japan, Mazda's minivan earned its first redesign since the vehicle appeared back in 1989. Sliding rear side doors replaced the previous swing-out doors. Instead of rear-wheel drive, the 2000 model had front-wheel drive.
Base DX, upscale LX and luxury-oriented ES versions went on sale. All used a 2.5-liter, dual-overhead-cam V6 engine, based on a Ford design. (Ford was Mazda's parent company.) A four-speed automatic was the sole transmission.
Antilock braking was standard on LX and ES models, but not available at all on the DX. Dual sliding side doors contained roll-down windows, which ranked as a minivan "first." Power door operation was not available.
All MPVs seated seven. Second-row buckets could slide together to create a two-passenger bench. The three-place, third-row bench seat folded flat into the floor. The midrange LX minivan had cruise control, power windows, and power door locks. Mazda's ES minivan added front side airbags, leather upholstery, and rear air conditioning. Rivals included the Dodge Caravan, Honda Odyssey, and Toyota Sienna.
Yearly Updates
2001 MPV
No change was evident for 2001. A sporty optional appearance package for LX and ES models included fog lights and aero body add-ons. Leather upholstery remained exclusive to the ES minivan.
2002 MPV
Mazda extended the 2001 model year into early 2002, awaiting the arrival of a revamped MPV. On sale by spring, the new model had a more powerful (200-horsepower) V6 engine driving a five-speed automatic transmission, power sliding side doors, revised suspension settings, and 17-inch alloy wheels.
2003 MPV
A low-cost LX-SV was added midyear and power operation for the side doors was made optional on both the ES and LX.
2004 MPV
Mazda's minivan gets exterior front and rear styling changes for 2004. Inside, the van received a new steering wheel, gauge surrounds, and a spring assist designed to help the 3rd-row seats fold into the floor this year.
2005 MPV
For 2005, rear air conditioning moves from standard on LX to optional; it remains standard on ES.
2006 MPV
For 2006, a base LX-SV model joins LX and top-shelf ES versions.