Premium large car; Built in Germany
longitudinal front-engine/rear-wheel drive
Good condition price range: $6,500 – $33,000*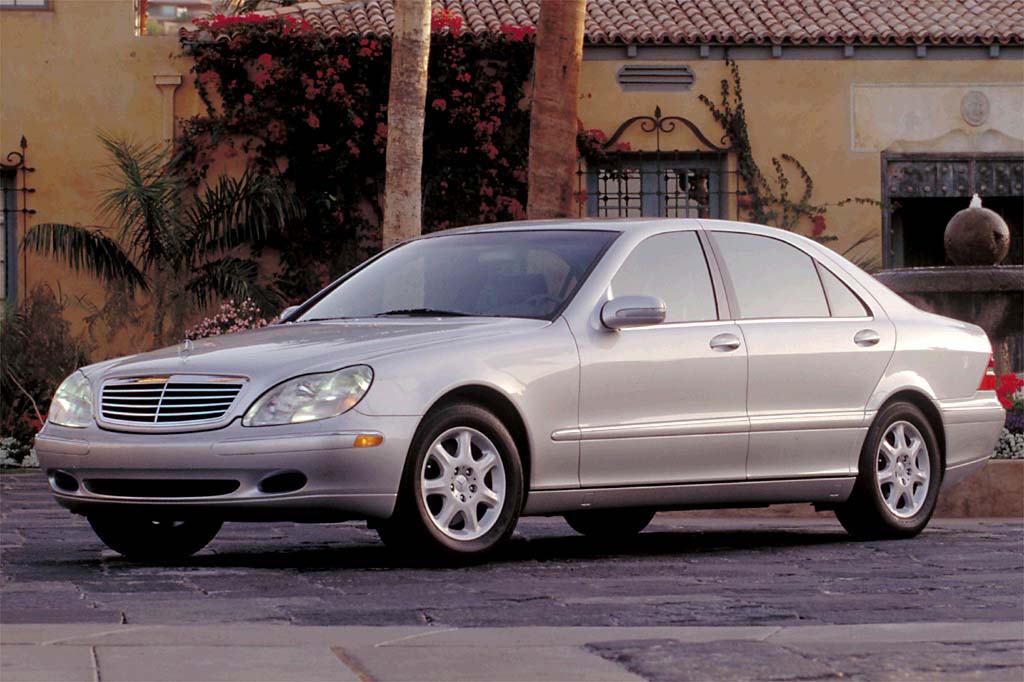 2001 Mercedes-Benz S-Class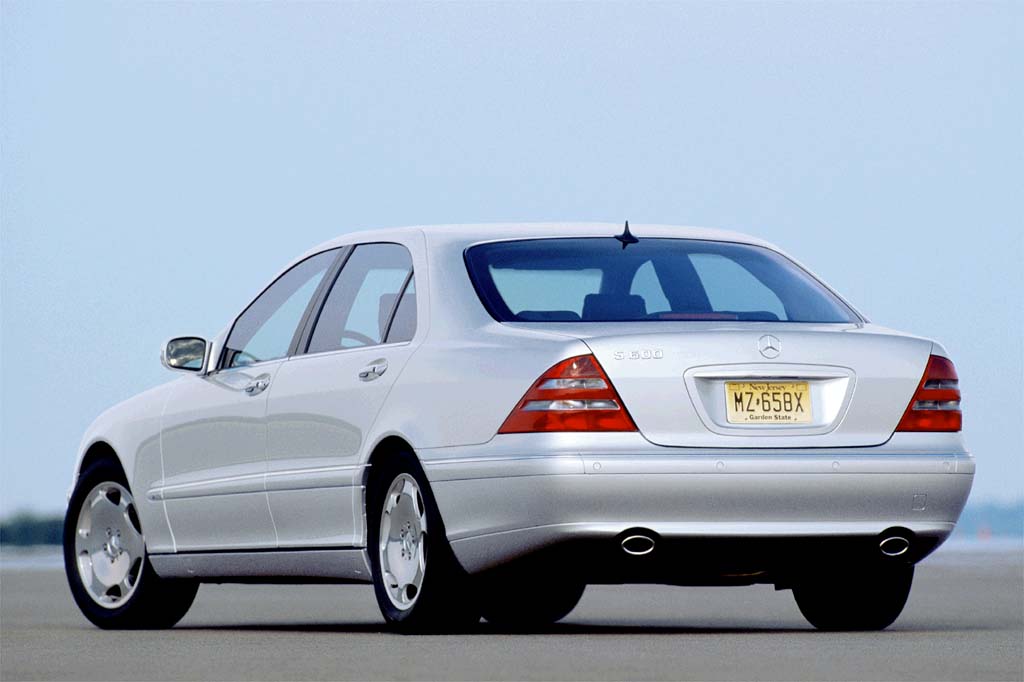 2001 Mercedes-Benz S500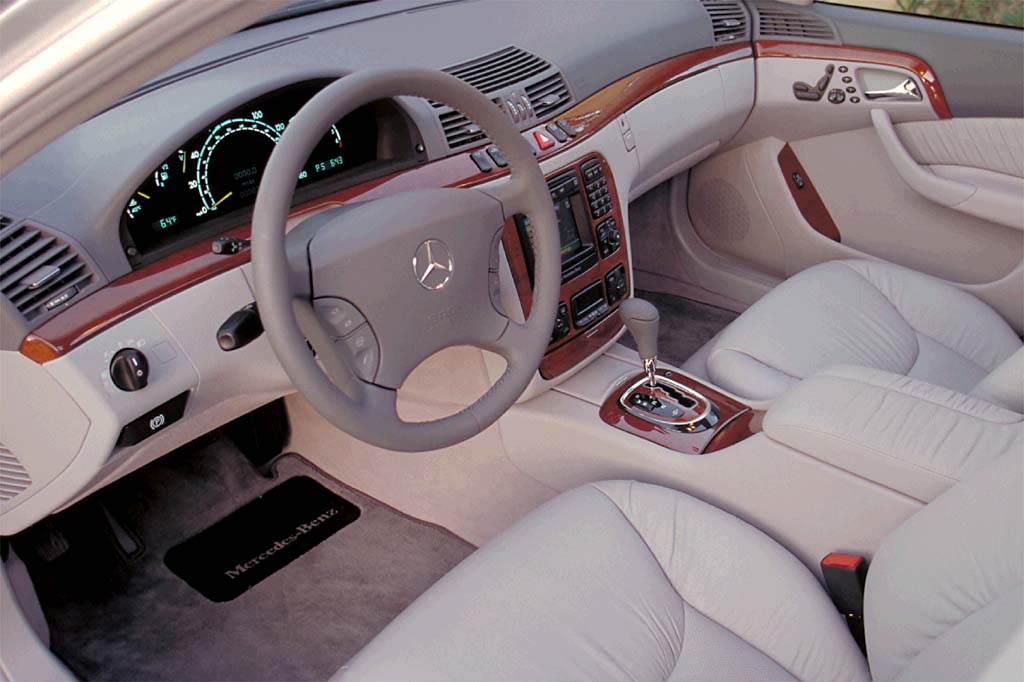 2001 Mercedes-Benz S-Class interior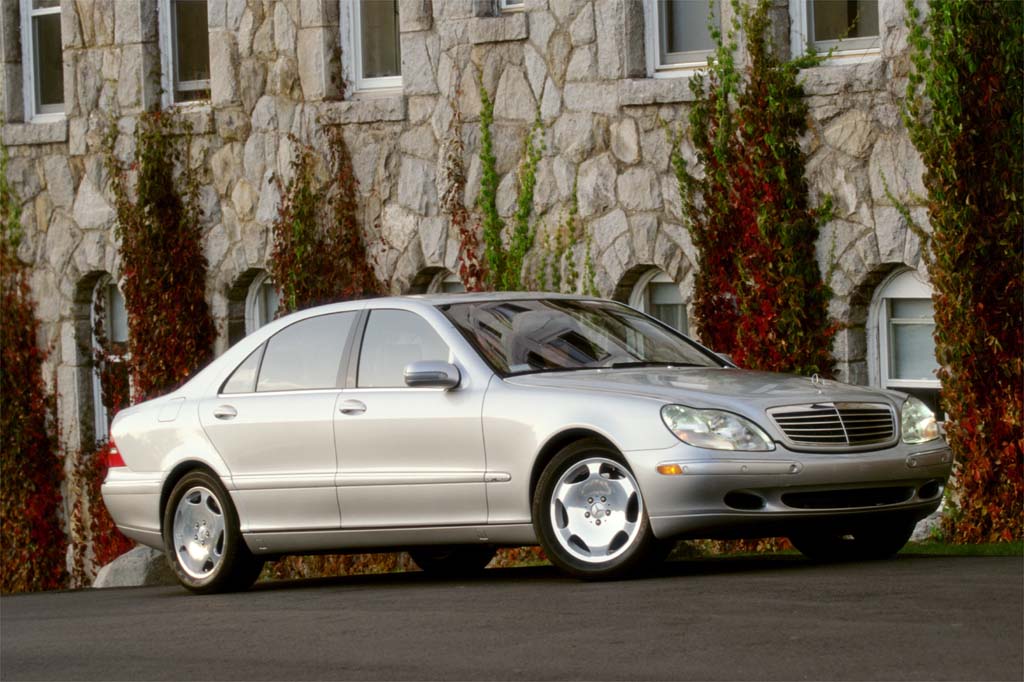 2002 Mercedes-Benz S500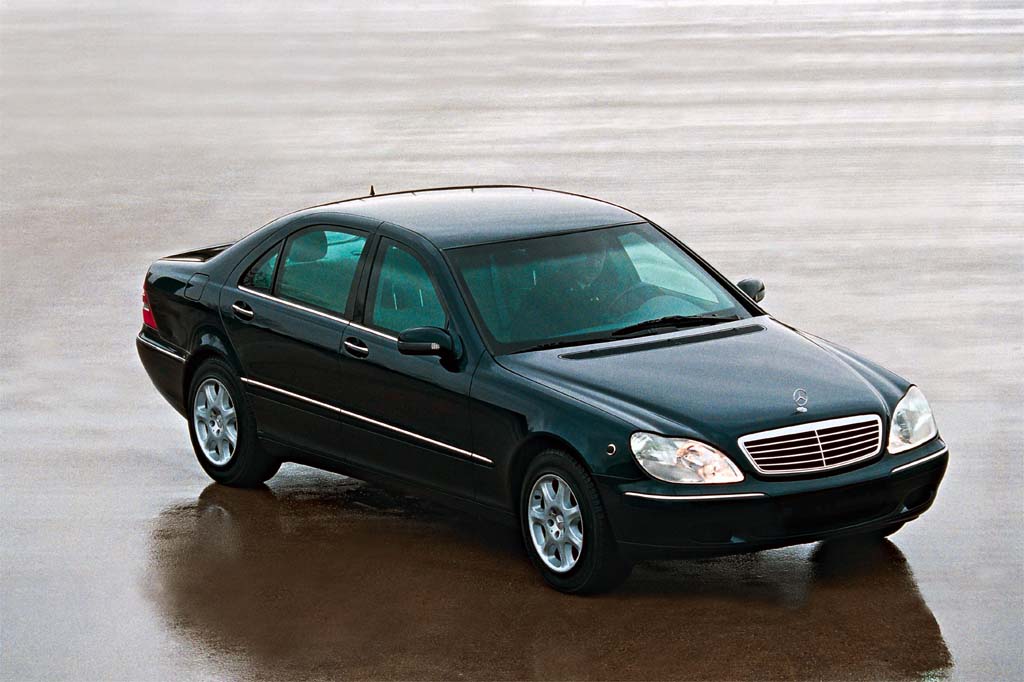 2002 Mercedes-Benz S500
Pros:

Acceleration
Build quality
Entry/exit
Passenger room
Refinement
Ride

Cons:

Fuel economy
Navigation-system controls
Ranking as a world-class luxury-sedan benchmark, the S-Class substitutes technological sophistication for its predecessors' unapologetic size and uncompromised material. High resale values translate to lofty prices at the luxury used-car lot.
Overview
Mercedes-Benz introduced its redesigned, rear-drive luxury sedan in spring 1999, as an early 2000 model. Trimmer in dimensions than its predecessor, the S-Class contained even more leading-edge technology. A closely related CL500 coupe companion joined the lineup early in 2000.
An inch or two smaller in all dimensions than its predecessor, the sedan weighed some 500 pounds less. Front head room decreased only marginally, and leg room was a bit greater than before.
Six-cylinder and V12 models were dropped, at least for the time being, leaving only two V8 sedans: an S430 with a 4.3-liter engine and an S500 that held a 5.0-liter V8. Both engines drove a five-speed automatic transmission that had a separate shift gate for easier manually selected gear changes.
An air-bladder system replaced the prior coil-spring suspension, able to adjust damping to suit the road surface. The driver could select sport or normal settings, as well as automatic level control. All-disc antilock braking included Mercedes' Brake Assist feature. Traction control and an antiskid system also were standard. Rear side airbags were standard, and curtain-type airbags deployed along all side windows to protect occupants' heads and shoulders in a side impact.
A standard satellite-based navigation system included an in-dash video display and voice-controlled response. Mercedes' TeleAid emergency assistance system also was standard. Rivals included the Audi A8, BMW 7-Series, and Lexus LS 400/430.
Yearly Updates
2001 S-Class
A new limited-edition S600 sedan with a V12 engine joined the S-Class lineup for 2001. To save fuel, the V12 was capable of deactivating six of its cylinders when full power was not needed. The S600 got exclusive interior trim and unique high-polish wheels.
Also new was an S55 AMG sedan, packing a 354-horsepower, 5.4-liter V8 engine. Created by Mercedes' performance division, the S55 featured 18-inch wheels and aero lower-body styling. An optional Sport Package for the S430 or S500 delivered an AMG appearance and included a firmer suspension.
Both the S55 AMG and the S600 had Active Body Control with coil springs, with electro-hydraulic rams that counteracted body lean during hard cornering. That system was optional on other models.
A Distronic "smart" cruise-control option used radar sensors to automatically adjust speed to maintain a safe distance from the vehicles ahead. The standard COMAND in-dash video system controlled audio, navigation, and phone functions. TeleAid now included door unlocking and vehicle diagnostics services. A new internet-based "InfoServices" option displayed news, sports, weather, and other user-selected information.
2002 S-Class
Except for a more powerful maximum-cooling setting for the air conditioner, little was new for 2002. Power seats added a third memory setting.
2003 S-Class
S430 and S500 were offered with Mercedes' 4Matic all-wheel drive. The S55/CL55 AMG models gain supercharging boosting their 5.4 V8 by 138 hp and 125 lb-ft of torque. New for the flagship S600 is a twin-turbocharged 5.5-liter V12 with an extra 131 hp and 199 lb-ft vs. last year's nonturbo 5.8 V12. Modified by Mercedes' in-house performance team, AMG models had 18-inch wheels, aero body addenda, and uprated brakes; other models offered a Sport Package option with similar looks and tires.
2004 S-Class/CL-Class
Mercedes-Benz introduced a 7-speed automatic transmission on the S430, S500, and CL500 in 2004. Also new this year is a navigation system that uses DVDs instead of CDs.
2005 S-Class/CL-Class
All-wheel drive at no extra cost makes 2005 news for Mercedes' largest cars. For 2005, the S430 and S500 offer Mercedes' 4Matic all-wheel drive as a no-charge instead of extra-cost option.
2006 S-Class/CL-Class
A new base sedan with a 6-cyl engine joins the roster of Mercedes-Benz' largest cars for 2006. The newcomer is the S350 with a 241-hp V6. CL-Class is unchanged.