Large pickup truck; Built in USA
crew cab
ext. cab short bed
reg. cab long bed
longitudinal front-engine/rear- or 4-wheel drive
Good condition price range: $3,800 – $16,000*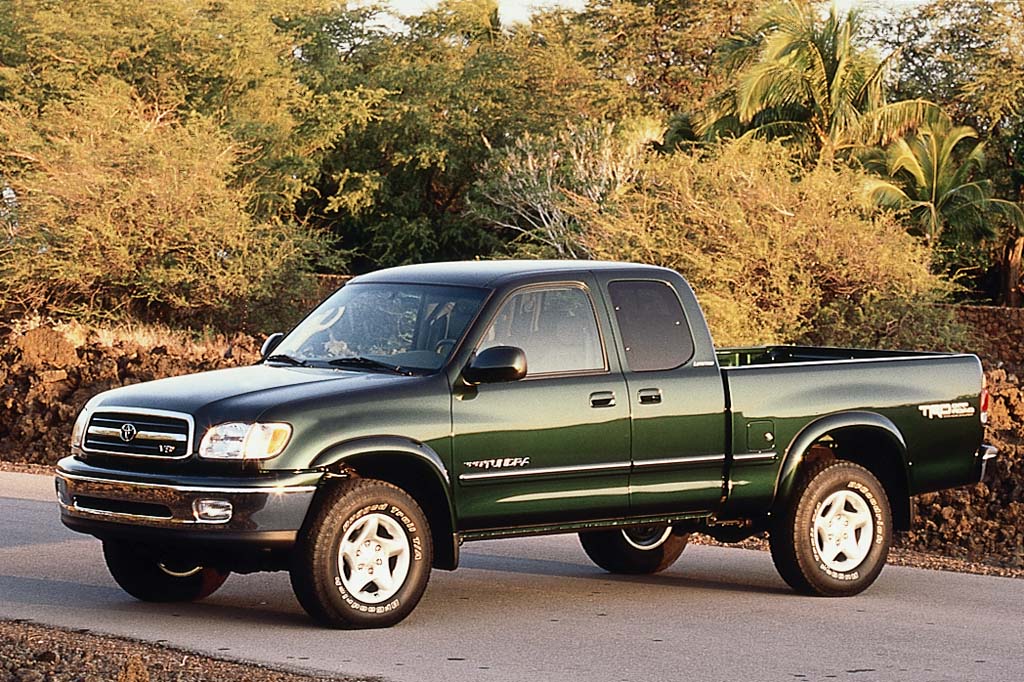 2000 Toyota Tundra Access Cab extended cab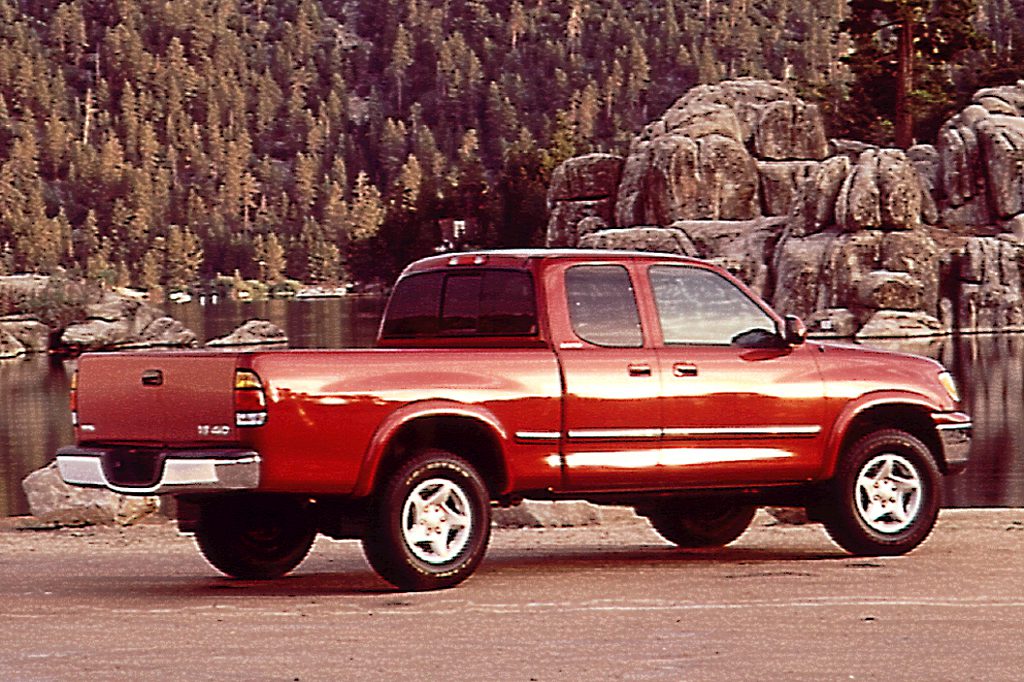 2000 Toyota Tundra Access Cab extended cab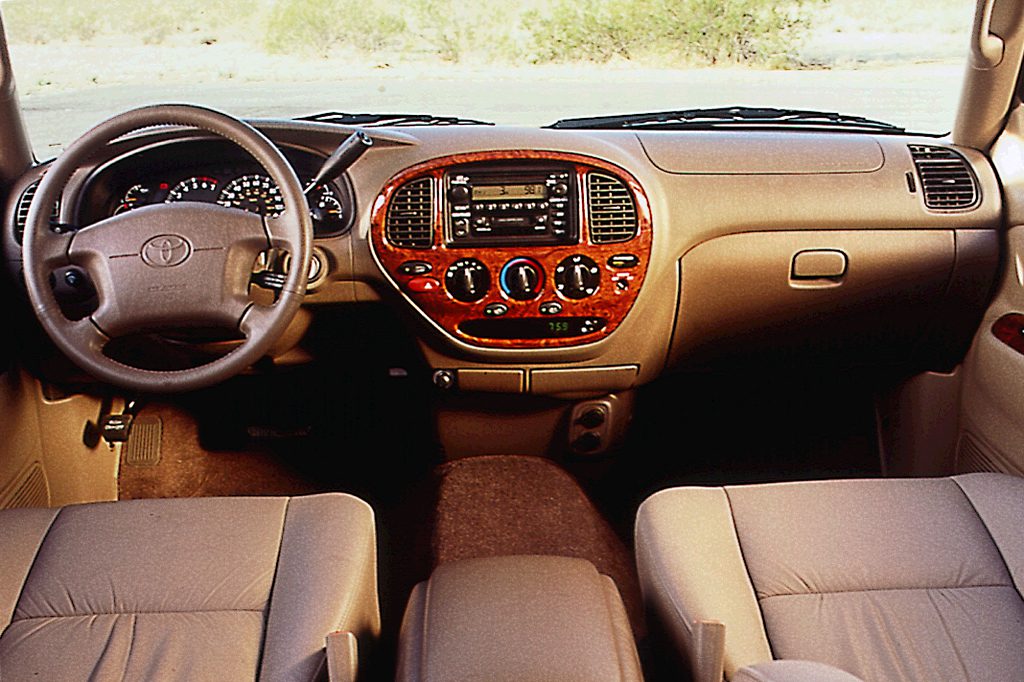 2000 Toyota Tundra interior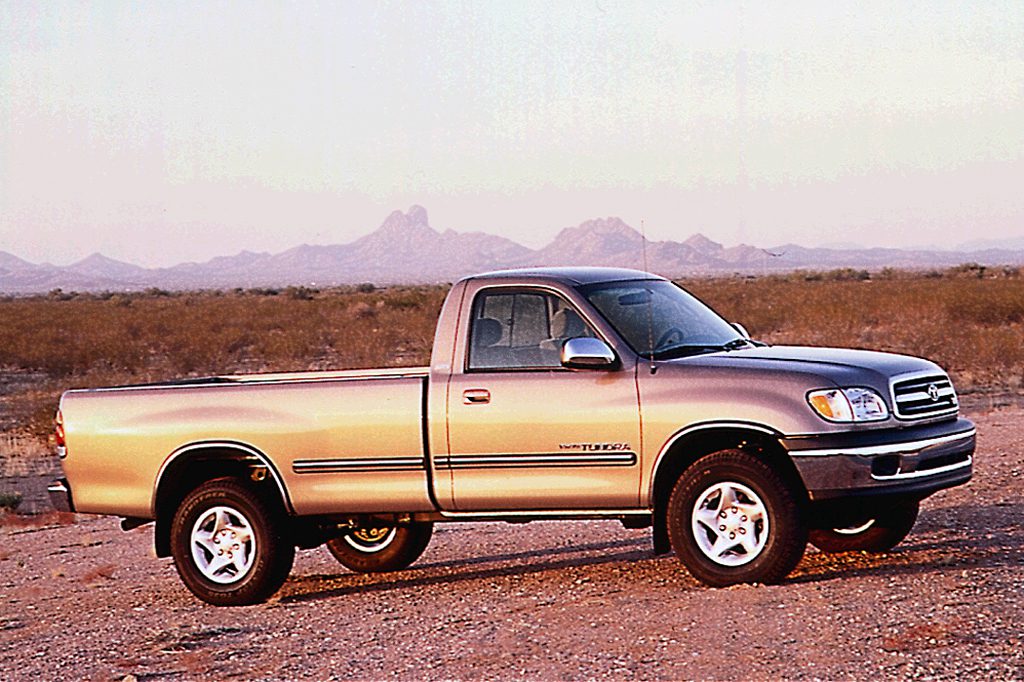 2001 Toyota Tundra regular cab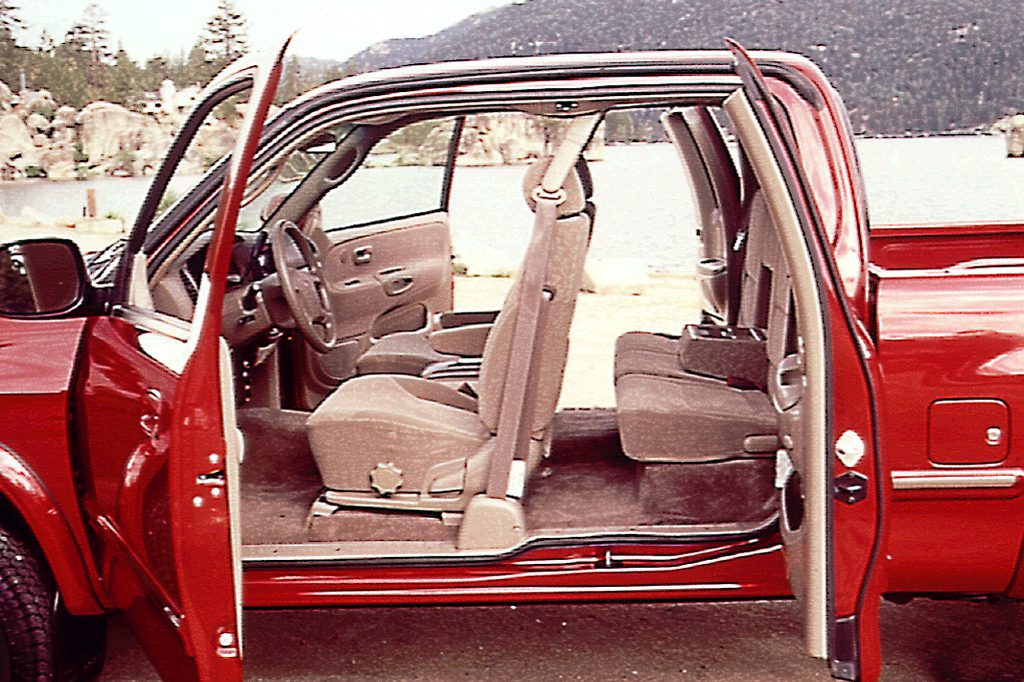 2001 Toyota Tundra Access Cab extended cab
Pros:

Acceleration (V8)
Build quality
Interior materials

Cons:

Fuel economy (V8)
Rear-seat comfort (extended cab)
Rear-seat entry/exit (extended cab)
Simply put, Tundra is a fine truck, priced competitively and executed with typical Toyota thoroughness. Except for back-seat comfort, matches any comparably equipped domestic-brand model–and is built in Indiana.
Overview
Somewhat smaller than domestic-make full-size trucks, Toyota's newest pickup was the first import-brand challenger in that league, despite measuring nearly a foot shorter overall. Toyota used the same design for its full-size Sequoia SUV, introduced as a 2001 model. Tundras came with a regular 2-door cab and 8-foot cargo bed, or in Extended Access Cab form with a 6.5-foot bed and three-place 60/40 rear bench seat. Rear-hinged back doors on the Access Cab did not open independently of the front doors. No 4-door Crew Cab model was produced. Regular-cab trucks came in base or SR5 trim, while Access Cabs were SR5 or Limited.
Base and SR5 trucks used a twin-cam, 190-horsepower, 3.4-liter V6 engine borrowed from the smaller Tacoma pickup, with manual shift or an optional automatic transmission. A twin-cam V8, shared with the Land Cruiser SUV, went into the SR5 V8 and Limited. Offered only with automatic, the V8 delivered 245 horsepower. Premium fuel was recommended for the V8 engine.
Toyota's four-wheel-drive system could be engaged with dashboard buttons on V8 models, or a floor lever with V6 power. While incorporating low-range gearing, the 4WD system had to be disengaged for use on dry pavement.
Toyota stated a maximum payload of 2000 pounds and a towing capacity of 7500 pounds–both figures competitive with the domestic trucks. Antilock braking was optional, but four-wheel discs were not available. Either bench or bucket front seating could be installed. Rivals included the Chevrolet Silverado 1500, Dodge Ram 1500, Ford F-150, and GMC Sierra 1500.
Yearly Updates
2001 Tundra
An Off-Road Package with raised suspension, special tires and shock absorbers, and fender flares became optional for 2001. A new Appearance package included color-keyed bumpers.
2002 Tundra
Toyota's top-line Limited model gained a standard in-dash CD changer, antilock braking, and keyless remote entry this year. Tundra V8 trucks could now get an optional limited-slip rear differential.
2003 Tundra
New for '03 was a V8 Access Cab with a flared-fender StepSide cargo box. Antilock brakes became standard equipment. All got a restyled grille, bumpers of plasticlike resin instead of steel, and a revised center console. New options included heated door mirrors and a tow package for V8 models. New for 2WD SR5s was a Sport Package with special suspension and 17-inch wheels. Limiteds gained as standard a power horizontal-sliding rear window, and 17-inch wheels vs. 16s. Finally, Tundra's off-road package dropped the TRD designation.
2004 Tundra
Toyota adds a crew-cab model to the Tundra in 2004. The Double Cab has four side doors, a power-down rear window, and a 12.2-inch longer wheelbase than other Tundra models. Standard are the 4.7-liter V8 and 4-speed automatic transmission available in other Tundras. Exclusive to the Double Cab are standard antiskid/traction control, limited-slip differential, running boards, optional sunroof, and rear DVD entertainment.
2005 Tundra
More power, new transmissions, and available curtain side airbags highlight 2005 additions to this American-built large pickup truck. They also gain an available 3-passenger front bench seat for '05, so all Access Cabs and Double Cabs now offer front bucket seats or a bench. For '05, the V6 is a 245-hp 4.0-liter, replacing a 190-hp 3.4. It comes with a 6-speed manual transmission, which replaces a 5-speed; or a 5-speed automatic, which replaces a 4-speed. The V8 is again a 4.7-liter, but it gains 42 hp for 282. An antiskid system is among new 2005 options for all Tundras. Regular cabs come in base and new-for-'05 Work models. Other Tundras offer SR5 and Limited trim and are newly available with a navigation system.
2006 Tundra
No significant changes for the Tundra in 2006.