Compact car; Built in Japan
transverse front-engine/front-wheel drive
Good condition price range: $3,500 – $5,500*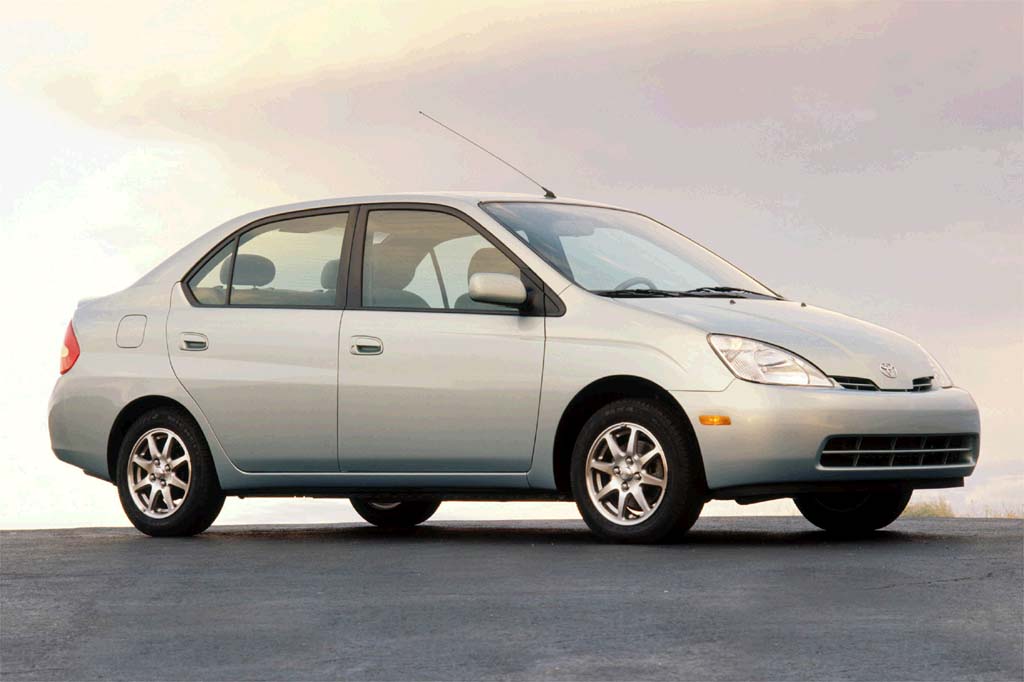 2001 Toyota Prius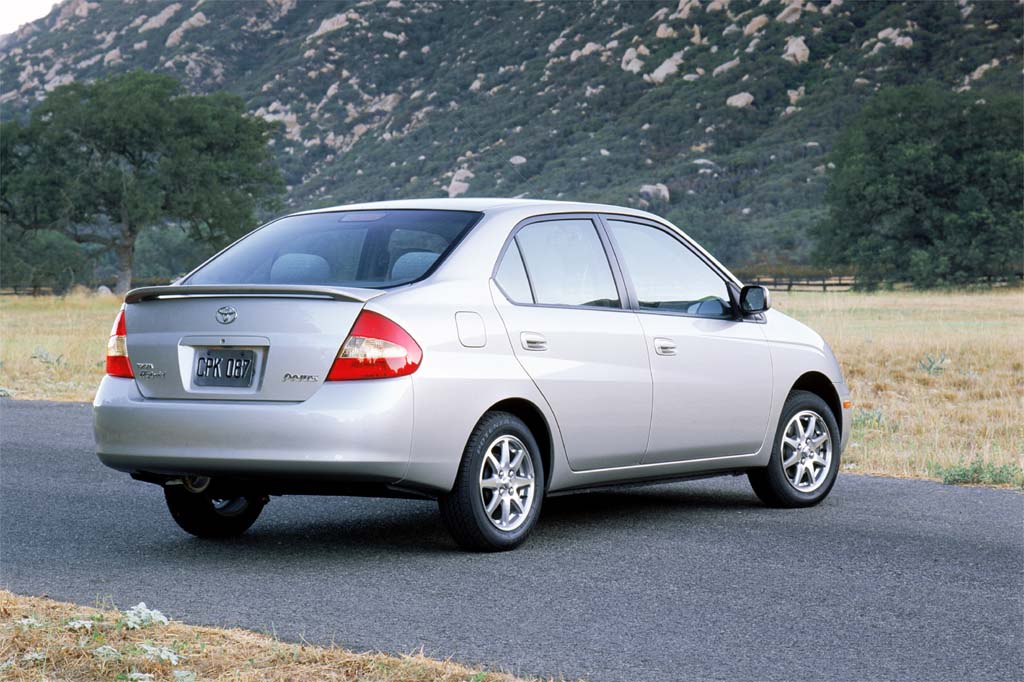 2002 Toyota Prius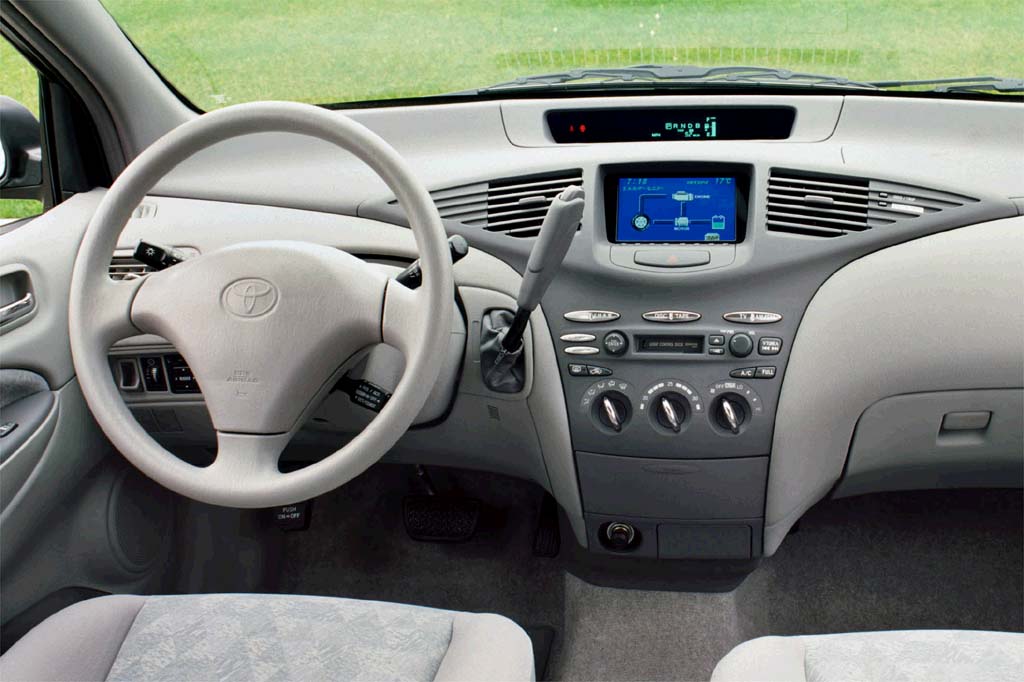 2001 Toyota Prius interior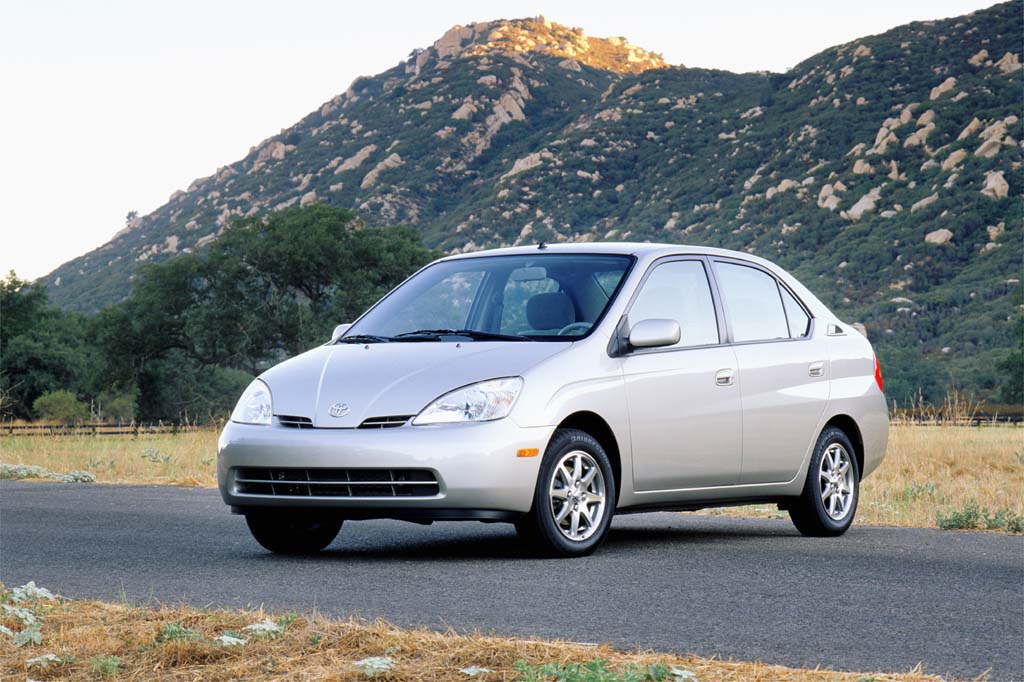 2002 Toyota Prius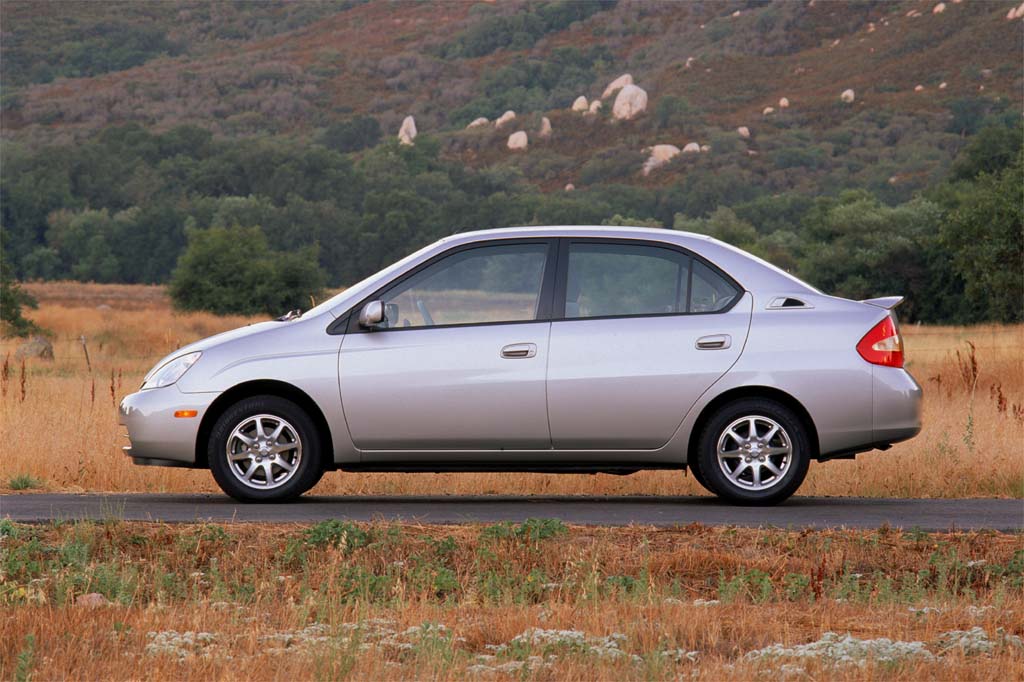 2002 Toyota Prius
Pros:

Fuel economy
Maneuverability

Cons:

Low-speed acceleration
Rear visibility
Like Honda's Insight and subsequent Civic Hybrid, the Prius serves mainly as a high-tech alternative to a traditional economy car. Toyota's own Echo delivers similarly appealing fuel mileage, and Volkswagen's Jetta/Golf diesel engine can achieve 40 mpg. Prius is roomier, more pleasant daily transport than an Insight, but less conventional in appearance than Honda's Civic Hybrid sedan–which beats the first-generation Prius in refinement and driving feel. Still, as a "green machine," Prius delivers pleasant, practical daily transportation, though you might want to consider the second-generation version instead. In short supply when new, the Prius is also scarce on used-car lots.
Overview
Toyota closely followed Honda's lead into hybrid-powertrain territory with its subcompact Prius sedan, which debuted as a 2001 model. Seating five passengers, the Prius was powered by a four-cylinder gasoline engine and an electric motor. The two automatically worked in tandem or separately, depending on driving needs at the moment.
The Prius could move away from a stop using its electric motor alone. Once underway, the gas engine kicked in automatically and became the sole power source while cruising. For passing, though, the electric motor could provide temporary assistance. During coasting or braking, the gas engine could shut off and the electric motor became a generator to recharge the nickel-metal-hydride battery pack. While stopped, the gas engine remained off (unless the air conditioner was in use).
The hybrid system drove a continuously variable transmission (CVT), which had no gears but worked with a belt and pulleys to produce near-infinite ratios. Because the system can charge the batteries while the Prius is moving, it never needs to be plugged into an AC outlet.
Fuel economy was estimated by the EPA at 52-mpg city and 45-mpg highway. The higher city rating reflected the electric drive's greater low-speed efficiency.
Antilock brakes, air conditioning, and power windows/locks/mirrors were standard. The special Prius warranty included 8-year/100,000-mile powertrain coverage, plus roadside assistance.
Toyota's only hybrid competitor was the Honda Insight, which was a two-seat hatchback coupe with a 1.3-liter gas engine that initially came only with a manual transmission. The Insight's hybrid system worked differently, too, with the electric motor providing assistance to the gas engine during hard acceleration.
Comparable high-mileage models included the Ford Focus, Honda Civic, Toyota Echo, and Volkswagen Golf/Jetta diesel.
Yearly Updates
2002 Prius
Front side airbags were newly optional for 2002, along with cruise control and a navigation system. By now, Honda's Insight was available with a continuously variable transmission, like the Prius.
2003 Prius
Unchanged for 2003, the Prius continued to attract buyers who favored high fuel-economy figures. Honda launched a conventionally-styled Civic Hybrid sedan this year, with a different power system and a smaller gas engine, to compete against the Prius. Toyota, meanwhile, was about to move away from the original sedan design and introduce a larger, more potent Prius with a hatchback body, as a 2004 model.