Minivan; Built in USA, Canada
transverse front-engine/front- or all-wheel drive
Good condition price range: $3,500 – $7,500*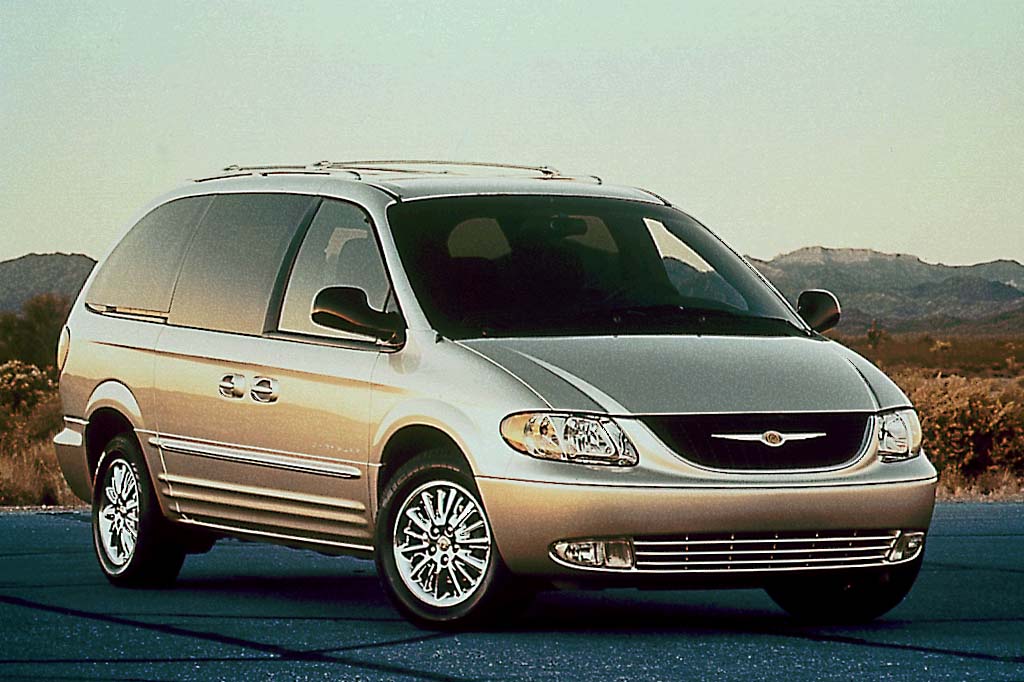 2001 Chrysler Town & Country Limited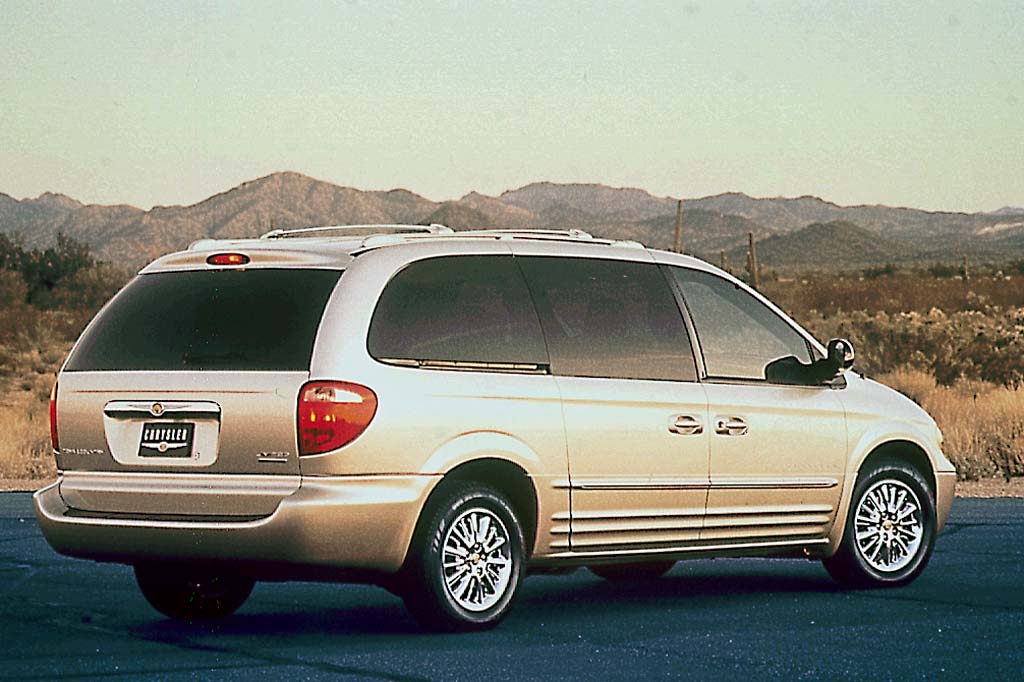 2001 Chrysler Town & Country Lmited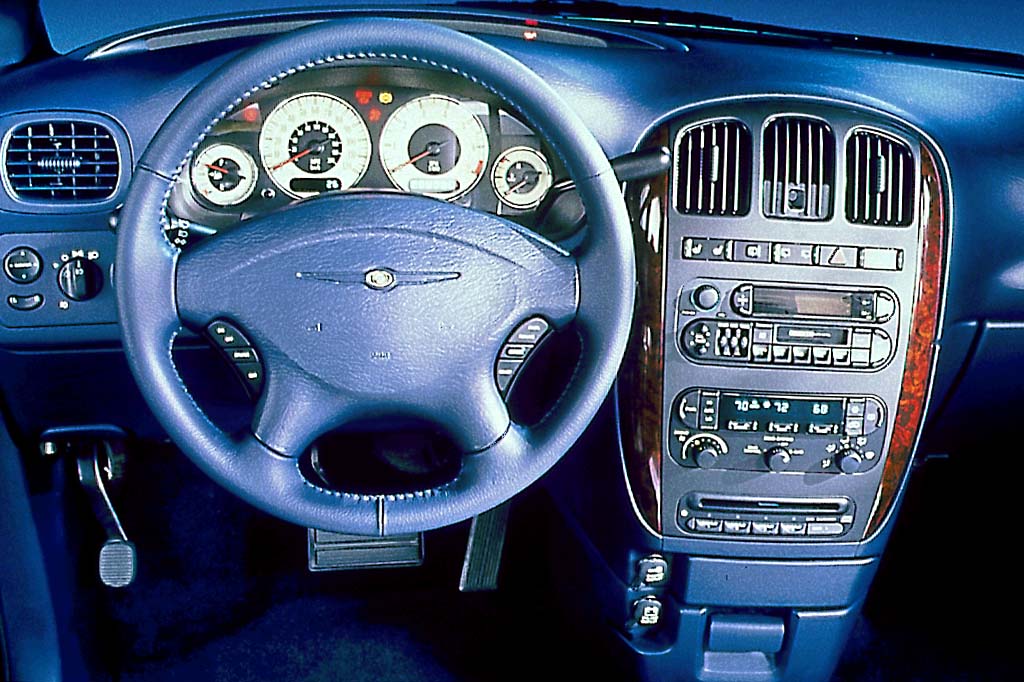 2002 Chrysler Town & Country interior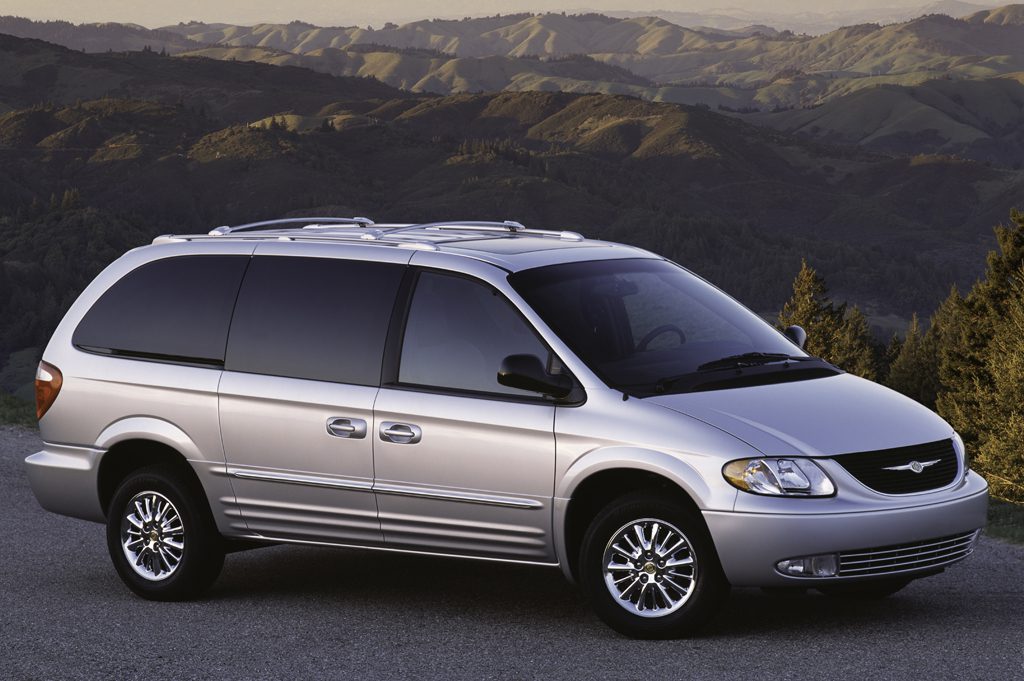 2003 Chrysler Town & Country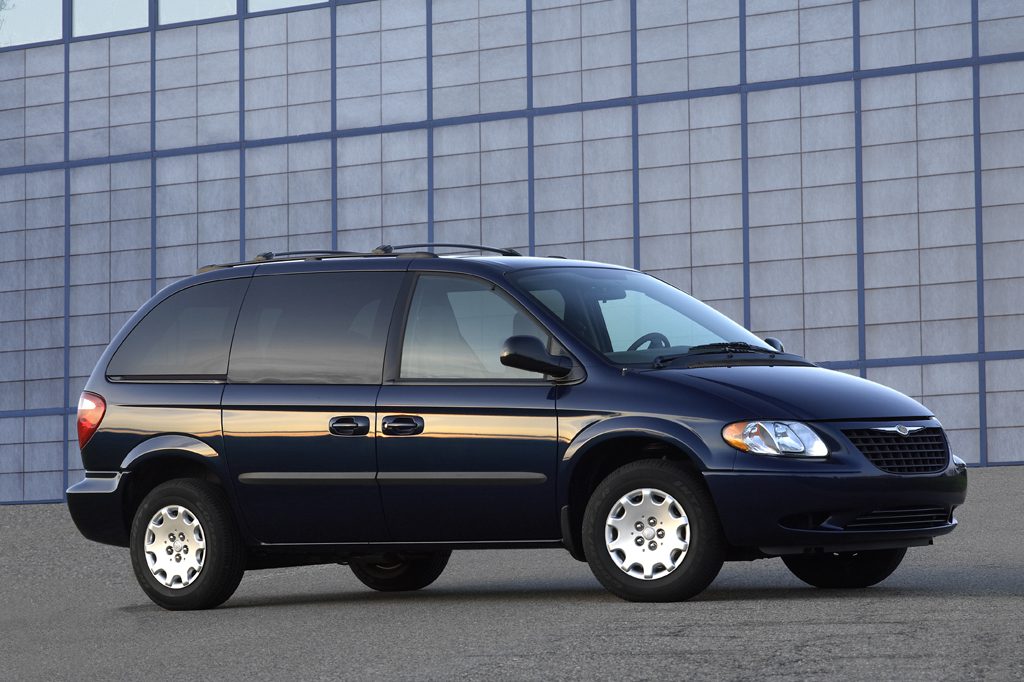 2004 Chrysler Town & Country
Pros:

All-wheel drive
Entry/exit
Interior storage space
Passenger and cargo room

Cons:
DaimlerChrysler's lineup dominates the "shoulders" of the minivan market. By 2002, their minivans accounted for 62 percent of sales under $20,000 and 37 percent of those over $30,000. Such figures demonstrate the appeal of both the entry-level Voyager and the luxury Town & Country, which, bolstered by the 2001 redesign, are now stronger values than ever.
Overview
Fresh styling, more powerful engines and some minivan "firsts" (including a power liftgate) highlighted the redesigned Town & Country. Wheelbases were unchanged from the previous year, but the Town & Country rode only the longer (119.3-inch) wheelbase, while the Chrysler Voyager (listed separately) went on a 113.3-inch span.
As in the past, the Dodge Caravan shared this design and most mechanical features. Caravans also were redesigned for 2001, in both regular- and extended-length models.
Town & Country minivans came in LX, LXi and Limited trim levels. Front-wheel drive was standard, but the Town & Country was available with all-wheel drive.
A 3.3-liter V6 was standard in the LX and LXi, now rated at 180 horsepower (previously 158). Limited and AWD models got a 3.8-liter V6, which was optional for LXi; it rose from 180 to 215 horsepower. Both engines mated with a four-speed automatic transmission. Antilock brakes were standard.
New wraparound taillamps, 50-percent larger headlights, and lower body cladding on the Town & Country LXi and Limited were among the styling changes. These minivans were about 2 inches wider than the 1996-2000 models.
All models seat seven and have two sliding side doors, with power operation for one or both side doors available. Alterations inside included new dashboards, and a center console with an internal power outlet. The console could be mounted between the front or second-row seats.
A newly available rear parcel shelf could be fixed at floor or midlevel positions, and included pop-up storage dividers. Dashboard airbags gained dual-stage inflators. Front side airbags (a first for these vans) were standard on the Limited and optional for other Town & Country models.
A rear-seat entertainment system with 6.4-inch LCD screen, VCR, and wireless headphones, was a dealer-installed option, as was a navigation system. An available in-dash four-disc CD player also was new.
A manual override for the available power sliding side doors permitted them to be opened or closed by hand during the powered phase. A right-side power door was optional for the Town & Country LX, while power operation for both sides was standard on LX and Limited models. The new power liftgate was controlled by the keyfob or interior switches, and had sensors designed to stop its movement if it encountered an obstruction. The power liftgate was standard on the Limited and optional on other models.
Unlike the Honda Odyssey and Mazda MPV, the third-row bench seat does not fold away into the floor, but Chrysler did offer a new 50-50 split third-row bench; each portion weighs 55 pounds and removes individually, and can also recline or fold flat. Rivals included the Chevrolet Venture, Honda Odyssey, and Toyota Sienna.
Yearly Updates
2002 Town & Country
New options for 2003 included a DVD-based rear-seat entertainment system and a tire-inflation monitor. This year's lineup included high-value eL and eX models, as well as the LX, LXi, and Limited.
2003 Town & Country
Upper-level Town & Country minivans could get a sunroof this year. Power-adjustable brake and accelerator pedals also were scheduled to become available, later in the model year.
2004 Town & Country
The Voyager is gone from the Town & Country linup for 2004. It is replaced by a base version of the minivan. A platinum series option package is available for the Touring model in '04, celebrating the 20th anniversary of the first Chrysler-built minivan. Also new for '04 is a tire-pressure monitor standard on all but the base and LX.