Minivan; Built in USA, Canada
transverse front-engine/front- or all-wheel drive
Good condition price range: $2,400 – $6,000*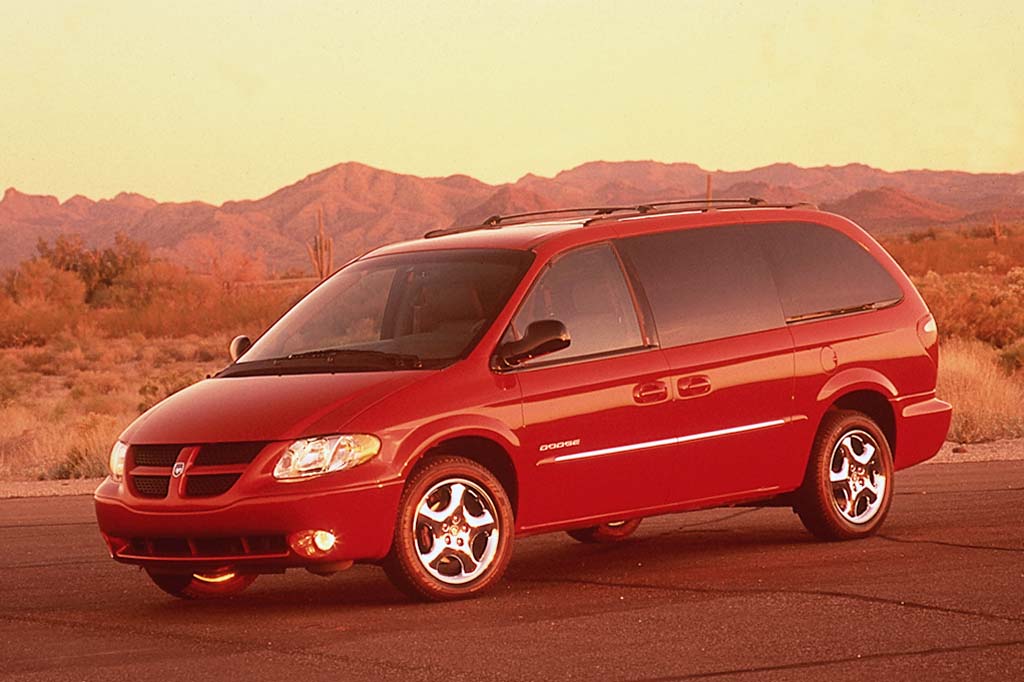 2001 Dodge Caravan ES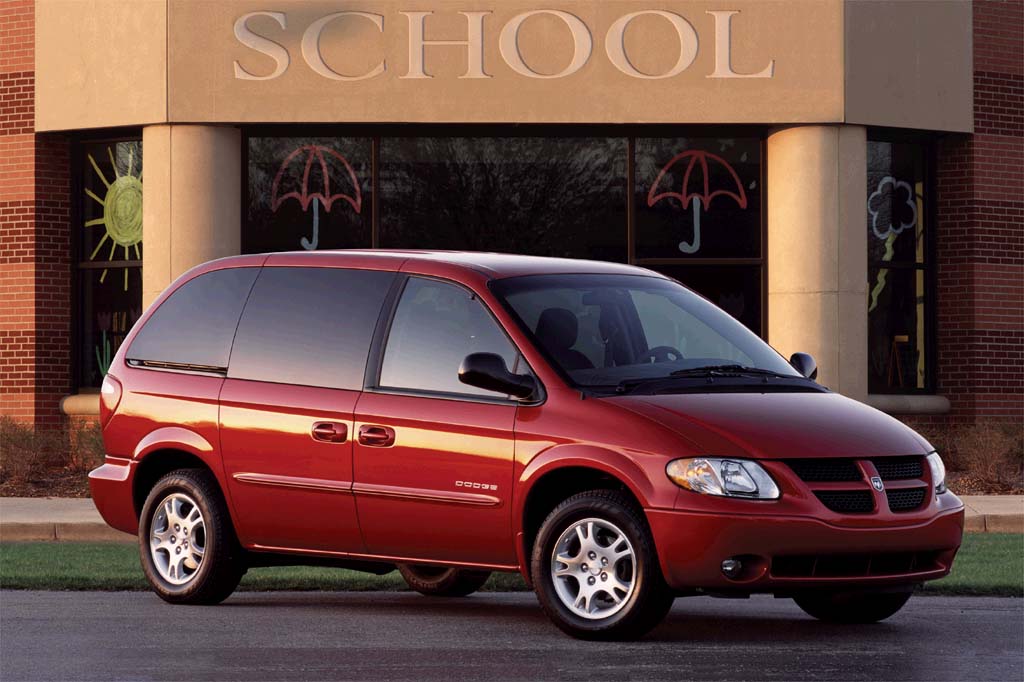 2002 Dodge Caravan Sport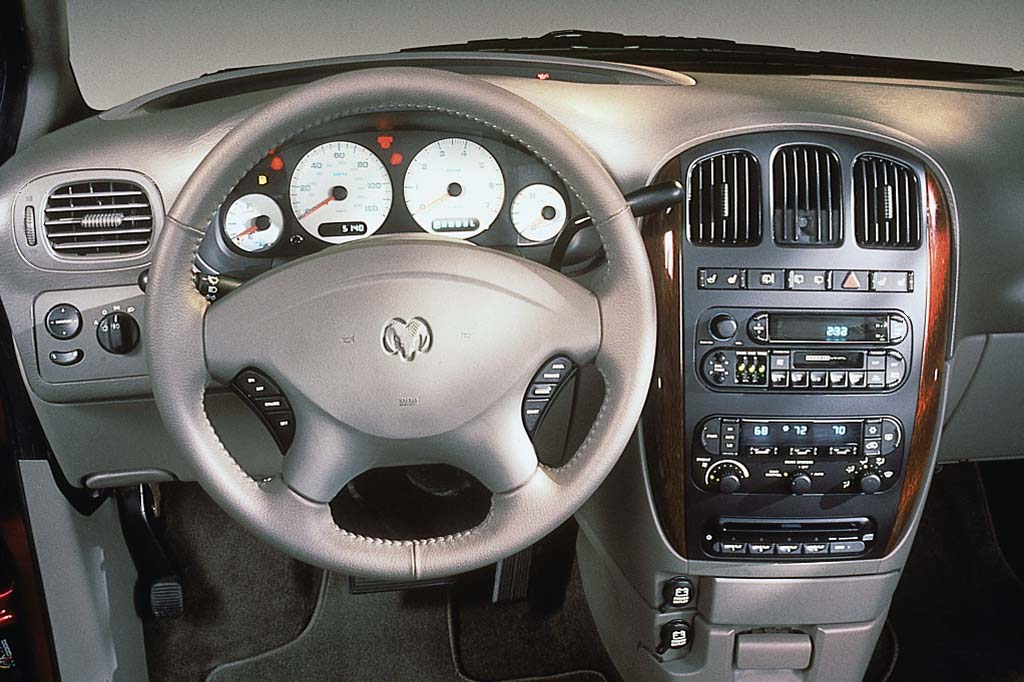 2001 Dodge Caravan interior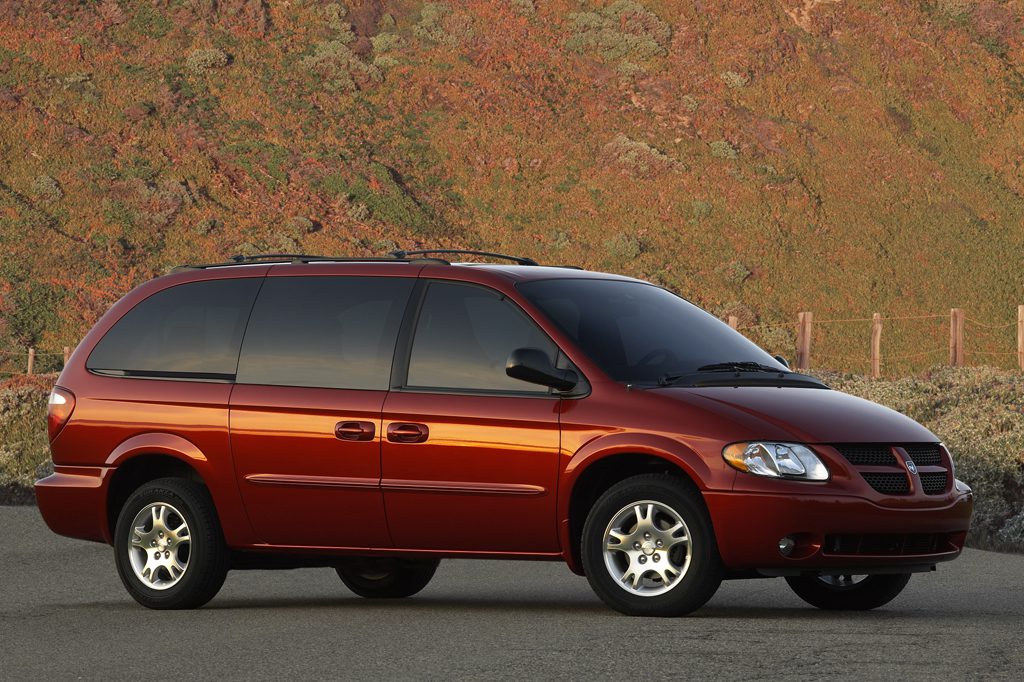 2004 Dodge Grand Caravan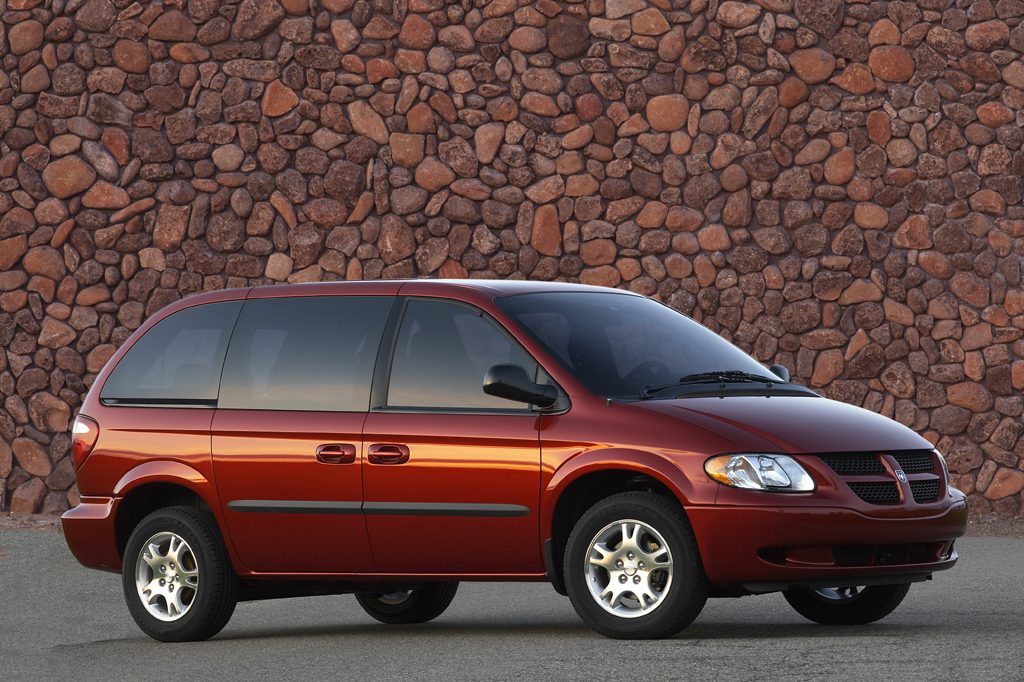 2004 Dodge Caravan
Pros:

All-wheel drive
Cargo room (Grand)
Entry/exit
Interior storage space
Passenger room

Cons:

Acceleration (4-cyl)
Fuel economy
Caravan's hold on the minivan sales title can only be strengthened by the 2001 redesign, which added desirable innovations to a vehicle that's hard to beat for refinement, utility, and carlike road manners. Don't buy a minivan without checking out Dodge's latest.
Overview
America's perennial best-selling minivan was redesigned for 2001. Fresh styling, more power, and innovations such as a power rear liftgate highlighted the fourth-generation Caravan and extended-size Grand Caravan. Dodge again shared this minivan design with the Chrysler Town & Country and Voyager, which were similarly restyled for 2001.
Caravans came in regular and extended-length Grand models. Wheelbases were unchanged from the 1996-2000 versions, but the regular-length body was 3 inches longer and both measured about 2 inches wider.
Three models were offered: regular-length SE, Sport models in both lengths, and Grand Caravan ES. All seated seven, and had two sliding side doors.
Styling changes included wraparound taillamps and 50-percent larger headlights. Dashboards were revised, and the new center console (with internal power outlet) could be positioned between the front or second-row seats. All new was an available rear parcel shelf, with pop-up storage dividers that could be mounted at floor or midlevel positions.
Front side airbags were newly optional. Dashboard airbags gained dual-stage inflators and the front seat belts added pretensioners.
Front-wheel drive was standard, but all-wheel drive was available for Grand Caravans. A four-cylinder engine was standard in the SE, unchanged in power from the previous year. All other front-drive models got a standard 3.3-liter V6, with 180 horsepower–an increase of 22 hp. AWD minivans held a 3.8-liter V6, with 215 hp (an increase of 35 horsepower), which was optional for the front-drive ES.
Four-cylinder models used a three-speed automatic transmission, but V6 engines linked with a four-speed automatic. Both transmissions had a column-mounted gear lever, but the ES was available with Chrysler's AutoStick feature. This adds a toggle in the column-shift lever, making it the only minivan with a separate control for manual gear changes.
Antilock brakes were optional for the SE, and standard on other models. Power operation for one or (on Grand models) both side doors was available. In a minivan exclusive shared with Voyager and Town & Country, the side doors could be closed or opened by hand even during the powered phase. The new power liftgate is another minivan first, optional on Grand Caravans. Controlled by the keyfob and interior switches, it has sensors designed to halt movement if the liftgate encounters an obstruction.
Unlike the Honda Odyssey and Mazda MPV, Caravan's third-row seats do not fold into the floor. But Caravan offered a new 50/50-split third-row bench. Each portion weighed 55 pounds, could be removed individually, and could recline or be folded flat. A rear-seat video entertainment system and a navigation system were dealer-installed options.
Competitors included the Chevrolet Venture, Honda Odyssey, Toyota Sienna, and Ford Windstar.
Yearly Updates
2002 Caravan
Minivan occupants could now enjoy a DVD-based rear-seat video entertainment system, offered as a dealer-installed option. A VCR-based system also was available. This year's Caravan lineup included a high-value eC, as well as SE and Sport models. Extended-length Grand Caravans came in SE, Sport and ES trim, along with high-value eL and eX models.
2003 Caravan
A power sunroof became optional for 2003 on America's best-selling minivan, exclusive to the Grand Caravan ES. A power liftgate was standard on top-of-the-line Grand eX and ES models, and optional on other Grand Caravans. Power-adjustable pedals were scheduled to become optional during the 2003 model year, but the AutoStick transmission was no longer available.
2004 Caravan
An option packkge that celebrates 20 years of Caravans is made available for only the Grand Caravan SXT in '04. It includes chrome alloy wheels, rear DVD entertainment, CD changer, leather upholstery, and unique badging.