Compact SUV; Built in USA
transverse front-engine/front- or 4-wheel drive
Good condition price range: $2,900 – $6,900*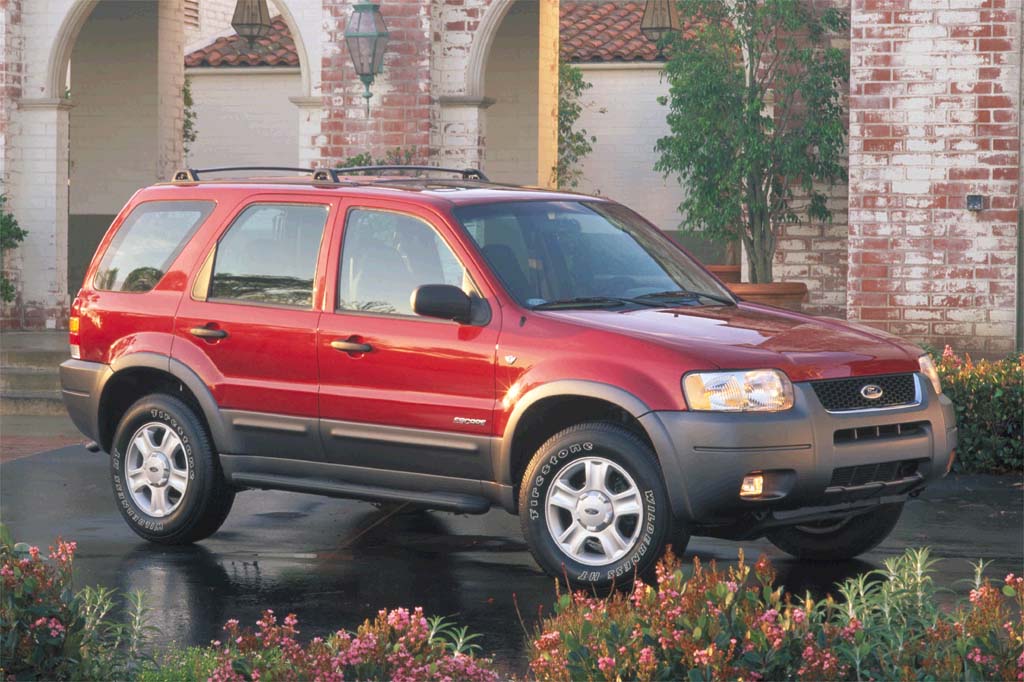 2001 Ford Escape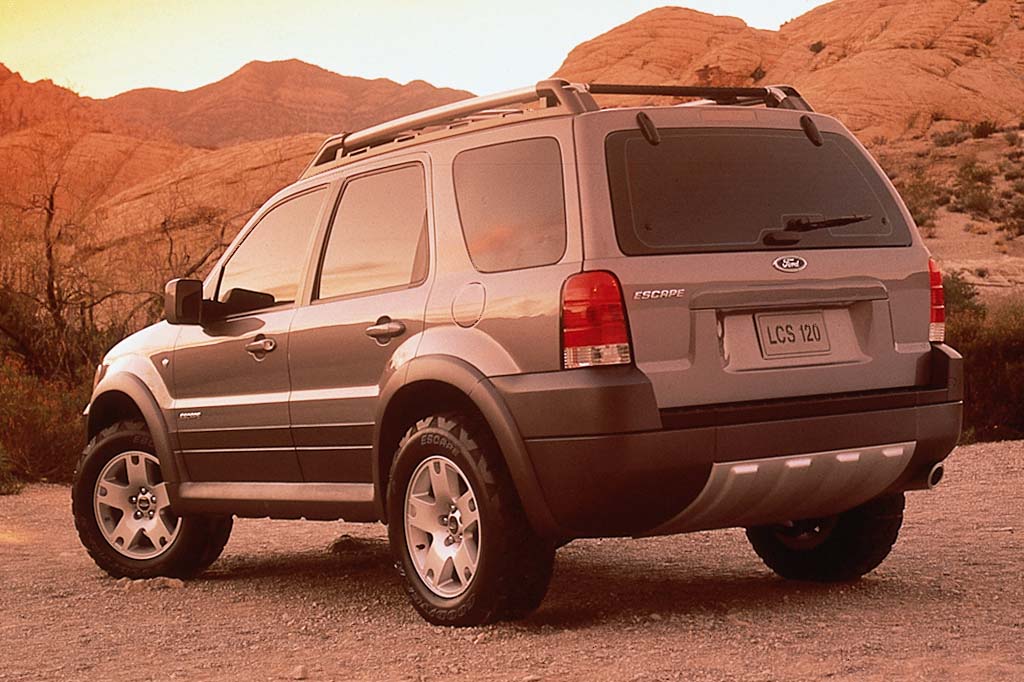 2001 Ford Escape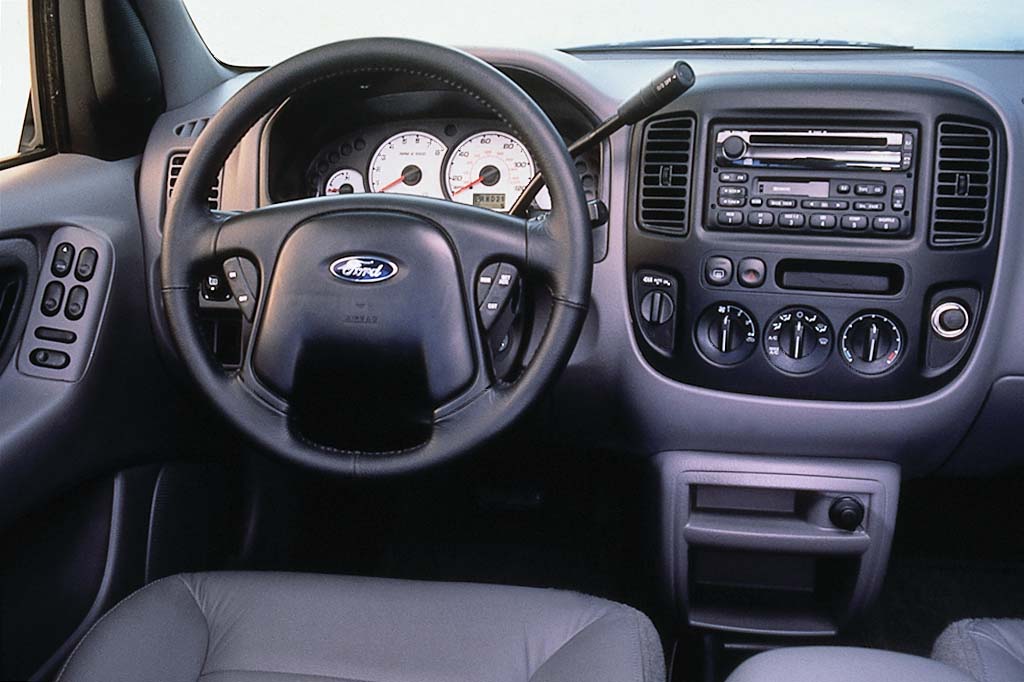 2001 Ford Escape interior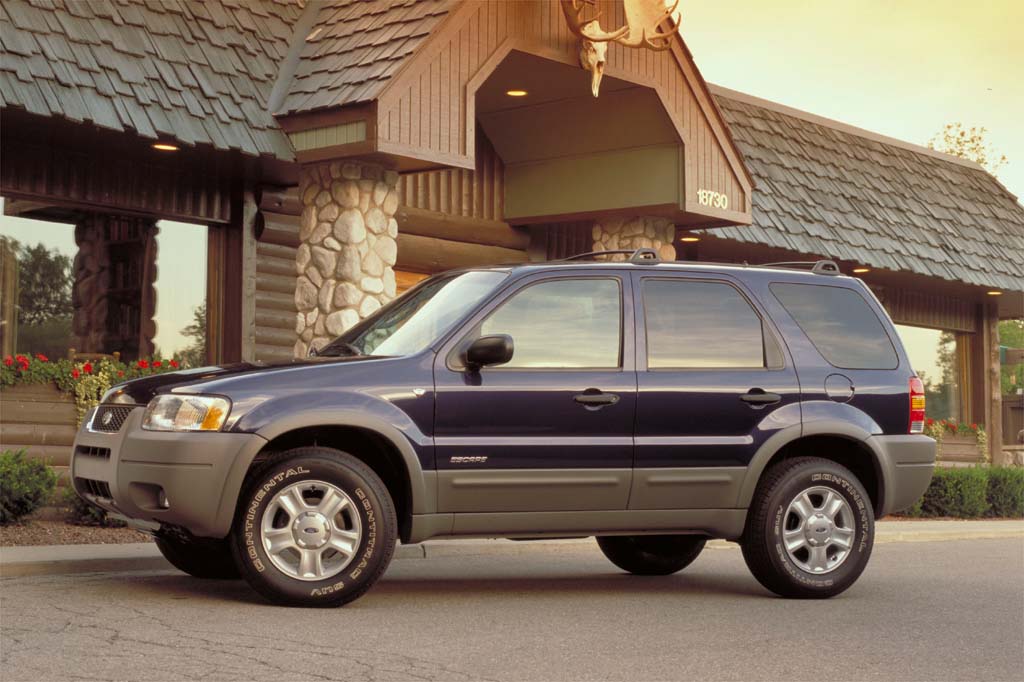 2002 Ford Escape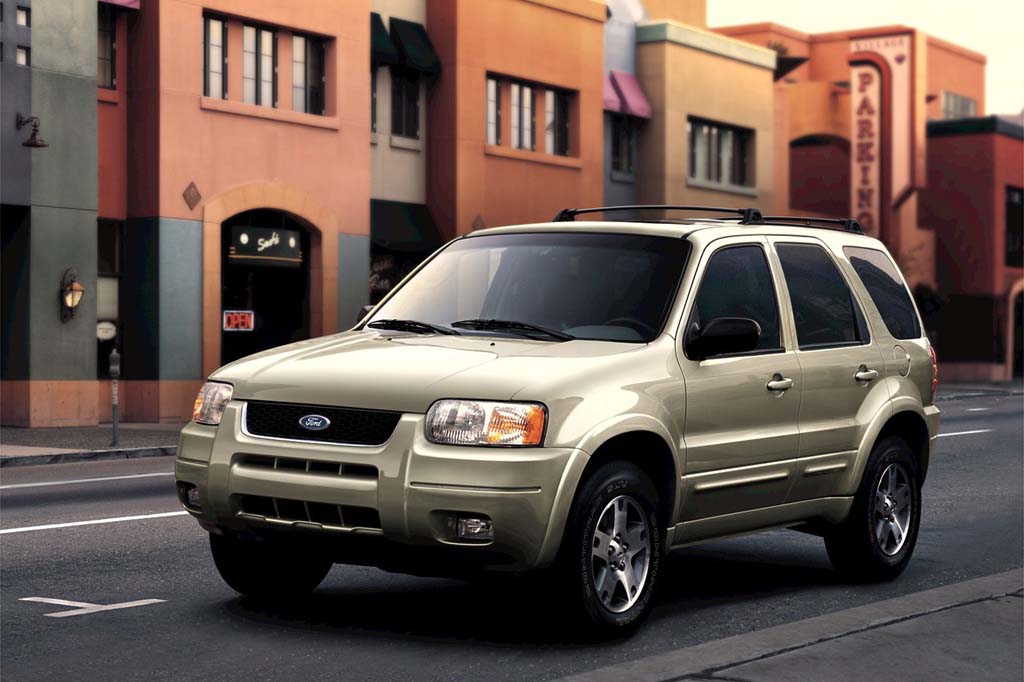 2003 Ford Escape
Pros:

Cargo room
Maneuverability
Visibility

Cons:

Control layout (early automatic)
Noise
Substantial feeling, roomy, comfortable, and even fun to drive, Escape and Tribute earn a slot on the compact SUV all-star team. They're also eminently sensible alternatives to any number of midsize SUVs, especially truck-based wagons, that are less efficient in their use of space and fuel. No wonder the Escape soon became America's top-selling compact SUV. Stay away from troublesome 4-cylinder models.
Overview
Answering the Honda CR-V and Toyota RAV4, Ford's compact SUV went on sale in summer 2000 as another four-door unibodied wagon with front-wheel drive or permanent 4WD. However, the Escape offered a V6 as well as four-cylinder power. Honda and Toyota rivals came only with four-cylinder engines. So did the Subaru Forester, which used a horizontally-opposed four-cylinder.
An Escape was 4.6 inches shorter than the CR-V, but virtually equal in other dimensions. The Escape was developed jointly with Ford partner Mazda, which got its own version named the Tribute. Their new carlike platform was a Mazda design, but shared engines came from Ford. Escapes have more rugged styling than the Tribute, and were expected to account for 75 percent of the 135,000-unit annual output.
Escapes came in XLS and uplevel XLT models. The four-cylinder engine was borrowed from the subcompact Focus line, teaming only with a floor-shifted manual transmission. The optional V6 came from the midsize Taurus, mating only with a column-shifted four-speed automatic. Escape's 4WD automatically sent up to 50 percent of power aft, when front wheel slippage was detected, but a 50/50 split could be locked in using a dashboard switch. No low-range gearing was included.
Antilock braking was standard on XLT models, and optional for the XLS. Front side airbags were optional on both.
Standard equipment included a rear liftgate with glass hatch and wiper, air conditioning, front bucket seats with console, and a CD player. A 60/40 split-fold rear seatback was standard on the XLT. Both versions used 15-inch wheels, but 16-inchers were optional for V6 XLT Escapes.
Yearly Updates
2002 Escape
Model designations were modified for 2002. Base XLS and uplevel XLT versions gained Value, Sport, Choice, and Premium sub-series. This year, XLS editions had a CD/cassette player, while XLTs got a 6-disc CD changer. A shortened automatic-transmission lever was installed later in the model year, to permit easier access to certain controls. A Ford "No Boundaries" roof rack, which could slide back and down to ease loading, also became available.
2003 Escape
A more luxurious Escape Limited joined the 2003 lineup, and instrument panels adopted a new satin-silver finish. Standard equipment on the new Limited included leather upholstery, rear-obstacle detection, and heated front seats and mirrors. Ford's "No Boundaries" roof rack was exclusive to the Escape XLT Sport. This year's lineup included Value, Sport, Popular, Premium, and Limited editions.
2004 Escape
Ford's smallest SUV got only minor equipment changes in anticipation of a redesign for '05.