Compact car; Built in USA, Canada, England, Japan
2-door coupe
2-door hatchback
4-door sedan
transverse front-engine/front-wheel drive
Good condition price range: $3,100 – $7,500*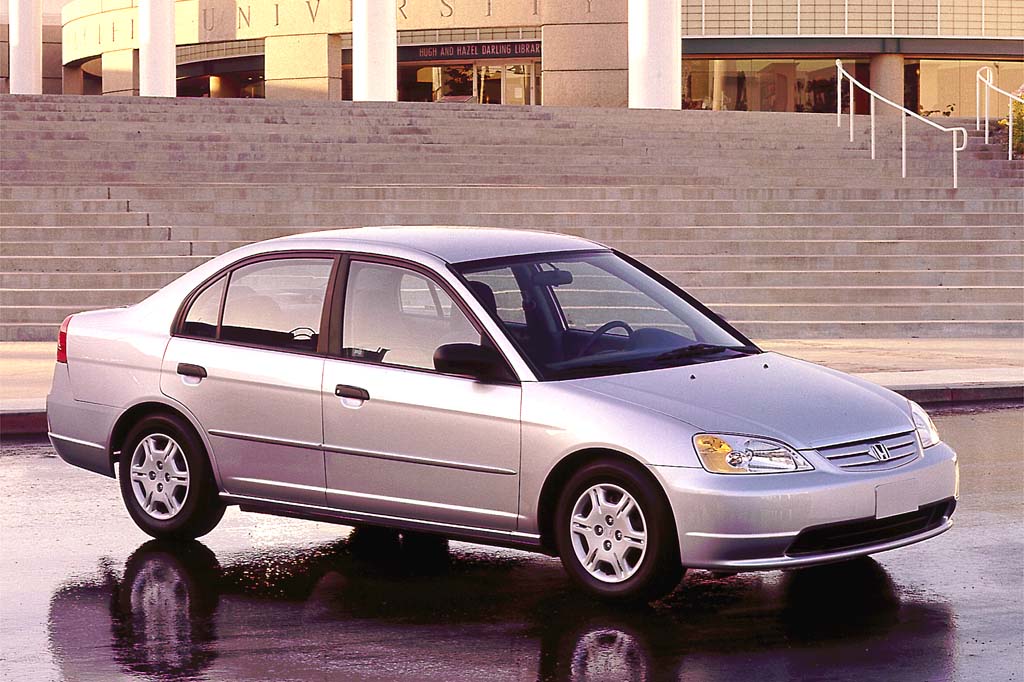 2001 Honda Civic LX 4-door sedan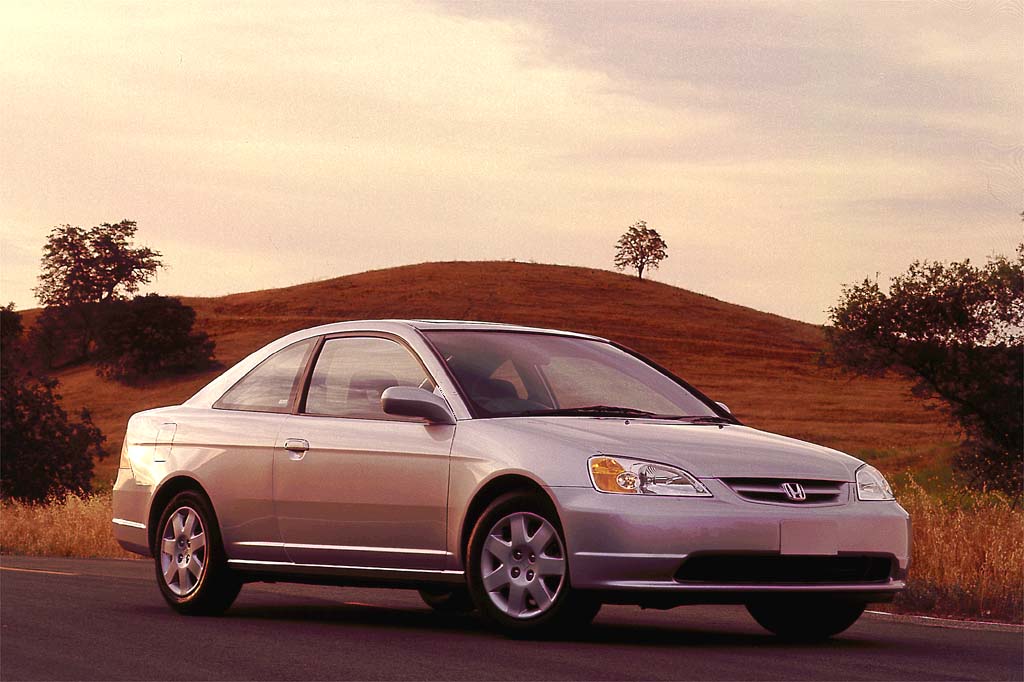 2001 Honda Civic LX 2-door coupe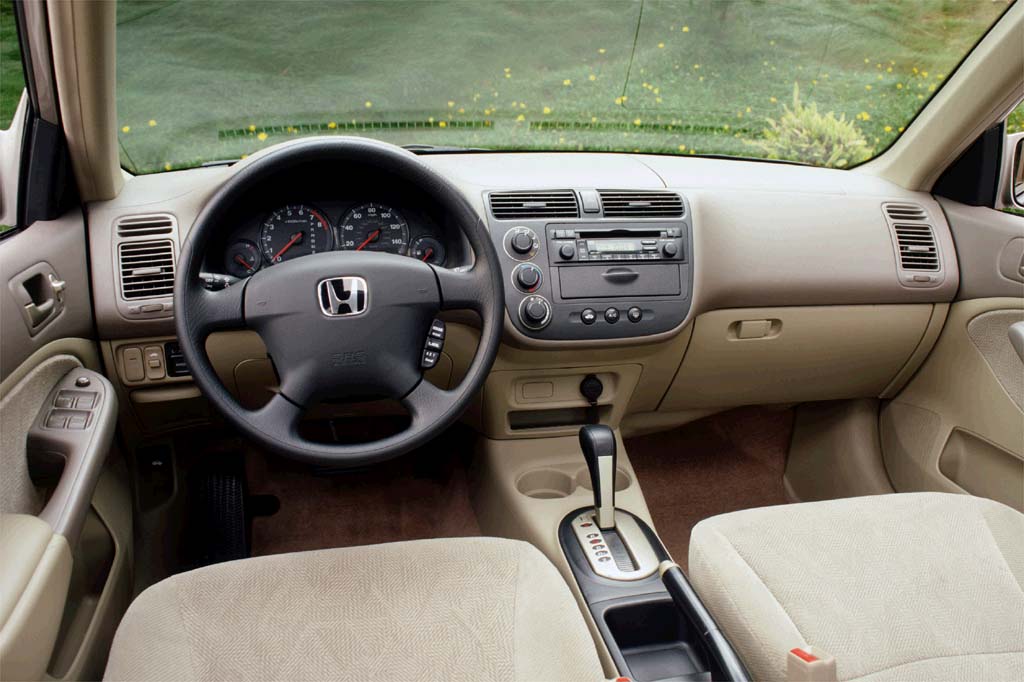 2001 Honda Civic interior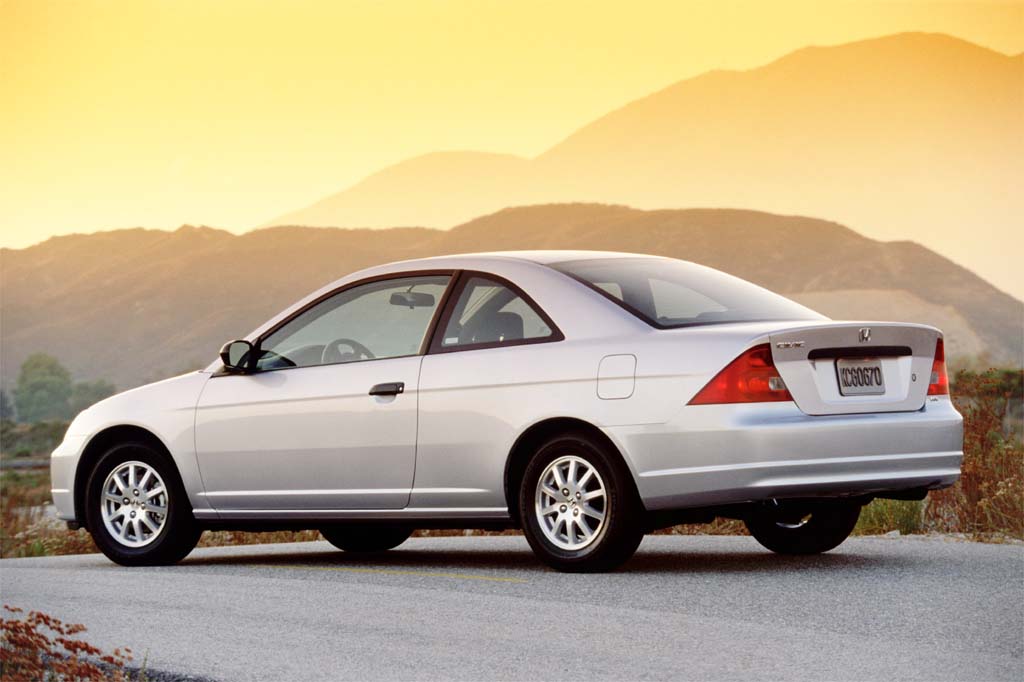 2002 Honda Civic HX 2-door coupe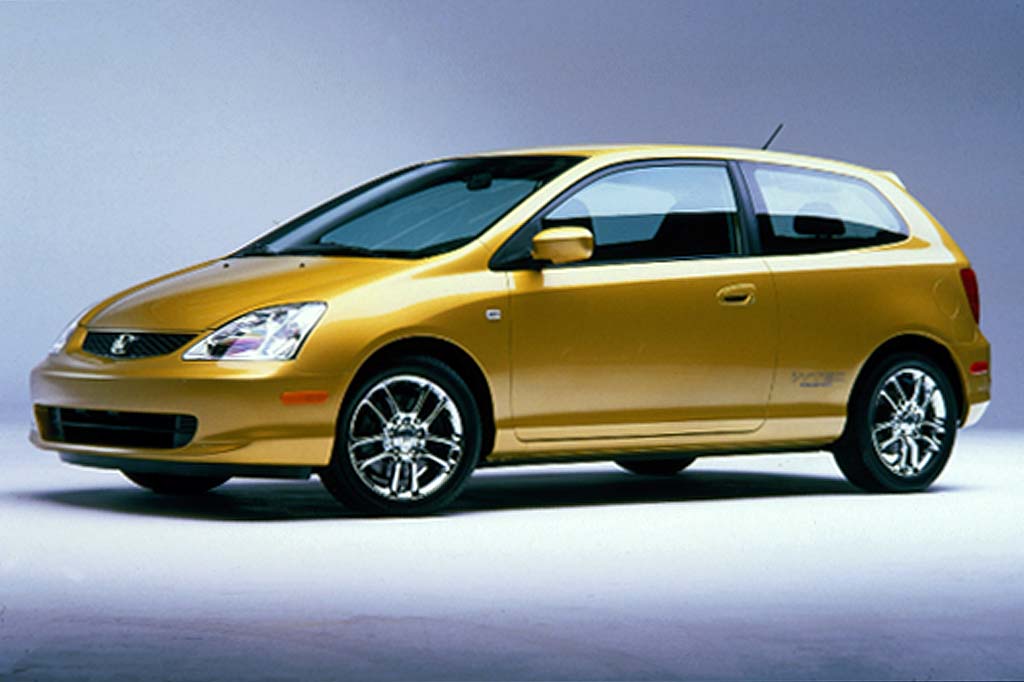 2002 Honda Civic Si 2-door hatchback
Pros:

Acceleration (Si)
Build quality
Fuel economy
Handling (Si)
Visibility

Cons:

Rear-seat entry/exit (coupes, Si)
Steering feel (except Si)
Civic has long been tops for small-car refinement and driving fun, and the current generation shapes up as the best one yet. With its fine reliability records, Honda's solidly built subcompact is a hands-down Best Buy, despite a few workmanship glitches on test models. Competitors cannot match Civic's blend of comfort, refinement, excellent ergonomics, and fuel thrift. Strong resale values keep secondhand prices high.
Overview
This perennial Best Buy began its seventh design generation with all-new models, offering front side airbags as a first-time option. Interiors and trunks grew in size. Sedan and coupe body styles returned, but the Civic hatchback was gone–at least for a while.
The Civic lineup consisted of DX, LX, and top-rung EX coupes and sedans. The LX coupe was new. A high-mileage HX coupe also joined the group, as did a low-emissions GX sedan that ran on compressed natural gas (CNG). The sporty Si coupe was dropped, but would return after a year's absence.
Civic's previous 1.6-liter four-cylinder engines gave way to 1.7-liter derivatives with 9 more horsepower for DX and LX models. The HX engine gained 2 horsepower. Civic EX models were unchanged in power, but gained a little torque output. All models had longer oil-change and tune-up intervals.
A five-speed manual transmission was standard. The extra-cost automatic was a conventional four-speed unit, except for the HX coupe, which again offered Honda's continuously variable transmission (CVT), with a belt-and-pulley system providing an infinite number of "gears."
Wheelbases were unchanged, but overall length was marginally shorter and all models were taller with slightly larger cabins and trunks. The standard dual-stage airbags were designed to deploy with force appropriate to occupant size and weight. Front side airbags were a line-wide option and included a sensor that deactivates the passenger bag if the occupant is not positioned for proper protection. Antilock brakes were standard on EX models, but unavailable elsewhere. Civics competed against the Ford Focus, Mazda Protege, Toyota Corolla, and Volkswagen Golf/Jetta.
Yearly Updates
2002 Civic
A sporty new Si hatchback joined the Civic lineup for 2002, packing a 160-horsepower engine and measuring 9 inches shorter than other body styles. Offered only with a manual transmission, the performance-focused Si came with antilock braking, electric-assist power steering, a sport suspension, and a sunroof. Front side airbags were optional. Regular coupes and sedans got suspension revisions to improve ride and handling, as well as additional sound insulation.
2003 Civic
Changes were modest for 2003. Most Civics got new gauges, and the HX and LX gained a CD player as standard equipment. The LX joined the EX as the only Civic models with a height-adjustable driver's seat. EX coupes adopted alloy wheels and sedans gained restyled taillights. A Civic Hybrid sedan with a gasoline-electric powertrain joined the lineup as an early 2003 model. Honda had introduced a two-passenger Insight hybrid previously.
2004 Civic
All Civics get revised front and rear styling this year. Also, LX models get standard keyless entry and 15-inch wheels to replace 14s. EX models get standard alloy wheels, and the Hybrid joins the LX and EX as the only models that offer a height-adjustable driver seat.
2005 Civic
No changes were made on Civic in 2005, but expect a redesigned Civic for 2006.