Premium compact car; Built in Germany
2-door coupe
4-door sedan
4-door wagon
longitudinal front-engine/rear- or all-wheel drive
Good condition price range: $4,800 – $17,500*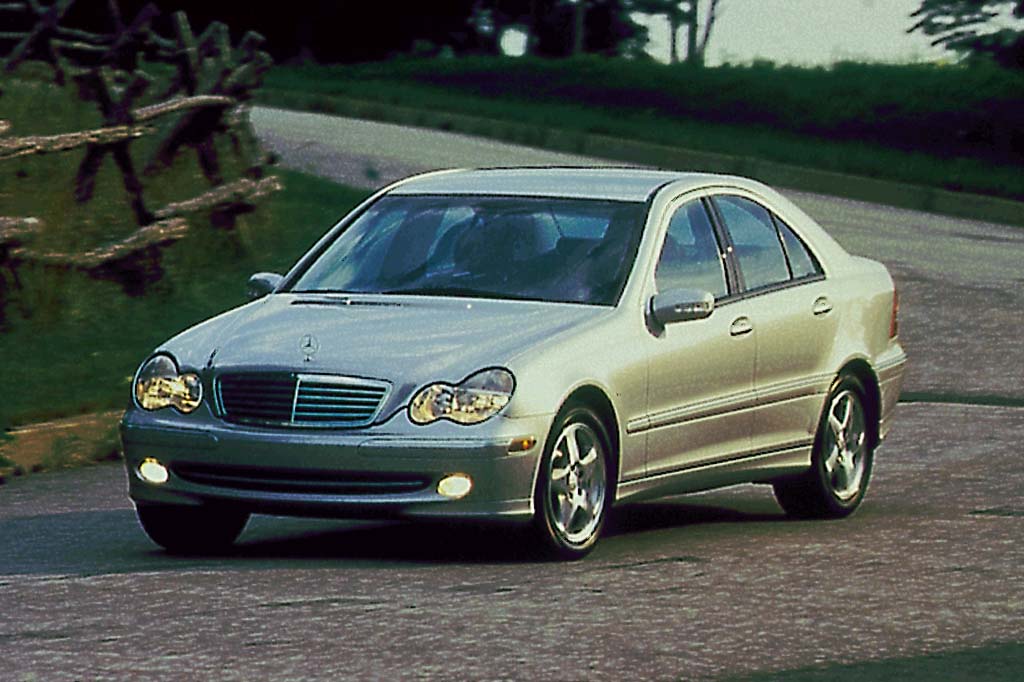 2001 Mercedes-Benz C240 4-door sedan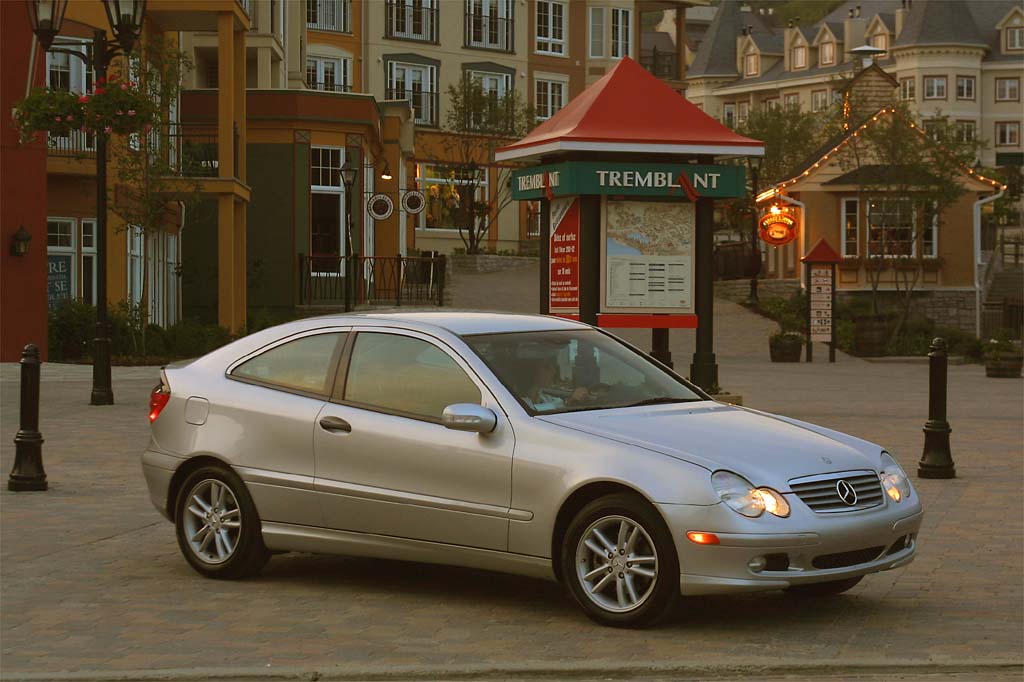 2002 Mercedes-Benz C230 2-door hatchback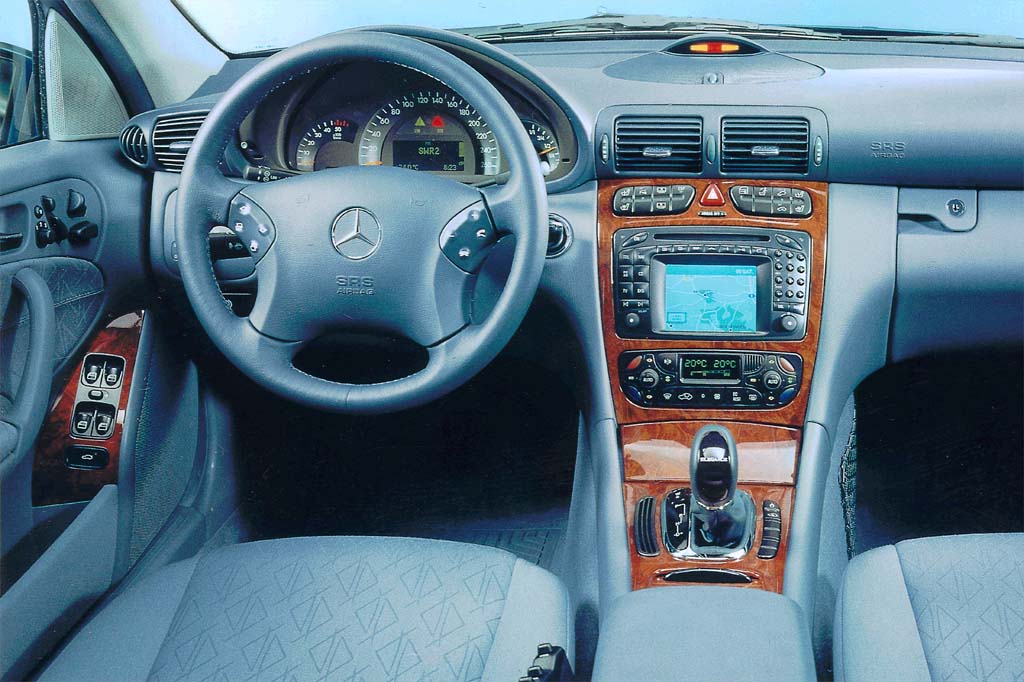 2001 Mercedes-Benz C-Class interior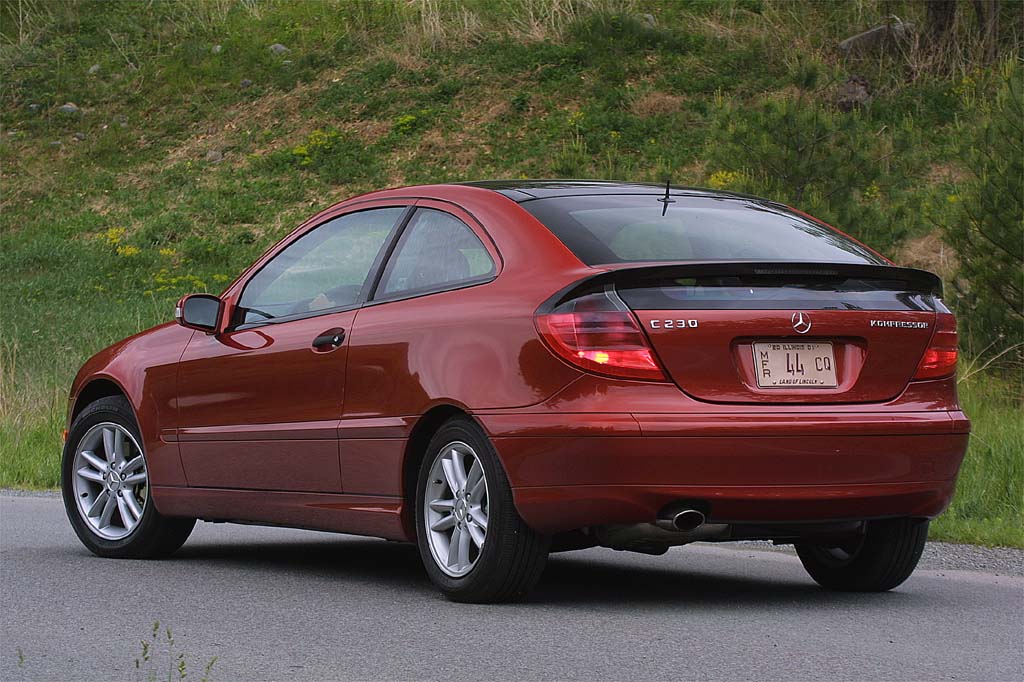 2002 Mercedes-Benz C230 2-door hatchback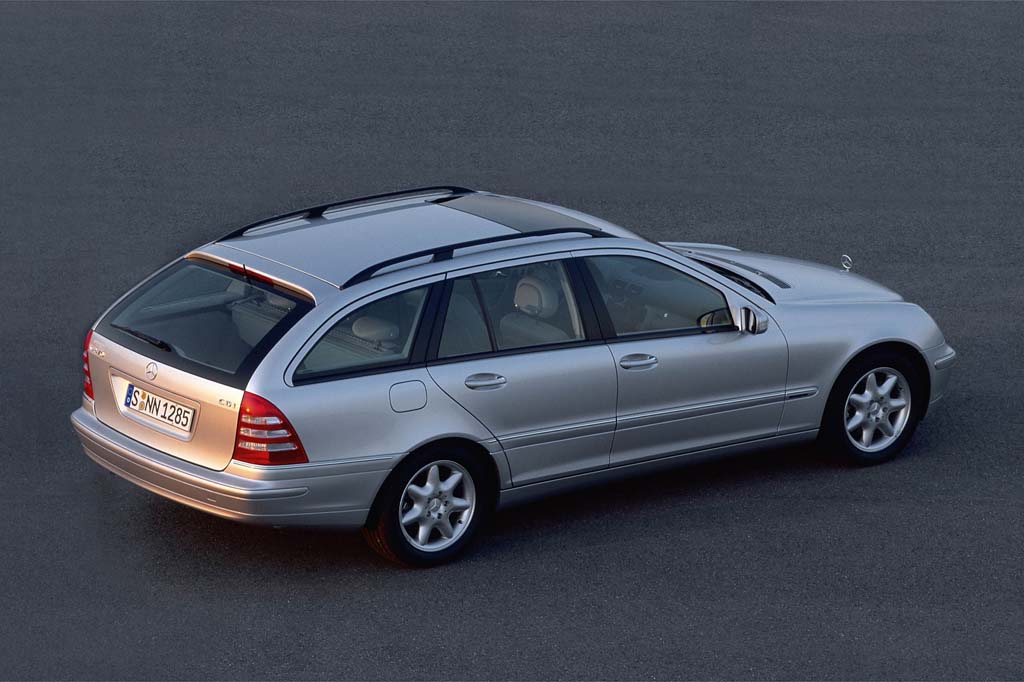 2002 Mercedes-Benz C-Class 4-door wagon
Pros:

Acceleration
All-wheel drive
Build quality
Quietness
Steering/handling

Cons:

Automatic-transmission performance
Rear-seat entry/exit
Rear visibility
C320 sedans and wagons, in particular, are desirable near-luxury cars. Despite some cutrate interior details, they vie with the best in class for driving composure, features, and long-term value.
Overview
Mercedes-Benz redesigned its entry-level sedans for 2001, giving them standard V6 power, new safety features, and styling modeled on the flagship S-Class. Again a compact near-luxury four-door, the second-generation C-Class was about an inch longer in wheelbase and overall than the 1994-2000 models. Interior dimensions grew slightly, but trunk volume shrunk by nearly one cubic foot.
Replacing the previous C230, the new C240 sedan used a 168-horsepower, 2.6-liter V6. The 215-hp C320 borrowed its 3.2-liter V6 from Mercedes' midsize E320. It replaced the C260. Both engines required premium fuel.
A six-speed manual transmission was standard on the C240, with a five-speed automatic optional. Only automatic was offered on the C320, which featured Touch Shift that allowed manual gear changes by moving the shift lever slightly left or right.
All models came with traction control, an antiskid system, and antilock four-wheel disc brakes. Also included were front and rear side airbags, curtain side airbags, and Mercedes' BabySmart child-seat recognition system.
Standard tires grew to 16-inch size. An optional Sport package included a firmer suspension, slightly wider tires, aluminum interior details, and aero body trim.
Standard features included dual-zone automatic climate control, a tilt/telescoping steering wheel (powered on the C320), wood interior trim, and a cassette audio system. The C320 added power memory front seats and a Bose premium audio system. Leather upholstery was standard in the C320 and optional for the C240. Xenon headlights, a glovebox CD change, and a navigation system were optional on both models.
Sedan rivals included the Acura TL, Audi A4, and BMW 3-Series.
Yearly Updates
2002 C-Class
During 2001, a C230 hatchback coupe joined the lineup, powered by a supercharged four-cylinder engine, as an early 2002 model. A station wagon and a high-performance sedan also augmented Mercedes' entry-level line for 2002.
Both the C320 sedan and new C320 wagon used a 3.2-liter V6. The new C32 AMG sedan held a supercharged V6, with 17-inch wheels versus other models' 16s, plus a sport suspension.
The C230 and C240 had a standard six-speed manual transmission. A five-speed automatic with manual shift gate was optional for those models, and mandatory on the C320 and C32 AMG. (The C32's "SpeedShift" automatic was programmed for high-performance driving.)
Leather upholstery was standard in the C32, and optional in other models. Available for sedans was a Sport Package with an upgraded suspension and aero body add-ons. An optional Panorama glass sunroof for the coupe opened wider than other sunroofs, and included a fixed glass panel over the rear seat, plus dual power sunshades.
Mercedes' TeleAid assistance system was optional for the C230 and standard elsewhere. Available for all was Mercedes' COMAND navigation system, which included an Internet-based "InfoServices" feature that displayed user-selected information.
2003 C-Class
Mercedes' entry-level line added available all-wheel drive and another wagon for 2003. The price-leader C230 hatchback coupe got a new supercharged four-cylinder engine, exchanging a 192-horsepower 2.3-liter for a 189-horsepower 1.8-liter.
Mercedes' 4Matic all-wheel drive was newly available for all C240s and C320s. The new wagon was a C240, equipped like the returning sedan model; both used a 2.6-liter V6. The C320 sedan and wagon retained a 3.2-liter V6.
Topping the line, the C32 AMG sedan continued with a supercharged V6, sport suspension, 17-inch wheels, and a performance-programmed "SpeedShift" five-speed automatic transmission. Other models, including C320s, offered a regular five-speed automatic as an option to the six-speed manual.
Mercedes' TeleAid assistance system was standard on the C32 and available for other models. Bi-xenon headlamps were a new linewide option (replacing low beams only).
2004 C-Class
All models were now factory prewired to accept a newly optional, dealer-installed satellite radio. Sports Coupes gained a standard three-spoke steering wheel, enlarged chrome exhaust tip, and other sporty appearance features.
2005 C-Class
Revised styling and introduction of a high-performance V8 model highlight 2005 changes to Mercedes-Benz' least-expensive cars. The new high-performance C55 AMG sedan has a 362-hp V8. It replaces the 349-hp V6 C32 AMG sedan and has front-end styling distinct from other models'. Due during the '05 model year is a 3.5-liter replacement for the C320's 3.2-liter V6. For '05, Luxury Sedans and Wagons get new-style wheels and adopt body trim used on the 2004 Sport versions. Sport Sedans adopt body trim used on the C32 AMG. Sport Coupes get a perforated grille. All have revised headlamps and taillamps and a redesigned dashboard. Interior trim–wood on Luxury versions, aluminum on Sports–is also revised.
2006 C-Class
Engines and model designations are new and the range of body styles is narrower for 2006 in the least-expensive Mercedes-Benz car line. Gone are wagons and coupes. Sedans survive and offer a choice of rear- and all-wheel drive. The C230 Sport for '06 gets a 201-hp V6 in place of a 189-hp supercharged 4-cyl. The C280 Luxury has a 228-hp V6. It replaces the 168-hp C240. The C350 Sport and Luxury have a 268-hp V6. They replace the 215-hp C320. Again topping the line is the C55 with a 362-hp V8.
2007 C-Class
Mercedes-Benz's smallest sedan is largely unchanged for 2007, pending a 2008 redesign due in calendar '07. Discontinued is the 362-hp V8 C55.