Large SUV; Built in USA
longitudinal front-engine/rear- or 4-wheel drive
Good condition price range: $5,500 – $21,200*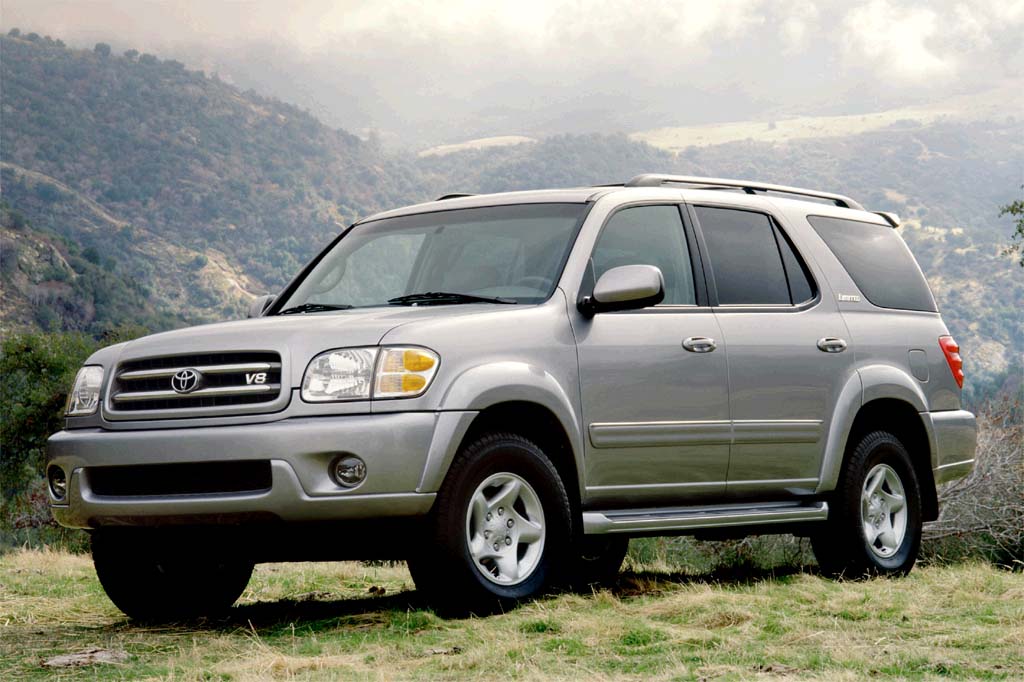 2001 Toyota Sequoia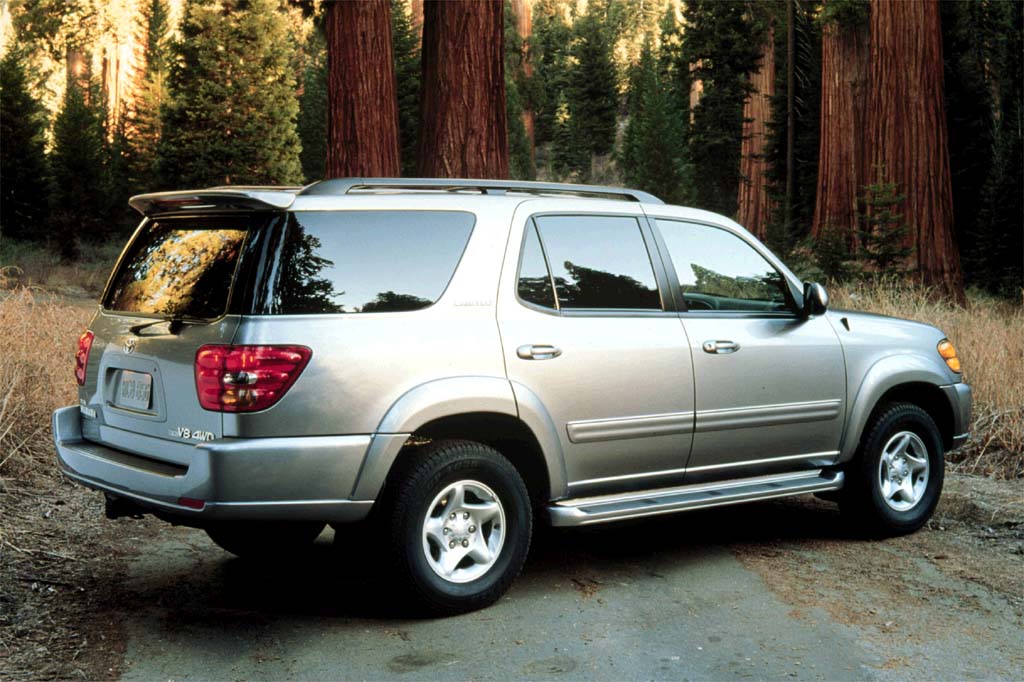 2001 Toyota Sequoia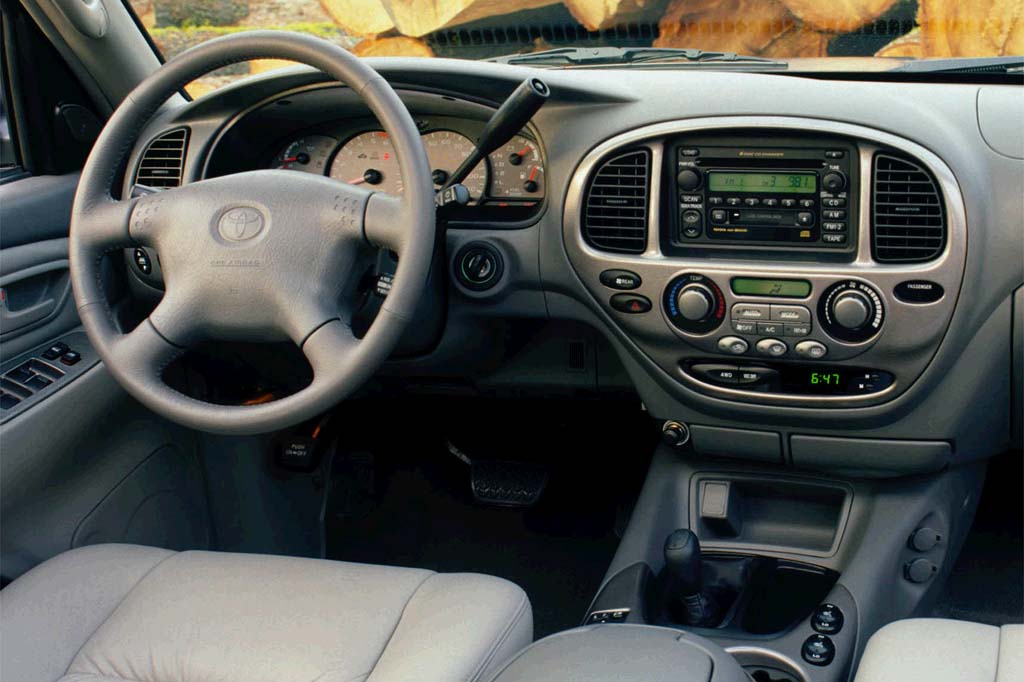 2001 Toyota Sequoia interior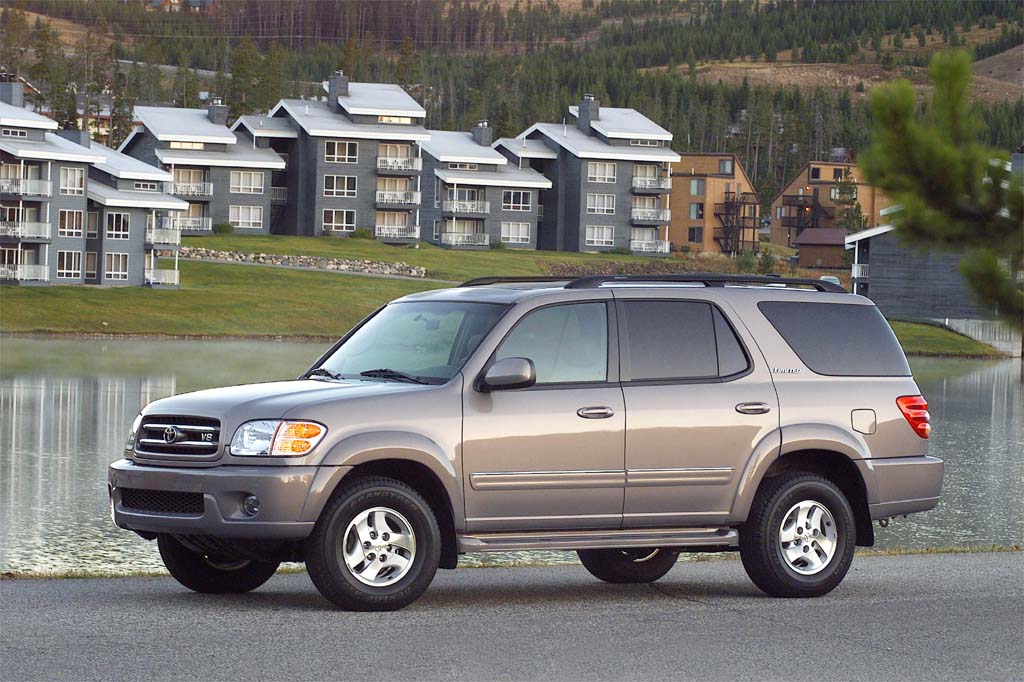 2002 Toyota Sequoia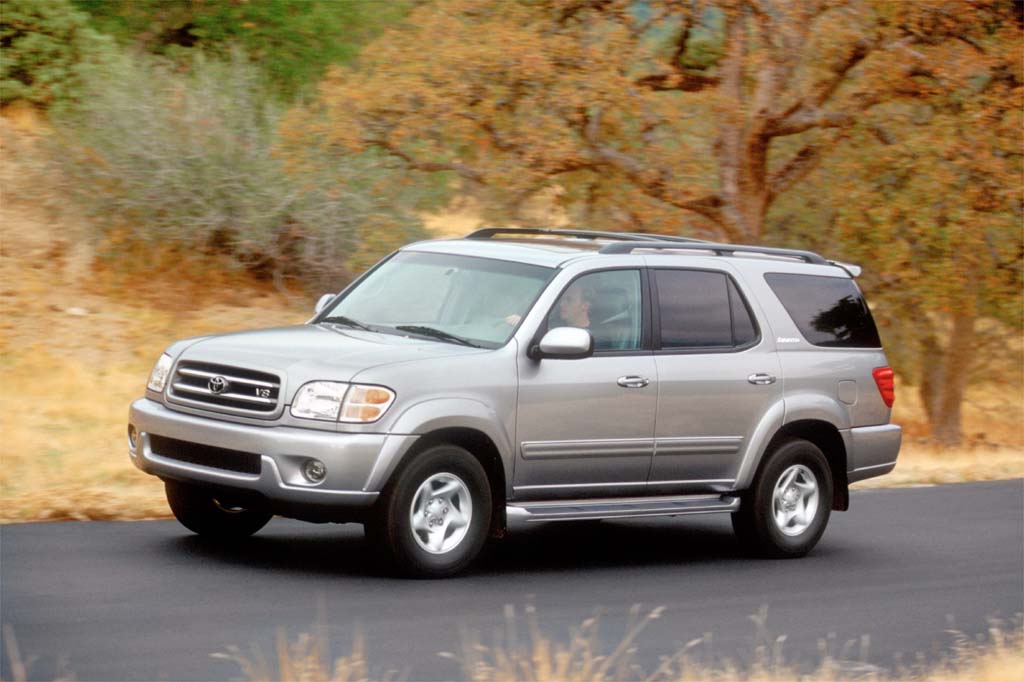 2002 Toyota Sequoia
Pros:

Automatic-transmission performance
Build quality
Instruments/controls
Passenger and cargo room

Cons:

Fuel economy
Maneuverability
Brake-pedal feel
Sequoia suffers from all the usual big-SUV vices, but is nonetheless a strong competitor that merits serious consideration as a refined, well-equipped Toyota. Still, rivals match it in many ways while typically towing more than Sequoia's 6500-pound maximum. They may also be cheaper.
Overview
Joining the familiar and long-lived Land Cruiser, Toyota added a second full-size, four-wheel-drive sport-utility vehicle for 2001. Built at the same Indiana plant as the Tundra full-size pickup, the Sequoia was a spinoff of that truck. The four door wagon rivaled the Ford Expedition for bulk, and was the largest vehicle ever offered in the U.S. by a Japanese manufacturer.
Sole engine was the Tundra's 4.7-liter V8, here rated at 240 horsepower and linked to an automatic transmission. Rear-wheel-drive and four-wheel-drive models were offered, in SR5 and upscale Limited trim. The 4WD system had to be disengaged on dry pavement, but included low-range gearing. A dashboard switch allowed shifting between 2WD and 4WD-High.
Traction control was standard on both versions. Toyota's Vehicle Stability Control antiskid system was an option. The Sequoia's independent front suspension was similar to the Tundra's, but its rear suspension used coil instead of leaf springs for a smoother ride.
Toyota claimed that the Sequoia had 10.6 inches of ground clearance, significantly more than the Expedition or a Chevrolet Suburban. Maximum cargo volume was a claimed 128 cubic feet. All models had standard three-row seating, in a 2-3-3 format. Second-row seats were 60/40 split-folding, while a 50/50 split-folding seat went into the rear.
All eight passengers got three-point seatbelts. This was the first Toyota truck with window-curtain side airbags, standard for all models.
Yearly Updates
2002 Sequoia
Remote keyless entry and fog lights were newly optional for the SR5 in 2002. Front torso side airbags and curtain-type airbags were available as a package.
2003 Sequoia
A load-leveling rear suspension became standard for 2003. Models with a moonroof could now be equipped with a DVD-based backseat entertainment system, and rear audio controls were a new option. Toyota's antilock braking system gained full-power assist.
2004 Sequoia
The Sequoia is unchanged for 2004.
2005 Sequoia
More power, a new transmission, and some trim changes mark 2005 for Toyota's American-built large SUV. Newly optional for Limiteds are 2nd-row bucket seats with center console that reduce seating capacity to seven. Sequoia has a 4.7-liter V8 with 282 hp, a gain of 42 hp over 2004. A 5-speed automatic is the sole transmission and replaces a 4-speed for '05. Front torso side airbags and head-protecting curtain side airbags are optional and, for '05, are designed to deploy in side impacts and rollovers. Other options include rear self-leveling suspension for SR5 and, new for '05, driver-governed rear height control for Limited. Rounding out the '05 alterations are slightly revised front and rear styling and an in-glass radio antenna to replace a mast.
2006 Sequoia
No significant changes for 2006.
2007 Sequoia
Curtain side airbags are standard instead of optional for 2007 on Toyota's American-built large SUV. Now standard are front side airbags and curtain side airbags that cover the 1st and 2nd seating rows and include rollover deployment.