Midsize car; Built in USA
2-door convertible
2-door coupe
4-door sedan
transverse front-engine/front-wheel drive
Good condition price range: $5,900 – $17,000*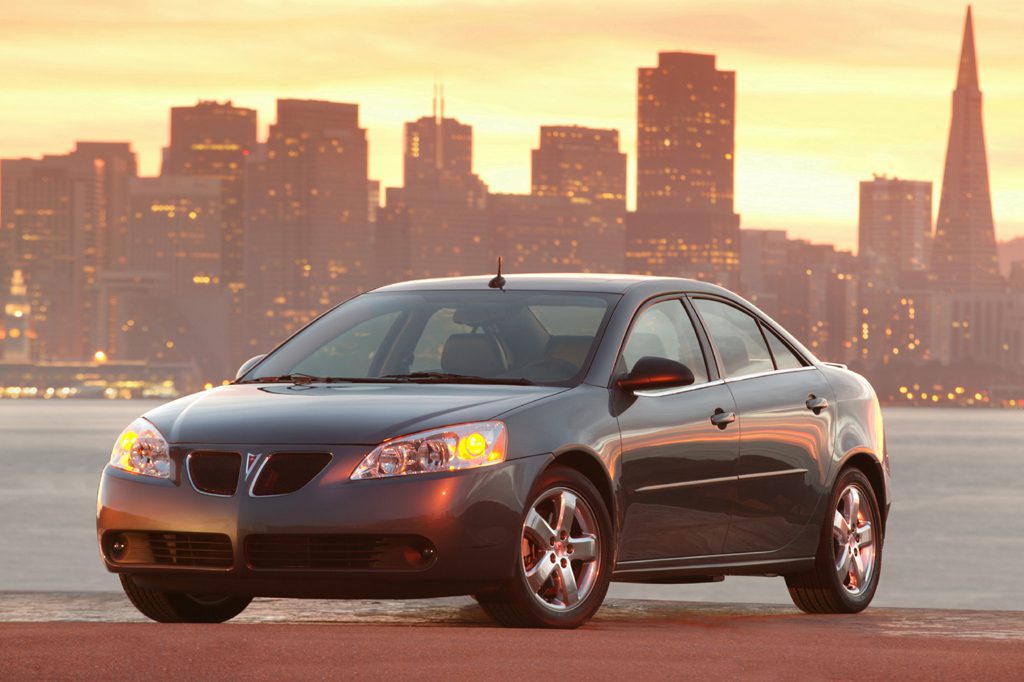 2005 Pontiac G6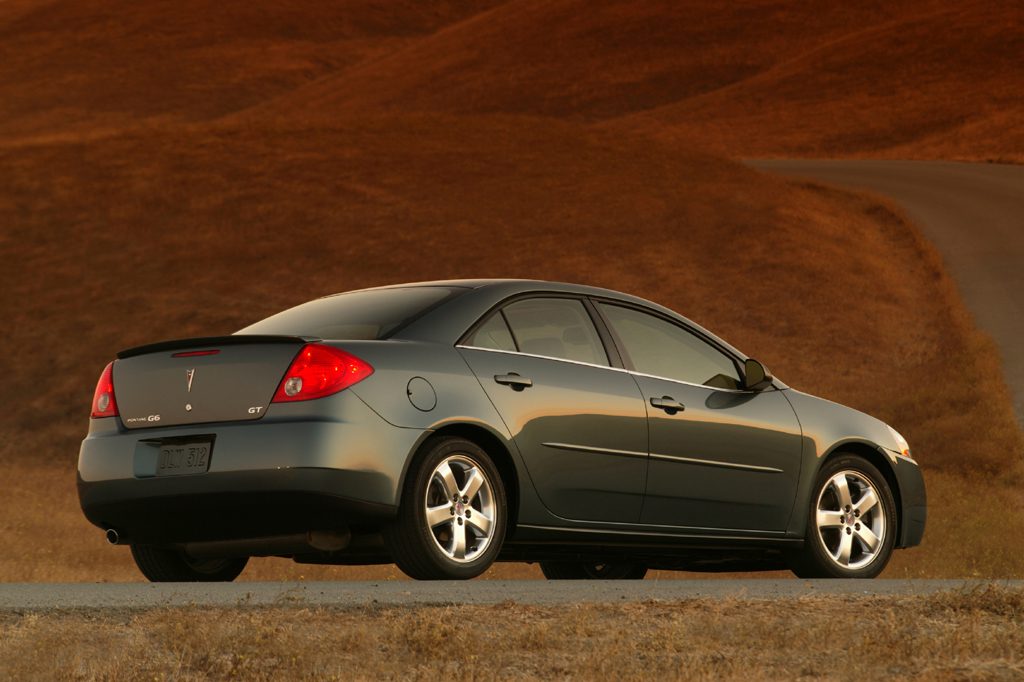 2005 Pontiac G6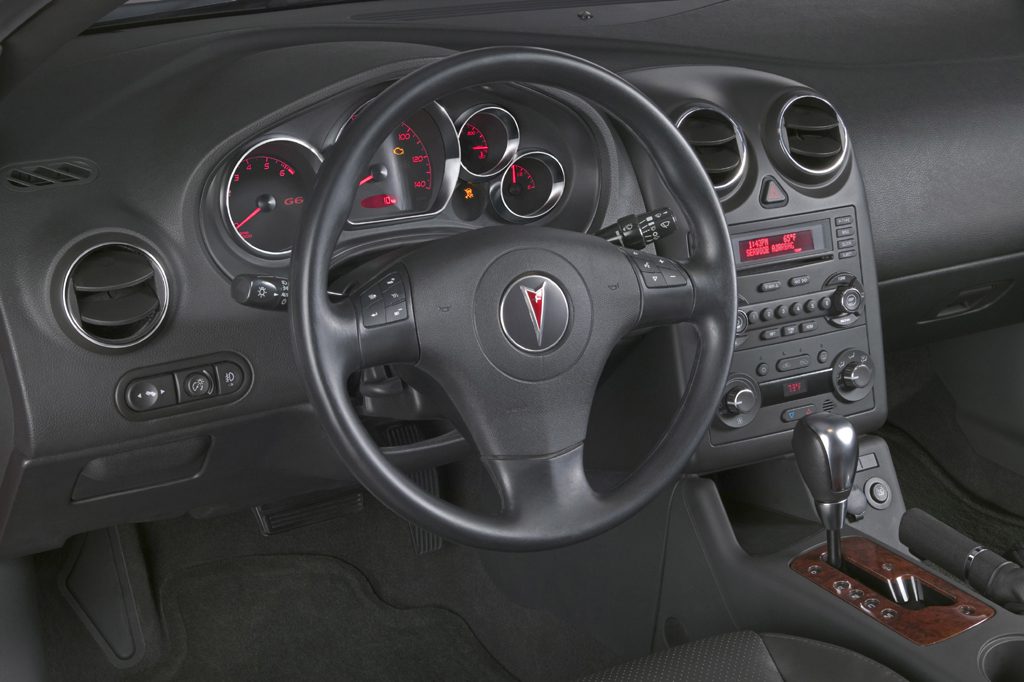 2005 Pontiac G6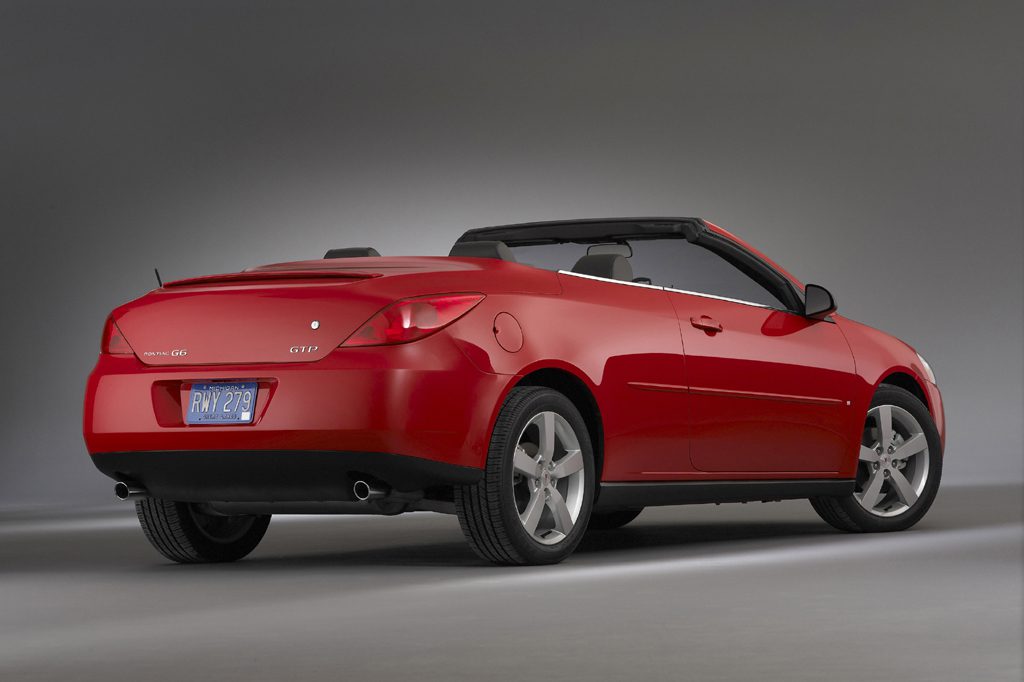 2005 Pontiac G6
Pros:

Control layout
Passenger room

Cons:
G6 lacks the well-toned feel of a Honda Accord, the isolating comfort of a Toyota Camry, or the raw coltishness of a Nissan Altima. But it undercuts them all on price, especially with a V6 engine. The convertible benefits from its retractable hardtop and impresses for its solidity and smart pricing. Frequent discounts and a wide selection of safety and convenience features add to its appeal. The G6 coupe is too large for the interior space it provides, making a sedan the wisest choice here.
Overview
Pontiac replaced its best-selling Grand Am during the 2005 model year with the G6. It shared a basic front-wheel-drive design with the Chevrolet Malibu and the 9-3 from GM-owned Saab. G6 had a slightly longer wheelbase than Pontiac's other midsize car, the Grand Prix, but was 9.3 inches shorter in overall length. G6 offered base and sportier GT models. Both used the 200-hp V6 and 4-speed automatic transmission offered in Malibu. The GT added a manual shift gate and a firmer suspension. Both versions had 4-wheel disc brakes. The GT came with antilock brakes, traction control, and power-adjustable pedals, all of which were available for the base G6. Front side airbags and curtain side airbags were available as a single option. Leather upholstery and OnStar assistance were exclusive GT options. Satellite radio and remote starting were available on both models. So were a conventional sunroof or a "panoramic" power sunroof with a tilt-up front section and three rear-sliding panels that opened to near the full length of the passenger compartment.
Yearly Updates
2006 G6
Pontiac completed its rollout of the G6 lineup by adding body styles and new engines. Coupe and power-retracting hardtop convertibles joined the G6 stable. A price-leader 1SV sedan arrived with a 167-hp 4-cyl engine. At the top of the G6 roster, GTP coupes and sedans had a 240-hp V6 (GTP convertibles had 227 hp) and optional 6-speed manual transmission.
2007 G6
Pontiac's best-selling car got some new and more-powerful engines for 2007. GTs had a 3.5-liter V6 rated at 224 hp in sedan and coupe, 217 hp in the convertible; it up from 201 hp in 2006. For '07, GTPs traded the 3.9 for a 252-hp 3.6-liter V6. Curtain side airbags were now standard instead of optional on sedans and coupes.
2008 G6
The 2008 Pontiac G6 lineup got some minor trim and detail changes. A manual transmission was no longer available.
2009 G6
Early in the 2009 model year, 4-cylinder models added an available 6-speed automatic transmission. Midyear, the "2009.5" models got freshened styling, and a Base coupe was added to the existing GT and GXP versions.
2010 G6
The 2010 Pontiac G6 lineup was trimmed to a single model. G6 came as a 4-door sedan in a single Base trim level.