Sporty/performance car; Built in Canada
2-door convertible
2-door coupe
longitudinal front-engine/rear-wheel drive
Good condition price range: $1,700 – $9,300*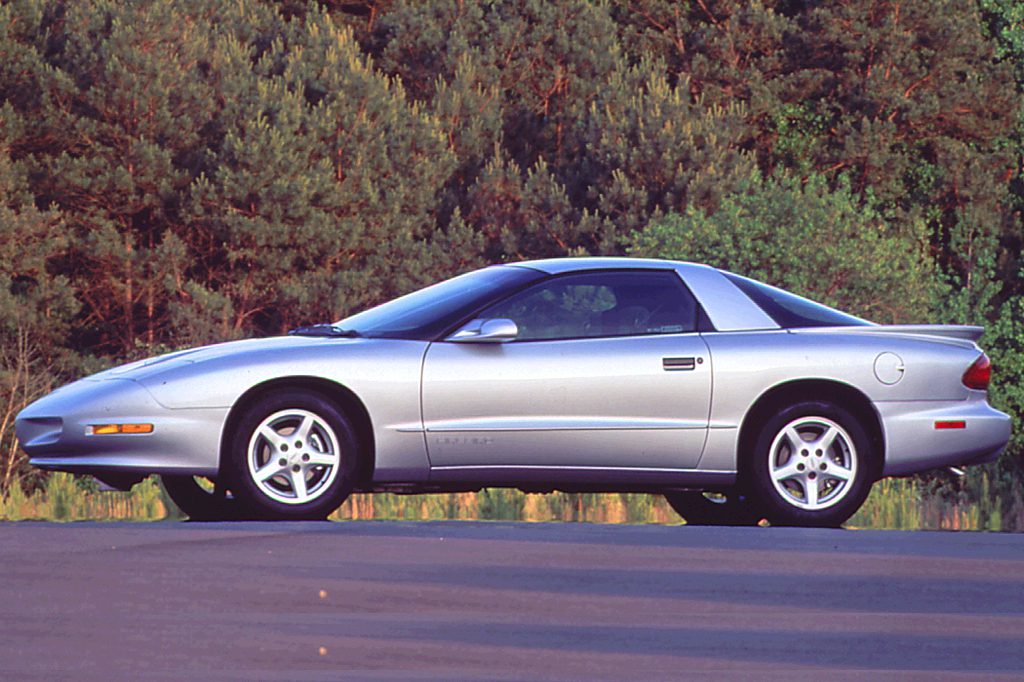 1996 Pontiac Firebird 2-door coupe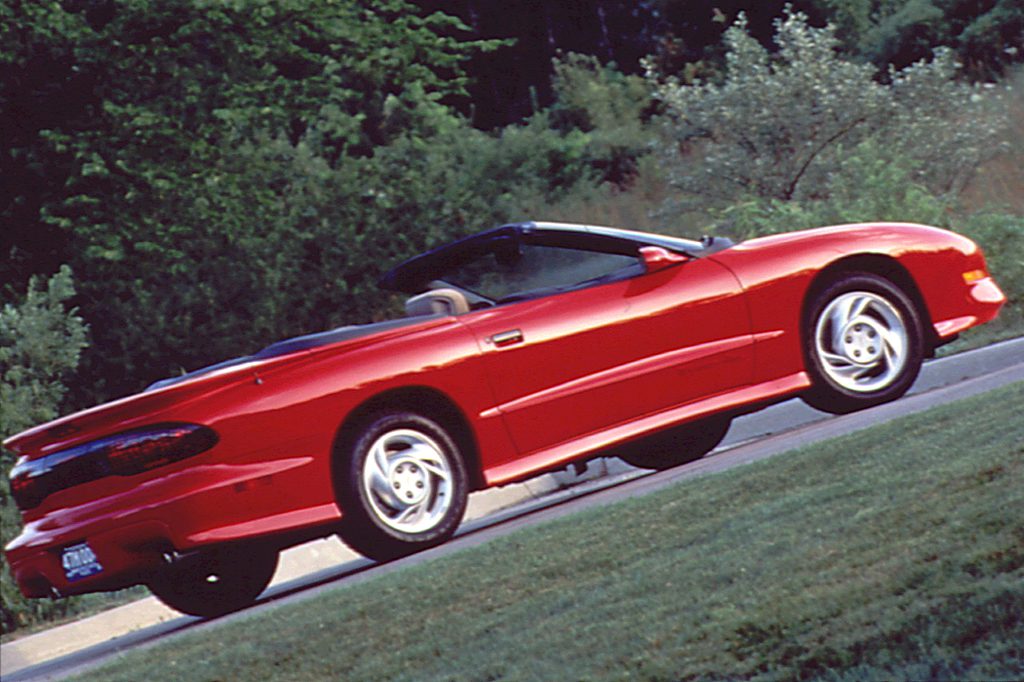 1994 Pontiac Firebird Trans Am 2-door convertible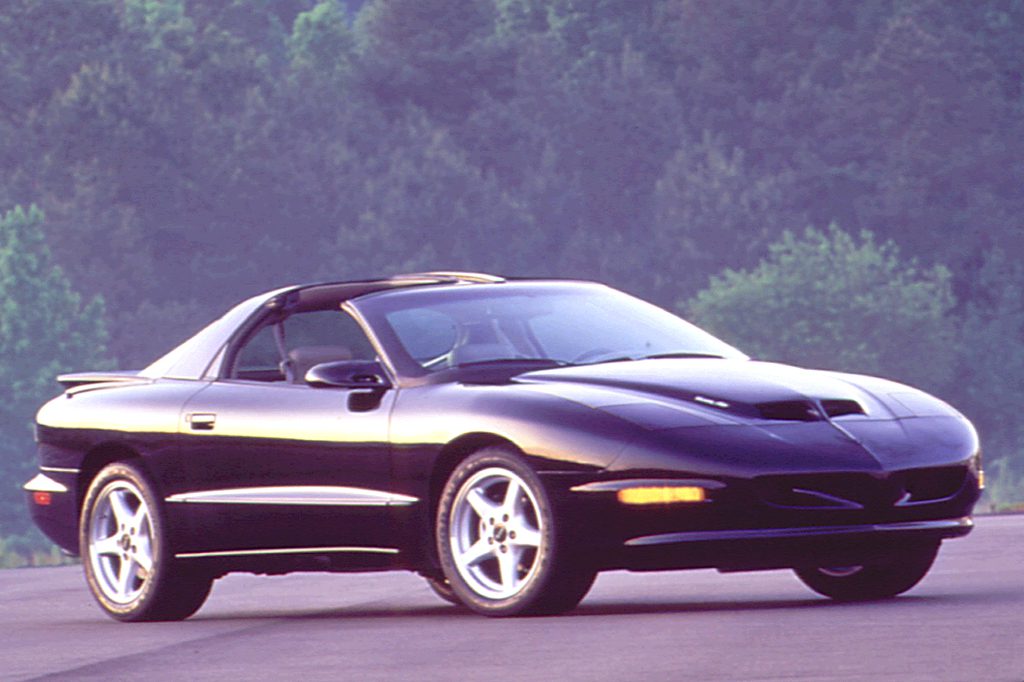 1996 Pontiac Firebird Formula 2-door coupe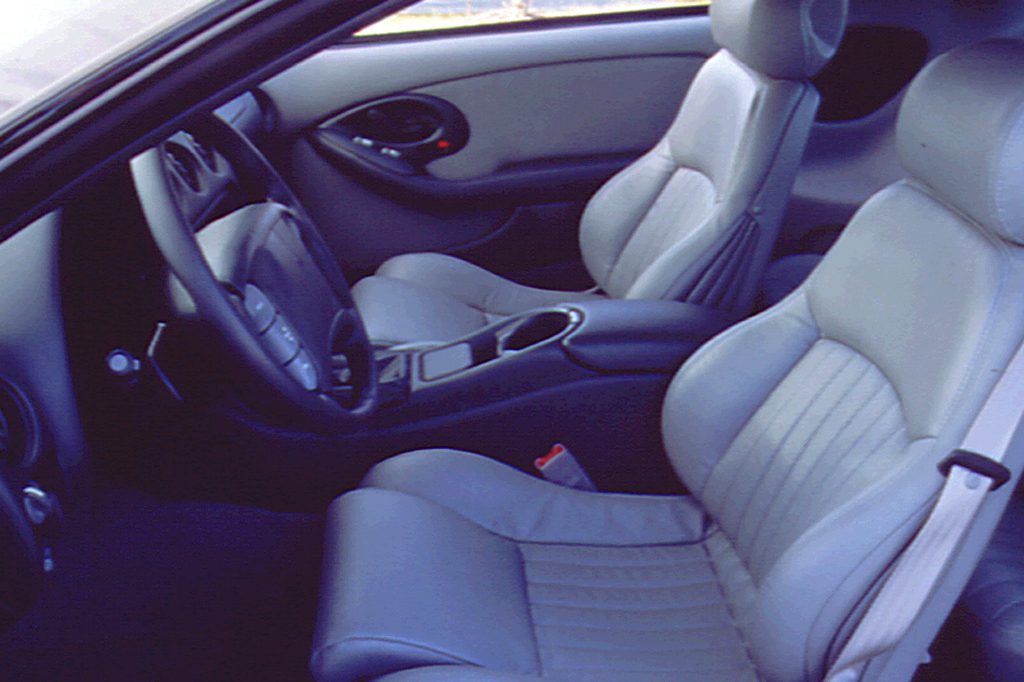 1993 Pontiac Firebird interior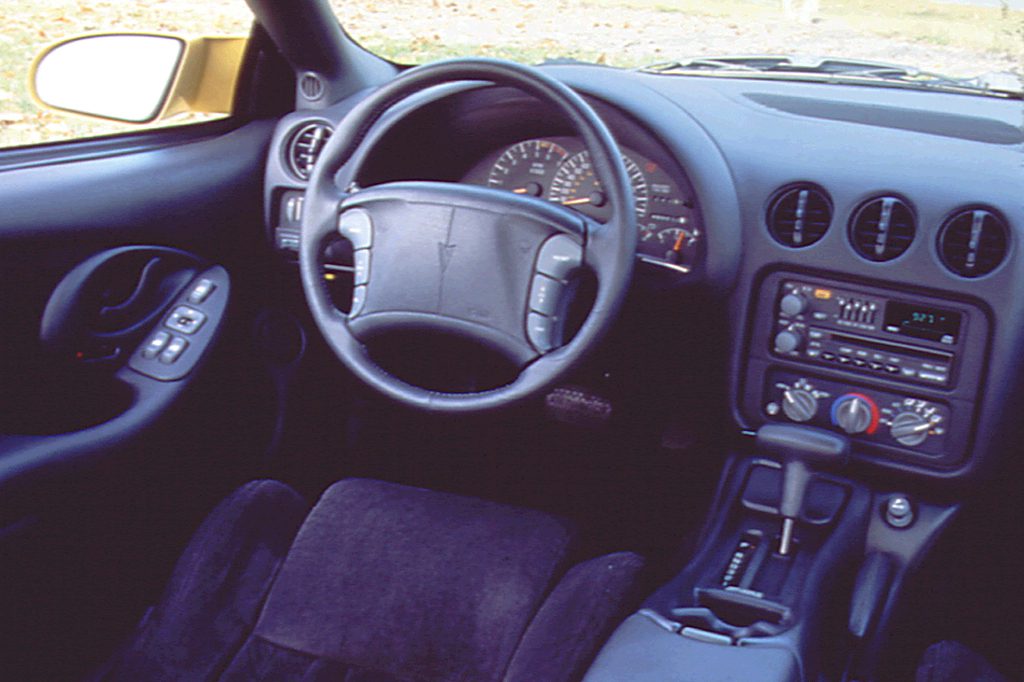 1993 Pontiac Firebird interior
Pros:

Acceleration (V-8s)
Antilock brakes
Steering/handling

Cons:

Entry/exit
Fuel economy (V-8s)
Noise
Rear-seat room
Rear visibility
Ride
Firebirds are styled more aggressively than Ford's Mustang, and exhibit more muscle-car character, though a Mustang is easier to live with for everyday driving.
Overview
Restyled like the similar Chevrolet Camaro, Pontiac's rear-drive hatchback arrived in base, Formula, and Trans Am guise. Wheelbase was the same as the previous generation, but the new Firebird measured two inches wider, two inches taller, and half an inch longer. Dual airbags were installed and antilock braking was standard. Rust/dent-resistant composite was used for most outer body panels. Base engine was a 3.4-liter V6, rated at 160 horsepower. Formula and Trans Am models held a 5.7-liter V8 that made 275 horsepower. A 5-speed manual gearbox was standard with base model; the V8 got a 6-speed. Four-speed automatic was optional on both.
Yearly Updates
1994 Firebird
A top-line Trans Am GT arrived for '94. This year, as a fuel-economy measure, the 6-speed manual gearbox added a system that forced the gearshift to go from first gear directly into fourth under light-throttle acceleration. Later in the 1994 model year, a convertible debuted with a standard power top and a glass rear window. Convertibles came in all three levels: base, Formula, and Trans Am.
1995 Firebird
After the model year began, a traction-control system became available for Firebirds with the V8 engine. The line-topping Trans Am GT was dropped after a single season on the market. Late in 1995, Pontiac added a 3.8-liter V6 engine option, making 200 horsepower rather than 160.
1996 Firebird
After a brief period as an option, the new 200-horsepower, 3.8-liter V6 displaced the 3.4-liter as Firebird's base engine. At the same time, the Formula Firebird's V8 engine got a boost to 285 horsepower. A "Ram Air" option hiked the V8 to 305 horses. A new 3800 Performance Package gave V6 models some of the Formula and Trans Am features, including 4-wheel disc brakes, a limited-slip differential, dual exhaust outlets, 16-inch tires, and quicker steering.
1997 Firebird
Daytime running lights and air conditioning became standard in all Firebirds. The optional Ram Air package could now be installed on convertibles as well as coupes. A new center console offered more storage, a pull-out cupholder, and two auxiliary power outlets.
1998 Firebird
Firebirds got a modest facelift and a new V8 engine for '98. Despite again displacing 5.7-liters, the V8 was all new and made 305 horsepower. When equipped with the Ram Air option, engine output was boosted to 320.
1999 Firebird
Firebird's changes for '99 included larger fuel tanks (from 15.5 to 16.8 gallons), available traction control for V6 models, and a limited-edition 30th Anniversary package for coupes and convertibles.
2000 Firebird
Despite rumors of possible extinction, Firebird continued into 2000 with fresh colors, new rear child-seat anchors, and newly designed 17-inch wheels for the WS6 package.
2001 Firebird
Firebirds entered the 2001 model year with stronger engines and minor suspension revisions. The 5.7-liter V8 gained 5 horsepower and all models got revised shock absorbers. The WS6 Ram Air was no longer available on Formula, but increased Trans Am's horsepower by 15.
2002 Firebird
Pontiac's sporty coupe would be retired after the 2002 model year. For its last year, power windows, locks, mirrors, and antenna were standard. Offered earlier in the year was a commemorative Collector package based on the Trans Am; it included WS6 equipment, yellow paint with black accents, and special wheels and trim.