Midsize car; Built in USA
2-door coupe
4-door sedan
transverse front-engine/front-wheel drive
Good condition price range: $1,800 – $4,700*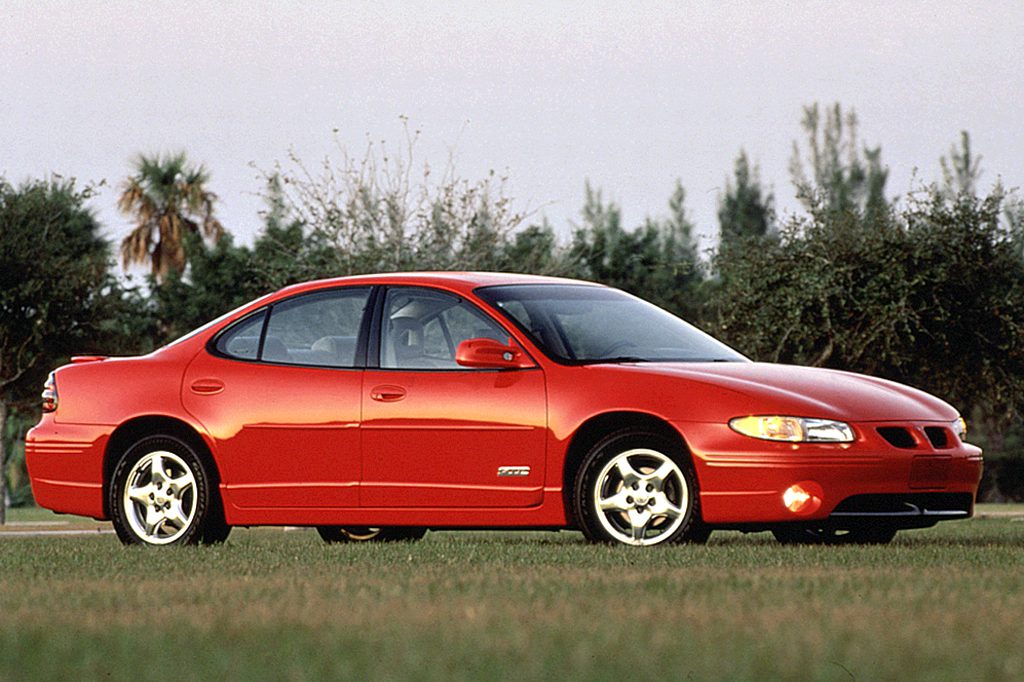 1997 Pontiac Grand Prix GTP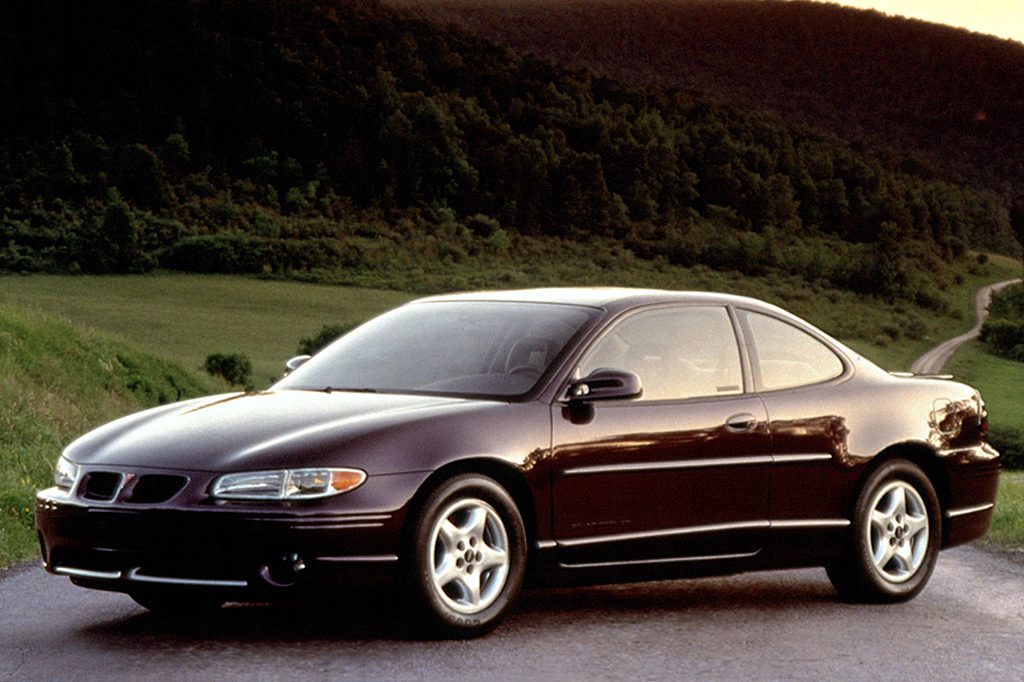 1997 Pontiac Grand Prix GT 2-door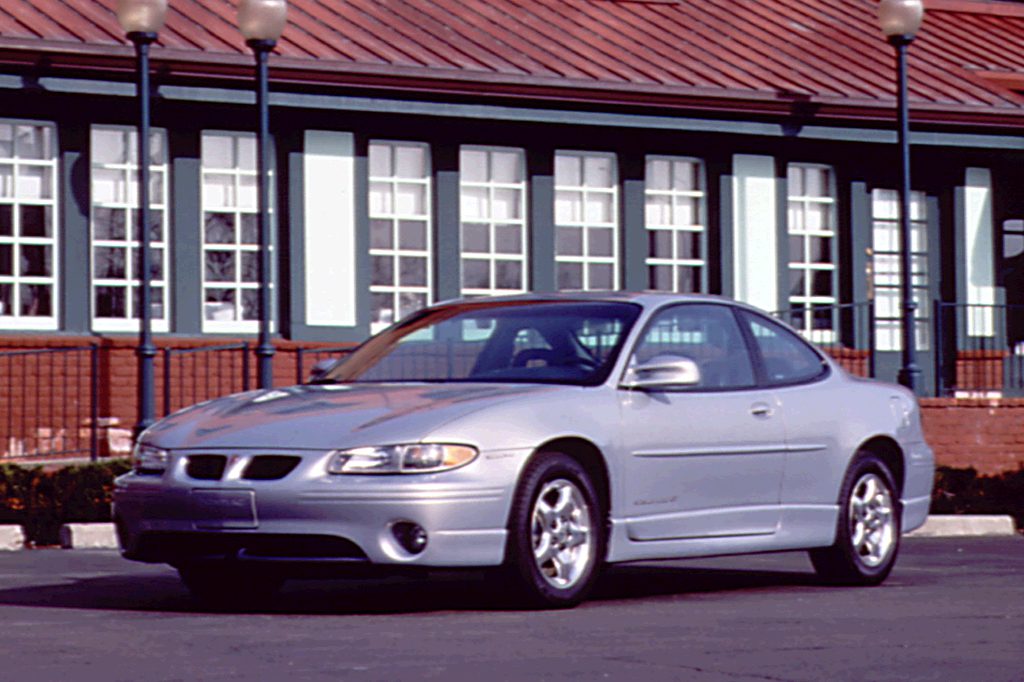 1998 Pontiac Grand Prix GT 2-door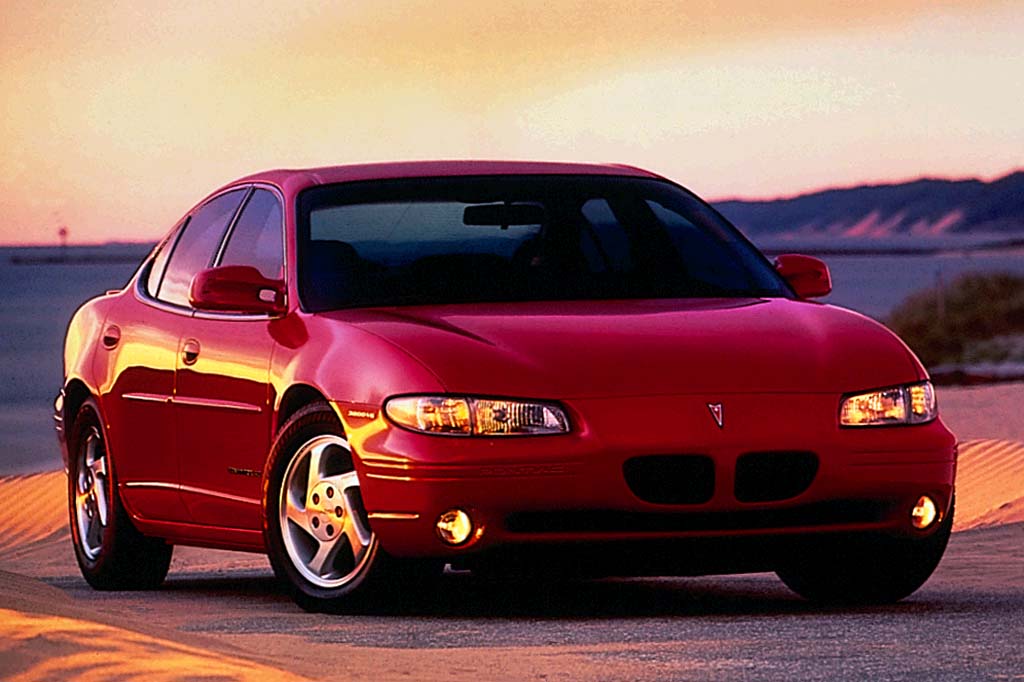 2000 Pontiac Grand Prix SE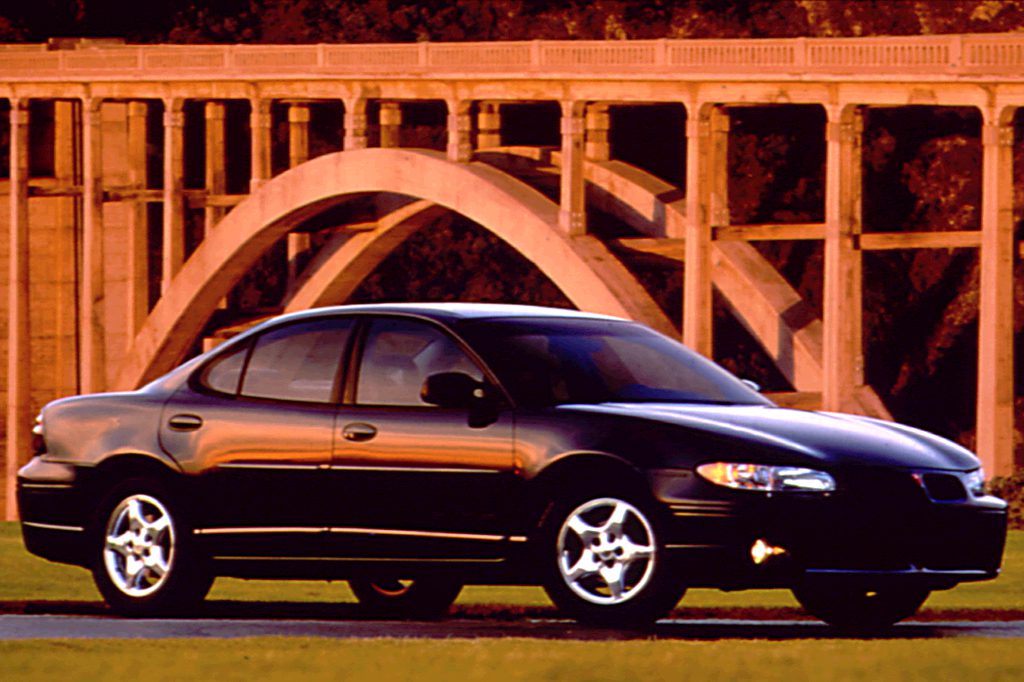 1998 Pontiac Grand Prix GT 4-door
Pros:

Acceleration
Cargo room
Passenger room
Steering/handling

Cons:

Fuel economy (supercharged engine)
Pontiac's reworked midsize was a big hit from the start. Sales of the '97 model ran more than 50 percent of 1996 levels, though naturally its popularity tapered off later. Brashly styled with a confident stance, Grand Prix is a highly capable, sporty midsize car that challenges the class leaders in overall value.
Overview
Redesigned for 1997, bigger in size and racier in appearance, Grand Prix shared its front-drive, midsize platform with Buick's Century. It was also related to the latest Buick Regal and Oldsmobile Intrigue, both of which would debut for 1998. Coupes and sedans had the same styling, except for rear doors and quarter panels. A wider stance was touted as a revival of Pontiac's "Wide Track" look of the 1960s. In fact, track width (distance between wheels on the same axle) grew by more 2 inches in front and 3 inches in the rear, compared to '96 models. Grand Prix came as a base SE sedan or a sportier GT coupe and sedan, as well as with a high-performance GTP package–available for GT models in either body style. Neither Buick nor Oldsmobile offered coupe versions of their midsize models.All Grand Prix models used V6 engines and a 4-speed automatic transmission. A 3.1-liter V6 went into the SE, but those models were delayed for a few months after the car's introduction in summer 1996. A 3.8-liter V6, available right off the bat, was optional in the SE and standard in GT models. Topping the line, the GTP edition (actually an option package) got a supercharged version of the 3.8-liter unit. Antilock 4-wheel disc brakes were standard, as was traction control (but not with the supercharged engine). Also standard was a tire-pressure monitor. A built-in child seat was a new option. Rivals included the Ford Taurus, Honda Accord, Nissan Maxima, and Toyota Camry.
Yearly Updates
1998 Grand Prix
Few changes came this year, except that traction control now was available with the supercharged engine. Airbags were "depowered" to deploy with reduced force.
1999 Grand Prix
Detail changes marked the '99 editions of Pontiac's midsize coupe and sedan. The nonsupercharged V6 engine gained five horsepower. GT models got a standard rear spoiler this year. Available 16-inch alloy wheels came in a new 5-spoke design. New options included a Bose 8-speaker audio system and a heated driver's seat.
2000 Grand Prix
Wheels were revised and the nose restyled on Pontiac's midsize coupe and sedan. The standard 3.1-liter V6, installed in SE models, gained 15 horsepower (now 175). New standard equipment included rear child-seat anchors and an antitheft system that disabled the starter unless the proper ignition key was used. Pontiac also launched a Daytona 500 pace-car replica, with silver paint, unique 16-inch aluminum wheels, functional hood vents, a decklid spoiler, bright exhaust tips, and Daytona decals. Only 2000 were planned. By now, the list of Grand Prix competitors included the Toyota Solara coupe and Chevrolet Impala sedan.
2001 Grand Prix
OnStar, formerly available on all Grand Prixs, was made standard on GTP, optional only on GT for 2001. SE got revised frontal styling, standard rear spoiler, and in-trunk emergency release; dual-zone manual climate-control was standard on GTP.
2002 Grand Prix
New for 2002 was a 40th Anniversary Package which included a rear spoiler, hood ducts, chrome wheels, Dark Cherry paint, and unique red-and-gray interior trim. The SE gained standard cruise control and dual-zone climate control, and GTs got a standard power driver's seat and CD player.
2003 Grand Prix
Pontiac dropped the 2-dr coupe version of its midsize car for 2003 and makes antilock brakes and traction control optional instead of standard on most of the remaining sedans. Grand Prix was redesigned for 2004.