Midsize car; Built in USA
transverse front-engine/front-wheel drive
Good condition price range: $1,600 – $3,900*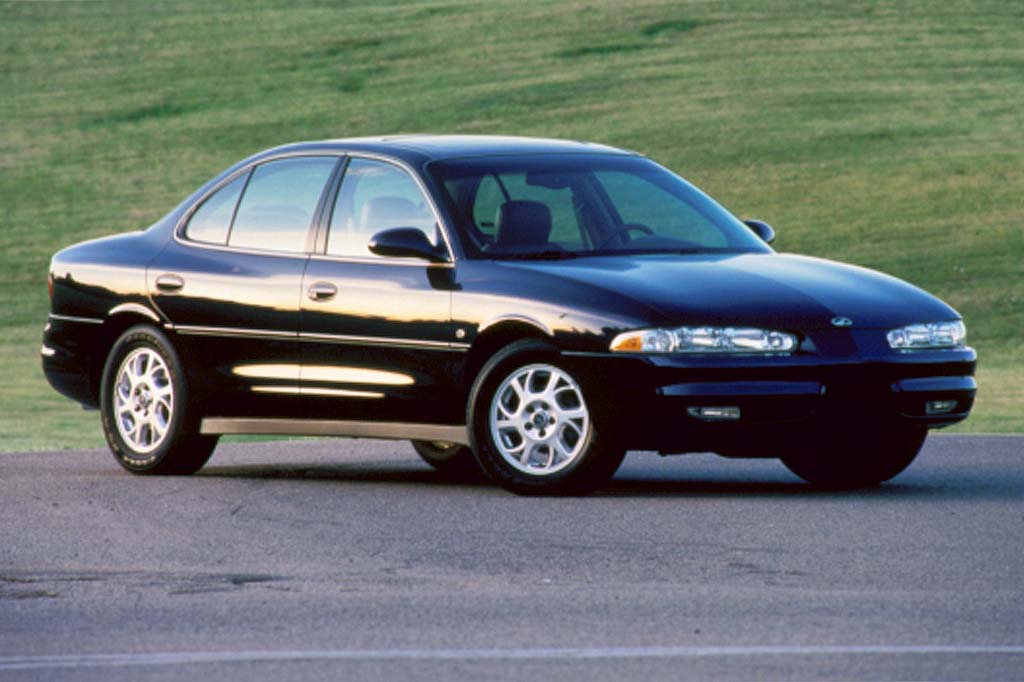 2000 Oldsmobile Intrigue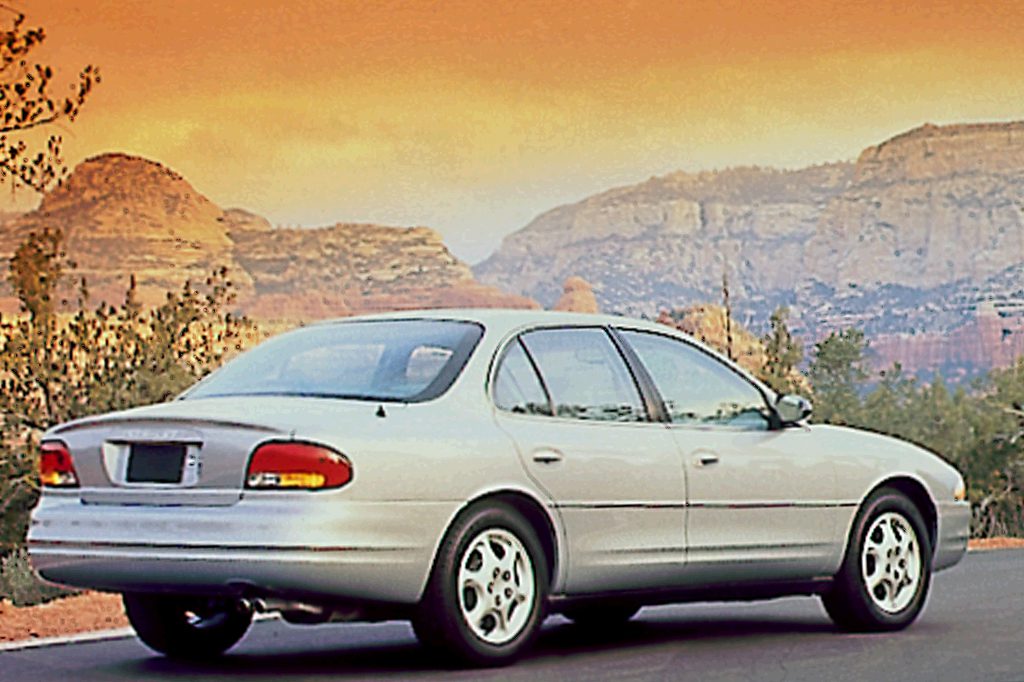 1998 Oldsmobile Intrigue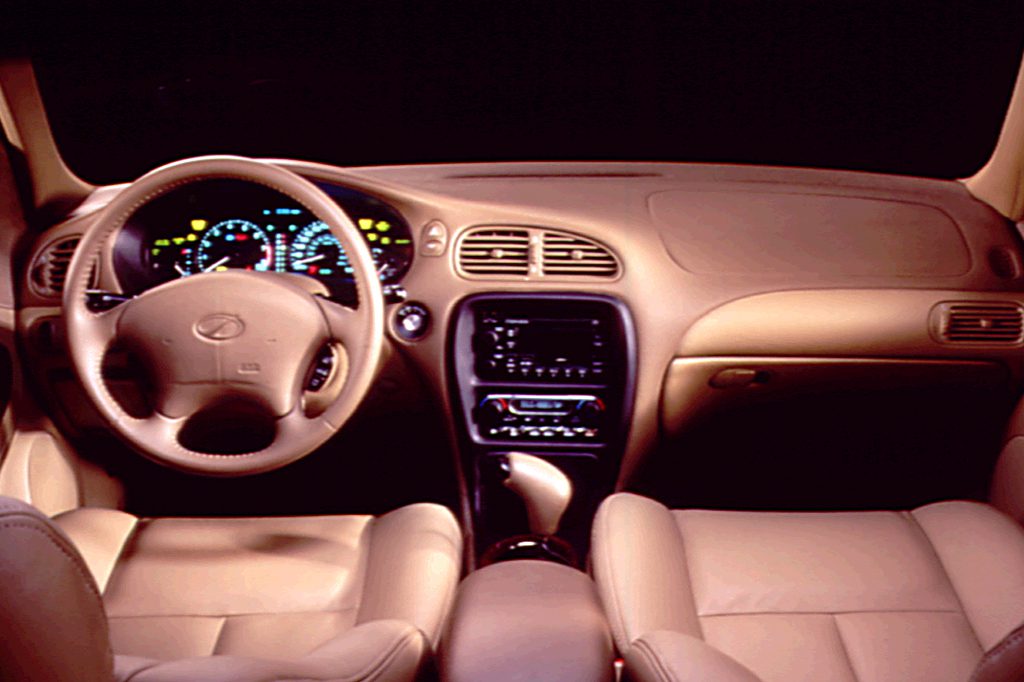 1998 Oldsmobile Intrigue interior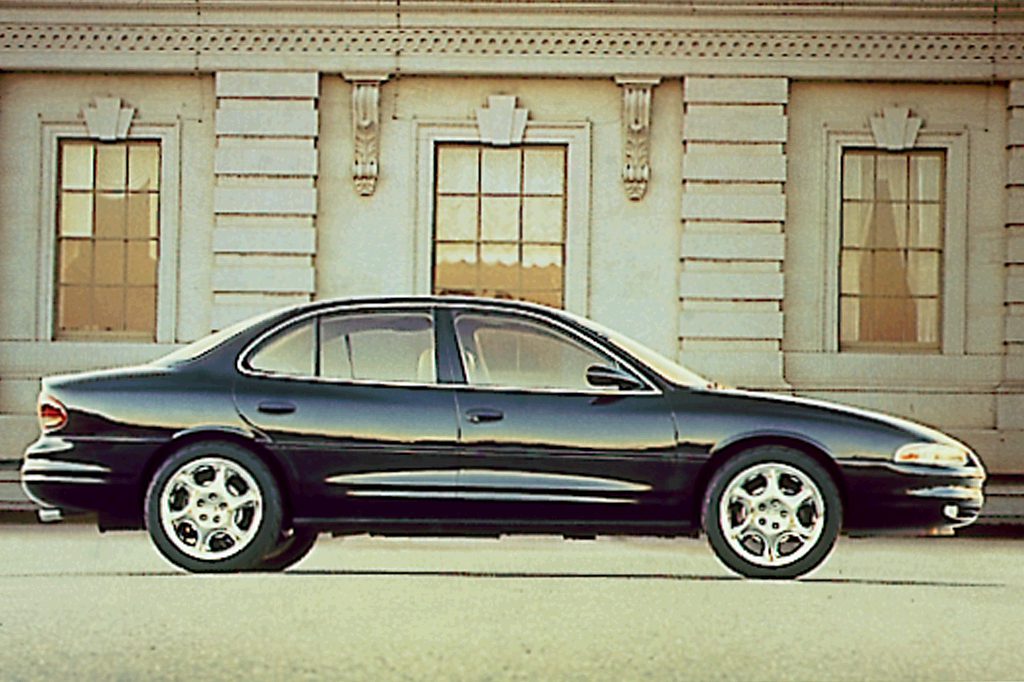 1998 Oldsmobile Intrigue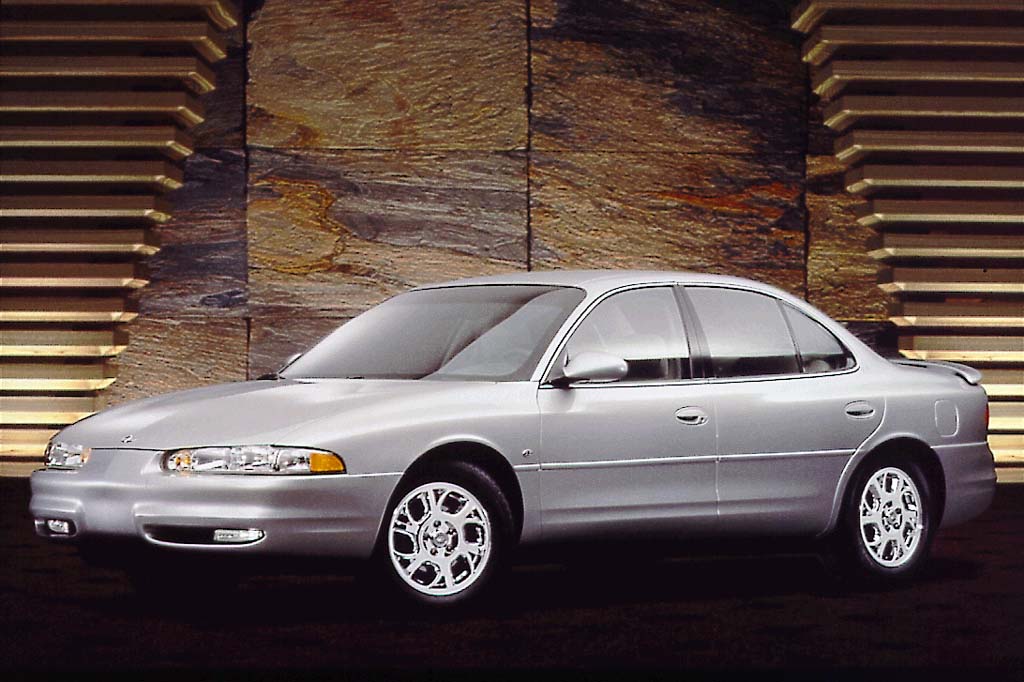 2000 Oldsmobile Intrigue
Pros:

Acceleration
Standard antilock brakes
Passenger and cargo room
Ride
Steering/handling

Cons:

Climate controls
Engine noise (early models)
Intrigue is more sophisticated than the brash Grand Prix, and more nimble and poised than a Ford Taurus or Toyota Camry V6. If you're looking for an impressive midsize car with a thoughtful blend of features and performance, don't decide until you've driven this pleasant and surprising Olds.
Overview
Similar in structure to the Buick Regal and Pontiac Grand Prix, Oldsmobile's new front-drive midsize sedan flaunted an importlike personality. Introduced in May 1997 as an early '98 model, Intrigue replaced the Cutlass Supreme. Styling differed considerably from the Regal and Grand Prix. Intrigue also diverged in its chassis tuning, equipment, and some dimensions. Wheelbase, for instance, was 1.5 inches shorter for the Intrigue than for Pontiac's Grand Prix. Oldsmobile marketed the Intrigue in a single body style with one powertrain, one seating configuration, and one suspension setup. Base and upscale GL editions went on sale, each powered by a 3.8-liter V6 with an automatic transmission. A console-mounted gearshift was installed, between front bucket seats. Four-wheel antilock disc braking was standard, as was a traction-control system. Intrigues rode 16-inch touring tires on aluminum wheels. Rivals included the Honda Accord, Nissan Maxima, and Toyota Camry. No conventional Oldsmobile badging was displayed, presumably because marketers wanted the Intrigue to be seen as a distinct, special model.
Yearly Updates
1999 Intrigue
A sophisticated new V6 engine became available for the midsize Intrigue, to help give Oldsmobile buyers a reason to pick it over a comparable Honda Accord or Toyota Camry. The new dual-overhead-cam, 3.5-liter V6 produced 215 horsepower and ran on regular fuel, whereas twin-cam engines in the Camry and Accord needed premium gasoline. As the model year began, the new engine was standard in the top-line GLS and optional in base GX and midlevel GS models. Later, it became standard across the board, edging aside the original 195-horsepower, 3.8-liter V6. Decklids now wore Oldsmobile script, ending a complaint that some people didn't realize these were Oldsmobiles. All models got a thicker, leather-wrapped steering wheel. GM's OnStar emergency/communications system joined the options list.
2000 Intrigue
An antiskid system joined the options list this year. Called the Precision Control System, it was designed to help keep the car on its intended path by selective braking of one or more individual wheels. Though optional on all models, GX buyers had to order optional traction control to get the new antiskid system. Also new this year were standard retained accessory power and an optional gold-trim package. GLS sedans gained standard heated power front seats. As before, Intrigue came in GX, GL, and top GLS trim.
2001 Intrigue
Traction control became optional instead of standard on base, and all models gained new standard automatic headlights for 2001. Also newly available this year were Premium Leather and Precision Sport option packages.
2002 Intrigue
Production of the Intrigue ended in June 2002 as part of the phaseout of the Oldsmobile brand. There were no significant changes for the 2002 model year.