Midsize SUV; Built in Mexico
transverse front-engine/front- or all-wheel drive
Good condition price range: $2,200 – $5,800*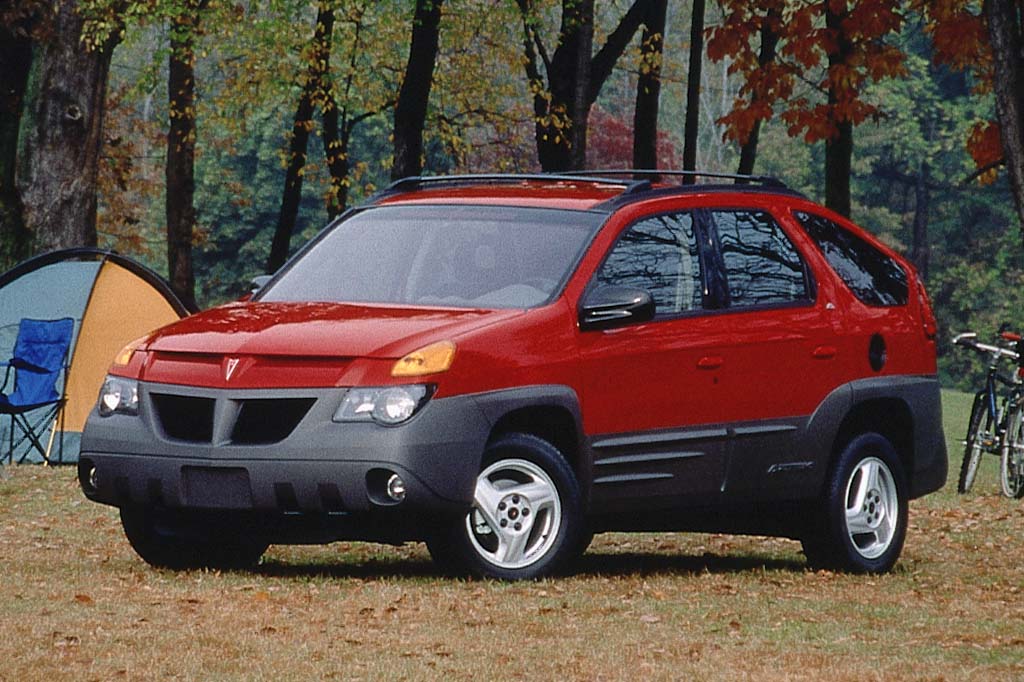 2001 Pontiac Aztek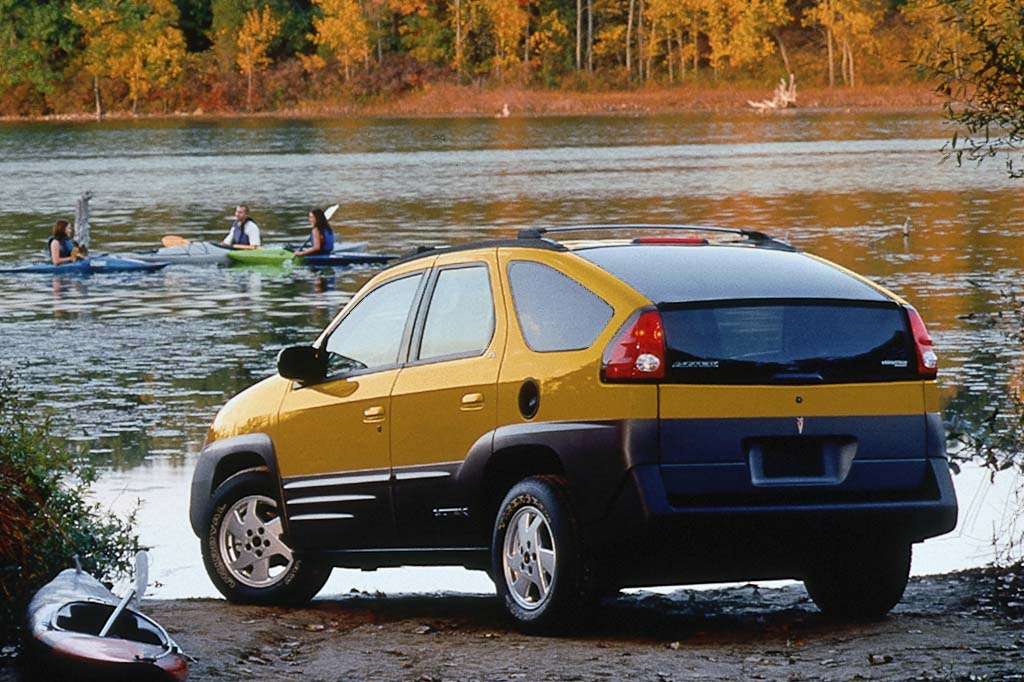 2001 Pontiac Aztek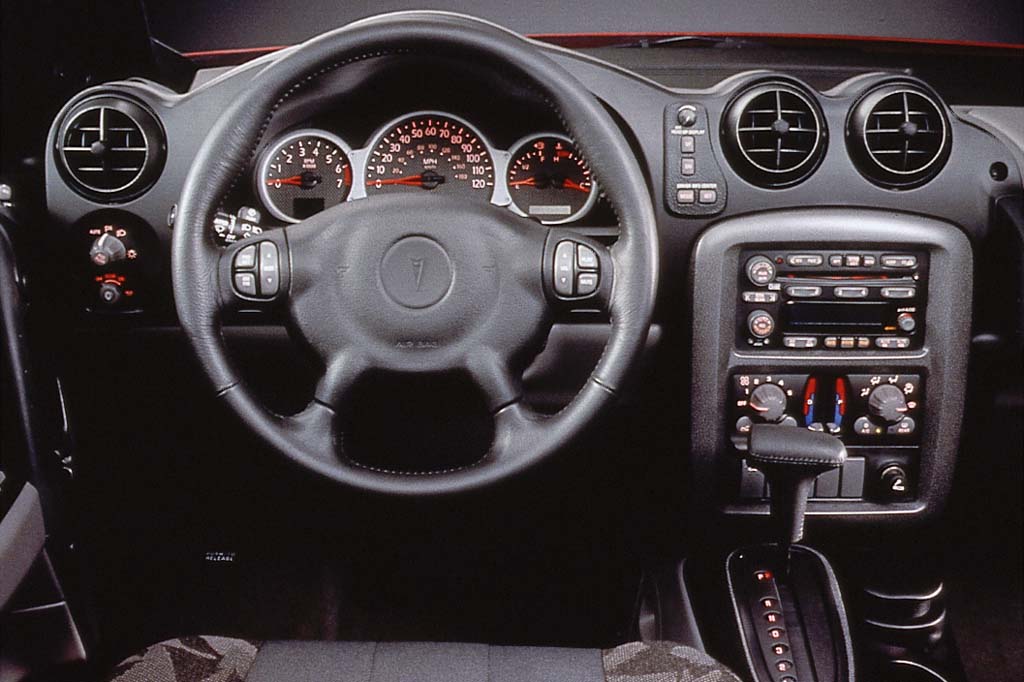 2001 Pontiac Aztek interior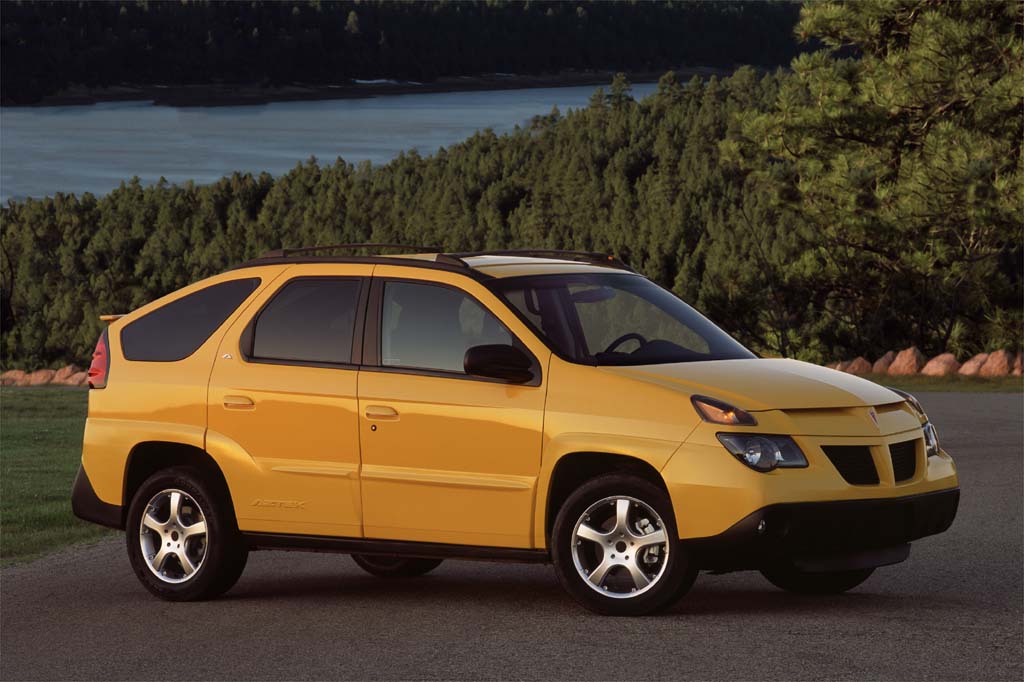 2002 Pontiac Aztek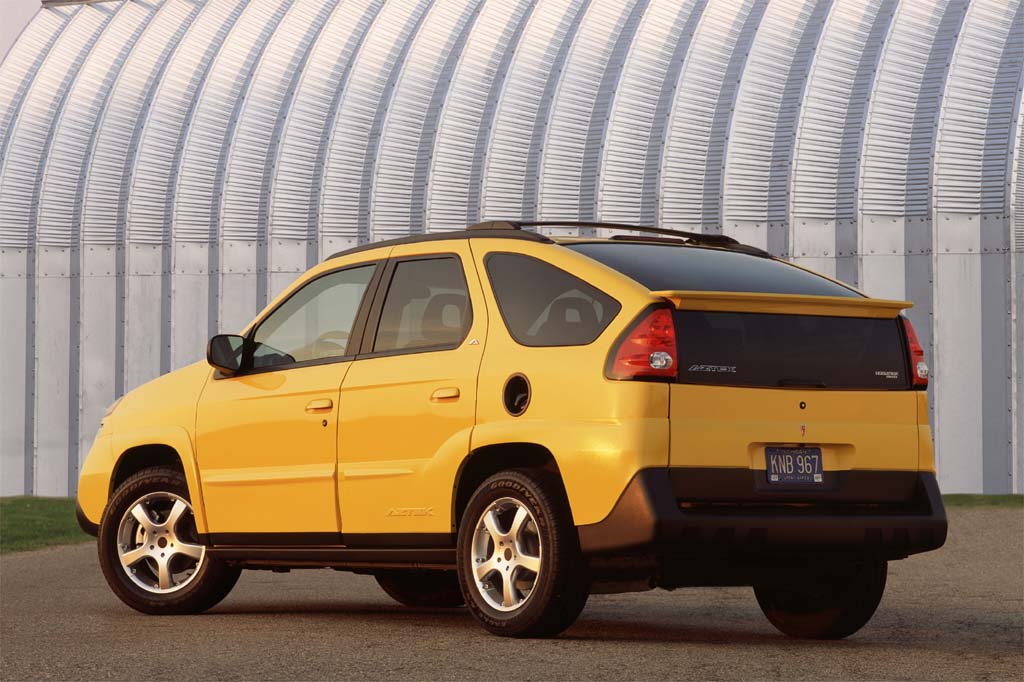 2002 Pontiac Aztek
Pros:

Cargo room
Interior storage space
Passenger and cargo room

Cons:

Interior materials
Brake-pedal feel (2WD)
Aztek is as comfortable as any SUV, and packed with features designed for active folks, but cannot venture far off road. Assembly quality and budget-grade cabin materials won't please the discerning, however. Unorthodox styling has tended to keep new-car prices discounted and resale prices down a bit.
Overview
Aiming at young sport-minded buyers, Pontiac's new car/SUV crossover went on sale in summer 2000 in base and better-equipped GT form, with front-wheel drive. Aztek was loosely based on Pontiac's Montana minivan, with the same 3.4 liter V6 and mandatory automatic transmission, but with four conventional side doors and hatchback styling with a drop-down tailgate.
Front side airbags and antilock brakes were standard. An all-wheel-drive version became available during the 2001 season, able to distribute power to the four wheels based upon available traction. Four-wheel disc brakes replaced the usual disc/drum setup on all-wheel-drive models, which were not intended for offroad use and did not include low-range gearing.
Aztek's maximum towing capacity was 3500 pounds, the same as the Montana's. Ground clearance was 6.7 inches.
Azteks were larger than the popular Lexus RX 300, another car-based crossover. Wheelbase was 5.5 inches longer and it measured 2 inches longer overall. An Aztek was slightly taller and wider, too, with 1.5 inches more rear leg room and 93.5 cubic feet of storage space when the rear seats were removed.
Standard equipment included air conditioning, a tilt steering wheel, and power windows/locks/mirrors. The GT added traction control, 16-inch tires in place of 15s, and a removable console bin that served as combination cooler and CD case. Options included a power sunroof and a slide-out cargo-floor section with storage bins and rollaway wheels. Exclusive GT options included heated leather front seats, two rear captain's chairs to replace the standard three-person bench, a head-up instrument display, and GM's OnStar assistance system. Recreational accessories available through dealers included washable seat covers and a camping package with clip-on tent and fitted air mattress.
Charges of bizarre styling soon began to surface, which had a negative impact on Aztek sales. Competitors included the Chrysler PT Cruiser, Ford Escape, Honda CR-V, Mazda Tribute, and Subaru Forester, but none of these models looked anything like the Aztek.
Yearly Updates
2002 Aztek
Alterations to its controversial styling and more standard features highlighted the 2002 Aztek. The former GT trim level was dropped, leaving two base models, one with front-wheel drive and the other with GM's Versatrak all-wheel drive.
The most notable appearance change was a revised paint scheme that substituted body-color trim for most of the previous gray lower-body cladding. Wheel designs also changed, including three-spoke alloy wheels for the 2WD model. An insulated front console cooler and CD player were now standard instead of optional. Traction control was optional with two-wheel drive. Other options included heated leather front seats, a slide-out cargo-floor with storage bins and rollaway wheels, and GM's OnStar system.
Buick now offered a crossover vehicle similar to the Aztek, called the Rendezvous. Styling was less jarring and a Rendezvous could seat seven, versus the Aztek's five.
2003 Aztek
Antilock braking and front side airbags were now optional, not standard, on front-drive models. A DVD-based video entertainment system joined the option list. Wheels were restyled, and an XM Satellite radio became available.
2004 Aztek
New for 2004 is a Rally Edition appearance package. It includes unique interior and exterior trim, a lowered ride-height suspension, and 17-inch alloy wheels. Another new available option for '04 is a MP3 package upgrade, which includes steering wheel audio controls.
2005 Aztek
Aztek received no changes in 2005.