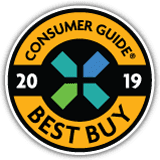 Best Buys
Electric vehicles have been given their own category because they are typically so different—and appeal to a different audience— than regular gas-powered models in their respective segments.
More so than in any other class, the vehicles offered cover a wide range of sizes and prices. We're keeping only to those that are regular production models, though a couple barely make that cut, and many are only sold in certain states.
Also, we're including three that are not all-electric; they can run for several miles on just the electricity stored in their batteries, but when the charge gets low, a gas engine kicks on that turns a generator, which allows the cars to keep on going.
"Pure" EVs—those that have just a battery—can typically run at least 80 miles or so on a full charge, but most can go farther. They can easily keep up with around-town and highway-speed traffic, and in fact, the instant throttle response that is common to all electric cars can be a real boon in cut-and-thrust city driving.
Fully recharging a depleted battery on the most popular models can take nearly a day if done from a conventional 120-volt wall outlet (referred to as "Level 1" charging). But you typically wouldn't run the battery all the way down before recharging it, so if the battery is only half discharged, it could typically be brought up to full overnight. The best way to figure it is that you get about three miles of range for every one hour of charging.
Many EV owners opt for installing a "Level 2" charger in their home. The time required to recharge a fully depleted battery can be cut to four to seven hours if you do 240-volt Level 2 charging in your garage, or if you use a public charging station. A few public charging stations have 480-volt "Level 3" chargers, which can bring most batteries from nearly depleted up to 80-percent charge in just 30 minutes. However, these aren't very common yet, and most electric cars have to have an optional Level 3 charging port in order to make use of them.
Tesla owners have access to an exclusive network of Tesla Supercharger quick-charging stations. There are currently about 1360 Supercharger locations worldwide, and that number is growing as Tesla builds more. Many are located adjacent to shopping centers and restaurants, which enables vehicle charging while you're dining, running errands, or catching a movie.
One of the strongest arguments for electric cars is how cheap they are to drive. Depending on your electric rates (how much you pay per Kilowatt-hour), the electricity to run the car will probably cost only about 2 to 4 cents per mile. By contrast, a conventional car that gets 20 mpg on $4-a-gallon gas is costing 20 cents per mile. Plus there's the convenience of being able to recharge your car in your garage rather than having to stop at a gas station, and nearly all electric cars allow you to pre-heat or pre-cool the interior before you get in.
Furthermore, there isn't as much maintenance to do on electric cars. There's no oil or filter to change, no radiator to flush, no belts to replace. And brakes also tend to last far longer, so that cost is usually reduced as well. The result is lower maintenance costs and fewer inconvenient trips to the dealer.
There's one other cost consideration regarding electric cars. Currently, there is a $7500 federal tax credit that applies to almost all the vehicles on this list; most people would be eligible to receive the credit, but you should check with your accountant to be sure that you qualify. Furthermore, some states have their own tax credits, and some municipalities offer reduced-fee parking or city stickers. However, note that the federal tax credit is scheduled to be phased out very soon for Tesla, and soon for GM and Nissan as well—unless the government decides to extend it. The EV tax credit was originally configured to allow manufacturers to sell up to 200,000 qualifying vehicles before the credit begins to phase out (by dropping to 50 percent of the original amount, and then later 25 percent, before being dropped entirely). Tesla has now reached that 200K mark, and GM and Nissan aren't far behind.
WHAT'S NEW FOR 2019
The all-new Audi e-tron and Jaguar I-Pace highlight the 2019 crop of pure-electric vehicles. The e-tron is similar in size and shape to the Audi Q5 compact crossover SUV; it will come standard with all-wheel drive and a 95-kWh battery pack. Audi says the e-tron will accelerate from 0-60 in the mid-5-second range, but hadn't yet provided a driving-range figure as of this writing. Based on its specs, we'd estimate a driving range of around 250 miles. The I-Pace debuts as Jaguar's first pure EV; it's a compact "crossover-esque" vehicle that's a bit smaller than Jaguar's F-Pace SUV. The I-Pace is a luxurious, performance-oriented AWD machine; it has a 90-kWh battery pack and two electric motors that make 394 horsepower total. Jaguar claims a 0-60-mph time of 4.5 seconds.
Both the Hyundai Kona subcompact crossover and Kia Niro compact crossover gain pure-electric versions. The Kona Electric has a 201-hp powertrain, and Hyundai is touting an estimated driving range of 258 miles. The Kia Niro EV uses a similar powertrain, and Kia is targeting a driving range of up to 240 miles. There are plenty more pure-electric vehicles in the works that are set to be introduced in the near future. Most of them are from luxury brands, and include the Porsche Taycan four-door sports sedan (and "Sport Turismo" wagon), and the BMW iX3 and Mercedes-Benz EQC crossover SUVs.
Vehicles in the Electric Vehicle class:
Because electric cars vary so much in size, price, and range, next to each entry on this list is a description. Note that prices listed are general starting figures and do not include destination or any federal or state tax incentives. In most cases, the listed range is according to the EPA. Note that several of these vehicles are offered only in select states—not nationwide.
AUDI E-TRON
Premium compact crossover 4-door wagon; about $76,000; estimated 250-mile range
BMW i3
Subcompact 4-door hatchback; optional range-extending 2-cylinder gas engine; about $47,000; electric-only models have a range of 153 miles, range-extended models have a combined gas/electric range of approximately 220 miles
BMW i8
Premium sporty/performance 2-door coupe and roadster with range-extending 3-cylinder gas engine; about $148,000; pure-electric range of 18 miles, combined gas/electric range of about 330 miles
CHEVROLET BOLT EV
Compact 4-door hatchback; about $37,000; 238-mile range
CHEVROLET VOLT
Compact 4-door hatchback sedan with both electric and gas power; about $34,000; 53-mile range on electricity, up to 420 miles on electricity and gasoline
FIAT 500e
Subcompact 2-door hatchback; about $32,000; 87-mile range
FORD FOCUS ELECTRIC
Compact 4-door hatchback; about $29,000; 100-mile range
HONDA CLARITY ELECTRIC
Midsize 4-door sedan; about $38,000; 80-mile range
HYUNDAI IONIQ ELECTRIC
Compact 4-door hatchback; about $30,000; 110-mile range
HYUNDAI KONA ELECTRIC
Subcompact crossover 4-door wagon; pricing NA; 258-mile range
JAGUAR I-PACE
Premium compact crossover 4-door wagon; about $70,000; 240-mile range
KIA NIRO ELECTRIC
Subcompact crossover 4-door wagon; pricing NA; 240-mile range
KIA SOUL EV
Subcompact 4-door wagon; about $32,000; 111-mile range
NISSAN LEAF
Compact 4-door hatchback; about $30,000; 150-mile range
SMART FORTWO
Subcompact 2-door, 2-seat hatchback; about $24,000; 80-mile range
TESLA MODEL 3
Premium compact 4-door hatchback; about $50,000; driving range varies from 220-310 miles, depending on trim level
TESLA MODEL S
Premium midsize 4-door hatchback; about $70,000; driving range varies from 219-315 miles, depending on trim level
TESLA MODEL X
Premium midsize 4-door crossover SUV; about $80,000; driving range varies from 237-295 miles, depending on trim level
VOLKSWAGEN e-GOLF
Compact 4-door hatchback; about $29,000; 124-mile range