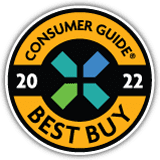 Best Buys
This is the enthusiast's class…or at least, the wealthy enthusiast's class. Its members include some of the fastest cars offered for sale in the U.S., though we draw the line at starting prices of more than $120,000. Those priced above that figure we consider to be "exotics," which we typically don't cover.
Considering the cost and focus of this group, there are quite a few contenders. Least expensive is the BMW 2-Series, which starts at about $38,000. At the opposite end are cars like the Mercedes-Benz AMG GT 4-door and Porsche 911, which start near $100,000 and reach well beyond that in top-line form.
There are no front-wheel-drive vehicles in this class. The BMW 2-Series, 4-Series, and 8-Series; Infiniti Q60; Jaguar F-Type; Lexus RC; Mercedes-Benz AMG GT 4-door; and Porsche 911 offer all-wheel drive as an option to rear-wheel drive. The Audi A5, Audi TT, and Nissan GT-R come standard with all-wheel drive.
HIGHLIGHTS FOR 2022
The BMW 2-Series is redesigned on a slightly larger platform, losing its previously available 6-speed manual transmission but gaining more-powerful engines and new technology features. For now, the new 2-Series comes only as a coupe in rear-wheel-drive 230i trim (with a 255-hp turbo 2.0-liter 4-cylinder) or all-wheel-drive M240i xDrive trim (with a 382-hp turbo 3.0-liter six), but we wouldn't be surprised to see a new convertible version and the return of the high-performance M2 in the near future. After the BMW 4-Series lineup's redesign last year, the high-performance M4 version adds a convertible body style in addition to the coupe, and the M4 Competition variant is now available with all-wheel drive. After skipping the 2021 model year, the BMW M8 returns for 2022; the Competition package and its 617-hp version of the turbo 4.4-liter V8 are now standard.
The Mercedes-Benz SL-Class returns in redesigned form for 2022, after skipping the 2021 model year. Developed by Mercedes's AMG performance division, the new SL switches to a soft-top convertible in place of the previous retractable hardtop, gains a very small rear seat for "2+2" four-passenger capacity (at least hypothetically), standard all-wheel drive, and lots of new technology features. The Mercedes-AMG GT 4-door Coupe gets a host of new trim options, a retuned suspension, and a newly available rear bench seat in place of bucket seats.
Among other updates, the Porsche 911 lineup sees the return of GTS and racetrack-focused GT3 models; the GTS is powered by a 473-hp twin-turbo 3.0-liter six, and the GTS gets a naturally aspirated 4.0 six with 502 hp. The Chevrolet Corvette gets minor engine improvements, new trim options, and a limited-production C8.R Edition model. The Jaguar F-Type's powertrain lineup is further pared down; the turbo 4-cylinder and supercharged V6 engines are discontinued, leaving a V8-only model lineup. The Lexus LC, Nissan GT-R, and Toyota Supra all get uniquely trimmed special-edition models. The Polestar 1, the high-performance plug-in-hybrid coupe from Volvo's electrified vehicle brand, is discontinued.
MODELS THAT OFFER SOMETHING UNUSUAL
The Lexus LC offers a LC 500h hybrid version powered by a 3.5-liter V6 paired with two electric motors for a total output of 354 hp. The engines in the Chevrolet Corvette, Porsche 911, 718 Boxster, and 718 Cayman are located behind the cockpit instead of in front of it. As for power, a car really has to offer more than 600 hp (!) to "stand out" in this class. Those that do are the BMW M8, Mercedes-AMG GT63 S 4-door, and the Porsche 911 Turbo S.