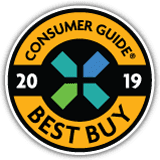 Best Buys
This is the enthusiast's class…or at least, the wealthy enthusiast's class. Its members include some of the fastest cars offered for sale in the U.S., though we draw the line at starting prices of more than $120,000. Those priced above that figure we consider to be "exotics," which we typically don't cover.
Considering the cost and focus of this group, there are quite a few contenders. Least expensive is the BMW 2-Series, which starts at about $36,000. At the opposite end are cars like the Mercedes-Benz SL-Class and Porsche 911, which start at around $90,000 and reach well beyond $200,000 in top-line form.
There are no front-wheel-drive vehicles in this class. The BMW 2-Series and 4-Series, Infiniti Q60, Jaguar F-TYPE, Lexus RC, and Porsche 911 offer all-wheel drive as an option to rear-wheel drive. The Audi A5, Audi TT, BMW 8-Series, and Nissan GT-R come standard with all-wheel drive.
WHAT'S NEW FOR 2019
BMW's Z4 two-seat roadster returns after a two-year hiatus. The all-new Z4 will be launched in sDrive30i form, powered by a 255-horsepower turbocharged 2.0-liter 4-cylinder. For 2020, an M40i model, powered by a 382-hp turbo 3.0-liter six, will follow. Both engines will use an 8-speed automatic gearbox; a manual transmission is not available. Also returning to BMW's model lineup—after an absence of 20 years—is the 8-Series nameplate. An all-new 8-Series coupe debuts as a 2019 model, taking the place of the now-departed 6-Series coupe and convertible. For now, an M850i coupe powered by a 523-hp twin-turbo 4.4-liter V8 is the lone model, but additional trim levels, powertrains, and a convertible body style will likely follow in the future.
The Mercedes-AMG GT 4-Door Coupe debuts as a sleekly styled four-door hatchback sedan with a choice of a 429-hp 3.0-liter six or a turbocharged 4.0-liter V8 with 577 hp or 630 hp. The Mercedes-AMG SLC43 roadster gets a 23-hp bump, to 385 total. The Audi TT is slated to get a refresh that includes a styling facelift, a 7-speed dual-clutch automated manual in place of the previous 6-speed unit, and an 8-horsepower bump on the 2.0-liter four (to 228 total). The Audi A5/S5/RS 5 lineup receives new appearance packages and more available driver-assist features. The Lexus RC gets updated styling, revised suspension, and some minor interior trim revisions. The Porsche 911 gets track-ready GT3 RS and GT2 RS models, and Porsche has announced that it will build a two-seat Speedster convertible as a limited-edition model.
The Alfa Romeo 4C coupe is discontinued, leaving the targa-topped convertible 4C Spider as the sole model. The rest of the class is unchanged or sees minor updates such as a shuffling of trim levels, new appearance packages, updated infotainment systems, or reconfigured standard-equipment levels.
MODELS THAT OFFER SOMETHING UNUSUAL
Since there are no hybrids or diesels in the class, and both coupes and convertibles are well represented, the only standouts are those with unusually powerful engines and those available with all-wheel drive. The latter have already been listed. As for power, a car really has to offer more than 600 hp (!) to "stand out" in this class. Those that do are the Chevrolet Corvette Z06 and ZR1, and the Mercedes-AMG GT 63 S and Mercedes-Benz SL65.