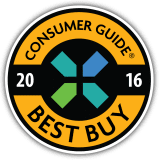 In order to stay current with the latest automotive trends and help consumers select the best vehicle for their needs, the Editors of Consumer Guide® Automotive test drive more than 150 new vehicles each year. We select the top ones in each class as Best Buys. This is our highest ranking.
A vehicle does not become a Best Buy based solely on objective ratings. It also has to distinguish itself as being a good dollar value compared to others in the class.
What's New for 2017
Small crossover SUVs have enjoyed unprecedented sales growth over the past year or so, and are on track to dethrone traditional passenger cars as America's most popular mainstream commuter vehicles. The RAV4 compact SUV recently topped the perennial champ Camry midsize sedan as Toyota's best selling vehicle, and other crossover SUVs are achieving similar sales feats. Electric vehicles are proliferating as well, but only a few of them are offered in all 50 states.
Also changing is the availability of luxury and connectivity features, which are trickling down into less-expensive cars. It's not uncommon for leather upholstery, heated seats, a navigation system, Bluetooth connectivity, and Apple CarPlay/Android Auto functionality to be offered (or standard) in even subcompact and compact cars and SUVs.
Furthermore, new safety features are constantly being introduced. With a cocoon of airbags already being common in most vehicles, the emphasis has been on avoiding an accident in the first place. Many vehicles are offering collision warning with automatic emergency braking, lane-departure warning and intervention, blind-spot alert, cross-traffic alert, rear-obstacle detection, and a rearview camera, in some cases as standard equipment.