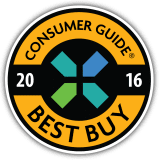 In order to stay current with the latest automotive trends and help consumers select the best vehicle for their needs, the Editors of Consumer Guide® Automotive test drive more than 150 new vehicles each year. We select the top ones in each class as Best Buys. This is our highest ranking.
A vehicle does not become a Best Buy based solely on objective ratings. It also has to distinguish itself as being a good dollar value compared to others in the class.
What's New for 2016
Whereas the SUV segments used to garner most of the new-model attention, uncertain gas prices and impending federal regulations have shifted the focus to smaller cars and more fuel-efficient vehicles of all types. As a result, many changes for 2016 affect fuel economy. Some manufacturers that already offered diesel engines or hybrid powertrains now make them available in more models. Others have added high-tech features that help deliver better mileage. Electric vehicles are proliferating as well, but only a couple of them are offered in all 50 states. As such, this magazine does not cover pure-electric vehicles.
Also changing is the availability of luxury and connectivity features, which are trickling down into less-expensive cars. It's not uncommon for leather upholstery, heated seats, navigation system, wireless cell-phone link, satellite radio, and a USB port to be offered in even subcompact and compact cars.
Furthermore, new safety features are constantly being introduced. With a cocoon of airbags already being common in most vehicles, the emphasis has been on avoiding an accident in the first place. More vehicles are offering collision warning and intervention, lane-departure warning, blind-spot alert, cross-traffic alert, rear-obstacle detection, and a rearview camera, in some cases as standard equipment.